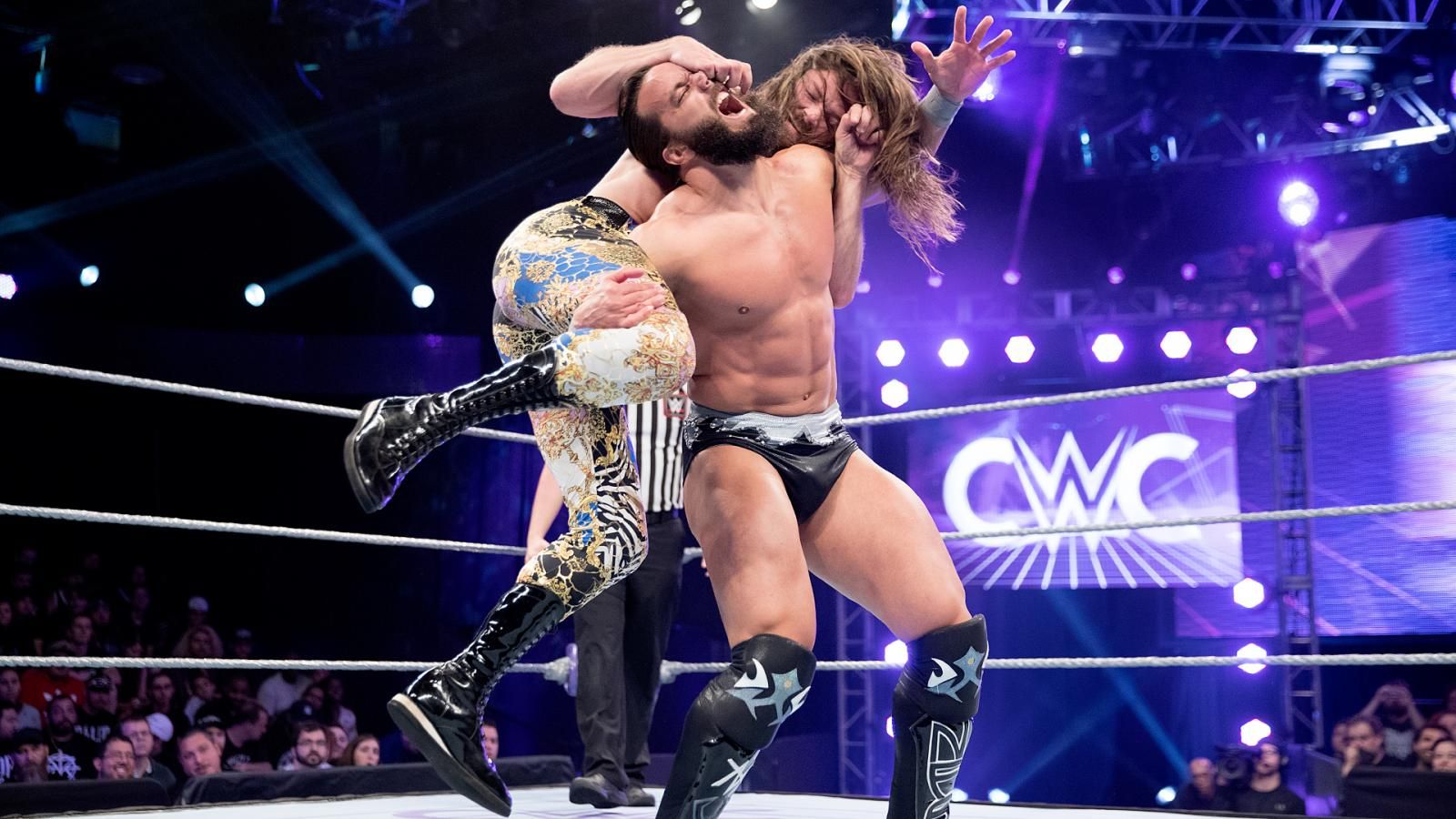 Official WWE Results here:
http://www.wwe.com/shows/cruiserweightclassic/2016-08-17
In our sixth week of the CWC we had three matches even though the week before we only had two. If they kept showing us two matches per week, then we'd have an extra week completing the second round, but they instead did two matches for the first week of the second round and then split the last six matches into these two shows, which I guess makes some sort of sense. In any case, these are the exciting matches since either person could really win and I'm now recapping them as "def" instead of "vs" because I think by now we all know who has won and who has lost.
Match One: Akira Tozawa def. Jack Gallagher
The interesting aspect of this match is that the winner is going on to face Gran Metalik in the Elite 8 round. We saw Gran Metalik vs. Tajiri and it reminded me of Super Crazy vs. Tajiri, but Gran Metalik vs. Akira Tozawa will likely somehow be even better than that, as we have this Mexico vs. Japan rivalry. Admittedly, I would have liked to see Jack Gallagher win this one because he is just that impressive and the winner of the match versus Gran Metalik goes on to likley face Zack Sabre Jr, which I would have liked to see Jack Gallagher do, but let's face it, the Final Four on this side of the brackets will likely be Zack Sabre Jr vs. Gran Metalik, so I guess in the long run the winner here didn't matter as they will ultimately lose to Gran Metalik anyway. I think Gran Metalik-Akira Tozawa will be a great match though and I'd love to see WWE sign Tozawa, but I also really want them to sign Jack Gallagher even though his time in this tournament is now over.
Match Two: Noam Dar def. HoHo Lun
This was perhaps the most intriguing match this week because either man could have won it. I felt like HoHo Lun should have been pushed a little bit further but what can I do? Noam Dar will now go on to face (and likely lose to) Zack Sabre Jr. I respect that they're both going to have that mat-based submission style of wrestling, but doesn't it feel like ZSJ-HoHo Lun would have been a lot more fun? I just feel like there could be ZSJ-Noam Dar matches out there already and by having ZSJ vs. HoHo Lun WWE could have been creating something truly special. But I'm not the bookerman and I will miss HoHo Lun in this tournament but hope to see him again in WWE one day.
Match Three: Brian Kendrick def. Tony Nese
As much as I like Akira Tozawa and Noam Dar, I felt like the first two matches on this show were all about saying goodbye to wrestlers who I liked better than them. With this match though, I really like that they kept Brian Kendrick in this tournament. I like Tony Nese, but if he doesn't come to WWE it isn't the end of the world for me. Brian Kendrick was being booked as "do or die" in this tournament and I really enjoy that because he keeps finding ways to win even though it looks like he might be out. I actually wouldn't object- at this point in time- to Kendrick going to the finals against ZSJ and winning the whole thing to sort of become the leader of the new Cruiserweight revolution on Raw. Kendrick seems to be in the best shape of his life and is doing some of his best work. I just wish WWE didn't hold such grudges (and for a smile) and would bring Paul London back as well, though it's unknown whether or not Paul London would even want to return. Unfortunately for Brian Kendrick he goes against Kota Ibushi in the next round which will likely spell the end for him.