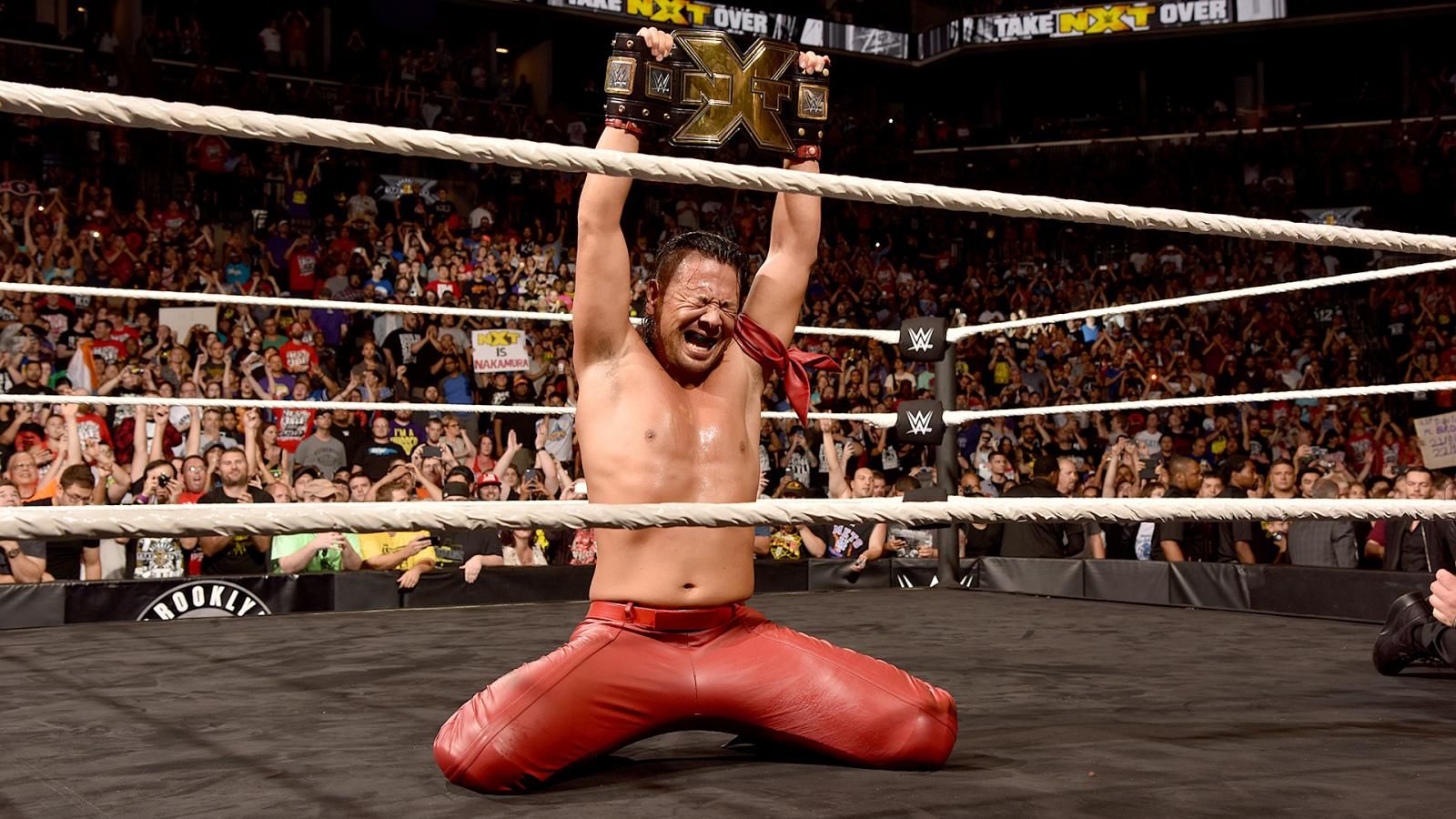 We didn't really make it around to watching Raw this week as we normally do, which pushed back everything else and then before we knew it Saturday came along and it was time for NXT Take Over Brooklyn II so we felt close enough to Summerslam to just skip Raw and Smack Down! this week. I don't read play by play reviews or anything after the shows air, but I do read some of the highlights and what I gathered from Raw was that a fan tried to jump in the ring on Seth Rollins and nothing really of note happened on Smack Down!-- hopefully a trend which changes after Summerslam.
It is also interesting that within this week Paige, Alberto Del Rio and Eva Marie have all been suspended for 30 days for violating the wellness policy, and for all different reasons I believe since it wasn't a group suspension situation where WWE just caught them all smoking pot or something If this leads to Eva Marie no longer being pushed though I'm all for it. Also, Alberto Del Rio and Paige playing the role of a power couple in ROH would be amazing.
We did watch the recent episode of NXT before Take Over Brooklyn II and it did have two matches. Hideo Itami defeated CWC competitor Mustafa Ali and I will always enjoy seeing these CWC guys in NXT even if they're losing. Well, most of them I will enjoy seeing that is to say. William Regal signed Billie Kay vs. Ember Moon for TOB2 and then we got a six women tag match. Carmella and Alexa Bliss were the "leaders" on opposite sides making their "returns" to NXT. Carmella had Liv Morgan on her side, which seemed like a decent fit for Carmella even though Liv Morgan sort of annoys me other than Corey Graves is hilarious on commentary when she is around and also Nikki Glencross made her NXT TV debut, as she was formerly Nikki Storm when wrestling in the UK. On the other side, Alexa Bliss had Mandy Rose- who was the woman who didn't win Tough Enough but came close and pretty much just annoyed me for the whole show because she's so stupid- and Daria Berenato who was also from that season of Tough Enough and was perhaps best known for her MMA background. So three NXT TV debuts in the same match in a show which closed with a Samoa Joe-Shinsuke Nakamura sit down interview deal. It was kind of worth watching just for those two matches I suppose.
So NXT Take Over Brooklyn II was amazing but it was hard to imagine it being anything less. I'm sitting here typing this on Monday and I haven't watched Summerslam yet, but I'm pretty sure it will still somehow outdo that show because that's just what NXT does. (And it really should be the opposite way though. NXT should be 8/10 and WWE should be 10/10 but maybe one day when all the WWE roster is full of these NXT stars I love so much it will happen)
The show opened with Austin Aries vs. No Way Jose and despite what some have thought of as being a bad gimmick for NWJ, this was a really solid match. No Way Jose just really impressed me with his in ring style here- which is what I believe this match was designed for- even though he took the loss to Austin Aries, who let's face it kind of needed the win here since even though he defeated Baron Corbin in his debut no one seems to really remember that. After the match Aries continued the assault on NWJ when Hideo Itami came down to make the save and, um, yeah, Itami vs. Aries is on the horizon now. Is it too soon for Wrestlemania??
Ember Moon made her NXT debut by defeating Billie Kay. This match made me a fan of Billie Kay more than anything because I've seen Ember Moon outside of NXT and have always liked her, but wow did Billie Kay shine in this spotlight. One day soon, Billie Kay will be on Smack Down getting wins over Becky Lynch. Also, I like this whole Ember Moon character we have going here. It's not quite like anything we've seen in WWE before. It's not quite close enough to Lucha Underground to think of it as a rip off of one of their characters but it's still not in that sort of realm of characters WWE seems to create. It's part mythical, part Mortal Kombat and I'm just really enjoying it.
In the third match of the night, Bobby Roode defeated Andrade "Cien" Almas. It's worth noting that just seeing Roode's entrance was worth it alone here. Andrade "Cien" Almas might feel like taking the loss here wasn't good but at the same time, Austin Aries took a loss to Shinsuke Nakamura once and then came back to defeat No Way Jose tonight and who knows what will happen when he faces Hideo Itami, but still-- I think of NXT as being great wrestling and the wins and losses mean less than the quality of the matches. So even if you lose, as long as you have a great match you're still a winner in my book. Plus, I want to see ACA face off against Samoa Joe, Shinsuke Nakamura, Hideo Itami and others in NXT-- win/loss record be damned.
While I wish that the tag titles changed hands tonight, it was nice to see The Revival retain so as to keep them as the gatekeepers in NXT for right now. I feel like The Revival should keep the belts until they're ready for the main roster and then lose them to an established tag team that is either coming in or already there (ie fka TMDK) Since Gargano tapped to end the match and Gargano also ended up defeating Ciampa in the CWC, I could see Ciampa turning on Gargano to have his Psycho Killer gimmick and run wild in NXT because I do feel kind of like these two could be better in NXT right now apart than together. But we shall only see in time I suppose.
I didn't expect Bayley to regain the NXT Women's Championship in her rematch with Asuka and I don't think it was that good of a match really. When Bayley hit a Bayley-to-Belly on Asuka you could see Becky Lynch marking out in the front row and that kind of gave away that it wasn't going to end there. There was also the moment when Bayley was in the Asukalock but didn't pass out like she did last time (when she lost the title) because she somehow had one of those "Hulking Up" moments which made no sense because then why wasn't she able to do that before when it was a matter of her losing the title? I also spent a lot of this match wondering whether or not the other Four Horsewomen knew the outcome. Granted, Bayley and Asuka would know, but would they not tell Becky and Sasha so as to keep their reactions more genuine? But then after the match she hugged them- including Charlotte- and that felt like her NXT send off and so I feel like they would have been in on that. Either way, yes, I was thinking of these things more than watching the actual match. Sorry.
Shinsuke Nakamura came out to a live violinist and, well, at that moment I said that if he didn't win and become the new NXT Champion I would cancel my Network subscription. Everything from the moment Nakamura stepped through that curtain and during the match was great. Nakamura is going to be amazing as NXT Champion and it will make NXT even bigger, if such a thing is possible. Also, with guys like Austin Aries and Bobby Roode in line for title shots now it makes sense to have the title on a good guy (and Joe can have his rematch), but then also something like Nakamura-Itami doesn't seem so weird either. Though I would like to see Itami-Joe first, but who knows, maybe Samoa Joe will be off to the main roster sooner rather than later.
Impact Talking was up next for some reason and it opened with James Storm talking to Billy Corgan about the differences between country music and grunge. Billy Corgan said "cowboy" a lot and then suspended James Storm indefinitely. Wouldn't it be funny if James Storm ended up in NXT now and the NXT-TNA feud began??
Moose defeated Eddie Edwards and the worst thing was that Mike Bennett came oubeing buried in TNA, coming out for one of his first matches and without his own music. I'd feel badly for Moose but I just don't care.t as well so we had to hear his music instead of the music of Moose. Moose is already
Gail Kim and Jade were made to face each other by Maria as "punishment" and I just really don't want to see Gail Kim nor Maria in TNA any more.
I thought there was some sort of tag team match up next involving those two NXT rejects Al Snow loves but as it turns out it was just Braxton Sutter. Rock Star Spud, DJ Z and Mandrews were also in this match to determine a number one contender to the X Division Title and DJ Z ended up winning. So... Does he face Lashley then or does Lashley just surrender the title to him since he really can't have them all? TNA really booked themselves into a corner here, didn't they??
EC3 came out to cut a promo, Drew Galloway came out as well and then Aron "I'm Not Tyler" Rex came down to declare himself the referee for their match. So, Aron Rex will turn on EC3 and side with Drew Galloway. Or Rex will begin a feud with Galloway, but not that it matters either way.
Eli Drake defeated Shera in a match that was so bad I didn't even care it was actually a match.
Lashley tried to unify all of the titles but Billy Corgan and Dixie Carter told him he couldn't. I really feel like we're seeing more of Billy Corgan on this episode of Impact Talking than we are of some, um, wrestlers.
In the main event The Broken Hardyz defeated The Helms Dynasty (minus Gregory "Sugar Shane" Helms), BroMans and The Tribunal (who I thought was in the match earlier) to become number one contenders to the tag titles. So, Hardyz vs. Decay? I'll take it, even though ths episode of Impact seemed to be lacking something, despite the whole overall fact that wrestling was just not very good last week in general. I haven't watched the ROH PPV from Friday or EVOLVE but everything from before Friday- which includes Raw and Smack Down!- was pretty bad.
It's like Impact knew they were going up against the Summerslam lead in week and just didn't even try like Raw and Smack Down! didn't try.
It seems like instead of Raw and Smack Down! this week we did NXT TOB2 and Summerslam. Though we watched NXT TOB2 live and then didn't watch any wrestling on Sunday. Then we watched Impact Wrestling on Monday afternoon (Quentin and I) before starting Summerslam on Monday night. So it was kind of funny how these two big WWE shows were met by Impact in the middle.
I read online that Summerslam was going to be six hours long which made me not want to watch it live. We didn't bother watching any of the pre-show stuff because despite Neville being there I just didn't feel like it was worth it, though I might one day go back and fast forward through the talking just to see the matches (but probably not) Summerslam opened with Enzo Amore & Big Cass taking a loss to Chris Jericho and Kevin Owens. I'm not sure if WWE will keep going ahead with Team Jeri-KO after this or not, but if they do I'm not complaining. This match was a lot of fun and still, twenty years later, Chris Jericho is kicking off WWE PPVs (though this isn't a true PPV, but whatever) with such great matches.
In the second match on the main show, Charlotte defeated Sasha Banks to regain the WWE Women's Championship. It seems more and more likely now that we will get an Elite Charlotte action figure with this title and I will have to buy it if only for the belt. This was an all right match, but I had read online that Sasha Banks lost because she was injured before we watched it so I was just not invested in it like I should have been. At the same time though, I'm glad I read that spoiler and knew why otherwise I would have been really upset seeing Charlotte win the title back, like, "wtf WWE", but at least knowing about Sasha Banks' injury made it better. Plus, now Bayley can come to Raw and challenge Charlotte after her send off the night before in NXT.
The third match we watched- and the final match in our first stretch of trying to catch up with Summerslam- saw The Miz retain the IC Title over Apollo Crews. I was really hoping Apollo Crews would win this match and the IC Title, but then again, it feels like a title change at this level is something that they would do on an episode of Smack Down! to try and make the blue brand seem more special. So there is also that still. Only seven more matches to go!
AJ Styles defeated John Cena in what was probably the match of the night. It was strange because after the match Cena left one of his arm bands in the ring, as if he has given up.
Up next was some weird angle where Jon Stewart was part of the New Day since Big E was out with injury and I could think about when listening to Stewart was how long this event was (though, thankfully, we broke it up into pieces) and they give this guy time to cut an in ring promo. Gallows and Anderson were about to break Jon Stewart over the ring post at one point and then Big E came out to make the save. G&A had these jars with what was supposed to be New Day's testicles in them and Big E drank some of the juice. It was just... This could have been a good tag team wrestling match but it became a joke. Also, and not to be that guy, but how is it that New Day had brand new attire for Summerslam and out comes Big E, matching with them? Obviously that means Kofi and Xavier and whoever made the outfits knew Big E was there and better, so why not just have him come out with New Day at the beginning of the match? It's just one of those things I'm probably not supposed to overthink but I do anyway and it drives me insane, WWE.


We stopped watching Summerslam with the next match because I wasn't sure how Quentin would handle the blood in the Lesnar-Orton main event, didn't care about the six woman tag match, didn't care about Rusev-Reigns and we all got spoiled on the Finn Balor-Seth Rollins match, which felt kind of pointless to watch after we learned Finn Balor suffered an injury and had to surrender the title. So now it's Friday- when I should be completing LCF #34- and I'm finally finishing up LCF #33, probably missing some episodes of ROH TV in the process, but they're likely going on about their most recent PPV as well. So we're going to hopefully start watching what we missed this week soon enough, with Raw and Smack Down!, and then I can hopefully have #34 done by Monday or Tuesday, but that's also wishful thinking at this point. As a great band once called their album, I am "trying to never catch up"!