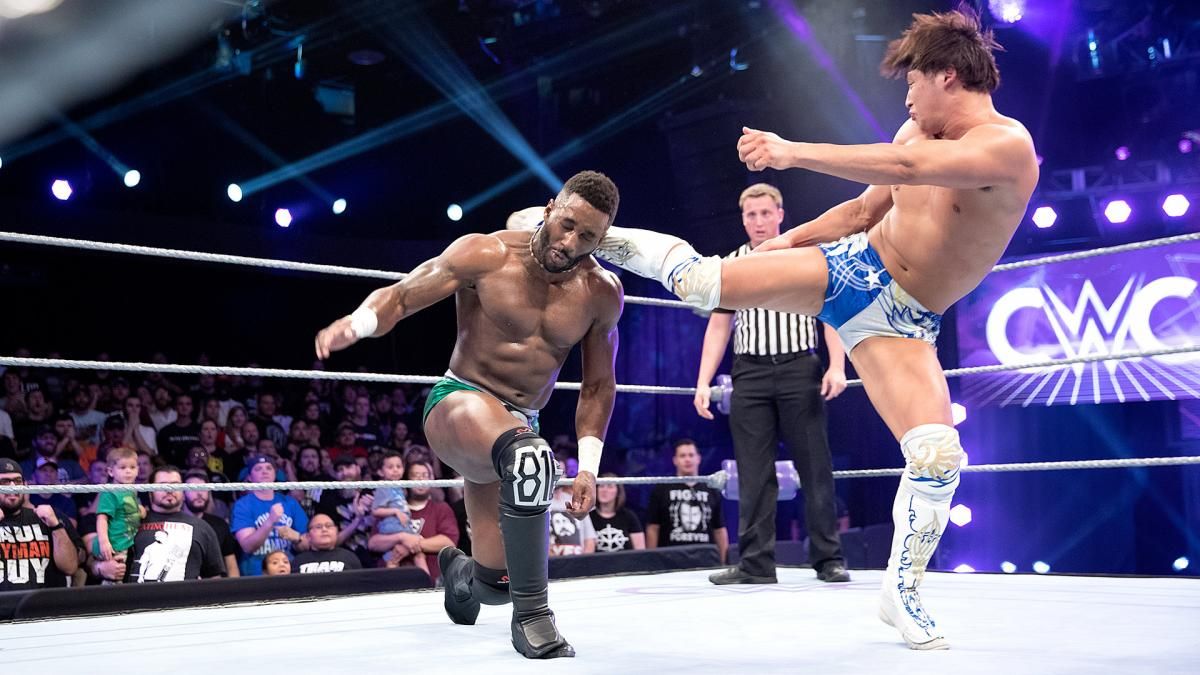 Official WWE results here:
http://www.wwe.com/shows/cruiserweightclassic/2016-08-10
Match One: Tajiri vs. Gran Metalik
This was an interesting match on paper because rumors around WWE were that they had signed Gran Metalik but also that Tajiri had some sort of deal to return to the company as well. I felt like this really meant these guys were in the same boat and Tajiri could have won to advance the veteran (based on his experience) while Gran Metalik could have won to help establish a new (to WWE) star. It reminded me a bit of when Tajiri would fight Super Crazy in ECW. For this being the first week of the second round of the CWC it sure knew how to kick things off. With Gran Metalik advancing it makes things interesting for the next round because I do feel that buried deep inside somewhere I know that a Tajiri win would have made me feel more like he'd be knocked off in the next round. The winner here- Gran Metalik- will also go to the Elite 8 against either Akira Tozawa or Jack Gallagher, which should be a fantastic match itself. I was kind of hoping for a Tajiri-Tozawa match, but Gran Metalik facing either of those two competitors will be something for the ages, especially if Jack Gallagher gets the win, which I kind of expect him to. Still, if WWE has signed both Tajiri and Gran Metalik to contracts, I look forward to seeing them meeting in the ring again and again.
Match Two: Kota Ibushi vs. Cedric Alexander
I love Kota Ibushi and thought that this would be the match to make me a fan of Cedric Alexander but... It wasn't. I just couldn't get into this match in the way that I was cheering for or respecting Cedric Alexander after seeing it. I know Mick Foley likes to be vocal about fans trying to hijack shows- especially at Full Sail University- and I feel like if the fans weren't acting the way they were during the match and after the match then it wouldn't make Cedric Alexander look the same either. You also have to think about the grander scheme of things and how Cedric Alexander would then translate outside of NXT and, I mean, I just don't see it in him-- whatever it is other people who are in love with him as a wrestler see. I also feel like the idea of Cedric Alexander being chanted for in terms of "Please Sign Cedric" and then HHH coming out and giving the thumbs up to it just makes him look like... Well, kind of like how The Rock was when he came into WWE as Rocky Maivia. You know, he can be this man of the people, but it can still be easy to hate him when you're an outsider looking in (i.e. not at Full Sail) It does seem like an easy set up for a feud after the CWC in NXT or on Raw in the cruiserweight division where someone else can say "Well, I got here based on my talent not because of these people" and it would be a good heel vs. face scenario but I'd find myself actually liking the heel in that instance though-- no matter who it might be. I just always feel like- especially after this match now- that I will be cheering for whoever Cedric Alexander is facing and just therefore always be against him. Also, for some reason, I want the cruiserweight division on Raw to feature open challenges every week like Cena did with the U.S. Title so we never really know who is going to be appearing next and they could contract guys who for one shot deals.
As Kota Ibushi defeats Cedric Alexander he is now on his way to face the winner of the Brian Kendrick vs. Tony Nese match, which I kind of hope Brian Kendrick wins now because I'm more excited for the idea of Ibushi-Kendrick and feel like Ibushi should be the one to take Kendrick out of the tournament. It's shaping up the right side of the tournament nicely though, as Ibushi is now in the Elite 8 and one step closer to the Final Four and then ultimately advancing to the finals, which is where I see him facing Zack Sabre Jr. He'll just have to get through Johnny Gargano in the Final Four first. But, yes, this is the best time now to be watching the CWC because it just keeps getting better and better.