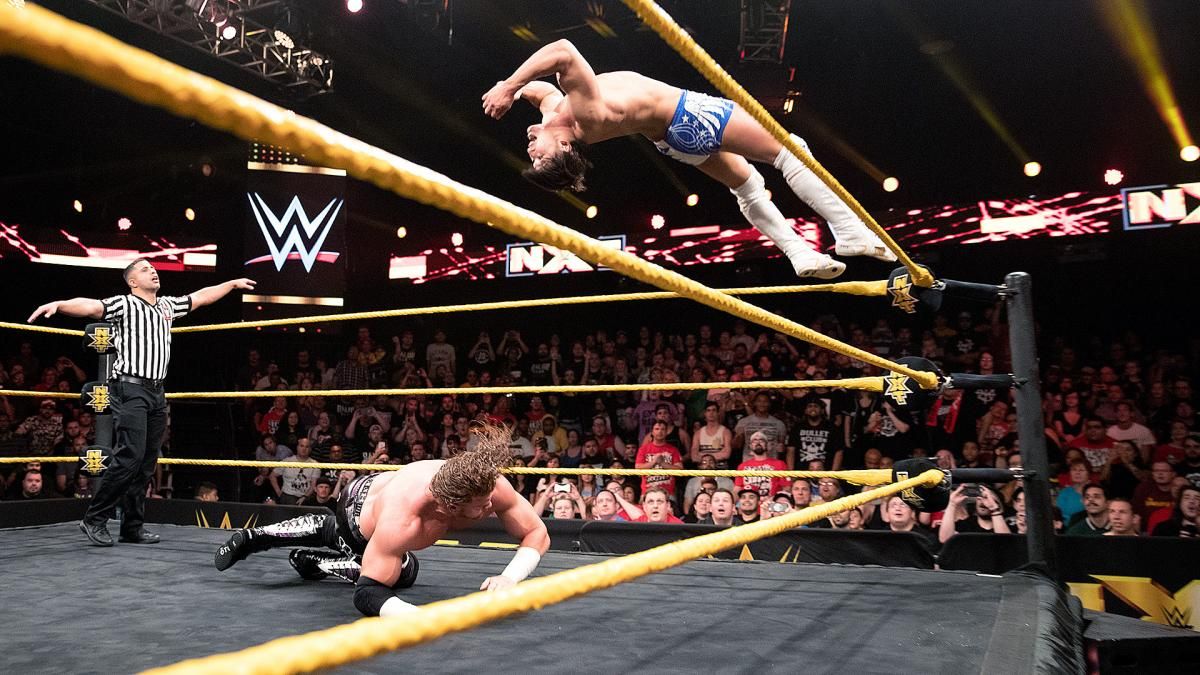 Since we were at the Battle of the Sexes III at the Ballpark at Harbor Yard (cheap pop) on Sunday night we didn't get to see WWE Battleground live but I read the results and felt like it was a decent enough PPV that we could watch it still to see and enjoy the matches. During the day on Monday we made it as far as the Natalya-Becky Lynch match and by Monday night- before Quentin went to sleep- we made it up to the last match, so really we just have to watch The Shield triple threat match in order to complete the show which wasn't a terrible show overall but wasn't mindblowingly great either. I mean, if it was really bad we wouldn't have watched it so the fact that I read the results and still wanted to watch it, I think, speaks volumes for it.
Raw opened with Stephanie McMahon and Mick Foley in the ring with the entire Raw roster on the entrance stage. They said that at Battleground Roman Reigns blew it and so they didn't have a World Title on Raw. Therefore, they decided to create their own World Title- because apparently you can do that- and it would be done with a series of matches starting tonight and ending at Summerslam. This felt like it was going to be good if only because things are already getting mixed up a bit, but I'm not sold on the name of the WWE Universal Championship because it feels too much like NBC Universal, you know, the company that owns The USA Network.
Anyway, we opened with our first of two Fatal Fourway matches, the winners to meet in the main event and then the winner of that match to go onto Summerslam to face Seth Rollins to crown the first WWE NBC Universal Champion. Finn Balor defeated Cesaro, Kevin Owens and Rusev when he pinned Rusev to advance. This match was a lot of fun and just the fact that Finn Balor was in the ring with some of these guys for the first time made it that much better. If Finn Balor pins the United States Champion but then loses in the main event tonight will he be in line for U.S. Title shot at Summerslam at least?
Nia Jax squashed Britt Baker in her Raw debut. It was a good squash match and even though Nia Jax is seen as the heel, I'd love to see her work with Charlotte actually. I feel like the two of them could bring out the best in each other and it'd be just such a great match.
In our second Fatal Fourway, Roman Reigns defeated Sami Zayn, Chris Jericho and Sheamus to advance to the main event. Ugh. Roman Reigns. The dude is getting heavily booed now and even Stephanie and Mick Foley seem to want to punish him, so why don't they just turn him heel already?? Also, it was nice to see Kevin Owens and Sami Zayn in different Fatal Fourway matches.
We didn't get to see the return of Neville as he defeated Curtis Axel due to the Hulu 90 minute replay but I will find that match on the WWE Youtube channel and watch it. Oh yes, I will.
New Day came out for a segment and brought in a fan from the audience to become an honorary member of New Day. His name was "Sonny Boy" and that was all he seemed to say. Yeah, you can look further into it on google if you want but it's not really worth it. Gallows & Anderson came out and attacked New Day and it looks like we've got ourselves a title match at Summerslam! Can you imagine Gallows & Anderson aligning themselves with Finn Balor and all three men holding gold by the end of Summerslam??
Sasha Banks defeated Charlotte to become the new Women's Champion. This was a good match that they gave a lot of time to and so it was well done. I'm not always a fan of title changes outside of PPVs, but this is what makes these shows special as well, you know. Charlotte hit a moonsault to the outside from the top rope, but in the end Sasha Banks made her tap. So, if Charlotte can lose the title after breaking all these records then so can New Day, right? Also, I feel like Charlotte will complain and want a rematch but that could instead- hopefully- put her into a feud with Nia Jax before either of them get a title shot. Just wishful thinking.
Braun Strowman (or Astrowman?) defeated James Ellsworth and Enzo & Cass defeated The Shining Stars in matches Hulu didn't want us to see. I will not be going back to watch them though. It is interesting to see though that Braun Strowman- post Wyatt Family- gets a squash match and what happened to the Shining Stars??
Raw ended with Finn Balor vs. Roman Reigns and somehow Finn Balor won because either a) WWE is really going to get behind Finn Balor right now or b) They really don't want to get behind Roman Reigns anymore. Still, this was a decent enough match and when Reigns was interviewed afterwards he said he wanted to face Finn again. I'm just happy it isn't the standard Rollins vs. Reigns at Summerslam that would seem like typical WWE booking and instead we're mixing it up with an match which should be incredible regardless of who wins.
Smack Down! opened with Daniel Bryan and Shane McMahon saying there would be a Six Pack Challenge Match to determine a new number one contender to the WWE Championship. They said to use the hashtag "number one contender" but then the screen said "#1Contender" still proving WWE doesn't quite understand how hashtags work. (Should've been #No1Contender) Shane and D-Bry announced only five of the six names and said the final name would be determined by a battle royal which happened right now. I was kind of hoping since they said everyone would get a shot in the battle royal they'd let the ladies be in it, but then they said "It happens right now guys" or something like that. I knew Natalya could've won it though.
The battle royal was interesting because for much of it I thought that Apollo Crews was Titus O'Neil (because I wasn't really paying that close attention) and I wondered why he hadn't been eliminated yet. I kind of thought Zack Ryder was going to win for some reason but I'm just glad they didn't pick someone old and tired like Kane. What show is Titus O'Neil on anyway?? Apollo Crews won this thing and I was rather pleased by that because Apollo Crews needs a push in a huge way. Also, who paid JBL to keep saying Baron Corbin is a future WWE Champion? Is it one of those things that if he says it enough they think we'll start to believe it? Because I still don't.
They had little clips throughout the night from each of the six participants in the Six Pack Challenge and they kind of told why they wanted to go to Summerslam. Baron Corbin says he wants to win it for the only person who matters in his life. I thought he was going to say Lana and start a feud with Rusev but then I remembered that they're on Raw now. He said he was looking out for number one, himself, and no one cared.
Becky Lynch defeated Natalya in a rematch from Battleground. Becky made Natalya submit even though Natalya was within arm's reach of the ropes so I don't know why she didn't just grab them and break the hold. After the match, Becky Lynch said you can call her "Becky Balboa"- I kid you not- in what might have been one of the shortest and yet also worst promos of all-time. Alexa Bliss came out to talk to Becky and then so did everyone else who is on the Smack Down! roster and female: Naomi, Carmella... Is that everyone? Then Eva Marie got this special entrance about everything being all red but yet she's on the "blue brand" and Raw is the "red brand". Makes sense to me. Also, no one pointed out the obvious elephant in the room which is that the WWE Women's Championship is on Raw so what are they really fighting for then?
Randy Orton came out for Miz TV I think and then Orton and Miz had a match. You know, if this is how WWE wants to handle this, whatever, but I would have just saved Randy Orton's in ring return for Summerslam since that was supposed to be this huge match that was booked so far in advance. Feeling like it was Randy Orton's first match back from injury made me feel like it was less likely for Randy Orton to lose, though Brock Lesnar doesn't feel like he'd lose because he's Brock Lesnar. Now, if they give Randy Orton a string of victories leading up to Summerslam- or even just this one win over The Miz- it feels like he'd be more likely to lose to Brock Lesnar. Ugh. Why must WWE crap-book themselves like this?
Well, American Alpha is making their Smack Down! debut next week- as per video package- and Shelton Benjamin is returning to WWE for the blue brand as well. I'm hoping they can talk Charlie Haas into coming out for at least one match so we can see American Alpha vs. The World's Greatest Tag Team. But, making his Smack Down! debut tonight was Rhyno, as he gored Heath Slater for some reason. Here's my question though: They had a draft and there were something like six NXT stars available to be picked. Now, both Shelton Benjamin and Rhyno are being added to the Smack Down! roster and I don't understand how they weren't part of the draft. If Shane, Daniel Bryan, Stephanie, Mickster or whoever can just hire outside talent or call up NXT talent at will then what was the point of the draft in the first place? You know, Smack Down! is leaving me with a lot of questions this week. Does this mean that we could just see Samoa Joe pop up on Raw one day? Is that how it's going to be going forward?
In the main event, Dolph Ziggler won the Six Pack Challenge to earn the shot at Dean Ambrose at Summerslam. I know people love Dolph Ziggler and feel like he isn't used properly or whatever, but I am not one of those people. I would literally had rather seen anyone win this match *but* Dolph Ziggler and that does include John Cena. Dolph Ziggler was the seventh person I'd want to win this match, which comes after the possibility of Rhyno coming out, giving Dolph a gore and winning it somehow. AJ Styles and Apollo Crews had a good exchange in this match though and perhaps they should be booked together for Summerslam. That would actually be a lot better than Ambrose-Ziggles, I'm telling you that right now. Still, this wasn't a terrible edition of Smack Down! it just left me with more questions than answers and they are questions I feel like WWE will never address.
NXT opened with Shinsuke Nakamura defeating Wesley Blake. It was shown how earlier Blake said he was the better half of the BAMF tag team but then Murphy said he'd prove he was better by defeating the top pick to win the CWC- Kota Ibushi- and, well, I don't even care that we have to see these two clowns tonight because we get to see both Nakamura and Ibushi on the same show.
Billie Kay defeated Santana Garrett and I know that Billie Kay is under WWE contract, but is Santana under WWE contract yet? I seriously hope she is. This was a pretty good match and it just shows that these two should be in NXT and one day on the main roster somewhere.
In a backstage office segment Bayley asked William Regal for a match against Asuka and Regal said if Asuka agrees it's on so I'm guessing it's on. Last we heard from Asuka, she seemed to want to face Bayley and Nia Jax at the same time.
TM-61 defeated the team of Rob Kimball (According to WWE.com, but from what was shown on television he was Rob Ryzin so it's weird WWE is trying to change his gimmick for him) This was a good enough match to show people what TM-61 can do. I wonder if they'll form some kind of stable with Shelton Benjamin on Smack Down! since they spent time together in NOAH.
No Way Jose defeated Steve Cutler to show that he can be serious in the ring and not just fun and games. I'm actually really looking forward to the inevitable No Way Jose-Austin Aries match.
In the main event of the evening, Kota Ibushi defeated Buddy Murphy- as if there was ever any doubt. It's great to see Kota Ibushi in an NXT ring. Some on the internet are saying he did this match simply to promote the CWC in NXT while other sources say he has signed with WWE. If Ibushi has signed with WWE and with Hideo Itami returning next week, NXT just keeps getting better and better.
Samoa Joe closed out the show by accepting William Regal's decision for the main event of the next NXT Take Over special to be Samoa Joe vs. Shinsuke Nakamura. Regal basically said if Joe didn't accept he'd strip him of the title, but hey, I like the match because Nakamura could win the title and Joe could go to the main roster.
TNA Impact Wrestling had some BFG matches with EC3 and Matt Hardy-- that whole sort of idea. Gail Kim did some stuff I didn't care about and Moose made his in ring debut. Look, Moose wasn't really ready to leave ROH and NJPW, so if you're looking forward to seeing him fight Lashley you are not on the same page as me because I just don't think he's ready. Having Moose vs. Lashley right now would be like if Moose had signed with WWE and then gone right into a program for the NXT Championship. He just isn't ready yet, in my opinion, and as such I have no real desire to see Moose do anything other than move himself up the ladder, but, you know, TNA doesn't really have a secondary title which could be like the WWE IC or US Title or the ROH TV Title.
Rosemary had weird segments with Bram in between matches and Lashley defeated DJ Z in a Ladder Match to retain the X Division Championship. James Storm and Eli Drake are still feuding for some reason and Tyrus aka Brodus Clay wants to be The Fixer. Isn't that a canceled show from Fox?? Drew Galloway fought Mike Bennett in the main event and of course Moose was ready to jump Galloway before the match. I'm not sure how to feel about a Galloway-Moose program yet, but I suppose it could be worse so for right now I'll just keep my mind open for what might come next week with TNA.
It is odd that we went through this week without Lucha Underground, though it will return in September from what I read. We've been able to watch the latest episode of ROH TV on Sunday or Monday, then the WWE shows after they air and we end it all with Impact on Friday or the weekend some time. I have no doubt we can fit Lucha Underground into this rotation so having Impact move to Thursday nights apparently really was for the best.