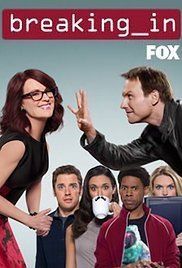 I began watching this series on Crackle in a sort of round about way. I downloaded the Crackle app on my phone (read my review of Crackle on the whole here) in search of "The Dating Game" because I saw it on "The Goldbergs" and then this show was featured on Crackle saying something about Christian Slater doing this before "Mr. Robot". I knew Christian Slater was in "Mr. Robot", but I had only recently found out about that show as well- from a friend on Facebook- so all of the pieces seemed to fall into place. Plus, Crackle told me I had seven days to watch these twenty episodes before they went away and I felt like that was a challenge I could take.
I partially watched this show just for Christian Slater being in it because I'm a huge fan of Christian Slater. I know people say that and maybe really aren't, but I've seen all of his movies because as a kid I always chose actors to watch and he was one of them. (I also went through phases with Tom Cruise and Brad Pitt, but that got me some cool movies just the same) I'm still one of those people out there pushing for a Blu-Ray release of "Gleaming the Cube".
Upon pressing play I would learn that this show also stars Bret Harrison, who was in a movie I love called "Lightning Bug", but also was in the shows "The Loop" and "Reaper", which I enjoyed. The other actors in the main cast of Season One don't really click with me, but Michael Rosenbaum (Lex Luthor from "Smallville"), Alyssa Milano and the shark-jumper himself Ted McGinley are all here in the first season. But again, this has Christian Slater in it and I don't think much else matters, right?
During the first episode I also found out though that this show was created by Seth Gordon and Adam F. Goldberg, which for some reason I thought Adam F. Goldberg started with "The Goldbergs" but this kind of brought the whole experience full circle for me since I went to Crackle in search of something I saw on "The Goldbergs". (And I've not yet found a way to free stream old episodes of "The Dating Game" either, but it'd be hilarious for someone to give them a MST3K type commentary about how some of the dudes grew up to be serial killers or politicians)
There isn't really an easy way to explain or compare "Breaking In" because it isn't like any other show out there. The group dynamic of it reminds me a bit of the show "Chuck", but it is still rather different from that. Christian Slater is the boss named Oz, he recruits Cameron (Bret Harrison) and then there is a master of disguise named Josh, a safe-cracker named Melanie and the nerdy, electronics expert nicknamed Cash. Cameron is pulled out of college to join the team in the first episode- and they are technically a security firm, designed to rob places to show how their security is faulty- but Cash is the really nerdy one who references Star Wars, Harry Potter, Lord of the Rings and the such. I do enjoy that we see Voltron in this show though, if only in the background.
Much of the first season- which is seven episodes- seems to be them trying to get along as a team and then having these missions using all their various skills to steal something and make everything right at the end of the episode. This pattern doesn't hold true for Season Two and I can kind of see why it might wear thin across any more episodes, but instead Megan Mullally comes in and buys out the company creating this power struggle with Oz. For the record, I never really watched "Will & Grace" and best know Mullally for her role on "Parks and Rec", so take that for what it's worth.
Throughout the series there are a number of special guest stars which want to hire the company for security purposes. Mike Tyson might be my favorite because of his animated series "Mike Tyson Mysteries" and yet we also got to see Tony Hawk, who I kind of feel might have been on here because I imagine him as still being real life friends with Christian Slater. That being said, imagine the guest stars Christian Slater could have brought in. Kevin Costner was in "Prince of Thieves" with Christian Slater, but was also the titular character in "The Bodyguard". An episode where the star of "The Bodyguard" needed a security company to protect his assets is funny just to think about.
I wasn't really watching that much television when "Breaking In" premiered and then had its final episode. I was mainly trying to get my own life back together after moving from Houston back to Connecticut. But I wish this show was still on, going strong and creating new episodes which combined all of the humor and action that I liked within these episodes. A DVD set as "The Complete Series" does exist out there and it will one day be part of my collection simply because watching this show made me so happy.