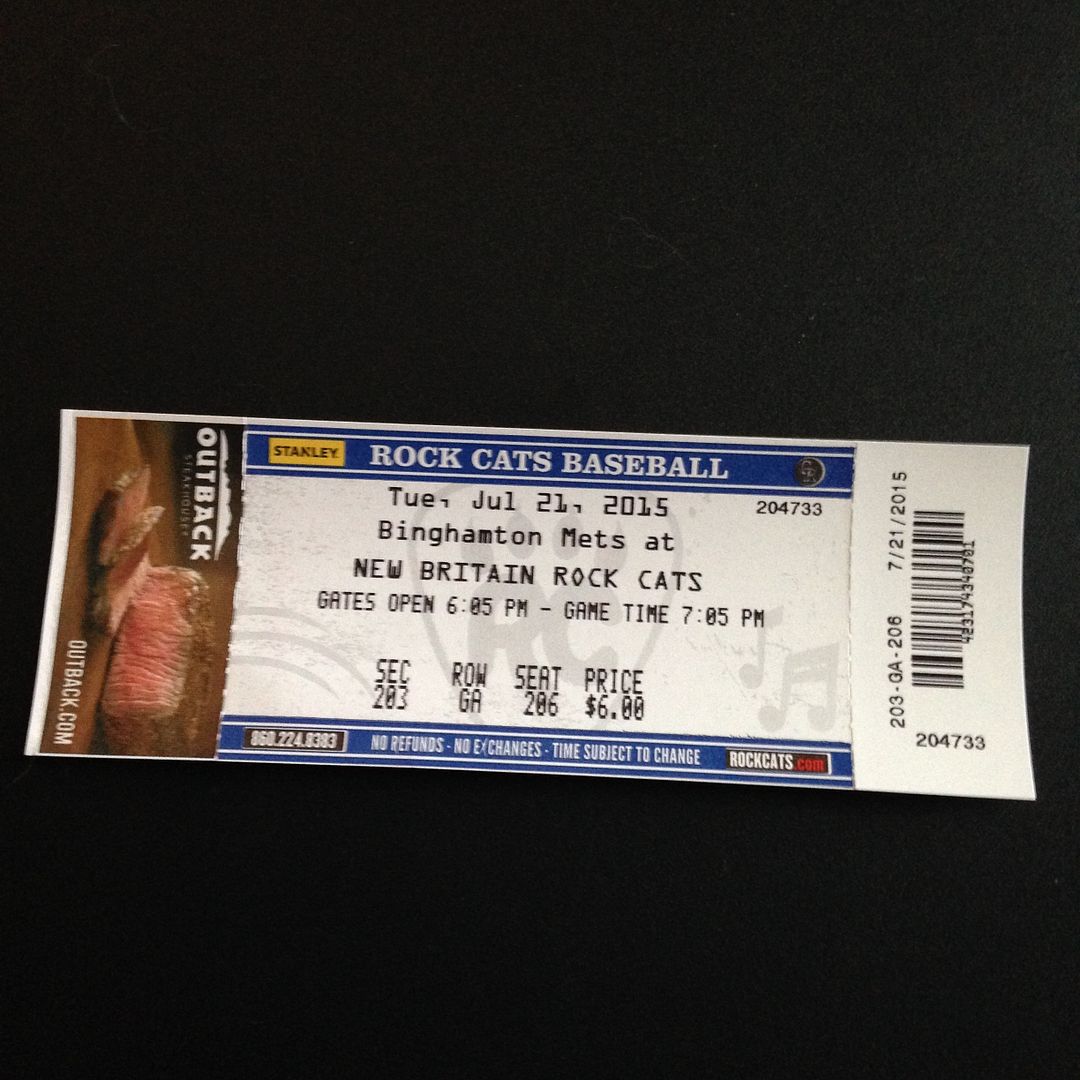 There comes a time every Rock Cats season where they play the Binghamton Mets (or "B-Mets") and I become conflicted as to who I want to see win- the team that I've been cheering on all season or the minor league affiliate of my favorite major league team. This game was particularly tough for me because my two favorite players who were seemingly helping the Rock Cats stay in first place were absent (Trevor Story is up in AAA still and Tom Murphy went to do something else) and my two favorite B-Mets were actually there, those two being Brandon Nimmo and Michael Conforto. So what do you do? I was wearing my Rock Cats hat and a Mets t-shirt but that wasn't too conflicting I realized later since I generally tend to wear a Mets shirt to every Rock Cats game anyway.
When we got to the game there was a rain delay, which we didn't find out about until they actually got there. We got tickets and went in. My wife wanted to go to the Third Base shop and I wanted to go see if the players were signing so she took our son one way and my dad and I went the other way. The rain delay made sense when we saw Mets still signing autographs around their dugout. I had planned on buying a Michael Conforto card on eBay prior to this game in hopes of him signing it but it just crept up on me so quickly that I didn't get to do it. Luckily I had the Brandon Nimmo card from the Top Prospects set so I was able to get that signed by him. I must say for all of the buzz around those two guys they seemed very nice and generous when it came to signing and taking pictures with fans. If they were kind of jerks about it I'd find it understandable so their kindness was a pleasant surprise, as they signed for everyone who asked with smiles on their faces.
The game was about what I expected and I had said prior that if the Mets got up by 2 or 3 runs they would win the game because the Rock Cats wouldn't be able to come back. Well, the Mets scored 3 in the first and when the Rock Cats put a run on the board a few innings later the Mets responded with another run to counter that. Michael Conforto seemed to be having an off night but watching Brandon Nimmo hit a triple was definitely a treat. Someone get that kid's bat in the major league Mets' line up NOW. If he doesn't get called up by the end of the season I'll be rather surprised (Unless, of course, the Mets end up in the post season and decide not to do call ups as much) I'm never surprised by the number of Mets fans that show up to these games though, with the visitors section a sea of blue. My son is actually old enough now too that he can see other people in Mets shirts and appreciate it more.
After five and a half innings we decided to call it a night because it just seemed like the Rock Cats weren't going to come back and, well, they didn't. The final score stayed at 4-1 and so I don't feel like we missed too much of the game, which we might have stayed for the whole thing or through seven at least if not for that pesky rain delay. It was really coming down though and even thundering and all, so it was quite the sight to see before the start of the game. Though I won't end up posting this until later, I am sitting here on Wednesday morning, the day after the game and thinking about that Michael Conforto autograph. I have a spare baseball I'm thinking about getting him to sign- as I am going to the game again today- but I'm trying to decide whether or not I want to do that or wait until they come back in August and hope he's still there to sign a card. Next season I'm totally buying a B-Mets team set on eBay before their series here though. I'll get them all to sign!!