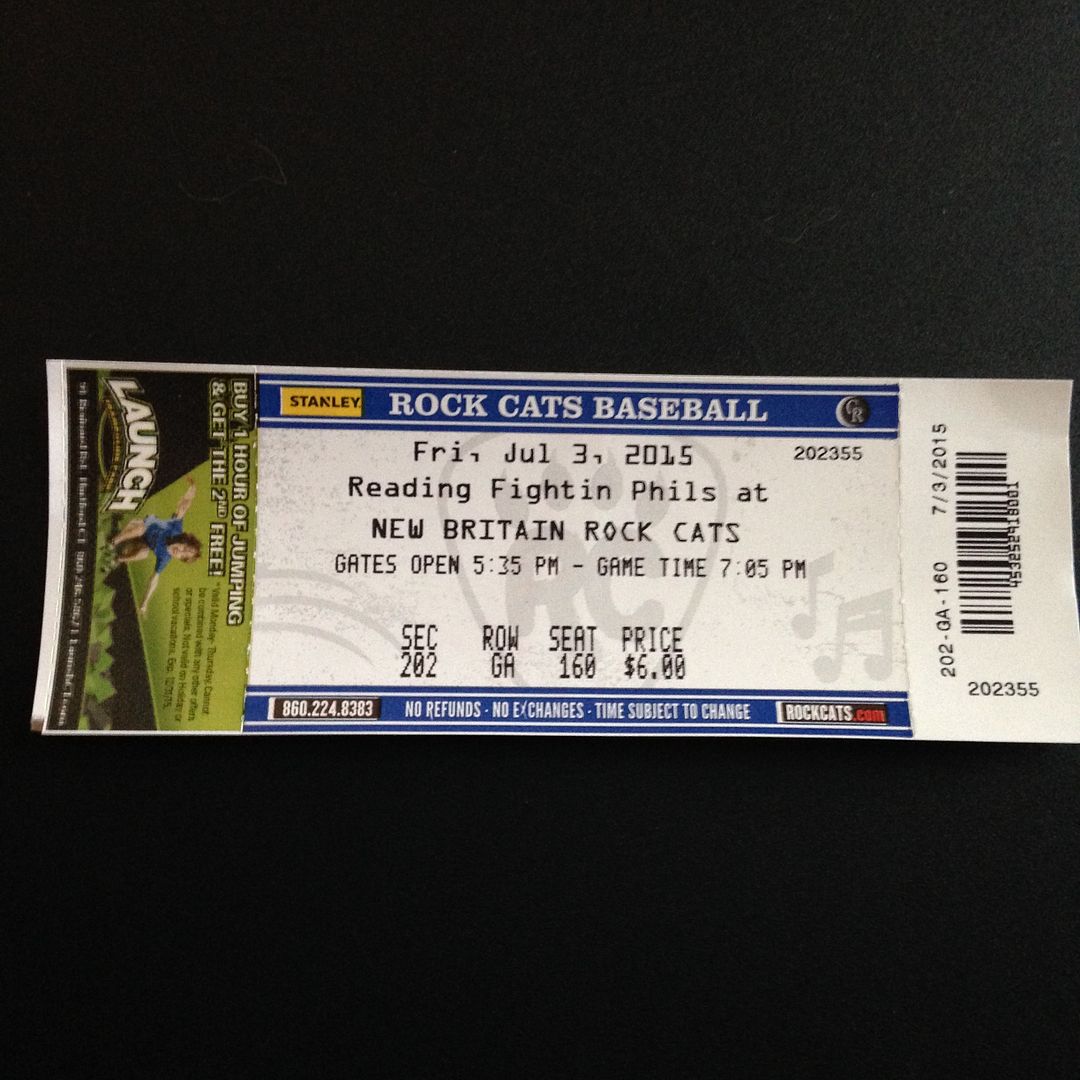 Box Score: http://www.milb.com/gameday/index.jsp?gid=2015_07_03_reaaax_nbraax_1&mode=gameday
The weekend prior to this game we had planned on going to both the Saturday and Sunday games but the weather was cold and threatening rain on Saturday night (It got called after three innings) and on Sunday the game was just flat out called so we managed to miss a weekend we might have otherwise enjoyed if not for the weather. This particular game promised appearances by Big Bird and Cookie Monster as well as post game fireworks which were good for a lot of people who enjoy such things but I've never really been a big fan of fireworks anyway. Though the Rock Cats would have their official launch of fireworks after the game it didn't stop many other fireworks from being visible during this game.
One of the biggest changes which came with this game from the last time we saw the Rock Cats play (which was a pretty bad loss as well) is that they no longer have Trevor Story. He was one of their star players and has since been moved up to Triple A. That's the problem with watching minor league baseball. If you have good players and they put together a good team (Which was the story of the Rock Cats for the most of the beginning of this season) then those players go up to either higher classes or even the majors. It's sad to see them go but you are happy for them because not many players make to the big show. Trevor Story was a hitter without a lot of singles (Mostly doubles, triples and home runs from when we saw him) so based upon how badly I feel the Colorado Rockies are doing I would absolutely move him to their team after the All-Star break.
This game started with some big runs by the Rock Cats and it looked like another easy victory for them (They won 10-0 the previous night against the same team-- yes, really) but after they put up a few they just couldn't manage to get back on the board right away and when they finally could it was already too late- they were already too far down to come back. The story did seem to be a lot about Shane Carle having a bad night though (he was taken out early) as well as the pitchers who came after him while the starting pitcher for the opposing team had a rough first couple of innings but began to find his groove as the game went on.
Many people behind us were quite upset with the poor showing by the Rock Cats (there goes my theory of making the move to Hartford easier by having a winning team) and they wanted the fireworks to start by the fourth or fifth inning because they were just done and didn't want to wait around. Others did clear out before us and by the end of the sixth inning we made our exit as we saw no signs on the Rock Cats coming back and had already seen more fireworks than I had cared to, though I think my wife was disappointed with not seeing the official fireworks show but our son was also about to fall asleep.