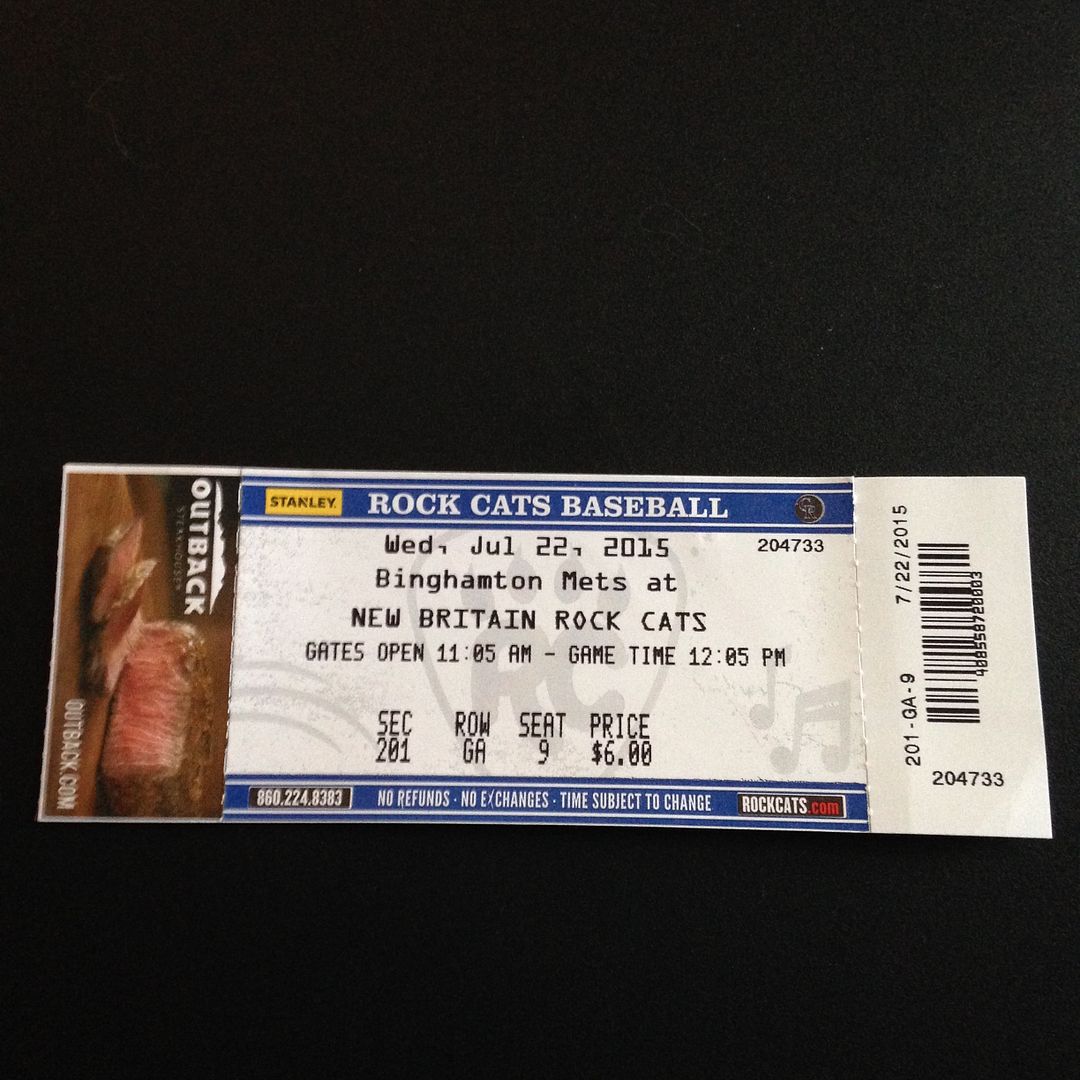 At one point in time before this series with the Mets I told my wife we were going to go to all three of the games and she said we absolutely were not. The Monday game was just way too hot to sit through as it was close to 100 out with humidty so we passed on that one for good reason which brought us out the second night and then when I found out Wednesday was a day game and Ryan Carpenter would be starting for the Rock Cats it became a must for my son and I to go. I actually ended up cashing in the "click it or ticket" type of voucher the night before so I could skip the lines.
There were a lot of kids at this game as they were being bussed in and we went around to a side entrance so we could get in faster. We sat on the Mets side again and there were some kids cheering for the Mets because they were possibly fans since they seemed to know some of the players on the big Mets like Matt Harvey, as one kid kept yelling about him being his second cousin. It was warm out but there was a cool breeze so it was just a perfect afternoon for some baseball.
After three innings the Mets had put four runs on the board and it didn't look good for the Rock Cats. The hardest part for me being conflicted during this game was when a Mets player got a hit I was happy for them but then when they struck out I was happy for Ryan Carpenter. It just seemed like a tough loss for the Rock Cats to take, as the series was swept, and I mean, the Rock Cats used to be on top and now they're down near the bottom with the Mets up near the top. It's like the Rock Cats and Mets have switched places from where they were at the beginning of the season.
We saw some interesting plays in this game. A ground ball hit to third base should have been an easy out but it was thrown over the head of the first baseman, bounced off the wall and ended up lost in right field which resulted in a triple for the Rock Cats. But there was also a situation where the bases were loaded with no outs for the Mets and it was the pitchers spot due up. They used a pinch hitter and in something that is probably rarely seen (Though you could probably look up an exact number) we saw a pinch hit grand slam. Wow. Just wow.
All of the kids groups began leaving during the sixth inning so by the bottom of the ninth there was hardly anybody left. My son and I walked to the Third Base shop at one point and I bought him an official Rock Cats ball, as I was contemplating (and still am) getting it signed by perhaps only one player and then putting it in a case (That player, of course, would most likely be Ryan Carpenter) As we were leaving and passing by the Mets dugout I heard someone call out "Hey you!" or something and I just looked over there and saw a Mets player pointing at me. I questioned "Me?" and pointed to myself and he said "Yeah!" and threw the last ball used in the game to me, which I bobbled but recovered. I can only assume since the other kids were all gone and he saw my son with me he knew it'd be a nice souvenir for the boy and for all I know he may have remembered us from being there the night before. For that matter, it could have just been because I was wearing a Granderson shirt.
The best time for us to get players autographs is after day games because they end earlier so we went over to where the players leave. We managed to get thirteen different players to autograph their cards, most of them in good moods and friendly despite their loss. Pat Valaika rushed past us with three or four other guys and they wouldn't sign but I was told by a woman next to me that the players didn't like to sign in general after losing, which is understandable. A iot of the times I had to ask the players if they had a card they could sign, which was sometimes met with a simple "No" and some of them weren't even in the program book. It's funny how the roster has changed since they put the team set out in the beginning of the month and had it in production before that (Though there are only I believe four players in the set who weren't on the team when it came out and then Trevor Story has since moved up to AAA)
Only a few of the players were ones I could identify by their faces but David Dahl, Tyler Massey and Shane Carle were all picked out by me. I was pleased with that result. I asked pitcher Bryan Evans- as he tried to escape quickly- if he was Ryan Carpenter and when he said no I simply said "Okay" and let him go. It's a beard thing but I do feel kind of badly for it now. The real Ryan Carpenter came out and the exchange went something like, "Do you have a card you could sign for me?" / "Yeah, I'm Ryan Carpenter" / "This is embarassing. You're my favorite pitcher". His beard wasn't quite as big as I thought it was going to be so I guess that threw me off. Still, even in their loss those who signed were pleasant and I can't thank them enough for helping create these moments with my son.
I have only four cards left (Players, no coaches signatures for me) that I could still potentially get signed from the team set and that doesn't include Tom Murphy, who should be back soon (Right?) and so that's not really a bad deal though I still want Pat Valaika and Austin House to sign their cards for us. (The other two we have left are Kraig Sitton and Mike Tauchman) They have this large frame at Michaels which holds twenty baseball cards and you can mount it nicely on your wall so I really want to put the signed cards in there ultimately as it represents the first full seasons of games for my son and I but also a strange time as it is the last season for the team to be in New Britain and as the Rock Cats.
When we were waiting for the players, right before our last one came out- who was Dean Espy and I was pretty certain it was him but didn't want to be wrong by saying it outright to him- an employee that I somewhat recognized was walking around and he came up close to the fence. I thought he was going to tell us all to go home, though at this point there was only two of us left. A mother with her two kids was there getting the players to sign a ball and hats and such, there were another pair of kids behind me getting a ball signed and then there was one guy with me all the way from Rhode Island who had the card set. So as I'm waiting for the employee to give us the ol' "You don't have to go home but you can't stay here", he instead just silently hands a used game ball to my son through the fence then walks away as I'm screaming out "Thank you!!".
After we essentially waited out the last Rock Cats player (Dean Epsy) and left we were going back to the car and saw that the Mets bus was still there. I wished at this point I had thought to take out the end of game ball thrown to me by a Mets player for Michael Conforto to sign but in my defense I was in the sun all day. We only really saw Conforto and Brandon Nimmo out signing still and I had Nimmo sign his card the night before so I didn't really know what to have either of them sign (Again, not thinking on my feet) but I asked Brandon Nimmo if he'd mind taking a picture with my son and he said he would so we waited for a few others to get their items signed and pictures to be taken and then my three year old son took a selfie with Brandon Nimmo. Crazy, crazy stuff.
I realize that when you go to a major league baseball game it's probably not as easy to wait around afterwards for players' autographs but this to me was what the perfect game would be like if were to take a trip somewhere whether it be into the city for the Mets or even further away and have that one game per season that you go to in the majors. Between the three balls and thirteen autographs I was just thinking about how we had so many more *souvenirs* in this game-- perhpas even enough for an entire season-- but then in reality it is also just we had that many memories. If this was that "once a year major league" game though we wouldn't have gotten the autographs or probably even the balls because they're a bit different up there but that's just another one of the reasons why I like going to the Double A games and think it's the best place for parents to take their kids.