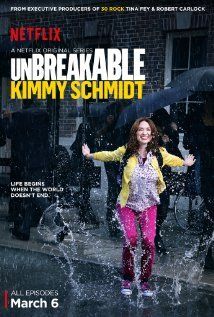 If you were to tell me that there was a show created by Tina Fey but she wasn't the star, I would be certain to watch it if only because I am such a fan of hers as well as of "30 Rock". Seeing the name Tina Fey tied to this though will either make you want to watch it or stay away from it, depending upon your opinion of her, and so for those who like her (as I do) then let's assume you already know that this is already going to be funny and so this just becomes a matter of me telling you why.
The story follows the titular character from a small town who was lured into a bunker with promises of an apocalypse that never came and now she's living in New York City, some fifteen years later, in many ways experiencing life for the first time. Her child-like innocence makes this both perfect and funny as someone who has been around in pop culture for the past decade and a half which this character missed out on.
One of the first things you must acknowledge in this show is the cast. I hadn't really placed who Ellie Kemper was before watching it, but she of course was on "The Office" and had some movie roles here and there ("Bridesmaids" the best among them I believe). Combine that with 30 Rock's Jane Krakowski who doesn't stray too far from her Jenna Baloney character here and you've got two leading ladies of television. Oh, and yeah, there is also veteran actress Carol Kane and who I would call a great up and comer in Tituss Burgess (who also had a small role on "30 Rock")
Since this was originally made for NBC and Tina Fey is behind it there are a number of noteable guest stars including Jon Hamm, who I enjoyed on "30 Rock" (Still haven't seen "Mad Men" though) and of course even Tina Fey herself. But the cast is just one aspect of what makes this show so great. I love everything about it, including that highly catchy theme song. I have to say that if nothing else, Netflix has had some addictive theme songs for their original series. I've only seen this one, "Orange is the New Black" and "Bojack Horseman" but all three of them have ways of getting stuck in my head.
You just have to think about what it was like so many years ago, when there wasn't this level of technology and cell phones didn't even really exist let alone to the extent which they have advanced to today. Add into that the fact that Kimmy Schmidt had never really grown up in a traditional sense, leaving her in this child-like world of wonderment- and it just creates the perfect recipe for comedy gold.
This first season is a total of thirteen episodes which I watched over three days in the pattern of 4/6/3 and I do want to watch them again soon, after some time has passed and it doesn't feel like I just watched them (Because I did just watch them last week) Season Two is apparently in the works and rightfully so as not only is this 100% funny the end of Season One left us with the cliffhangers of Kimmy's boyfriend (?) getting married to stay in the country and Titus' wife finding him.
These elements should add a lot more to future episodes but it's not like they really needed any help because this show could be funny if it was just about the main group of characters' day to day life. That is the real accomplishment here. The story is far from boring or normal, but the fact that what could seem boring or normal for these characters would be so funny to us still.