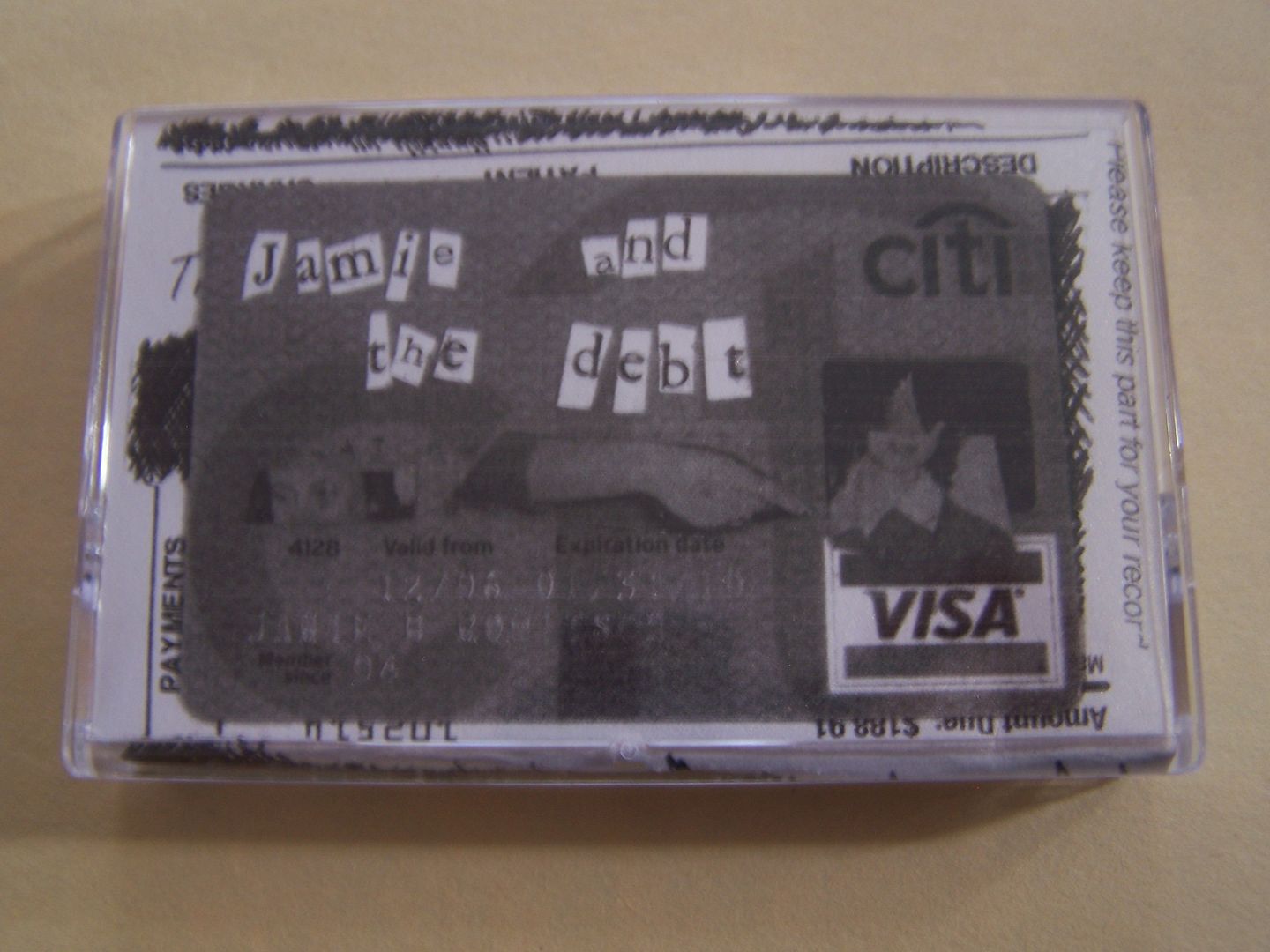 [$4 // Edition of 50 //
http://jamieandthedebt.bandcamp.com/album/no-life-isnt
]
Should you happen to wonder why this is Jamie and the Debt it is because even if we are alone there is still most likely that debt hanging over your head. I know I have student loans still standing by my side, dashed by promises of given a career I never was. For the record, if the school that I attended shut down my student loans should be wiped clean, right?
Throughout the course of this six song cassette I find myself constantly going back to the same source of reference: The Runaways. And what people don't realize about The Runaways is just how great and important they were to music history, regardless of how they are portrayed in modern film by lousy actresses. Underneath all of that (And, really, that would have been enough for me) "No, Life Isn't" is filled with some raw punk, catchy hooks, sing along choruses, crunchy guitar chords, nods to "Kerplunk!" era Green Day and even a little bit of that B-52's sound in the way that the vocals can mix it up within the same breath.
As elements of the song "Ballroom Blitz" come out so do the personality of something such as Kill the Intellectuals, one of my favorite new artists. For whatever reason I was expecting this to have a folk punk feel to it, but rather it is mostly just punk in the sense that a band from the late 1990's would be on Fat Wreck Chords (just that sort of mentality of a No Use For a Name or Lagwagon)
Admittedly, I do not know a lot about this artist and I mean that in the sense that people often don't know a lot about musicians other than what they get from the music. To me, this feels like a fun demo that I would have let one of my friends record in my teenage years (specifcally eighteen or nineteen) if I had the means to do so because at that point in my life I would have done about anything a girl asked me to do. (Now not so much) Now that doesn't necessarily mean that I think this artist is in their teens, I only think that it has that raw emotion which can only be provoked by youth. Trust me, the older you get the more bitter and uninteresting you get and thus your music will suffer for it, so this is kind of like a fountain of youth caught on cassette. Drink wisely, my friends.