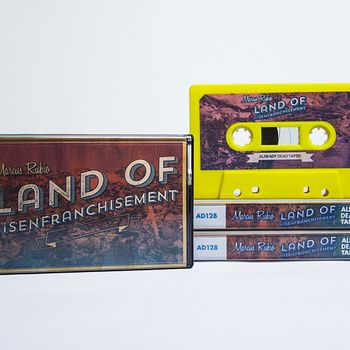 (photo courtesy of Already Dead Tapes)
In conjunction with Marcus Rubio and Already Dead Tapes and Records, we will be giving away a copy of the new Marcus Rubio cassette "Land of Disenfranchisement". To enter the contest, all you have to do is email us (Raised by Gypsies – raisedbygypsies [at] yahoo [dot] com) and tell us why you live in the Land of Disenfranchisement. You can use a photo, essay, poem, movie reference, whatever you want. Best answer wins. Simple as that.
For info on the cassette, you can follow these links:
For the official review of the cassette via Raised by Gypsies, you can click here:
Submissions will be taken until midnight on Friday, September 5th, 2014. The winner will be announced some time the following week.
[Read This Part Too]
And the fine print is that the winner will have their submission posted on the Raised by Gypsies site. Winner must be willing to provide valid mailing address in order to receive the cassette. (We'll cover shipping costs though, so there are no hidden fees) This is open to anyone, anywhere, so there are also no limits on what country you have to live in (Yes, we will also cover International shipping costs if you win this and are outside of the United States) You will be receiving the cassette numbered "79" (out of 100) and it will also come with the download code still. Multiple entries by the same person will be disregarded. Further questions, merely inquire.