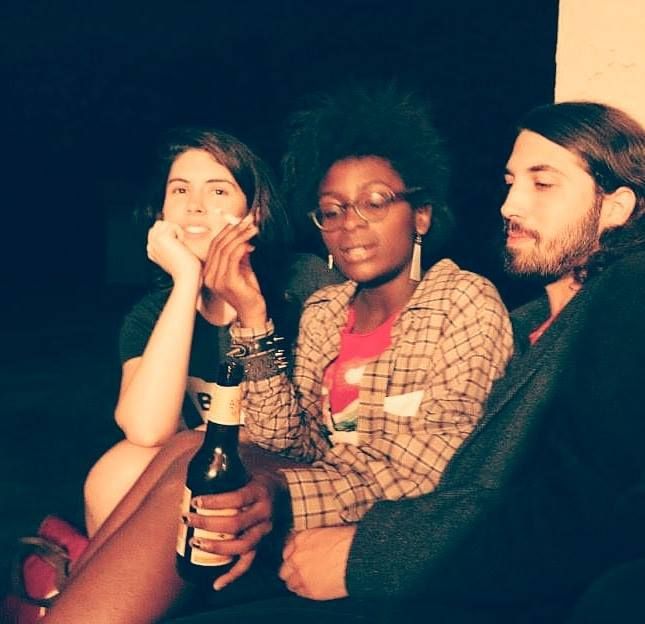 Cam, Dj & Gen
1) Your music seems to be a bit all over the place, what I like to think of as a controlled chaos. It can start one way and turn into something completely different, but it does so as if it was always intended that way. What is the process of creating such songs where they seem to be without structure but are presented where you feel like they have to have it?



When we can start to write a song, sometimes it starts completely naturally with out words and something it starts with an idea. I, Cam, am actually a pretty structured person living within a realm of music that is very overlooked so there's really no structure for me to look to. All our biggest influences were also interested in exploring how far off the typical pop formula they could get while still making something that they could enjoy over and over again. So I'm usually the one trying to harness or articulate certain ideas we come across.. or at least making us stop and asking the questions of how we'd like to structure it. Some of us have been better at noticing and repeating these subtle nuances than others.
2) From older artists such as The Slits to modern artists such as Birthing Hips, I can't quite seem to find a true comparison for Period Bomb. Who are some of your influences? Who made you want to make music sound the way that you do?



We've like those bands! We like to keep it fresh and always find the next new thing that's why we're always kept quite busy with our label, Crass Lips & Illegal Tapas Distro. The only artists thought that we can listen to the same album over and over and not get bored of because there's always more nuances to pick up on are Half Japanese, Attitude Robots, The Residents, Contortions, R Stevie Moore, Ariel Pink, Carrot & Stick, Lydia Lunch and Mr. California (especially since we now have most of his material that is hard to find elsewhere). All of these artists also have such a huge catalog too that it seems like there's no end!! And all too often I find that I fall in love with a band that's new and amazing and starts to get a lot of attention all the sudden and it ruins them and it breaks my heart so I'm really grateful all these artists knew what they were about from the start and knew to take everything into their own hands and not trust the system so they were able to give us all they did.
3) One of the most interesting aspects of music in the digital age is that artists don't need to be signed to one label, much like they would've been tied down to multiple album deals by some labels maybe twenty years ago. You have releases on Crass Lips and Already Dead Tapes, which only makes me feel like you could end up on an entirely different label in the future for your next release as well. How is it, as an artist, to be in this sort of free-for-all when it comes to labels?
Drop Medium also re-released Genders in Space and we have an album we recorded with Super Secret that's kinda.. on some super secret release schedule rn lol. It felt a little overwhelming to have to rely on multiple people to have enough tapes for our long tours for a moment.. but only because so many little local labels had given us false promises and totally failed us last minute before because you really don't know what it's like to survive off Merch for 3 months until you have, and everyone likes to doubt us. I actually interviewed R Stevie for the Period Bomb TV show about this. He deals with hundreds of small labels distributor and selling his tapes and CDs and is used to doing it himself, which is always the most precise and safe way, so he shared some frustrations with the offers he's gotten and keeping track of all these labels. I was telling him how some local labels have tried to give us literally 10 tapes when we're about to go on a 3 month tour where we usually sell about 200 and he said he's been offered the exact same amount lol!!! He doesn't tour as much but he doesn't need to he just sells way more than that in a month from his tape club. I feel so lucky to have found people like this to talk to you because it's really telling.. and inspirational for me to see that like this really is the most prolific and pure American artist... made and sold the most with the least possible help/compromises.. and that like means nothing somehow the majority for sure of Americans because that's not the way their used to being fed things. They want the halfwit govna from Texas of the organe, scandalous, delusional "tycoon".. R. Stevie Moore for President!!!



4) I found out about Period Bomb because you have your music on cassette. It seems as if you go out of your way to have your music released on cassette. Why is that? What do cassettes mean to you?
It's the most affordable medium. It's accessible. I don't know pretty much all my good friends are able to find cheap tape players. They're important enough.
5) "Lost & Found" is such a fascinating release to me because it seems like the more I listen to it, the more I learn about it. What was it like to put all of these songs together (the word "demo" was loosely tossed around on the Bandcamp page) to form what I believe to be one of the most important albums of 2018?
Ha thanks!! So.. it's a very ongoing process because we're always recording everything on tour and then listening back to it and choosing our favorite parts from that as well as recording new little things at home. That's as much structure as I can put to it. Life's been throwing insane curve-balls at us since right before we decided to start touring as much as possible during these very illuminating times in the country (last 4 years) and I still don't even know what to make of it all. Just makes me need to drop to my knees and yell.. last 2 years even that wasn't enough I had to add in crushing my hands against an instrument I never had any interest in playing until then. Can't tell you have grateful I am it really means something to someone other than me and my partner DJ.
6) After working with artists such as R. Stevie Moore, among others, on "Lost & Found", what was that like? Are there other particular artists out there you might like to have on your songs?
Well he was really fun and quick to communicate with.. put it on his site.. totally seemed to get it without asking many questions and being playful after only having hung out with him one other time.. where we interviewed him for the Period Bomb TV show! So whoooole lot easier and cooler and less pretentious than the vast majority of contemporaries much closer to my age I've tried to work with! Ariel Pink is one of my absolute favorite people to hang out with and watch make music for hours on end. It's been a pretty wonderful experience with all my favorite musicians I've got to meet... which is extremely reassuring about our intuition.
7) Something I feel is missing a lot in the music scene these days is a live performance which cannot be missed. I feel too many people think "Well, I'll just stay home and listen to this album on my stereo" because often times the amount of live music out there can be overwhelming, but Period Bomb seems to create this must see live performance that, to me, music so desperately needs. Is this on purpose? Was it a decision made where you said "If we're going to play live, we need to do more than just stand there"?
I see the value in just sticking to the musical aspect more than performance, but I also can't believe there suuch few actually uncontrollably angry and damaged front people in music right now! I think there's plenty but they want to be listened to in this bologna system and not stamped with a seal of insanity. I feel like the movement for Americans being open and proud about their mental illnesses has taken a few steps back but maybe one forward lately.. Anyway it's hard to answer that questions because most sets I'm trying to find the hilarity and outrageousness in these situations but other sets I've just been super depressed or maybe even having a great time. Thanks though.
8) What are the plans for Period Bomb in 2019?
We're gonna focus on taking a step between the initial thought and performance of it and come up with more clear (visual and audio) ways to portray our messages to a wider group of people. Finish a ton of music videos and other weird shorts we've started and TV show episodes... Were both pretty set on trying to tour far and wider, which will be much easier without people deceptively half-assing our mission with us..were talking about one member in particular and everyone knows who it is. Wasted a lot of energy on them and still toured 7 months out of the year and succeeded in meeting and/or playing with just about all of our hero's. Excited to spend more time with them not only because their my greatest inspirations but also some of the truest, purest friends as well and people in general. And we're going to save the best record store in America- True Vine in Baltimore- if it's the last thing we ever do!