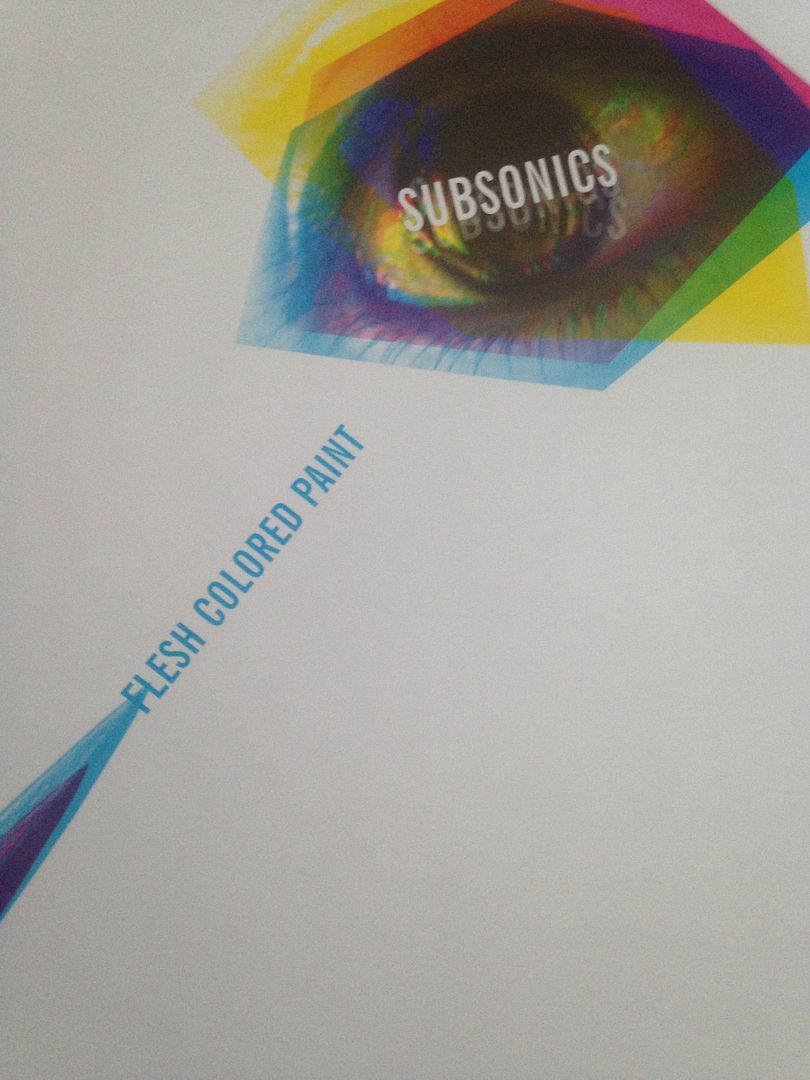 $13.50 //
Edition of 100 //
https://slovenly.bandcamp.com/album/subsonics-flesh-colored-paint-lp
When I was younger I used to watch "Newsradio" in syndication with my sister and we'd see commercials for compilation CDs you could order by phone. Since everything has gone digital, such ads have become a thing of the past (I believe) but there was always this one compilation that stuck with me and it had that "greasers" type of music feel to it. I didn't know the entire song back then but I'd know parts of it like "Teen Angel" and "Why Must I Be A Teenager In Love".
I relate that style of music most with Buddy Holly and I've always wanted to get deeper into the artists who were around in the 1950's and 1960's (but more towards the '50's) and making that leather jacket wearing, teenage rebellion type of rock n roll. Back when you could go to the malt shop and race cars or whatever. It's somewhere between "Happy Days" and the old "Archie" comics-- both of which still hold up today for me. With the garage style having made its comeback (or some say never really going away) I feel maybe instead of going back to the past I should focus on the present and future more.
"Flesh Colored Paint" as a record opens with the title track. The actual first words are about donkeys wearing shoes and this is a conversation I've had too many times recently, but why isn't there an emoji for a donkey? This song comes through hard, but in a rock n roll from the 1950's type of way and it's just a great way to start any album really because when you hear it there is a quality which lures you in. It's not anything specific about the music or lyrics as much as there is just this vibe that it's cool, like The Fonz.
The music of Subsonics can range from Bob Dylan and Lou Reed to "Stuck In The Middle With You". It's groovy garage and there is a little bit of a scary punk rock quality to it as well. At times this can remind me of The Cramps and yet with a song like "I Believe I Don't Believe" I can really hear the Elvis/Buddy Holly influence coming through. As with those who came before this though, Subsonics just have a unique voice in a style which, with songs like "Johnny Left Hand" can remind me of that song "My Boyfriend's Back", even with the backing vocals.
Lyrically, you can find yourself quoting this one quite a bit. These songs can be of that rock n roll quality from the 1950's where they even are around two minutes as well so it's got this pop feel, but the difference between these and the songs of the past is I feel as if these lyrics have more depth to them. Even in the opening titular track we must ponder "If nothing is real, then nothing is fake", which is likely something you could write an entire paper about in your college philosophy class.
From taking a seat in the back and trying to find places to hide to being the most popular boy in town, many of the songs also have lyrics which are based around the titles. When I first listened to this I wrote in my notes that "he sings about how he must be poison to the tune of 1950's rock n roll" and that song is called "I Must Be Poisoned". "Die A Little" is a perfect ballad, both lyrically and musically. One of my favorite aspects of this record as well is that the Bandcamp only lets you stream four songs, which I feel puts an emphasis on you buying the actual record, which really you should.
If for some reason the first song doesn't immediately hook you on this record and make you feel like that Fry meme of "Shut up and take my money", then the next song is called "Why Should Anybody Care At All" which is just the perfect anthem for apathy, hands down one of my favorites on this album and perhaps in general as well. So whether you're going to have a clambake or just want an appreciation for the finer music in life, I would definitely say this record is essential for every music collection because these are songs I just don't ever see myself not listening to-- even fifty years from now they will hold up and you'll want to be listening to them for as long as you possibly can.