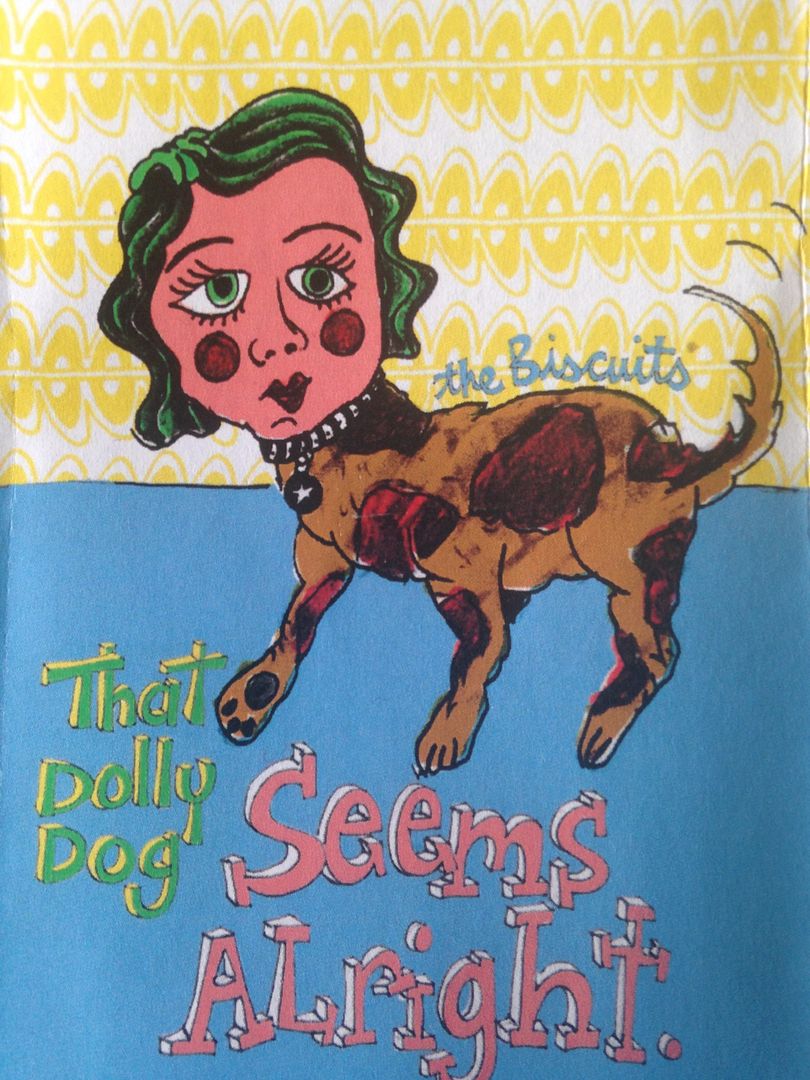 $7 //
Edition of 100 //
https://dubbedtapes.bandcamp.com/album/that-dolly-dog-seems-alright
//
While I might not mention this enough, dubbed tapes is from New Zealand as such they seem to highlight many artists from that same area, which I love. It's something that, even being in the USA I'd like to hear a label showcasing the best of Chicago, for example, but yet here you have a whole other country and region of the world where it feels like I'm less likely to visit than Chicago and even in this whole other country they're still doing such wonderful and amazing things in music so I'm just so happy and proud that dubbed tapes is showcasing that.
The Biscuits (as per Discogs) are a three piece band from New Zealand and they have one album before this one which was released on Clean Teeth Recordings. My browser history shows the name Clean Teeth Recordings in purple because it is a link I have visited before via Discogs because they are also home to a release by Duckling Monster. The releases- which are cassettes- on Clean Teeth Recordings seem to be from 2009 to 2014 so I don't know if the label is still active. I see only five different cassettes on the CTR Discogs page though, so if someone was to re-release them eventually as a boxed set it'd be pretty rad.
As soon as you press play on this cassette you will be taken to a world of crazy rock n roll. At first, there is a sound of thrash punk, but there are also some metal riffs in here as well. It reminds me a bit of the Marilyn Manson album "Smells Like Children". Now back when that album was released I purchased it on CD because of the cover of "Sweet Dreams" and I was into that sort of goth scene at the time as well (I even went to see Marilyn Manson in concert once, decked out in all black except for my dandruff and even had black lipstick on). The CD I got though was actually L7 and not Marilyn Manson but then I let my at the time girlfriend borrow it so she still has it (whattup Jen) so yeah, there's also that. Thinking that era of Marilyn Manson sounds like L7 and the such.
Part of this also sounds distorted like "Fell In Love With A Girl" but through classic rock vibes there is also a definitive punk sound. At times it reminds me of older Local H while at other times the only artist I can think of to compare it with is Period Bomb. If you're into rock music with a heavy punk influence which remains in the same room but never the same place, then The Biscuits are for you. This is not just one of those cassettes you need to check out, but it's also one of those artists you need to check out as well.
Though this is the third cassette released by dubbed tapes and I had been reviewing them in order of release, this is the last one (as of their eight current releases) that they have out right now and as such I will somehow have a review posted for each of the eight cassettes they have released, some of which are sold out and others very close to it. I must say though that I am impressed by all of the artists on dubbed tapes and that they don't seem to have any limitations of what they will release: they're not a "noise label" for example as the music they release doesn't fit any mold. If you have not checked out dubbed tapes yet it is time for you to do it.