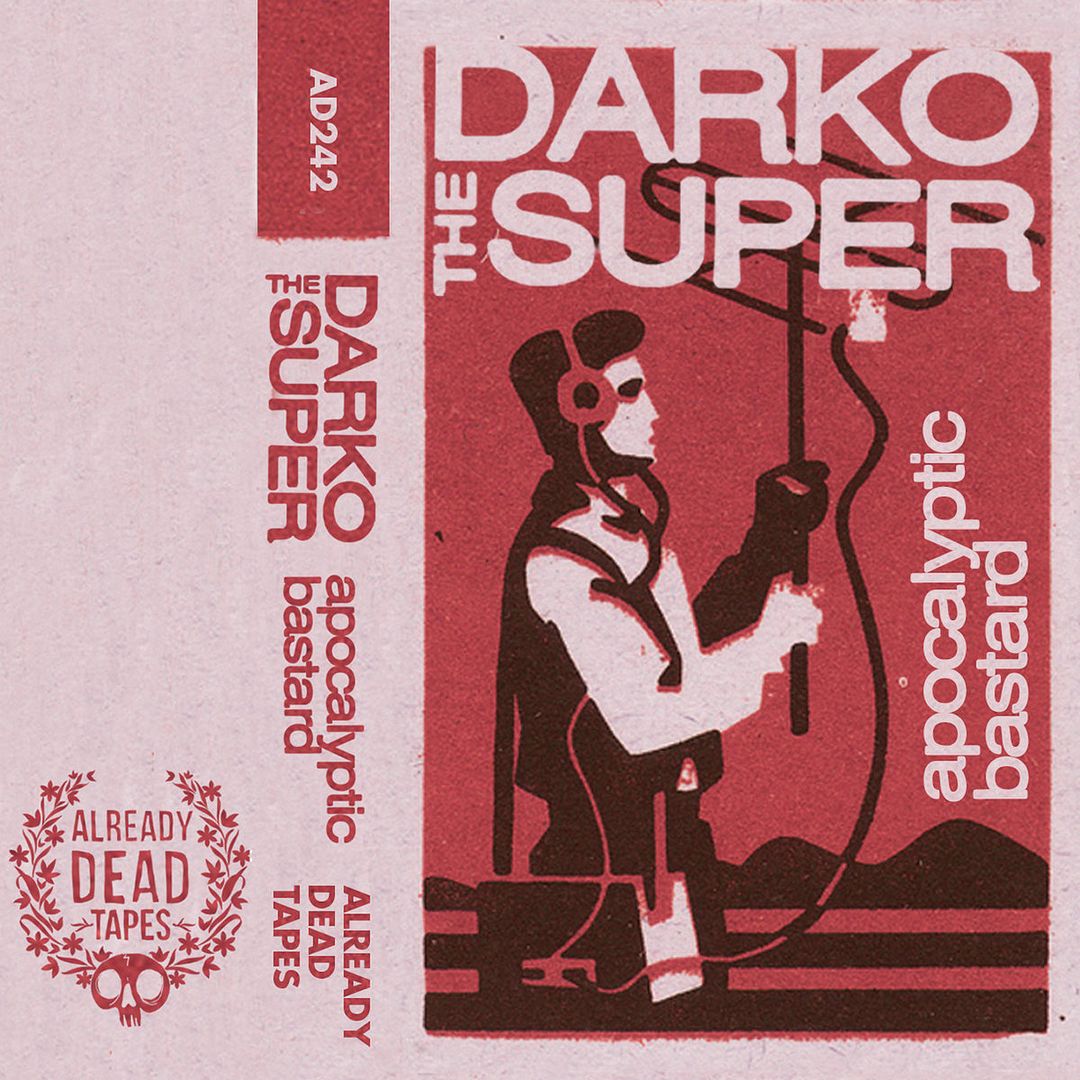 "Apocalyptic Bastard" was released on cassette and the first song on it is about buying his CD. Are you confused yet? And what is an "Apocalyptic Bastard"? I'm out telling everyone it's the end of the world every time something happens these days, so can I be one? For no reason here's a shout out to ialive for a producing a track on here. Respect.
Even though the first song is about the compact disc (a lost art [says the cassette guy, I know I know]) there is a reference to Darko trying to give someone his tape so I'll take that. While there are generally a number of pop culture references within the songs of Darko the Super, this one seems to be really full of them. "Mad World", for example, has a lot of that song laced into it, but I mean, it makes sense since most people know that song from the movie "Donnie Darko".
Fun Fact: The hardcore band Evergreen Terrace did a cover of "Mad World". At one point, I think it would be funny if a snipet of that appeared in the Darko the Super song.
"Fresh Prince Of Kalamazoo" is an ode to the Fresh Prince of Bel-Air and, you know, I'm going to be honest with you (because I always am), but I really like that Darko does this sort of thing. You see, I get a lot of music and it might be this artist I never heard of before but then they title their song "All Apologies" and I'm just thinking if this isn't somehow a tribute to Nirvana then just fuck off with that. I find comfort in knowing that if Darko the Super names a song "Mad World" I can expect to hear some bars from that song.
The music on here seems different than that of what I've heard from Darko the Super before. He always sings along with rapping but this time it just feels like something more than just beats (And, I know, I know, "just beats" is an understatement for music I have previously heard by him) I suppose it is that in hip hop the beats tend to be the dominant sound and that has been true for music past but here I can hear a bit more synth.
There is a Trump diss track and why not? Everyone should have a Trump diss track no matter what you believe because fuck authority and all that. Question: Has there ever been a pro-President song? I mean, even when Obama was in office, were people writing him love ballads like, "You're doing a great job and we really appreciate you"? I don't think so. So keep up the diss tracks, right, it's the only way to go. Plus at least this song isn't as random as Eminem just blurting out "And you're orange".
Now it is time to make those who don't know this fact sad. On the song "Life Is Unfair", pieces of the theme song to "Malcolm In The Middle" appear and I know it's an actual song but I prefer to think of it as belonging to the television show, but did you know that Frankie Muniz has short term memory loss of some kind and so he doesn't even remember the show or what he did yesterday? He's like that movie "Memento" now and it makes me sad but he's totally fine with it if you listen to him in interviews.
"High School Hero" has elements of "The Safety Dance" in it while "God, Fuck America" reminds me of Gorillaz at times. What I really love about this album though is the song "Dirtbag Baby". It has parts of that Wheatus song in it and a few years back Wheatus released a new album, which I managed to review on cassette, so it's kind of funny how everything seemed to come full circle.
$5 //
Edition of 100 Cassette //
https://alreadydeadtapes.bandcamp.com/album/ad242-darko-the-super-apocalyptic-bastard