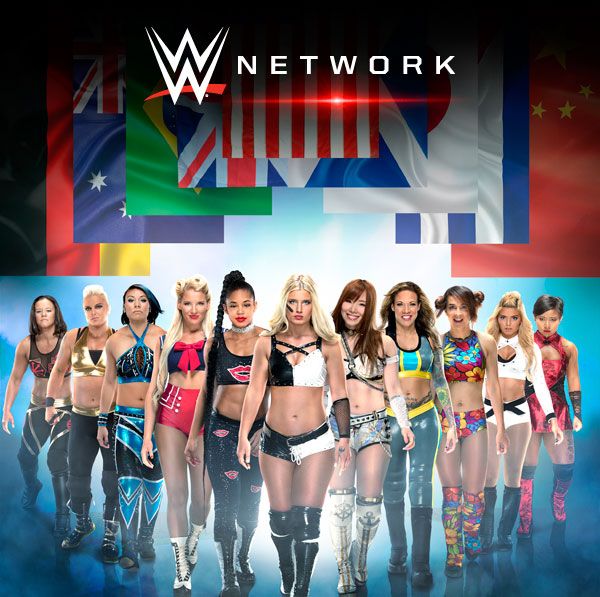 As opposed to the format of the CWC, WWE has decided to unload all four episodes of the first round matches of the Mae Young Classic at once. Vince McMahon said it was "binge-worthy" on Twitter, further leading me to believe his Twitter is not run by him because I doubt he knows what that means. Anyway, I think this is a better plan than how they did the CWC because there are spoiler links out there (Which I've honestly forgotten about at this point) My only problem is that people can watch these episodes whenever they have the time so it's not like everyone can tweet along with the matches as they happen-- it doesn't feel like we're all tweeting together. Anyway, why they couldn't have done this tournament live over two days is beyond me. Maybe next time? On with the show!
Episode 1
Prinsesa Sugehit defeated Kay Lee Ray
Kay Lee Ray was hyped up a lot. She's a daredevil or whatever. But as I told her on Twitter, WWE already has Becky Lynch. Sugehit is from CMLL and is representing Mexico in this tournament (That's lucha libre, not lucha libra JR!) I thought because of the build she got Kay Lee Ray would win. I was glad she didn't and that the luchadora advances here.
Serena Deeb defeated Vanessa Borne
The past of Deeb was noted with her previously being in WWE and all that. Vanessa Borne barely looked like a wrestler. She won a match on NXT to get into this tournament and, I mean, if she's in developmental then she can go back to there. Deeb seemed like the obvious winner here based upon my knowing about her before the match and so this was right on.
Shayna Baszler defeated Zeda
Easy enough. Who is Zeda? I have no idea. I watched this match and I still don't know. But Shayna (Which is what Vince will shorten her name to on the main roster) rolls with Ronda Rousey so you know she's going to win this if not the entire tournament.
Abbey Laith defeated Jazzy Gabert
This was our first main event and it was actually a really good match. Jazzy Gabert is large and intimidating. There were a number of times when I thought she was going to win and guess what? The crowd was also really behind her. WWE needs to sign her quick because she could even debut on RAW right now and destroy most of the roster (Though that staredown with Nia Jax would be money) I thought that the former Kimber Lee would win this match- and she did- because her finisher is from Mae Young, but still, Jazzy gave reasonble hope for the first time that she might have won. I enjoyed this main event and think that perhaps Jazzy should have made it through to a later round but somehow she doesn't even look terrible in defeat.
Episode 2
Mercedes Martinez defeated Xia Li
This was Xia Li's first match. Ever. Mercedes Martinez has been in the ring with legends such as Jazz. Pretty obvious Martinez was getting the win here and, yeah, we have to wait until the next round to see some guess work as to who will win I suppose, just like with the CWC.
Rachel Evers defeated Marti Belle
This is the first match I don't agree with. Racel Evers is the daughter of Paul Ellering but Marti Belle is superior in every other way. This should have been like Deeb-Borne. Whoever Evers faces next now I hope she loses because Marti Belle should have won this match.
Rhea Ripley defeated Miranda Salinas
This is one of those matches where both women are losers (sorry) and they could have been used better. For example, someone like Jazzy or Marti could have gone over one of these two and then they'd still be in the tournament. I mean, it's only the previous match, but just do that. Give Rachel Evers the win over Rhea Ripley and then give Marti Belle the win over Miranda Salinas. Would that really have been so hard? But yeah, Rhea is going in the next round. I'm calling it now.
Mia Yim defeated Sarah Logan
Another match which made me sad because our second main event saw two women I would like to see in later rounds. I'm glad Mia Yim won, but I also enjoy the former Crazy Mary Dobson so she is now added to my list of names that could have advanced instead of someone else as I've previously mentioned.
Episode 3
Toni Storm defeated Ayesha Raymond
Toni Storm is great. Ayesha Raymond dresses like Awesome Kong. I kid you not, Ayesha Raymond stopped to argue with the crowd and that cost her the match. Why would you allow yourself to be booked like that? She looks like a complete idiot. Oh well. Not like she was going to get past Toni Storm anyway.
Dakota Kai defeated Kavita Devi
Kavita Devi is the first Indian woman in a WWE ring but otherwise she seems to have nothing going for her. Well, aside from wearing all orange and looking like Nailz. Dakota Kai has gotten some attention prior to the tournament so she's the obvious one to move forward. It's like, if you've been in TNA or SHIMMER then you'll advance over the foreigner who we know little about.
Bianca Belair defeated Sage Beckett
Another match that upset me. Bianca Belair is nothing more than a ponytail. She needs to go back to developmental and work on her moveset. And yet she somehow gets the win over Sage Beckett, who has been around and even appeared in TNA back in the day. Sage Beckett is one of the most interesting characters in this entire tournament and she loses to a ponytail. I can't even.
Piper Niven defeated Santana Garrett
I'm not sure how to properly phrase this so I'm going to just say it like it is. Piper Niven is a larger woman. Despite her size though, she can move. She's quick and she just looks powerful. Too many women in WWE right now- on their main roster- look like they don't give it their all in their matches because they might mess up their hair or break a nail, but Piper Niven looks like a legit badass. Piper Niven looks like the type of woman you wouldn't want to get into a physical fight with. You watch her fight and wonder how anyone can defeat her. Piper Niven should be in WWE if they want us to take their women's division more seriously and if she doesn't get signed I'll just follow her career outside of WWE because I'm just in love with her now.
Episode 4
Candice LeRae defeated Renee Michelle
How confusing is it that we have the names Candice and Michelle in this match? They couldn't have done something about that or was that an intentional joke? Candice LeRae looks like she's wearing a wig. She gets a chant of "Mrs Wrestling" which for a minute I think is "This is wrestling". Candice is over with the crowd but she still has yet to impress me. That being said, I could live without ever seeing Renee Michelle again so I suppose the right choice was made here.
Lacey Evans defeated Taynara Conti
I'm going to be brutally honest with this match. I have no idea who Taynara Conti is, so she's right to not advance, but as far as Lacey Evans goes... I've seen her in NXT. She has this look like a pinup model or Agent Carter. But here's what I didn't get-- what didn't click-- until I saw her in this match. Lacey Evans is a former US Marine. So that contrast of her coming to the ring like "eye candy" and then her getting in the ring and switching gears into that military toughness... I get it now. I understand what the gimmick is and it's really working for me. I hope that if she doesn't win this tournament she at least finds success in NXT because not many people can claim what she can.
Nicole Savoy defeated Reina Gonzalez
I expected Nicole Savoy to win this based upon the experience she had outside of this-- I knew her name before this tournament and can't say the same for Reina Gonzalez. It seems like that's what a lot of the first round is though. "I know her so she'll win" versus "Who? She's likely losing".
Kairi Sane defeated Tessa Blanchard
Kairi Sane is my pick to win this thing. (Though I also thought ZSJ-Ibushi would be the finals of the CWC) Tessa Blanchard didn't really stand a chance here so, sorry. It's just fun to see Kairi in a WWE ring.
Then There Were 16
The next match ups with my predictions...
Abbey Laith vs. Rachel Evers
::: Abbey all day
Princesa Sugehit vs. Mercedes Martinez
::: This is going to be a great match but Mercedes will pull through and then also defeat Abbey.
Nicole Savoy vs. Candice LeRae
::: Looks like Candice will advance here but lose to Shayna in the next round.
Mia Yim vs. Shayna Baeszler
::: Well, looks like Mia Yim is going out in the second round. Dammit. Shayna vs. Mercedes will be a great semi-finals match though.
Kairi Sane vs. Bianca Belair
::: I hope Kairi rips her stupid ponytail off.
Dakota Kai vs. Rhea Ripely
::: Dakota wins, then goes on to lose to Kairi obviously.
Serena Deeb vs. Piper Niven
::: If Piper Niven does what I think she can, she will meet Kairi Sane in the semi-finals and it will be a hell of a match.
Lacey Evans vs. Toni Storm
::: We'll likely see Toni Storm win here then lose to Piper Niven, but again, I'm getting ahead of myself.
Final Thoughts
I really enjoyed the crowd for this. The matches were what you would expect from the first round except for a few stand outs. This was sixteen matches in total and I'd say maybe only four of them were worth really watching and it wasn't just the main events of each episode either. There is also something this show is really lacking by having JR and Lita on commentary. If you watch NXT, Percy Watson is barely there while it feels like Nigel and Mauro fight each other to say what they want. With JR and Lita though it didn't feel like either of them wanted to take the lead. Someone needs to take the lead but there are just these awkward silences where it feels like one is waiting for the other to speak. Plus, when they do talk about the matches it's not all that great either. JR has his video game lines and all of that but he seems to repeat himself a lot. It also feels like he only knows what he's reading off of a sheet of paper rather than having actually watched any of these competitors before. During the opening match, JR asked Lita if she ever wrestled under a mask. The JR I grew up watching knew every wrestler's shoe size, you know what I mean? JR should've known that and not had to ask it. He really is getting worse in his commentary as he gets older and seems to distance himself from the sport (s entertainment). It seems like almost anyone would've been better suited for this role (Except those guys who did the English commentary on Triplemania XXV) but since a lot of these women have been in/are in SHIMMER and SHINE couldn't we get commentators from the WWN? Just a thought for if this happens again next year.