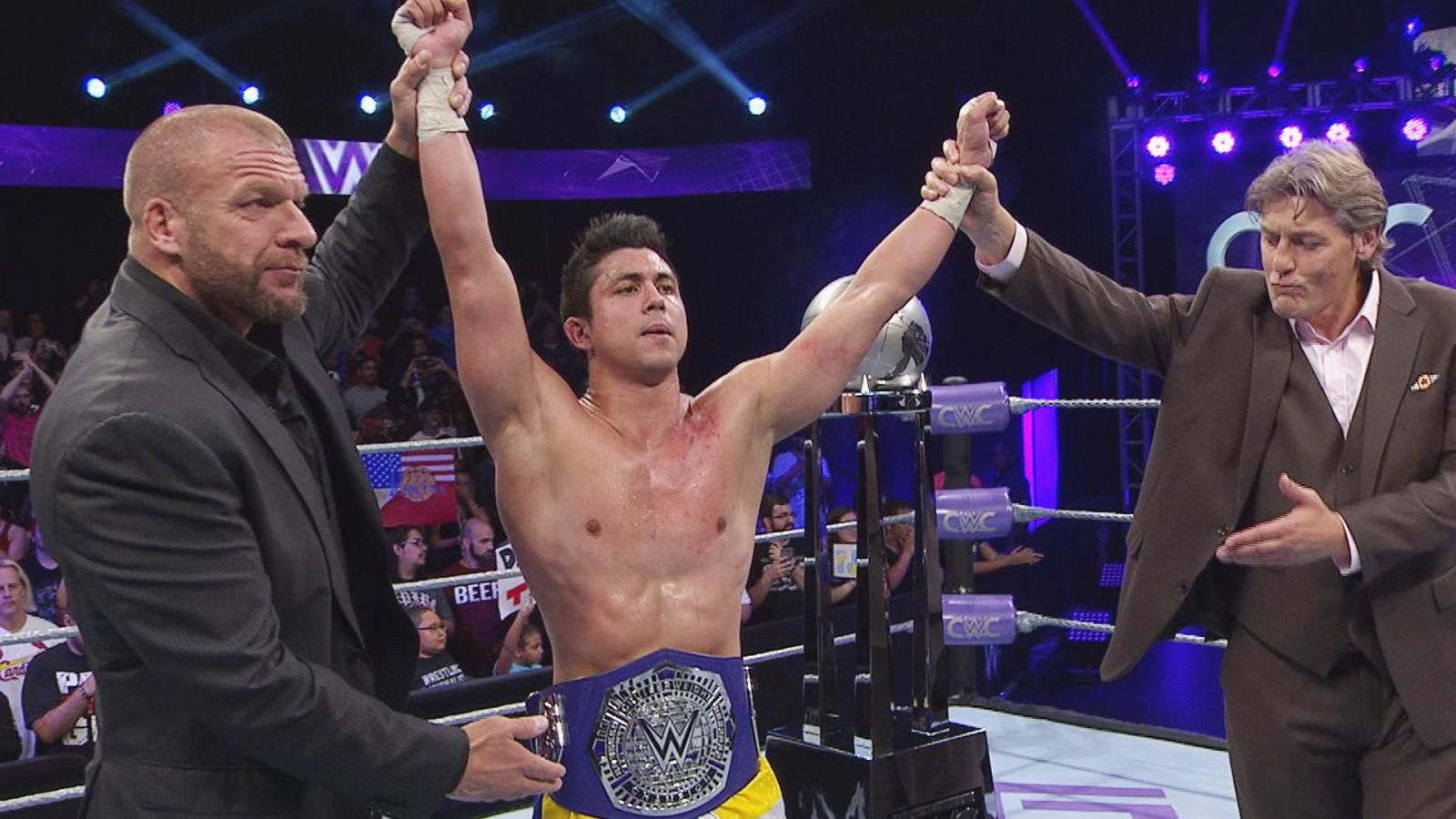 Official WWE results here:
http://www.wwe.com/shows/cruiserweightclassic/2016-09-14-live-finale
Instead of doing my normal match reviews I'm just going to type to you about the entire CWC Finale, as I watched it live and felt right along with everyone else. I'm not going to lie-- I've said it since Day One-- I was expecting a ZSJ-Ibushi finals and with the Final Four it looked like we were headed in that direction. And then Gran Metalik upset ZSJ. That was an incredible match, first off, but I thought... Wow. How could they do that? I love ZSJ and he's quite possibly the best in the world right now and he's going to lose to Gran Metalik?? But, Gran Metalik is also accomplished enough and I feel like having him in the finals is a nod towards lucha libre and as such I cannot deny that because obviously the lucha libre style is a huge influence on cruiserweights.
Then the impossible happened. TJP defeated Kota Ibushi. I've read online that ZSJ has been offered a WWE deal but not signed, but I've also read that Kota Ibushi has agreed to come in and work select dates but not be full time in NXT or WWE in general. Does this feel like a slap to the face of Ibushi to anyone other than me? It is worth noting that both Gran Metalik and TJP have signed WWE deals where as ZSJ and Ibushi have not. So, to me, this feels less like a matter of who is truly the best in the world and more like who is willing to sign a WWE deal and benefit them in the long run. I mean, I never should have thought it'd be fair, but I should have known now that WWE wasn't going to allow ZSJ to win this and then go back to other promotions.
Now, Ciampa & Gargano had a nice win in a tag match against Noam Dar and Cedric Alexander, who are not an established tag team, and it was a nice way to kind of take a breather before the finals. It also helps Ciampa & Gargano get back on track to getting a tag team title shot again, which they will likely lose and then Ciampa will turn on Gargano and run wild in NXT with his Loose Cannon gimmick (please?) But yeah, Noam Dar and Cedric Alexander never really stood a chance here.
Before the main event, the unexpected finals of Gran Metalik vs. TJP, HHH came into the ring and said the winner would go to RAW as the Cruiserweight Champion and showed the belt. Had we known this prior to the match- like last week or even earlier in the day- the betting odds would have changed as both Ibushi and ZSJ are not in the RAW Cruiserweight Division and both Gran Metalik and TJP are so it would have made this finals seem much more obvious. But, again, what can you do? WWE is apparently going to be WWE. TJP and Gran Metalik told a great story of Gran Metalik having an injured knee and ultimately tapping to a knee bar submission. TJP is going to be difficult to defeat on RAW and, really, this kid has been in most every major promotion before coming to WWE (Even that short lived Lucha Libre USA show that they made action figures for and included Mark Jindrak in the line) so he does deserve this and I'm not trying to take anything away from him at all because I do love TJP and this all couldn't have been built around a better wrestler. As much as I'll complain about not having an Ibushi-ZSJ finals, really any of these guys in the Final Four deserved to win it all and I tip my Mets hat to TJP because he defied the odds tonight. He came in as the underdog (I never thought he'd make it this far) and he won it all.
The question now is: where do we go from here? I'd love to somehow see this all done again next year, but they couldn't crown a champion again. They could give the winner of the tournament next year a title shot or a contract if they brought in all non-contracted guys, but at the same time, I feel like they're going to have to give out title shots and contracts within the next year anyway so that makes it seem less meaningful. If nothing else, this CWC tournament was proof that WWE could have a weekly show, like NXT, just full of the Cruiserweights and it would be well watched. The Cruiserweights don't need to be on RAW or Smack Down!-- they could have their own show on The Network and, really, they should. Of course there is still that jaded part of me which thinks "Just bet on the guys under WWE contract to win it", but I'm going to try my best to silence that in favor of wrestling.