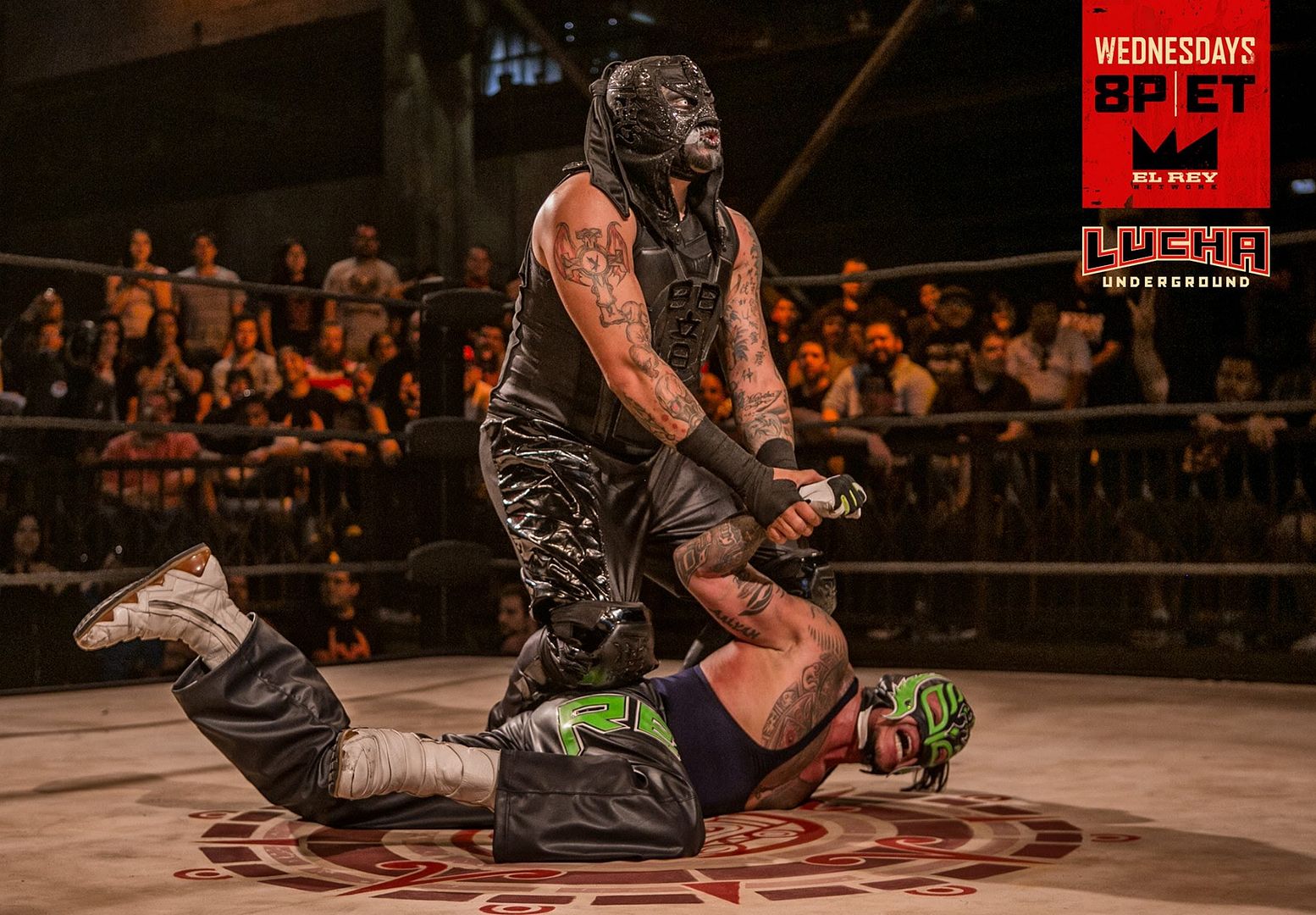 RAW opened this week with talking about Kevin Owens being the Universal Champion, HHH costing Seth Rollins the match and Seth Rollins basically yelling at Stephanie McMahon about it. No, really. If WWE wants to change something for the better about their five hours of television on Monday and Tuesday why don't they start by not opening every show with these long, boring talking segments? At least Lucha Underground is coming back this week so I have that to look forward to still.
In the first match of the night Bayley defeated Charlotte in a non-title match. This will likely set up that Charlotte-Bayley title match and why not. Bayley already defeated Dana Brooke and now if she doesn't defeat Charlotte it will be back to the bottom of the roster for her or something. I don't know. This is why not everyone can be booked strong right away, you dig? Still, it'd be interesting to see Bayley win the title and then defend it against her friend Sasha Banks when Sasha returns from injury.
Speaking of Sasha Banks, I believe it was Corey Graves (but don't quote me on that) but when Michael Cole said that Sasha Banks had some bad news for later tonight (Which made me think of Bad News Barrett), I believe it was Corey Graves who said "This isn't going to be good". I wanted to reach through the television and slap him for that statement of the obvious.
Bo Dallas defeated a local jobber in a match not on the Hulu replay and then Seth Rollins defeated Chris Jericho with the Pedigree because Seth Rollins and HHH will fight soon and I'm already bored. Speaking of being already bored, Sheamus won his match with Cesaro and went up 3-0 in their best of seven series. Just, can we please just end this series now and send Cesaro to Smack Down? Thanks. This is obviously going nowhere because if Cesaro pulls out the big comeback win and manages to defeat Sheamus four times in a row, does it even matter at this point? What will be accomplished in doing that? And these matches are just wearing thin.
In a tag team match, Enzo & Cass lost to Shining Stars when there was a quick roll up and maybe it was on the wrong guy (Was Enzo legal?) but it's kind of interesting because it gives the Shining Stars a little rub while Enzo & Cass don't really lose anything because they're still over as all hell. What was that someone was saying once about wins and losses? Enzo & Cass could lose every match they're in for the rest of the year, still sell more t-shirts than anyone else on the roster and then go and win the tag team titles at Wrestlemania. Just wait.
The Hulu replay didn't let us see a Nia Jax squash match (Can someone make a playlist of all of her and Braun Strowman's squashes on YoutTube for me? Thanks!) but we did get to see Gallows & Anderson have this Old Day skit. I think I would have rather seen some wrestling. Luke Gallows is also a bit awkward on the mic, is he not? In New Japan he was just this big ass-kicking dude and he needs to go back to that. I understand WWE likes the entertainment, but seeing Gallows and Anderson beat people up is entertaining to me.
We predictably skipped over Darren Young defeating Jinder Mahal and Braun Strowman defeating Sin Cara to hear Sasha Banks bring us the news of Bad News Barrett. Corey Graves over-sold how bad it was going to be ("I'm expecting the worst when it comes to this announcement" -- so, what, so Sasha is going to announce that she's dead??) and Sasha Banks pulled the swerve and said she was cleared to come back so really she lost the title for nothing and now we're going to have Charlotte become a sixteen time champion before the end of this year. Ugh. Is this WCW? Are we changing titles multiple times during shows next? I just feel like at one point, Charlotte, Sasha and Becky all came up as part of the women's revolution, but now it just feels like we need another revolution to save us from these three.
In the main event, Kevin Owens and Sami Zayn fought, which obviously Owens won since he's the champ, and then after the match Roman Reigns came out. Mick Foley announced that next week it'd be Kevin Owens vs. Roman Reigns and if Roman Reigns wins then he's added to the title match at Clash of Champions. So... On one hand, I'd be mad if I was Sami Zayn because he didn't have that option before his match with Kevin Owens. But also, Kevin Owens doesn't want to defend his title against two guys at once- this is true- but Seth Rollins also won't want Roman Reigns in the match so I can expect a lot of outside interference and no Roman being add to the match. Didn't we do something like this not that long ago with AJ Styles before the brand split? Is WWE really hurting for ideas that much? (Call me! I once had a successful fig-fed!)
There was an episode of ROH TV where the Young Bucks challenged The Addiction for the tag titles in the main event, but we missed it (they took it down before we had the chance to watch it) so we just went ahead to the next episode which opened with the Bullet Club cutting a promo in the ring with new ROH Champion Adam Cole. Jay Lethal came out and he brought Naito and EVIL with him. This is getting good, people.
Side Note: ROH is having a PPV in Lowell, MA (which is not far from me) but the cheapest seats are $27 and the most expensive (ringside) are $90! Yeah, we can't do that for a family of three and the PPV starts on Friday at 9pm. Can someone bring ROH to Connecticut in a matinee?
Jay Lethal, Naito and EVIL vs. Bullet Club is booked for next week.
The Addiction is out and complaining about the match from last week, which we missed so whatever. Now they're going into a video clip of BJ Whitmer, Kevin Sullivan (yes, really) and now Punisher Martinez, who I believe was in the last Top Prospects Tournament. So, hey, if you lose in the TPT, no big deal, Kevin Sullivan will still love you.
Our first match of this show- which is slowly ending- is Caprice Coleman vs. Dalton Castle, as I wondering recently what happened to Dalton Castle and a Dalton Castle action figure (with removeable fabric jumpsuit ala Jakks Honky Tonk Man) in the ROH line is my number one want right now. There was outside interference, ejections and everything like that, but really, why isn't Dalton Castle in the ROH Title picture right now?
Donovan Dijak squashed a jobber and no one seemed to care. Is anyone impressed by how tall this guy is yet?
Lio Rush and Jay White took on the Briscoes in the television main event. I fully expect this to break down into White vs. Rush one day. In the main event, the Briscoes won because they're an actual tag team and, well, it just feels like so much of ROH this week was based upon "Future shows are can't miss!" and less about actual quality this week. It was sad really. I'm really hoping ROH can shake some things up soon and make their product better. I started watching it again when Alberto Del Rio showed up there and since he is gone from WWE (again) perhaps they should consider bringing him back again. Give him a run with the title this time. Who knows. Let's just do something different.
NXT opened with the team of TM61 defeating Tony Nese & Ariya Daivari. I liked this match because it gave TM61 a win while showcasing some newer talent as well. My only problem with it was that they were trying to use Nese & Daivari as a means of getting the CWC over when they've both been eliminated from the tournament already. The main point here though is that Nese & Daivari are not a full time tag team and TM61 are and hopefully TM61 can slowly build their wins up and get into a serious feud for the titles.
Asuka had a sit down interview where she basically said no one could take the title from her. For the record, Paige went to the main roster while NXT Women's Champion, won the title up there and then was forced to surrender the NXT Women's Championship, so... Asuka might just do the same.
Ember Moon defeated Leah Von in a decent squash match.
In an interesting match of the night, Austin Aries defeated Andrade "Cien" Almas to get his win back in some way. This made Aries look strong, since he's going into a feud with Hideo Itami right now, but I just kind of feel like Almas got that one win in his debut- against Tye Dillinger- and since then he's just been losing. At least for this match he didn't come out looking like The Albino Bray Wyatt. Still, I don't know where Almas goes from here but it doesn't seem to matter as my focus is on Aries-Itami.
The main event saw Shinsuke Nakamura defeat Steve Cutler and I like the fact that Steve Cutler was being used in this way because he could be losing here but then eventually, when facing someone else, win down the line as his character builds. This is something I felt was never quite accomplished with other talent in NXT (Even though I'm trying not to remember Elias Sampson) in the sense of the men but the women seem to usher in the new talent rather well. Also, we got to see Shinsuke Nakamura get the win and that's always worth watching because Nakamura is one of the best wrestlers in the world right now. So this was a fitting end to a really good episode of NXT that shows the future is rather bright.
Lucha Underground opened with Dario Cueto being released from jail and the guy who gave him his things back upon release was the Honky Tonk Man and for some reason I found that to be rather hilarious. We go to The Temple and Dario Cueto has what is essentially the Raw Roulette wheel. He spins it, it lands on Son of Havoc and thus Son of Havoc gets to face Mantanza Cueto and that match starts right now. Mantanza gets the win in all right, not-quite-a-squash match. This leads to Johnny Mundo and his friends going into Dario Cueto's office and being upset that they weren't given title shots. Cueto says they all lost last time they were in The Temple... Except for Taya. So he books Taya vs. Sexy Star for the Gift of the Gods Championship.
Ivelisse is in the ring and she cuts a promo about Katrina, who accepts a match. I think Ivelisse needs to find some help if Mil Muertes decides to get involved.
Sexy Star defeats Taya to retain the Gift of the Gods Championship, but then post match is attacked by all of her friends until the Trios Champs make the save. So... Four on four soon?
Marty the Moth is booked in a weapons match with Killshot next week which should be a lot of fun.
In the main event, Rey Mysterio- who is wearing a tank top for some reason- defeats Pentagon Dark. PD goes for the post match attack and attempt to break Rey Rey's arm, but Dragon Azteca makes the save for Rey and it looks like we're going into Dragon Azteca vs. Pentagon Dark, which I'm actually looking forward to perhaps more than I should be.
The show ended with Vampiro telling Prince Puma he has to take out Mil Muertes for him and I just really feel like Vampiro should stop messing around backstage, especially after he said when they opened the show. If this leads to Vampiro aligning himself with Mil Muertes or some sort of Vamp-Prince Puma feud... I don't know if I'm going to enjoy it.
We didn't get to see Smack Down! before Backlash and as such we'll likely skip it and just watch the newest episide from after Backlash next. Hopefully we'll start watching Smack Down! on a more regular basis though since AJ Styles is the WWE Champion now, despite the rest of the event being mediocre at best. I don't really have a lot to say about Backlash other than that, so we'll likely just get into RAW and actually watch Smack Down! next week, but then also catch up on the episode of Impact we missed as well-- with The Decay being deleted.