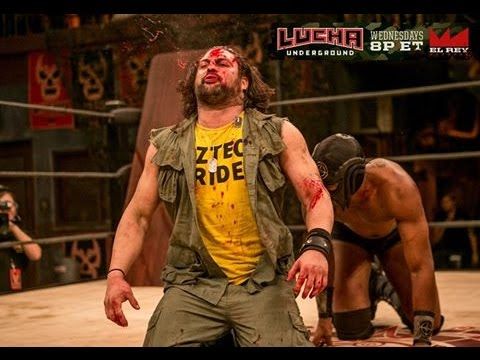 We started this week with RAW since I added some bits of Backlash to last week. RAW opened with a women's division segment. Mick Foley put Sasha Banks, Bayley and Dana Brooke into a match to become number one contender for Charlotte's title and Sasha Banks won. It was a decent enough match but the fact that these three women (with Dana Brooke in place of Charlotte) seem to be the entire women's division on RAW is getting pretty stale already.
Bo Dallas defeated Brandon Scott but it was not on the Hulu replay. Sami Zayn was on The Highlight Reel for some reason and that set up a match between the two, which should be good.
Cesaro defeated Sheamus to stay alive in their best of seven series, 3-2. I'm just ready for this one to be over, folks.
Alicia Fox vs. Nia Jax, Jinder Mahal def. Jack Swagger and Epico def. Enzo Amore were all matches not shown on the Hulu replay but in between that all we did see Gallows & Anderson defeat New Day in a non-title match. Now, I love New Day as champions, I do, but their hunt to get the titles back might make them more interesting at this point. Plus, they don't really *need* the titles to be as over as they are, do they? It might serve them well to have a program with The Shining Stars while Gallows & Anderson defend the tag titles against Enzo & Cass. Just a thought.
In the main event Kevin Owens defeated Roman Reigns to keep him out of the title match at Clash of Champions. Roman Reigns had a backstage promo before the match at one point and hearing him say he wanted to be in the main event at Clash of Champions made me feel like I was watching WCW in the 1980's. First, Seth Rollins tried to cost Reigns the match but Mick Foley started it back up again and ultimately it was the return of Rusev which lead to the match ending for Roman Reigns, so it looks like we're going forward with more of Rusev vs. Reigns which is just... A good reason to sleep through RAW I'd say. I don't know. Since Smack Down! has new tag champs, a new women's champ and even AJ Styles as their champion now, I'm really hoping that show will be better than RAW this week. But I kind of feel like since we have the CWC finale the rest of WWE is just phoning it in this week.
After RAW, which was only really all right, we went into Smack Down!. I was going in with high hopes since AJ Styles is the champion now, and as such we opened with a segment involving the new champion, Dean Ambrose and John Cena. Cena and Ambrose really traded more words and it was kind of fun hearing Cena say how Stone Cold was right about Ambrose, while Ambrose called Cena a part-timer. This of course is leading to a triple threat match at No Mercy- the next blue brand only show- but I'd like to see Cena and Ambrose spill off into their own feud eventually.
I'm not sure how to feel about The Usos as heels- though I kind of like that they don't do their same entrance anymore- but they defeated The Hype Bros and I guess being heels will be interesting for a little while. I just feel like they're one of these cartoon-type characters who need to remain good to sell merchandise, but we'll see how this all plays out. So far it just doesn't feel natural and that is a big problem. It's like, you're heels now, stop smiling.
Jack Swagger is on Smack Down! now and he said something like "You don't know Jack!" as is catchphrase. I think as a veteran who can actually wrestle, Jack Swagger could bring so much to the roster, especially working with someone like Apollo Crews and even AJ Styles. But the fact that he has a catchphrase now from how many years ago just goes to show how WWE feels about him. There is no reason why Jack Swagger cannot be the Kurt Angle of WWE or to WWE right now what Lashley is to TNA. (And for my money, Swagger is better on the mic than Lashley)
Meanwhile, The Miz and Dolph Ziggler are still in a program which makes us wonder whether or not Daniel Bryan will come back to the ring. When you have this angle with three wrestlers involved and the focus is on the one wrestler who has not been cleared by WWE to get back into the ring, then it kind of says how little people care about The Miz and Dolph Ziggler. It'd be like going to an autograph signing and caring more about the limo driver.
Alexa Bliss won a Fatal 5-Way to become number one contender to Becky Lynch. I said it on Sunday and I'll say it again here: Becky Lynch has won a worthless title. Once WWE is done with the brand split (again) it will either be merged back with the actual WWE Women's Champion (held by Charlotte) or just thrown in the trash. Even as someone who is not a fan of Becky Lynch (and this Becky Balboa stuff is pretty cringeworthy) I'm willing to admit how unfortunate it is that Charlotte, Sasha Banks and Bayley are on RAW feuding over the actual title while Becky Lynch is on Smack Down! with this substitute title. If I was a woman in WWE (I'm looking at you, Asuka) I wouldn't want to come to the main roster and win the women's championship on Smack Down!. Also, Halloween is going to be a time to count how many Harley Quinn costumes you can find (too many) and it apparently is beginning with Alexa Bliss. And can someone please explain to me why Naomi is the Nicki Minaj of Smack Down! exactly??
Heath Slater and Rhyno defeated The Ascension in a match which I bet no one cared about, but hey, Curt Hawkins is coming back! He has these Hawkins facts which reminds me of some years back when people were doing similar things for Chuck Norris, so congratulations, WWE, you have successfully made it into the 21st Century just not past 2010 yet.
Randy Orton proved that he is wrestler of the year as his match with Bray Wyatt at Backlash was clearly my favorite match of the night. This feud must continue and I must question as to why. Is there really no one else for Bray Wyatt to feud with right now??
In the main event, John Cena & Dean Ambrose defeated AJ Styles and The Miz even though Ambrose "turned on" Cena after the match. James Ellsworth was on his way to the ring to be AJ Styles' partner before he was attacked by The Miz. If this doesn't end with a James Ellsworth IC Title win I will stop watching Smack Down. He is clearly the star of the blue brand right now. Just ask Mick Foley.
Our first week of Impact opened with Mike Bennett talking until Dixie Carter- who I thought no longer had any authority in TNA- made a match with him and Moose at Bound For Glory. It's funny to me though that Dixie comes out, says no one wants to hear Mike Bennett talk and then all she does is talk. It's like, you don't solve talking problems by talking more. Where's the action??
There was a KO tag match but that was about all you really need to know about it.
Billy Corgan created the Grand Championship which will have rounds like MMA and basically sort of be like the Brawl For All. Drew Galloway came out and said he wanted the title. Billy Corgan said that was an eight man tournament to crown the first champion. Galloway and Aron Rex will both be in it (They'll likely meet in the finals then) while the first match is up next featuring Drew Galloway.
"Aron Rex" was a character in WWE. Now he's coming out in jeans and a tank top like every other guy who leaves the gym. Where is the character? So many people in TNA look the same and it's really kind of sad. What happened to characters and not these generic looking people? It's also odd to see the former Damien Sandow with his similar music but not in the robe deal.
Drew Galloway defeated Braxton Sutter in a Grand Championship match. It wasn't a bad wrestling match but it was rather MMA-like. I'm still not decided whether I'm into it or not and then Rock Star Spud attacked Braxton Sutter as well, which is a feud I am not looking forward to seeing.
There was an EC3-Lashley press conference which broke down into a fight and, yeah, it was pretty standard TNA stuff at this point. Something about this company needs to change. But there are these wonderful Hardyz-Decay promos going on in between and it feels like something out of a B movie at times even.
Eli Drake fought Jesse Godderz in one of these Grand Championship matches and, well, this should have been a match where each man was fired regardless of whether they won or lost because that would make us all the winners.
Quentin was really in and out of this episode of Impact, but his eyes were always glued to the screen for the Decay-Hardyz part which I think means that they should get their own weekly series or something.
Lucha Underground had some matches and segments that were, as usual, fun but the main focus of the show was Marty the Moth losing to Killshot in a Weapons of Mass Warfare or some such titled match. This match took up almost the entire show and was incredibly violent. I've been a fan of both of these characters because they are characters, and now I feel like this match just made them both such huge stars. Killshot did the double leg stomp onto the chest of Marty the Moth from the middle of the ladder and sent them both crashing down through a table which was just... I can't even describe it as a finish, but I bet that WWE was mad when they saw that because they didn't get to do it with Finn Balor first. This was one of my favorite episodes of Lucha Underground- ever- and being this early on in the third season as well... I'm ready for this season to be the best one yet.
NXT opened with Samoa Joe beating down Shinsuke Nakamura and Nakamura doing a stretcher job. The match after this saw Liv Morgan defeat Rachel Fazio, who used to be Rachel Ellering but I guess they thought that might get confusing with Paul Ellering being in NXT now as well. So it's funny because we've seen Liv Morgan before obviously, but the mood killer of the stretcher job made it so that the commentators didn't have to really talk about how we'd see Rachel Fazio before only under a different name. Now if they say we've seen her before- after this- they can just talk about this match and it'll be cool. This is kind of sneaky by WWE in some ways, but yeah, this wasn't that strong of a match, Liv Morgan challenged Asuka and this will likely lead to the end of Liv Morgan in NXT.
NXT announced that they will be heading to Australia because a tour on the other side of the world seems reasonable when they still can't bring a live event to Connecticut... Which... Is... Where... WWE HQ... Is...
It was nice to see Drew Gulak enter for the next match and even better to see Hideo Itami as his opponent. This is the type of thing I wouldn't have dreamed of happening, as when Hideo Itami was fighting in ROH Drew Gulak was still younger and now with Itami in NXT it seemed less likely since Drew Gulak mainly fights in EVOLVE and CZW. Itami wins with the GTS and this was a short match but these two could go so much longer at a special (or even Wrestlemania) and it would be amazing. If this is the future of WWE, I'm very much excited. Also, I enjoy that we have seen Samoa Joe, Shinsuke Nakamura, Hideo Itami and Drew Gulak so far on this show. Forget the women's match though. That wasn't so fun.
The Authors of Pain had a squash match. They got names and Paul Ellering came out with them but didn't speak on their behalf. Corey Graves said Paul Ellering was the only one with answers and yet he remains silent. A decent squash match, but they need a big guy tag team to feud with to really get over. If they could, I'd love to see WWE bring in War Machine for a one time thing.
The newest episode of ROH TV was highlighted by Jay Lethal being abandoned by Naito and Co. only to later be helped out by Kyle O'Reilly and Michael Elgin in his quest to take out Bullet Club. Nigel eventually granted Jay Lethal his rematch while he also announced The Addiction vs. MCMG vs. Young Bucks in a ladder match for ASE. In the main event Bobby Fish successfully defended his title against Shibata and I'm just really digging overall that ROH is using a lot of the New Japan talent still.
This would be where we end our week if only because we'll likely be watching RAW tonight and going into this weekend with two episodes of Impact again since Quentin really enjoys Impact and I cannot watch it without him. Otherwise we're pretty well caught up until the next episode of ROH TV and everything else falls into place this week, though I will feel the void of the CWC being over. Also, I cannot do predictions for WWE anymore- not that anyone cares- when they're holding "PPVs" every other week. We really need to find a better word for these events than "pay-per-view" though since we're paying monthly for them and not individual prices anymore. A lot of that can also be in relation to the overall quality of them, but hey, Clash of Champions is this Sunday!