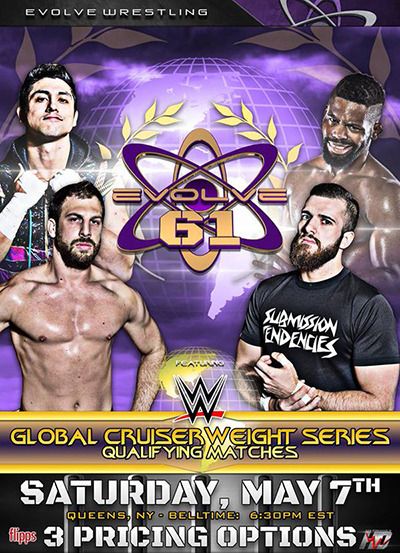 One of the things which made me want to write a review for EVOLVE 61 is that I read the results after it had happened, as I saw the Global Cruiserweight Classic qualifiers winners, and then I also saw a bit at the end about how EC3 came out and I found that to be interesting as well. But I didn't want to put that just into a column by itself because I didn't think that was fair to the other matches on the show. I also figured that with six matches and two of them being GCC qualifiers, this can't be all bad and it'd be nice to see the winners win their matches.
Match One: Lio Rush vs. Matt Riddle
I perhaps best know Lio Rush as the winner of this year's Top Prospect Tournament in ROH. He was described during that tournament as a younger A.J. Styles and that always kind of stuck with me. Matt Riddle used to be in UFC- I actually remember him from "The Ultimate Fighter" show- and now he is in EVOLVE though people say he's working there under WWE contract just to improve his skills or whatever. In any case, Matt Riddle made Lio Rush look like a jobber in this match and I know that Lio Rush is a bona fide star. That is just how good Matt Riddle is right now. I watched a video package of Matt Riddle before he challenged for the EVOLVE Championship and I even watched one of his matches, which was a bit older, and between then and now he just seems to really have found himself in the ring. For me, he's unlike any other professional wrestler out there today. He brings that legit fight to the ring like Brock Lesnar but he's not this huge beast, though he is in great shape. As he punched Lio Rush in this match and Lio Rush hit back with strikes I couldn't help but wonder how hard they were really hitting each other. But the fact that Matt Riddle can do this all while operating as the heel because he's better than professional wrestling and all of that-- it's just perfect. This was a really solid match, though it was a bit one-sided for Riddle, and if Matt Riddle really is signed with WWE somehow I feel like his time to dominate NXT has come. Not the best showing for Lio Rush, who hung in there but got caught and tapped to an arm bar, but Lio Rush is still great as well.
Match Two: Ethan Page & Chris Dickinson vs. The Bravado Brothers
I've seen the work of Chris Dickinson in CZW, but am pretty sure I've not seen Ethan Page or the Bravado Brothers before. Every time I see the name "Bravado Brothers" all I can think of is the long since forgotten tag team The Ballard Brothers. Anyone else remember them? This was a good tag team match, with Ethan Page and Chris Dickinson working well together, but since The Bravado Brothers have a nifty name and are brothers they got the win. After the match, it appeared as if The Bravado Brothers wanted a Tag Team Title shot and so they called out Team Tremendous, but as I'd learn later on in the night, Team Tremendous is not the EVOLVE Tag Team Champions. In any case, Dan Barry came out by himself and agreed to the match for eventually and then The Bravado Brothers beat him down. So this was a nice preview for a Bravado Brothers-Team Tremendous match which I actually do want to see.
Match Three: Fred Yehi vs. TJ Perkins [Global Cruiserweight Classic Qualifier]
Before this match, a suit from the WWN came out and said how these matches were important because of how many people could see them and so he basically asked the crowd to behave during them, specifically saying not to swear. Could you imagine a "Fuck WWE" chant breaking out during one of these matches? But, I mean, from an outsider's perspective, it looks as if everything is staying classy and respectful between EVOLVE and WWE and I enjoy that aspect of it as well. Obviously, this is a match you should go out of your way to watch in its entirety. This is my first time seeing Fred Yehi, so I'm not really surprised that he lost when we have the more experienced TJ Perkins in this match with him. I remember TJ Perkins as the third Havana Pitbull, but he's also been known as Puma (And is the reason why in Lucha Underground I can never shorten "Prince Puma" to simply "Puma") and then was also Manik/Suicide in TNA under the watchful eye of Hulk Hogan. When looking him up though, I also found out that when there was that lucha libre promotion in the United States I liked so much (It used to be on Hulu but isn't any more) and they made action figures for it, TJ Perkins was actually Sydistiko in that. Crazy, small world of wrestling but if you want to see only the best and top guys in the GCC then you have certainly found one of them in TJ Perkins. I feel like this match is important to the tournament, but it was also just a hell of a match and as such makes the show worth watching and we're only halfway into it.
Match Four: Tracy Williams vs. Drew Gulak [Global Cruiserweight Classic Qualifier]
During this match I learned that Williams and Gulak are a tag team called Catch Point and they are the EVOLVE Tag Team Champions. They actually defended those titles the night before at EVOLVE 60- which I might now go back and watch despite having already seen EVOLVE 61. Having never seen Tracy Williams before I was impressed with him during this match, as it was even pointed out by Lenny Leonard on commentary how he has a no nonsense type of style as he is in all black. This was one of those wrestling matches which was about wrestling and it really told a story. I think either of these two could have done well in the GCC but ultimately I do like that Drew Gulak won because I'm just such a fan of his, as I've watched him in both EVOLVE and CZW before this. If this is a sign of things to come- and I believe that it is- then this Global Cruiserweight Classic is going to be the best thing going this summer.


Match Five: Marty Scurll vs. Zack Sabre Jr.
I've not seen Marty Scurll before but the name sounds familiar if only because I read my EVOLVE email updates. I've seen a number of Zack Sabre Jr. matches though because when he was announced for the GCC everyone said he was the best technical wrestler in the world and as such I decided to watch some of his matches to see how he lived up to it. I also watched some matches of Noam Dar and if you're wondering, you can search something like YouTube and find promotions who put up matches for free just to get their name out there as a promotion so it's pretty cool. But to say the least, I've been having a lot of fun watching matches leading up to the GCC so I can only imagine how amazing the GCC itself is going to be. But this match was an instant classic, a Match of the Year candidate for sure. Marty Scurll plays his heel character perfectly (I'm surprised he's in EVOLVE as he has "WWE main roster" written all over him) and Zack Sabre Jr. could be to WWE what Daniel Bryan once was only, you know, not in an underdog story way since people who aren't jacked up can be champion now. A back and forth, chain wrestling type of match with reversal after reversal. This right here is one of those matches that makes me glad I still watch professional wrestling. I remember when Finn Balor debuted in NXT and I said he was the guy to headline WWE PPVs in the future just because he has *it*. He has that presence and character about him that goes with the entertainment side of things, but he also has the in ring ability. And both these men here are every bit of that, which I kind of knew about going into the match for Zack Sabre Jr. but didn't know what to expect from Marty Scurll. If I hadn't watched professional wrestling in say five or ten years and someone showed me this, I would assume that Marty Scurll was on the WWE main roster as a headlining heel. He's just that good and it just made this match that great. Go out of your way to see this one, people.
After the match it was announced that Marty Scurll would challenge for the EVOLVE Championship in June. This brought out Stokely Hathaway- who I cannot stand- as he stole the title from Matt Riddle earlier in the night. He said that TJ Perkins should be champion and this brought out Drew Gulak who walked away with the title while the actual champion- Timothy Thatcher- is absent. I like how this is building tension between TJP and Gulak, both of whom qualified for the GCC. I also look forward to Marty Scurll challenging for the title and possibly becoming champion even.
Match Six: Drew Galloway vs. Johnny Gargano
This match is just interesting on paper because these are two great wrestlers and yet Drew Galloway used to be in WWE but is currently at the top of TNA while Gargano is beginning his journey in WWE by starting out in NXT every so often. It's such an interesting match on paper with the TNA vs. WWE aspect of it.
I really enjoyed the back and forth of this match, but as expected it came to an end when none other than EC3 came out and attacked Johnny Gargano. EC3 went on a rant about how he and Drew Galloway both succeeded despite WWE and the fans cheered for quite a bit of it. EC3 really had some valid points, as he was in NXT when it was a competition show and I fully believe that if he was in NXT right now he'd be a star. I've been one of the most vocal critics of TNA lately but EC3 has always been one of the stars that they made when WWE couldn't. The idea of a Galloway/EC3 vs. Gargano/TJP match also has me interested in a future EVOLVE event. Gargano calling EC3 "Derek Bateman" was also classic.
Overall, I really liked the intensity of this show and the matches were fairly technical up until the DQ ending of the main event. Sabre Jr.-Scurll was a Match of the Year candidate with some classic chain wrestling. Ethan Page wants Drew Galloway in an Anything Goes match at EVOLVE 63 and that looks to be signed as well, but what about this whole EVOLVE-WWE-TNA situation? When Drew Galloway left WWE, he went to EVOLVE as one of his first stops but then ended up in TNA as well. So it has always been kind of strange to me that Drew Galloway has been allowed to be in both TNA and EVOLVE when EVOLVE also has talent like Johnny Gargano who goes back and forth between EVOLVE and NXT. Needless to say, there has been a lot of speculation about the working relationship between EVOLVE and WWE with EVOLVE being sort of a breeding ground for WWE as well. EVOLVE holding these GCC qualifying matches just seemed to add fuel to that fire. So to think of EVOLVE and WWE as being friendly is fine, right, but now you have two pissed off TNA talents running down WWE and HHH, among other things, and you have to wonder how that will all play out, especially since WWE doesn't like to talk about TNA on their shows but will bring in guys like Eric Young, who arguably made his name in TNA. If nothing else, I feel like EVOLVE might be the neutral territory for a TNA vs. WWE feud and it's one that I'm truly excited to see. A lot of people say that if WWE and TNA had a show together it would benefit TNA more than WWE so therefore WWE wouldn't do it, but look at all the talent coming from TNA into WWE right now. And for that matter, a lot of these new top WWE stars came from ROH as well. So I do feel like this working relationships between promotions needs to exist for the greater good of all that is professional wrestling. And now I just wait- and hope- that one day Drew Galloway and EC3 wreak their particular brand of havoc in NXT. They don't have to leave TNA or sign contracts with WWE, but it would make for some great wrestling and just all around stories that were never told- and couldn't be told- when WWE was up against WCW. But now, for the good of all that is professional wrestling, I believe it can and should be done. If WWE can work with EVOLVE (and other promotions for the GCC) and TNA can work with other promotions, obviously, and ROH can work with NJPW, then why can't they all just work together? Of course they'll fight each other, but it will be together. And for the record, I'm Team EC3 all the way. WWE really missed the ball on that one.


[Editor's Note: At some point during this review I might have typed "July" when I meant "June" because I felt like that's what they said during the show, but an email confirmed that these matches built up to here will take place in the month of June]