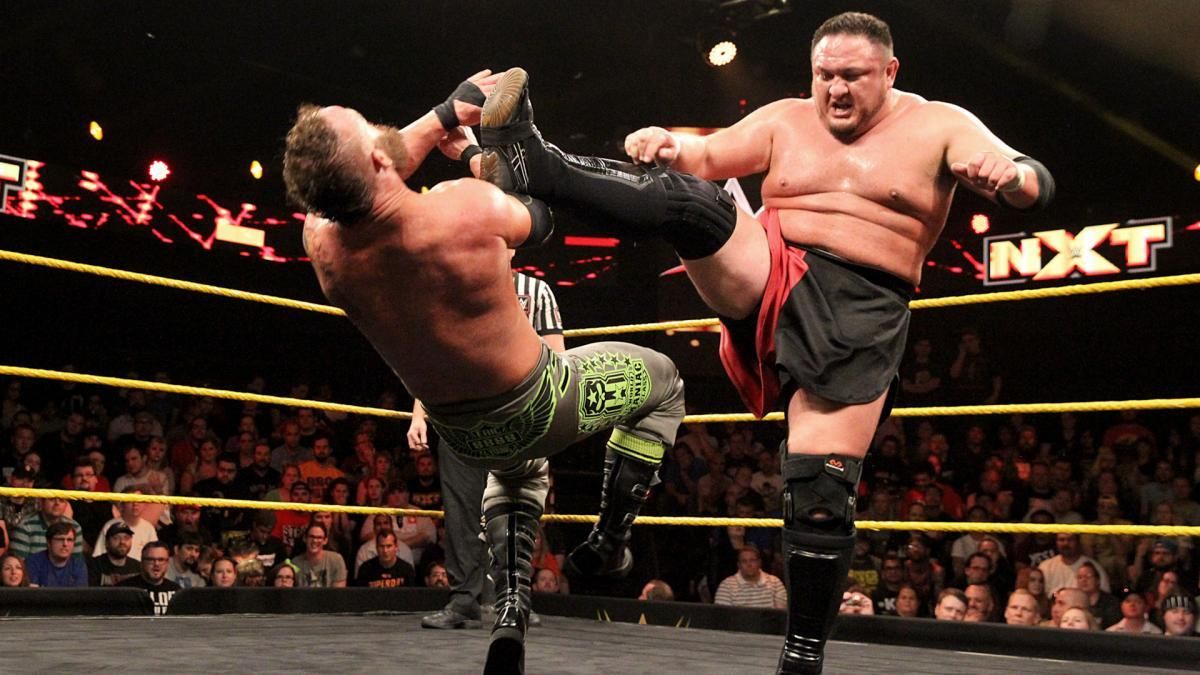 Coming off of Payback, which wasn't a terrible show despite the injury to Enzo Amore, Raw seemed like it should be just as hot but it was just kind of all right. The showed opened with Stephanie McMahon, then Shane McMahon and then Kevin Owens. It just didn't feel like there was as much tension between Shane and Steph as there should have been and why hasn't anyone addressed that HHH was also part of The Authority? Kevin Owens wanted his rematch for the IC Title, which he never got since losing at WM32, and so Cesaro was put into a match against him to be number one contender. The Miz came out to do commentary, then got involved in the match and eventually Sami Zayn came out as well so we still don't really have a number one contender but some kind of Fatal Four Way for Extreme Rules would be nice.
Tyler Breeze defeated Goldust but it did not air on the Hulu 90 minute replay.
New Day & Big Cass defeated The Vaudevillains and Dudley Boyz. I really like how The Vaudevillains are playing the heel to the injured Enzo Amore, but it was kind of strange how Enzo & Cass' music hit and then Cass came out by himself. It might have taken something out of the match and all, but I don't know. Cass could be a big player on his own and all he has to do to become a major heel one day is turn on Enzo. My wife said if Enzo wasn't injured this match wouldn't have worked, but I think Xavier Woods would have just sat out. Also, The Vaudevillains are apparently the number one contenders to the Tag Titles somehow now.
Emma defeated Becky Lynch in a match which did not air on the Hulu 90 minute replay. Too bad so sad.
As WWE.com announced it "Stephanie McMahon cancelled the Ambrose Asylum" and the real story coming out of here is that Chris Jericho smashed a potted plant over Deam Ambrose's head. Poor, poor Mitch. I hope someone got him into a new pot in time. So are we thinking a Jericho-Ambrose rematch at Extreme Rules? With Ambrose winning at Payback it doesn't make much sense to me for this rematch but Sami Zayn lost clean to Kevin Owens and he still won't leave him alone so whatever.
Rusev won an interesting Battle Royal to become No. 1 Contender for Kalisto's U.S. Championship. It's strange they'd go from a big guy feud with Kalisto to another big guy, and as Kalisto said, 99% of his opponents are going to be bigger than him, but it'd just be nice to see someone who doesn't fight that big guy style. I was really hoping for Apollo Crews or Sin Cara to come out of this as the winner somehow, but I'll take Rusev because it's better than Ryback. Though, at this point, the half of the Ascension that isn't suspended would be better than Ryback. Hopefully if Rusev does win the title from Kalisto they don't kill his monster heel push too much. I'd love to see Rusev regain some credibility to the point where he is one day seen as a threat to the WWE Championship.
Charlotte and Ric Flair cut a promo about what happened at Payback- which was a cheap way to end the match- and Natalya came out and said they'd have a rematch at Extreme Rules and Ric Flair was banned from ringside. So... Ric Flair will interfere then? They might as well just make this a cage match so Flair can come out from under the ring like only Kane and 'Taker have really done before. But I just don't know what the end game is for this feud. Eventually, Natalya has to lose to the point where she goes away and no longer feels cheated so that we can get to Charlotte-Sasha, but can Charlotte really win clean at this point? I'm still hoping that by stating specifically Ric Flair can't be at ringside it means someone else could get involved, like the daughter of another Four Horsemen member.
In the main event of Raw the team of AJ Styles/Luke Gallows/Karl Anderson defeated Roman Reigns and The Usos, though after the match Reigns went kind of crazy and beat down AJ in a heel-ish fashion. I'm not sure where WWE is going with this storyline-wise, but I am interested. Will Roman Reigns eventually turn on The Usos and say "One versus all!"? Reigns kind of should go full heel against the more popular AJ Styles and unlike John Cena, WWE could actually pull the trigger on a heel turn for Roman Reigns. (And it wouldn't be that hard to turn him back one day as well. Just ask Randy Orton) Either way, you have to appreciate that right now, WWE is giving us this match in its main event with two guys who are both sort of fan favorites (if only because Reigns is being pushed as a face) yet both of them have heel tendencies. It's not like the classic good guy vs. bad guy idea and that makes sense because the characters should be so much more and right now they are becoming that.
Before watching Raw I actually read a lengthy post on Tumblr by Ryback and while some of it seemed like nonsense I have to say that in the immortal words of The Rock, Ryback simply needs to know his role. At first Ryback says he was sent home but it wasn't about money or a bus, only to later go on and complain that in a world of pre-determined outcomes those who lose don't make as much money as those who win and they're equally important. Now, I agree that they are equally important, but here is where Ryback's thinking is wrong. It is your job- as a Ryback- to get yourself over with the help of the machine known as WWE and then you can get those wins and make more money. Ryback has a pretty tough time cutting promos (which is a lot of connecting with fans) and he still seems somewhat clunky in the ring, and so I'm not really a fan of his and I think a lot of people don't see him as being much more than what he is in WWE right now-- which is something he needs to work on. And you can say WWE holds its talent back on purpose sometimes, but in theory a talent is only as good as itself and I don't think that it's a case of fans loving Ryback to the point where they think he should be WWE Champion and WWE is purposefully holding him back for some reason. I think the only one standing in Ryback's way is, um, Ryback.
Also, since WWE is now "sports entertainment" you have to think of it from an entertainment side of things. Does someone in a Tom Cruise movie make as much money as Tom Cruise? No, but that doesn't make them any less important to the movie. I just don't think Ryback- in terms of wrestling- is at that Tom Cruise level and is more of a bit player. I'm also not sure why I used Tom Cruise as an example of the actor here. But if Ryback wants to be at that John Cena level of pay he needs to work and improve at his job and not cry about it on Tumblr, of all places. And those top guys like John Cena worked to get where they are and I'm pretty sure that they didn't get there by crying on the internet. Oh well. I hope Ryback leaves WWE and finds out what he wants to do with his life. If being in WWE really is his dream, then he should take their offer because I feel like he's still making more than, say, someone working at McDonald's. (Also, WWE seems like they'd pay the most of all the wrestling promotions but don't quote me on that. I'm just saying, TNA isn't likely going to pay him more)
We watched NXT second this week because I'm still on the fence about whether or not to watch Impact as I type this. The show opened with Samoa Joe, the new NXT Champion, and as he is cutting his promo Eric Young comes out. I had seen photos of Eric Young being at Full Sail for these tapings, but he could have just had a tryout match like Austin Aries so it is a bit surprising to see him out already. This also raises an interesting question though, about the man who really should have come out: Finn Balor, the former champion. But we do get a nice video package later in the show saying Finn Balor returns next week.
There was also a backstage segment where Alex Riley talked about facing Shinsuke Nakamura next week. As if the WWE Universe didn't need any more reasons to crap all over Alex Riley, I'm sure his few remaining fans are about to fade away when he gets the crap kicked out of him. Man, do I dislike Alex Riley and his stupid haircut.
In the first match of the show Nia Jax defeated Tessa Blanchard. This was a lot like Carmella defeating Alliyah (sp?) last week. Though the idea of Tessa Blanchard jumping to the main roster to help Charlotte at any time remains firmly in the back of my head.
Austin Aries defeated Tye Dillinger, which was a loss that actually made Tye look good, much like his match with Shinsuke Nakamura. A few wins and Dillinger can still turn his career around and he's already over as hell at Full Sail. At some point after this match, Austin Aries had a backstage segment where he said that since his debut something hasn't really clicked. He didn't outright say it, but you could sense it was because Shinsuke Nakamura stole some of his thunder at TO:D. He also went to go eat a banana, but I'm hoping this does lead to an Aries-Nakamura match because there will be no losers in that one.
The Revival defeated The Hype Bros because Zack Ryder just keeps losing. After losing the IC Title and disappearing from Raw and Smack Down!, I thought at least Ryder had this tag team to fall back on. Oh well.
No Way Jose won another squash match. Shout out to the commentators for getting over the fact that No Way Jose can be a big man who has fun outside of the ring but is all business once that bell rings. It made him look like less of a comedy act in some ways and more of a threat to be taken seriously and I liked that this isn't going to turn into just another goofy character for WWE. I'm also interested in the brutality which would certainly ensue should No Way Jose turn heel.
In the main event Samoa Joe defeated Eric Young in a non-title match. To be fair though, Joe didn't just defeat EY, he hit him with a Muscle Buster then made him tap out before making him pass out. Joe just added insult to injury. Look, I might be in the minority on this one, but I've read that EY still isn't signed with WWE. What if this was just some sort of one-off deal? EY didn't win the match, but it makes Joe look strong and now EY can go do whatever he wants to do. It's just hard for me to get excited about the idea of Samoa Joe vs. Eric Young when I've watched TNA. I want to see new matches and, yes, the idea of Samoa Joe vs. John Cena on the main roster does appeal to me. But the idea of Eric Young vs. just about anyone in WWE really doesn't do much for me. I'm willing to give him a shot, but I don't want this to feel too much like TNA. WWE can't keep picking up everyone TNA lets go or else they'll likely have the same problems TNA was having when they ran out of ideas and started losing people. Austin Aries and Samoa Joe, sure, I get it. But EY and Bobby Roode might be questionable to sign with NXT.
On Friday, WWE announced the release of several superstars and it breaks down like this.
Damien Sandow
- Shame, but WWE hasn't really been using him properly so he can go be bigger somewhere else.
King Barrett
- We all knew this was coming, this is just sooner than expected.
Santino Marella
- I had no idea he was still under WWE contract. When he retired I thought his contract did as well.
Cameron
- She should have kept her mouth shut and stayed out of Ryback's crybaby rant. Girl bye.
Hornswoggle
- Haven't seen him since "Swerved" so it makes sense.
Alex Riley
- FINALLY. I really can't stand this guy and all he's done since leaving the announce table at NXT is lose so I'm glad to see him finally go. This is one of the only releases I am truly happy about.
El Torito
- Sad, but without Los Matadores he has little to do. (No pun intended)
Zeb Colter
- We haven't really seen him since Alberto Del Rio dumped him so this is also no real surprise.
Smack Down! was somewhat more fun this week than it was last week even though it's still not quite as good as it was before WM32. Chris Jericho opened the show with The Highlight Reel with Sami Zayn, Miz came out and Jericho left which makes me wonder why Stephanie McMahon cancelled The Ambrose Asylum for this. This brought about the expected match and Sami Zayn defeated The Miz but only by DQ as Kevin Owens got involved and attacked Zayn. Total Fatal Four Way coming for Extreme Rules. TLC would be awesome.
The Vaudevillains reminded the crowd that they are manly by defeating the Social Outcasts team of Bo Dallas and Curtis Axel. I might be alone in this, but I really like Bo Dallas in a singlet. I feel like it just makes him look like such a better character, but also stand out somehow as well. Big Cass came out to take on The Vaudevillains by himself and after dumping them out of the ring Curtis Axel came in and laughed with Cass only to get attacked by him as well. It was actually a rather entertaining moment for C-Ax and those don't come very often.
There was a women's tag team match which didn't involve Sasha Banks. Where is Sasha Banks??
On his quest to become United States Champion again, Rusev defeated Zack Ryder when I was just saying during NXT how Ryder has been absent from the main roster. I'm not sure if being Rusev fodder really counts as being back on the main roster though.
There was a backstage segment where Darren Young chose Bob Backlund as his "life coach". Mr. Backlund said he would be his "wrestling coach" because wrestling is life. A graphic was shown that said "Make Darren Great Again" and this could actually be comedy gold if done properly. Don't let me down, Jimmy Jacobs!
Smack Down's main event saw Roman Reigns and The Usos vs. AJ Styles/Doc Gallows/Karl Anderson end in a no contest because it just broke down into a brawl. The more I think about it, and the more I see AJ Styles interacting with Gallows & Anderson, I just don't feel like they're on the same page. Gallows & Anderson turning on AJ Styles at Payback would have been interesting enough, but building it up this much more is going to make it even better I'd imagine. I'm still not ruling out the possibility of Finn Balor joining Gallows & Anderson, especially after AJ Styles saying he wants to win the title his own way and not by doing whatever it takes and all of that. I could see Gallows & Anderson backing a guy willing to do whatever it takes and that would be Finn Balor. Let the chaos ensue.
Main Event had both Apollo Crews and Baron Corbin in matches (not against each other) but other than that it was pretty easy to skip the Dolph Ziggler vs. Stardust featured match.
In an interesting turn of events in EVOLVE, both Drew Gulak and TJ Perkins qualified for what is now being called the Global Cruiserweight Classic or something and then EC3 also made his EVOLVE debut, running down WWE and NXT. Given the working relationship between EVOLVE and WWE right now (specifically in NXT) it would be interesting to see if this plays out in NXT and the thought of seeing EC3 in NXT again just makes me so pleased even though it could mean the end of TNA.
We watched two weeks worth of ROH TV this week, as they are in Japan still, and this didn't give us time to watch Impact but we might not watch it anyway. We'll see what happens next week, okay?
In the first match of many (since we watched two weeks worth of shows) we saw Jay Lethal team with Tetsuya Naito to defeat Okada and Yoshi Hashi. It would have been kind of interesting to see Okada get the pin on Lethal, but this was still a good match that saw tension between Lethal and Naito, though they did end up shaking hands in the end.
KUSHIDA defeated Frankie Kazarian in the second match, which was a lot of fun because even though Kazarian has been seen as a tag team wrestler for a while now I will always remember his singles run (as champion also) in the earlier years of PWG. I suppose since The Addicition is staying together though and KUSHIDA is on his own and has been for a while now this makes sense. But, yes, I still love KUSHIDA.
Mark Briscoe spent some time on the streets of Japan, asking people where Godzilla was, and it was actually a lot funnier than it sounds.
In the main event of the first episode, the Young Bucks and Kenny Omega defeated reDragon and Shibata. I know that Lucha Underground is doing quite a bit in terms of crowning their Trios Champions and I love LU (Rey Mysterio's team captured the titles last week) but this was a great Trios match and perhaps better than anything in LU recently. Kenny Omega just goes with the Young Bucks so well that it'd be strange to see him in WWE without them (and vice versa) and somehow reDragon seem to have found their missing counterpart in Shibata as they just are this Trio to be reckoned with. This was a great main event and just continues the tradition of stellar matches here while ROH is in Japan. When ROH no longer has their weekly show in Japan it will be sad, but then I'll just go back to watching Japanese wrestling in Japan.
The second episode of ROH TV we watched opened with a big tag match as Tanahashi, Michael Elgin, Tomoaki Honma and Moose defeated The Bullet Club team of Tama Tonga, Bad Luck Fale, Takahashi and Cody Hall. I've seen most of these NJPW wrestlers before but Honma and Takahashi are the ones with which I am least familiar. I will admit it was strange seeing Moose and Elgin on the same side since they have been opposite sides of the ring before, but it's always good seeing Cody Hall. Cody Hall is going to be a huge star one day. If WWE could just form some working relationship with NJPW the way they have one with EVOLVE (or the way ROH works with NJPW) it would be spectacular to see Tanahashi in NXT even if only for one match.
This episode also recapped a lot of what went down with Jay Lethal saying he beat everyone in ROH and that leading to the return of Colt Cabana. It was actually rather great and if you read a lot of my ramblings on wrestling then you will know I'm always surprised that Colt Cabana and Chris Hero aren't the main stars in a company like TNA or ROH (since they appear to have a WWE curse) so Colt Cabana going for the ROH Title and kind of taking his career seriously, saying how he wants to be remembered and all of that, well, it just sold me on the Global Wars PPV, that's for sure.
The main event this week was somewhat surreal as Doc Gallows & Karl Anderson (who are in WWE and on their shows now) lost to the Briscoes, who were at one time said to have turned down a WWE offer. This was a solid tag team match and with Global Wars coming up this might spell the end of our ROH in Japan shows but I hope it doesn't. In between matches, they had this great video package again of wrestlers from ROH hanging out in Japan and it just really makes me want to go there. No, really, I even googled jobs where you teach people English and live there for maybe six months or so, you know, just to spend a decent chunk of time there and not feel like I'm only going there for a week or two on vacation because I haven't even thought of Japanese baseball yet. Ugh. Japan, I love you.
On the side of "things to come" we usually watch Raw and that's how our week starts, but there is still an episode of Lucha Underground from last week to catch up on, the possibility of maybe watching last week's episode of Impact as well and, of course, I will likely do a post in itself for ROH Border Wars. So much wrestling to come, but I'm actually rather excited about most of it.