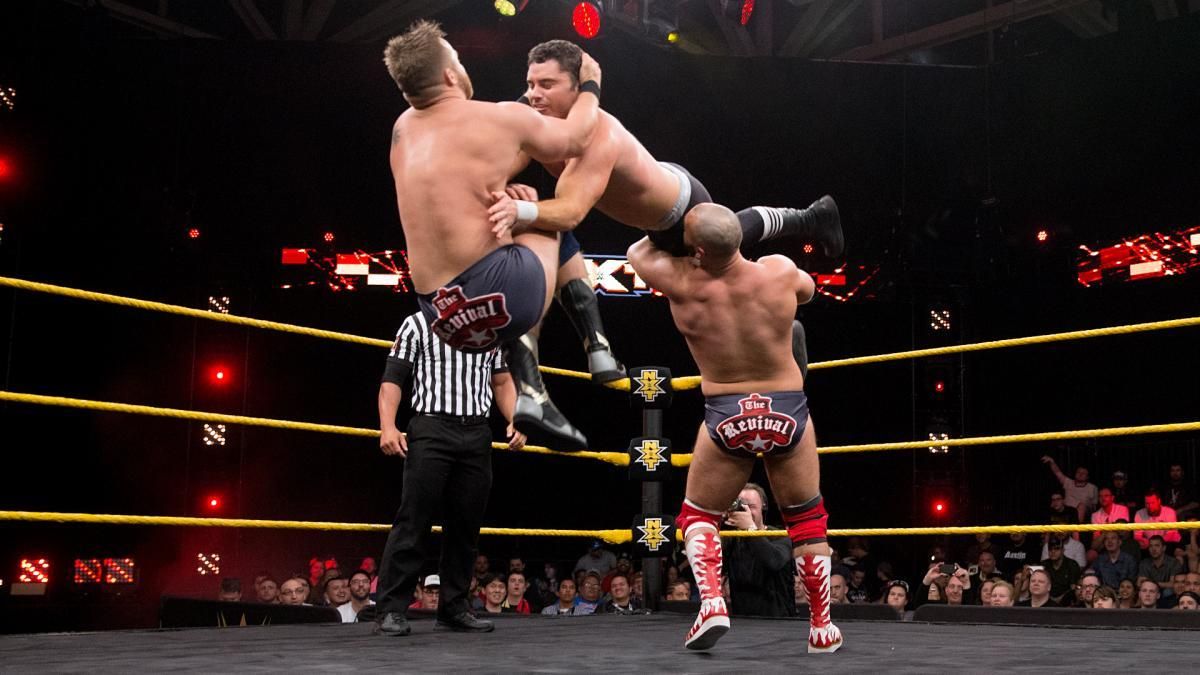 There are really only three points which need to be made after watching a rather disappointing, go-home edition of Raw this week from my home state. Most of- if not all of- the show built to Payback and as such I will have a preview/predictions blog up for Payback itself probably even before this edition of Loose Cannon Fodder sees the light of day. Still, we saw three things of interest this week on Raw and here they are.
First off, the League of Nations appears to be broken up as the three members faced off in singles matches and they each lost to their opponents. They all came out by themselves and in a recent interview Alberto Del Rio said the League of Nations was done and it appears as if he was right. Sheamus lost to AJ Styles in what was probably nobody's dream match, Rusev lost to Sami Zayn (more on that later) and Alberto Del Rio lost in the main event to Roman Reigns. I still think ADR should be in WWE Title contention though.
Gallows & Anderson made their in ring debut this week and aside from the fact that I was excited for this match and for these two to come to WWE and debut and what it means for this Sunday with Roman Reigns, AJ Styles and maybe even Finn Balor, you just have to look at how far the WWE tag team division has come. New Day was in the ring with both Enzo & Cass and The Vaudevillains to discuss Payback but you have to think that if Gallows & Anderson want the tag team titles they'll have no problem taking them.
And lastly for Raw this week Sami Zayn got a win. I'd say how good it was for him and how it positioned him to possibly win at Payback, but I think this just kind of cements him losing at Payback. It's like someone in WWE realized Sami Zayn hasn't won a credible match since coming back from injury so they decided to give him this win over Rusev, which still, who hasn't defeated Rusev recently? It was actually kind of funny that after the match Lana threw her shoes at Sami Zayn. Still, this doesn't bode well for Sami Zayn come Payback.
Impact had a real clunker of a match open the show with Drew Galloway successfully keeping the title over Tyrus. This was something that we never really needed to see... Ever. After some other nonsense, Maria came out and was confronted by Gail Kim. Glad to see that feud has died since Knockouts Knockdown 2016 (watch it on PPV now!) Maria says no one cares about Gail Kim or the Knockouts which at this point is just assbackwards crazy.
Let me ask you something. I'm not trying to disrespect TNA or Maria here- though I have questionable history with both of them- but as someone on the outside looking in, as someone who is trying to make sense of this all... Can someone PLEASE explain to me why Maria would say that no one cares about Gail Kim or the Knockouts in general when a) Maria is the Leader of the Knockouts, a right which she fought to have and seems to be rather proud of having and b) Maria is a freaking Knockout herself by definition. This was just that type of thing where if I was in a meeting with TNA "creative" and they told me to say that line, as Maria, I'd just throw down my notebook and pen and walk out like, "I can't even..."
This lead to a match between Gail Kim and Rosemary, to sort of calm my nerves and not make me change the channel right here and now. Josh Mathews noted that this was the first one-on-one match for Rosemary, though he did plug the KOKD16 PPV before that, so, I suppose he meant her first match on Impact, but whatever. Rosemary actually used the mist to win, just like at KOKD16 only the opponent has changed. I do like that they are pushing Rosemary though, and Gail Kim seems to just need to take some time off or something to make her character fresh again.
Eli Drake came out next for a "talk show" called "Fact of Life" where he calls everyone a dummy. I would like this segment to be officially added into the reasons as to why I will not watch TNA again until I read about them getting their act together. This is just one of the worst things I've ever seen and he brings out BroMans to make it worse. This was just... I cannot even begin to fathom how WCW went out of business while TNA is getting away with shit like this.
The Decay defeated Beer Money for the Tag Team Titles in the next match and I've been waiting for this moment for a while but now that it's happened I just don't really even care anymore. James Storm did *not* bring out the Boozer Cruiser, which was nice, but you know Bobby Roode is done with TNA and so this was when they dropped the tag titles. Now it's just up to poor, poor James Storm to find his way in what is left of TNA.
Third verse, same as the first. Bram defeated EY to become the King of the Mountain Champion because EY is also done with TNA. Neither of these two matches where you knew the outcomes were that special but they do spell worse days for TNA I think. It's not that TNA *needs* Bobby Roode or Eric Young, but rather when your veterans start jumping off a sinking ship you know you're in trouble. Once again, Abyss is one of the only wrestlers left from the good old days. (Though I wouldn't overlook an America's Most Wanted reunion at this point. What is "Wildcat" Chris Harris up to these days? I'm afraid to google it)
Jeff Hardy came out next to somewhat no-sell his match from last week. Mrs. Matt Hardy and Rockstar Spud came out and if this leads to a Jeff-Spud feud I swear I'm done.
EC3 losing after two and a half years of being neither pinned nor submitted closed out the show and it's good for Mike Bennett but I'm not sure he was the guy to do it. There are so many more wrestlers out there with such talent that TNA could build their company around and yet they seemingly don't exist to TNA. Unless it's a matter where the wrestlers you'd want to see running TNA right now just don't want to be there for their own reasons. Still, this week pushed me further than most any other week to the point where I almost don't want to watch next week. But within a week or so I will have calmed down, forgotten it was so terrible and come back to it like a bad, bad drug.
As per usual, after Impact comes Lucha Underground until the day when I don't watch TNA any more but this week we did NXT before LU for whatever reason. The show actually opened with Asuka defeating Eva Marie, as if there was any chance of this being the main event since you knew Eva Marie wasn't going to win. The fans chanting "Thank you Asuka" when she beat up Eva Marie and still telling Eva Marie "You can't wrestle" was a lot of fun. I keep reading about Eva Marie training with Brian Kendrick but it has yet to transition to the ring for me. Also, this was a nice way to set up what should be a most excellent feud in Asuka vs. Nia Jax.
In case you missed it over the last week or so, Samoa Joe winning the NXT Title from Finn Balor was shown again. I'm still not quite tired of seeing it though, as it is a moment Samoa Joe definitely deserved. First ever NXT, TNA and ROH Champion right there. And that's something AJ Styles can't do. (Unless he goes to NXT for some reason)
The Revival defeated the team of 3.0 from CHIKARA. The crowd got a pretty good "DEFENSE!" chant going for 3.0 and even if WWE doesn't offer them contracts I'd still like to see them asked back. Also, I learned during this episode that the bald one is Dawson. I think. But by the next time I see them, I'll forget again.
Speaking of teams I can't tell apart, The Hype Bros. defeated Blake & Murphy and I'm still not sure who is who with the BAMF, but I enjoy that the obvious question was asked- where was Alexa Bliss during this match? Still, I think Hype Bros. could be a good addition to the main roster as they can appeal to the kids. I'm just not sure what's going on with BAMF right now.
Carmella made herself known (unlike Alexa Bliss) and had a match with Aliyah who is perhaps best known for struggling with her gimmick in "Breaking Ground". It was a nice win for Carmella and the way that new talent doesn't always win right away and seemingly has to pay their dues while other talent wins and moves up the rankings is such a nice system. One day, if all goes right, Aliyah will be winning and someone new will be on the losing end.
In the main event Shinsuke Nakamura defeated Elias Samson, as if there was ever any doubt. Elias Samson is pretty terrible but everything that doesn't work with his gimmick is just everything that is right and really clicks with Nakamura. I'm kind of surprised Nakamura didn't debut on the main roster but he's going to have some great matches in NXT for sure. I also really liked this match because of the commentary of Corey Graves. Graves doesn't really play the good cop or bad cop, he just kind of tells it like it is. Aside from loving Eva Marie, I agree with most things Graves says and his disdain for Elias Samson is great.
There were only two matches on Lucha Underground this week, which explains why they opened with Johnny Mundo vs. Cage... in a cage. I actually enjoyed this match, but I'm still not a fan of Cage. There was this moment when Johnny Mundo was beating up on Cage in the corner and Mundo yelled something at him like, "Take that, you meathead!" and I think that pretty much sums up how I feel about Cage. Cage may have all of the wrestling talent in the world- I haven't seen him wrestle a match worth talking about on his end yet though- but he just reminds me too much of a time in WWE when the theory was if you were built like that you should be pushed and actual talent doesn't matter. Really, he just reminds me of Brakus, who I remember seeing back in the 1990's in WWE but I had to actually do a google search to remember his name right now.
In the match to crown Trios Champions, it was announced that Angelico was injured and so Ivelisse and Son of Havoc had to go it on their own, which put them at odds on not winning. The team of Joey Ryan, Cortez Castro & Mr. Cisco was eliminated first and then the champs of Ivelisse and Son of Havoc couldn't overcome the odds. I actually really liked the team of Jack Evans/PJ Black/Fenix in this match even though Fenix doesn't get along with the other two guys. Rey Mysterio/El Dragon Azteca/Prince Puma was the Trios team to capture the titles here but I am hoping they can have a decent feud now with Jack Evans/PJ Black/Fenix or at the very least maybe LU has some sort of tag team titles and we get Evans & Black in the hunt for those. Also, there is still the idea that Angelico can return and then Team Ivelisse can face Team Mysterio for the titles as well. Just some all around good match ideas coming out of this Trios Tournament or whatever, so I'm pleased with the winners.
We wrapped up our week- prior to Payback- with Smack Down!, Superstars and Main Event. Not a lot of good came out of the go home show on Smack Down! as the main event saw Roman Reigns defeat The Miz, which probably made The Miz look weak going into Payback. The League of Nations officially disbanded as well, as first Alberto Del Rio walked out of a match and then Rusev did as well before Sheamus was left alone against a team with Sami Zayn on it that actually won. Wow. Main Event was watched for Gallows & Anderson and, yes, it is weird that they are on Main Event already. And Superstars was watched to see Kalisto vs. Tyler Breeze which I can say now, on Monday morning after Payback, was a better match than Kalisto vs. Ryback so why that wasn't part of Payback baffles me.
I'm not sure whether or not I'm going to do something specifcially for Payback but I might. Otherwise I'll just try and drop some thoughts on Payback in #18 as I'm sure we'll see enough of the fallout on WWE TV this week. And I also am going to be watching Camp WWE now! There is also a new episode up of ROH TV we will likely watch today.