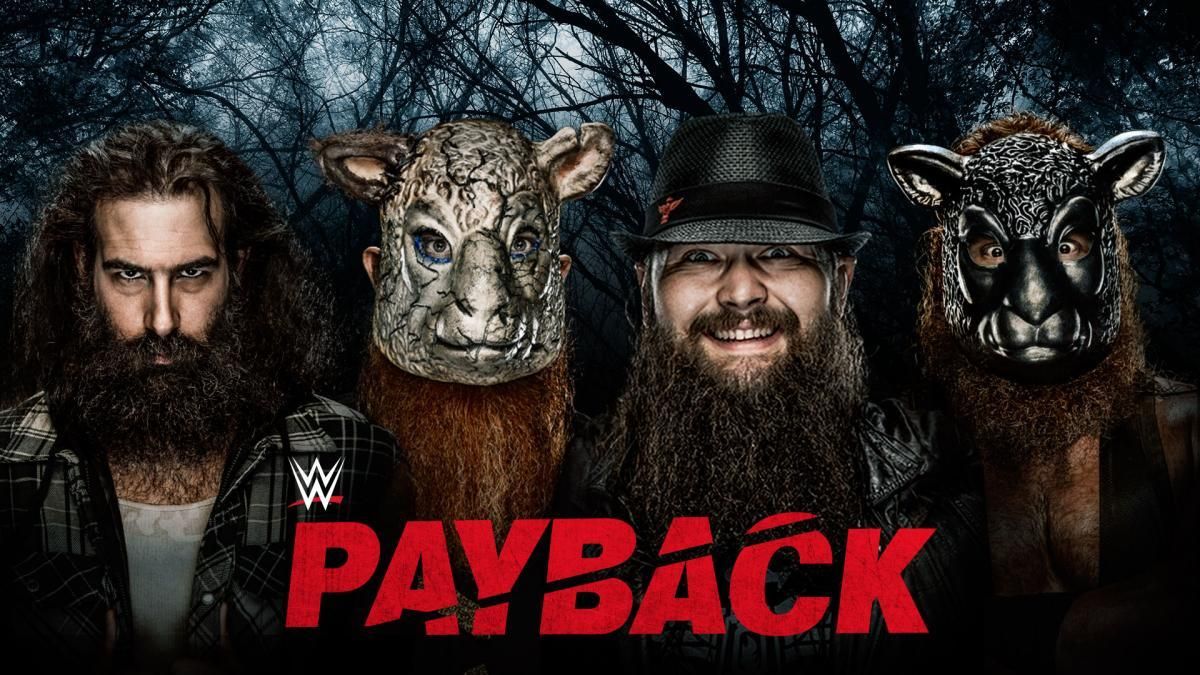 The pay-per-view after Wrestlemania always used to be so rough. It was something like the aftermath of the biggest event in WWE so you knew whoever won the Royal Rumble then went on to win the WWE Title at Wrestlemania wasn't going to lose it this quickly. Plus, it was always about a lot of rematches.
This particular edition of Payback is interesting though because it has one of the most interesting main events of a WWE PPV since the Royal Rumble and, well, a lot of wrestlers are actually looking for that payback.
It has been said that Vince McMahon will be appearing at Payback to discuss who is running things in WWE since Shane McMahon lost at Wrestlemania 32 but has been acting like he won. I'd like to think that this could lead to the brand split (Raw for Shane, Smack Down! for The Authority) but that just seems like wishful thinking at this point. I'm going to assume that Vince decides there should be another match now only this time someone will represent The Authority who isn't Stephanie or HHH and someone will represent Shane at Money In The Bank (the next PPV) and whoever wins will have control. You know, like that time Lashley fought Umaga and... Eh, nevermind.
A match with such stipulations at MITB could lead to the return of Seth Rollins, but would he be on the side of The Authority?
We also know that John Cena has announced his return for the Memorial Day edition of Raw, so I don't expect to see him until then. Wouldn't it be something if WWE just left the wrestlers that The Authority and Shane chose to represent them a mystery up until MITB itself? But that's not going to happen! Onto the matches.
Match One: Kalisto* vs. Ryback (US Championship)
Sadly, the United States Championship will be defended on the pre-show again. I know people might cry about it, but I really think that Enzo & Big Cass vs. The Vaudevillains should have been on the pre-show instead so that the winners could have time to rest before challenging New Day for the Tag Team Titles. But, I suspect then that this means whoever wins will go right into their title match with New Day without a rest. I've already typed more about another match than this match to show you how much I care about this match. Kalisto is perhaps one of the most talented wrestlers in all of WWE and here he is fighting a power guy with only a few moves in Ryback. Could it be any worse? (Yeah, yeah, Big Show is still wrestling, I know) But why couldn't someone who can actually, you know, wrestle get a chance and put on a much better match with Ryback? I know Ryback has a non-title win over Kalisto but does no one else really care about the United States Championship? Couldn't someone- anyone other than Ryback- step up and say "Look, you had your shot Ryback and now it's my turn"? This hopefully won't lead to Ryback winning the title but rather just shows the lack of creative WWE has right now. Kalisto should retain and Ryback should go back to fighting Big Show in the locker room so no one has to see it.
Match Two: Baron Corbin vs. Dolph Ziggler
Somehow this is not on the pre-show as of this writing. Baron Corbin seemed to be struggling in NXT and then he came to the main roster, won the Andre the Giant Memorial Battle Royal and now seems to be moving forward by running through Dolph Ziggler on this pay-per-view. Seriously, what did Dolph Ziggler do to upset WWE so much? Oh, right... In any case, I see Baron Corbin as winning this match as a good thing because WWE has thus far done a great job of showcasing his talents and hiding his weaknesses. The best option for this match is for Corbin to catch Ziggler off guard right away, hit the End of Days and then get the win in less than a minute. Then we have Dolph Ziggler wondering how many more losses he has to take before being allowed in the Social Outcasts. Could a Baron Corbin-Kalisto US Title match be in the works??
Match Three: Dean Ambrose vs. Chris Jericho
This is some true payback as Chris Jericho was once the tag team partner of Ambrose and Roman Reigns against the Wyatt Family when he walked out on his partners. On paper, this might not look like a better match than Ambrose vs. Lesnar at WM32, but after seeing WM32 I would assume this is going to take a lot to be worse. Chris Jericho won at WM32, Dean Ambrose lost at WM32. Ambrose needs a win back here to get into perhaps a title picture again or some such thing, so yeah, we'll go with a Dean Ambrose win here.
Match Four: Kevin Owens vs. Sami Zayn
Has there been a better feud in WWE recently than Kevin Owens vs. Sami Zayn? The last time I could remember something being this serious in WWE was when Shawn Michaels and Bret Hart legit hated each other. I think. And that's why it's fun though. WWE has stated that Zayn and Owens have had a pre-existing friendship, which we all kind of know about, but they've done a great job of making it seem like that friendship is suffering because of WWE. And they are doing this with valid points- Sami Zayn came to NXT first, but Kevin Owens got that call up to the main roster first. Sure, in the storyline Kevin Owens powerbombed Sami Zayn to that injury and in reality he injured himself, but you still want to believe that maybe- just maybe- there is a chance that these two really do hate each other now. That tension, that intensity just translates so well on television. All that being said, I think that this is going to be like when Tommy Dreamer never pinned Raven in ECW until Raven left ECW for WCW. I'm not saying that one of these two will leave the company, but perhaps Kevin Owens will win the WWE Championship (I think he could win MITB) and Sami Zayn won't finally win that big one over Owens until he becomes WWE Champion... if that is in the cards for him. And what a great story it would tell. But, yeah, Kevin Owens will win this match and his momentum will carry him into Money In The Bank next month.
Match Five: New Day vs. Enzo & Big Cass or The Vaudevillains (Tag Team Championship)
I think this match is a prime example as to what was wrong with Wrestlemania 32 and what could be better with Payback. At WM32, League of Nations had a chance to win the Tag Team Titles and I'm glad that they didn't. In this match, which has one of two possibilities for an opponent for New Day, I don't really care who comes out with the titles because all three of these teams are worth it, in my opinion. New Day is not quite heel nor face so that shouldn't play into it at all, but I'm thinking that we have to also consider Gallows & Anderson waiting in the wings to pick up the pieces of the winners here. To that extent, this match doesn't matter in some ways as I expect Gallows & Anderson to have the titles by or at Money In The Bank. Still, I see Enzo & Cass defeating The Vaudevillains here (Something they could not do in NXT for the Tag Titles there) and then somehow overcoming the odds and defeating New Day as well. I suspect The Dudleys will still be mad at Enzo & Cass so we could get some kind of Fatal Fourway for the Tag Titles at MITB with Enzo & Cass vs. New Day vs. Vaudevillains vs. Dudleys, though I'm not sure how Gallows & Anderson factor into that, so you'll just have to figure that part out, WWE creative! But yeah, give Enzo & Cass the feel good moment of the night here.
Match Six: Charlotte (w/ Ric Flair) vs. Natalya (w/ Bret Hart) (Women's Championship)
Thank you, WWE for making this match so that I can now explain to Quentin how Ric Flair is Charlotte's dad but Bret Hart is not Natalya's dad even though Natalya's dad is a wrestler but just, um, isn't allowed in WWE or something. WWE just probably wishes Natalya was really Bret's daughter. In any case, I'd be surprised if Natalya won the title here, especially since I could see it going to a number of other contenders before her. But for Sasha Banks to win it from Natalya... That'd be nice. But let's go out on a limb here and say that Charlotte does call up Tessa Blanchard to help her and that's how she gets the win here. Maybe someone will listen to one of my crazy ideas.
Match Seven: The Miz vs. Cesaro (IC Championship)
I'd love for this to be Cesaro's feel good moment where he wins the IC Title but I'm going to hold off on wanting that until MITB. After all, this is Payback and even though it's a PPV, The Miz could still lose by DQ or count out (or have Maryse interfere) and that could bring about a rematch between the two. I don't have any specific ideas in mind right now, but as a Ladder Match or even Cage Match for MITB, this rematch could be something for the ages and Miz could finally do his mentor ("The Model" Rick Martel) proud. But yes, all signs right now in WWE creative notebooks say to keep this feud going, keep Cesaro chasing.
Match Eight: Roman Reigns vs. AJ Styles (WWE Championship)
This is it. The big one. Everyone has their theory about what might happen here and Gallows & Anderson figure into it for most of those theories. Do they come home to AJ Styles and allow him to win the title? Do they align themselves with Roman Reigns in a decision which makes the least amount of sense since they keep attacking him and The Usos? Or does Finn Balor come up to the main roster and cost AJ Styles his title shot here? I know these are three mostly plausible answers but only one of them really works. Roman Reigns really shouldn't lose the title this soon, even though he probably should, and the best way for him to retain the title while not being completely hated by the fans is for AJ Styles to lose this match because of Finn Balor. It's like when AJ Styles got thrown out of the Royal Rumble match-- only Kevin Owens could have done it. I'd like to see AJ Styles become WWE Champion, but right now, I'm more excited for the idea of AJ Styles vs. Finn Balor. Here's what you have to consider: Finn Balor left NJPW for WWE and AJ Styles took his spot in the Bullet Club. This storyline writes itself and even WWE can't screw it up. Gallows & Anderson joining AJ or Roman or even Randy Orton coming back and becoming their leader would be a decent enough idea, but we need to go with what works and what is expected here and Finn Balor needs to make his debut here.
The results of this will lead to Money In The Bank and then something called Battleground as Summerslam is not next in the PPV order as I thought it was. Still, we could have some decent matches including AJ Styles vs. Finn Balor, Roman Reigns vs. John Cena, The Miz vs. Cesaro again, Kalisto vs. Baron Corbin and then the Money In The Bank matches themselves. There is just that interest of someone like Kevin Owens or AJ Styles winning MITB and getting a WWE Title shot that way which leaves that event open for that sort of appeal no matter what else might be on the card. The Miz, Cesaro, Kalisto, Baron Corbin and even AJ Styles and Finn Balor could be in the MITB match so we'll just have to wait and see!