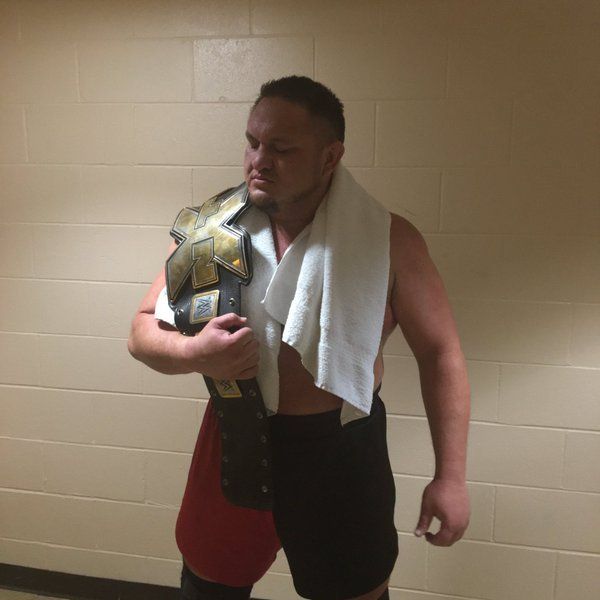 This week Raw opened with the Ambrose Asylum in which Dean Ambrose hosted Shane McMahon. Kevin Owens came out, which brought out Sami Zayn and then of course Chris Jericho. Shane McMahon set the matches for Payback, since apparently he's running more than just Raw now and his loss at WM32 doesn't matter, and for tonight as well. Ambrose vs. Owens is on for tonight as well as Jericho vs. Zayn in a rematch from Smack Down!. It'll be the more obvious Ambrose vs. Jericho and Owens vs. Zayn at Payback, which looks to be a nice card.
We went right into Chris Jericho vs. Sami Zayn and what can I say? Chris Jericho kicked out of the powerbomb finisher Sami Zayn has and Chris Jericho actually won this match clean. So tell me when does Sami Zayn start getting wins that matter again because at this point he really doesn't seem to have a chance going into Payback against Kevin Owens. I understand one of these two needed to look strong going into Payback, but where is the interference and inevitable tag team match?? I was kind of expecting that tonight instead of these singles matches.
I'll put both of the Tag Team Tournament matches here and say that I was impressed with both Enzo & Big Cass winning over The Dudleys and The Vaudevillains winning over The Usos. I was surprised to see both new call-ups getting the win and kind of expected a vetern team to be in the finals against a newer team, but whatever. Whoever wins between Enzo & Cass vs. The Vaudevillains and goes for the Tag Team Titles at Payback against New Day will be fine by me. At least we don't have that Dudleys/Usos option of "I don't want them to win".
Roman Reigns came out to cut a promo about how he's not a bad guy or a good guy but he's the guy. Congratulations, WWE, you have made me miss having John Cena as WWE Champion. While cutting his promo, AJ Styles came out and then Doc Gallows and Karl Anderson attacked Roman Reigns. (Apparently WWE is calling him Luke Gallows though) This lead to a curious case where Reigns demanded AJ Styles admit he planned it even though Styles denied all knowledge.
So what can happen here is one of three scenarios. AJ Styles turns heel by admitting he lied to Reigns to get into his head going into Payback, Gallows & Anderson cost Reigns the title and the Bullet Club is born that way. Reigns ends up somehow aligning himself with Gallows & Anderson as they turn on Styles at Payback and help Reigns retain the title. (Which seems weird since they beat up the Usos and Reigns already, so how they justify that is tricky) Or simply Finn Balor joins them and creates the Balor Club, costing AJ Styles the title and setting up an AJ Styles vs. Finn Balor feud going into SummerSlam with someone else challenging Roman Reigns for the WWE Championship. What do you think-- could Seth Rollins be back by SummerSlam??
On the Hulu 90 minute edition we missed Baron Corbin defeat Fandango, New Day & Cesaro def. The Miz & League of Nations and Apollo Crews def. Heath Slater. Seriously though, why is Apollo Crews running through all of Social Outcasts? If Adam Rose wasn't suspended I'd expect an Apollo Crews vs. Social Outcasts Gauntlet Match at Payback with Crews winning.
The team of Natalya, Sasha Banks, Becky Lynch and Paige defeated the team of Charlotte, Naomi, Tamina and Summer Rae which also saw Natalya get the win over Charlotte again. I really feel like we're stacking the odds against Charlotte here but she's going to find some way to win this match at Payback. Has anyone found out anything more about Ricochet/Prince Puma coming to WWE? He's dating Tessa Blanchard, so it could also mean she signs a contract. She could somehow jump to the main roster at Payback if it meant forming a tag team with Charlotte, right? Right??
In the main event Dean Ambrose defeated Kevin Owens and I guess it works out now that Sami Zayn lost because so did Kevin Owens, so they both have that going for them heading into Payback. I feel like we should somehow be more worried that the card for Payback looks better right now than the card for Wrestlemania 32, aside from the Women's Title match. We have someone challenging for the WWE Title that not only I'd like to see win but paints an interesting scenario (Again, Styles vs. Balor at SummerSlam with no title on the line would be money), the tag teams look good and even these two midcard matches will be great. We're on the road to Payback, baby!!
On a serious note, we watched Raw on Wednesday night and I woke up Thursday morning, opened Lords of Pain (as I normally do) and saw a headline about several wrestlers commenting on the passing of Chyna. It hit like a ton of bricks. I don't think anyone was really surprised by this, as she had her share of problems and 2016 has been a horrible year for struggling celebrities, but it just hit hard for me because I was a young, impressionable teenager when Chyna came to fame with DX. This is why I watched her on "The Surreal Life" as she and her real life friendship with Anna Nicole Smith who tragically passed away too soon as well. It was a lot like Scott Weiland for me in the way that it made sense somehow but you still couldn't make sense of it. It wasn't shocking in retrospect but was still somewhat shocking. I just kind of always though we'd see Chyna in a WWE ring again one day, much like WWE put aside past differences with others and the fact that we now can't-- she can't have that proper wrestling send off- just makes this the worst of all.
NXT had four matches this week, most of which you could predict on paper. In the opening contest, American Alpha (NXT Tag Team Champions) defeated Enzo Amore & Big Cass (on the WWE main roster now). Big Cass said before the match that this was the first time these two teams were meeting, but Cage Match dotnet begs to differ. Also, the commentators spoke of how if Enzo & Cass won this match they'd be in line for an NXT Tag Team Title shot... Yet, they are in the finals of the Tag Team Tournament on Raw, so perhaps there is a bigger title shot in their future there. I don't know. But I understand why this match had to happen if it really was the last one for Enzo & Cass in NXT.
No Way Jose made his debut by defeating Alexander Wolfe. Corey Graves said we've seen Wolfe in NXT before but he doesn't look familiar to me. In any case, the vibe with No Way Jose is fun. He's a big dude that can move, but I'm just waiting for him to snap. Seriously, he needs to either beat someone down to the point where they bleed or he's going to the main roster and teaming with Fandango. It's as simple as that, but his song is pretty fun so I can see the live crowd appeal.
Nia Jax defeated Deonna Purrazzo, who can't seem to catch a break in NXT nor TNA. This match was mainly to remind us that Nia Jax is still in NXT and could be coming for Asuka, which would be a SummerSlam level feud that we should see this, um, summer.
In the main event, Samoa Joe defeated Apollo Crews, which, again, makes sense if this is Apollo Crews' last match in NXT and all that. Shinsuke Nakamura vs. Elias Sampson and Asuka vs. Eva Marie are both announced for next week. This should be a good chance to see how well Eva Marie has progressed, but mostly I'm looking forward to Asuka kicking the crap out of her. Additionally, Nakamura should lay waste to the drifter guy and it looks like he could be the new Baron Corbin/Bull Dempsey of NXT by giving everyone the wins they need. But how soon until Nakamura gets some real competition? I think a #1 Contender's Tournament for the NXT Title should be in line.
As I end my last rant with that thought, I will say that it was announced (and confirmed by WWE) that Finn Balor lost the NXT Title to Samoa Joe at a house show. Finn Balor appeared to be injured, but I think it's a work and he'll show up with Gallows & Anderson soon enough. Samoa Joe as NXT Champion has great possibilities and I look forward to his run.
On Impact Wrestling this week we opened with the gauntlet ladder match deal to see who would be the HKOIC (Head Knockout In Charge) and I wasn't really surprised to see Maria win with little to no effort but it's just a sign of how far the KO division is falling in TNA. People sometimes accuse me of being too hard on TNA, but you have to understand... It is not as great as it once was. Go back and watch Samoa Joe vs. Christopher Daniels and tell me TNA is still as good as it once was. The KO division is beginning to look more like what WWE was doing before they started their Women's Revolution. Sad, really, WWE and TNA can't have good womens divisions at the same time.
Forget what it means for Maria to win that match, The Decay came out and took Gail Kim away. I'm not sure why, but I'm 82% sure this will lead to them stumbling upon Marty The Moth.
Drew Galloway came out and said he wasn't cleared to wrestle but he'd fight. This brought out Rockstar Spud, then Tyrus and set it up for the title match for Drew Galloway vs. Tyrus for next week. If you think Tyrus can become TNA World Champion you've obviously never watched Impact before. Although if anyone was stupid/crazy enough to do it, TNA would.
In the second match of the show, Trevor Lee successfully defended his X Division Title against DJ Z and Eddie Edwards. This brought about the debut of Andrew Everett, who looks to be part of a new HurriHelms stable. It's funny how much Trevor Lee and Andrew Everett look alike. I guess, um, Brian Myers was busy? But this actually does look like a step in the right direction for the X Division, despite these two looking like trolls who live under a bridge.
Eric Young came out and cut a promo saying he and Bram were quitting TNA. Bram seemed reluctant to leave the ring with EY and then kind of tried to turn on him by spewing some tired old words. EY got back in the ring and hit Bram with a piledriver in what was perhaps the worst turn ever by Bram. Really, he should have just attacked him from behind like everyone else does. But I think we're still going to get EY vs. Bram next week so EY can drop the title before he really quits.
EY says he was the first and greatest wrestler to have a beard and so he begins cutting off the beard of Bram. With Konnor on the suspended list in WWE could Bram go back to The Ascension? Probably not, but Bruiser Brody's ghost shall have its revenge on EY for sure.
Mike Bennett is out next to cut a promo because, why not, wrestling doesn't make people want to watch shows about professional wrestling- story time with Mike Bennett does! Seriously, including the backstage talks with Matt and Jeff Hardy we've had more non-wrestling on this show so far than actual wrestling. If people could just stop coming out to the ring to talk, yeah, that'd be great. This is just boring now. Of course these words bring out EC3 who says something about how if Bennett wants to be the man all he has to do is beat him. Blah blah blah.
And guess what? Al Snow is in the ring to talk next. He's wearing his wrestling tights, but is going off about how we all watch TNA just to go on forums and complain about it. He says we're all ruining wrestling and I think that might be more valid if we actually saw some wrestling. But he does have a point to the extent that I recently considered why I watch TNA when it seems to only be getting worse. I've actually thought- within the last week or so- about cutting it out of our weekly watching.
Al Snow actually has a match against Mahabali Shera (Yeah, I looked his name up) and if this was any time before 2010 I might actually care. It's not just that TNA lacks the wrestling it's that when they have it, they have wrestlers in it no one cares about any more like Al Snow and Maria. So far, there has only been one good match on this show and I feel like it's nearing its end. Al Snow called fans into the ring to try and stop him but no one obliged. C'mon, where is that guy who wants his big break? You're telling me no wrestlers are in attendance tonight? I don't believe it! And Al Snow wins to the delight of no one. How am I still typing "Al Snow wins" in 2016? Who does this benefit exactly? Horrible booking.
Even Eli Drake is getting talk time now. Shouldn't this guy be getting over by, um, I don't know, winning matches?
The Decay drags Gail Kim to the ring next and I'm guessing this is not for a match either. C'mon, TNA, get your shit together. Abyss calls out Beer Money and says The Decay wants a title shot. This should be setting up Beer Money to finally lose so Bobby Roode can be on his way out. Yawn. Can we just catch up to where we all know that we are so it can feel less predictable?
We run down the matches for next week, which seem easily predicted with EY and Beer Money losing, but EC3 vs. Mike Bennett could still be cool. And yup, we're into the main event now. All this talking for how many matches? Four? NXT has four matches and it's only an hour long. Something to think about, TNA.
One day, in five or ten years, when TNA is out of business we're all going to go back and read this and laugh, like when I read reports of the final days of WCW right now.
Matt and Jeff had a somewhat boring I Quit match to close out Impact and guess what? No one actually said "I quit"! So let me tell you the poor decisions which went into this match. First, Jeff Hardy had Matt in some kind of sleeper hold. Matt refused to say "I quit" but went to sleep. The ref told Jeff that Matt was out and it was over, but Jeff Hardy said "It's not over until he says 'I quit!"', which he still never did because he was passed out. Jeff went up high (Not *that* kind of high) and hit a swanton bomb on Matt Hardy and the whole thing ended with Matt getting stretchered away. Does this end the feud? Probably not. Matt Hardy can say he never lost because he didn't say he quit and he can make fun of Jeff for further risking injury after the ref told him the match was over. It kind of felt like Jeff saying he wouldn't let the match end until Matt said "I quit" and then Jeff just started punching himself in the face. Or maybe I just want to punch myself in the face over this lack of logic. I do not look forward to the lack of follow up to this one and next week might be the last time we watch TNA for a while.
Lucha Underground began with Dario Cueto setting up the show for tonight and refusing to put a Trios team together that lost in the first round last year. Smart. Our first match saw Aerostar defeat Drago and it was a great mix of high-flying and violence. Matt Striker played up how Drago had been on a losing streak last season but then he went and lost this match, so, whatever. This was still one of those matches that blew away anything on Impact this week and almost anything within all of WWE as well.
Taya tells Johnny Mundo that he will face Cage for a Medallion next week and it will be a cage match. No joke, Mundo says "Cage... in a cage" and it legit becomes one of my favorite things ever. Someone send me a GIF of it please.
In a Trios match the Disciples of Death took on Jack Evans/Fenix/PJ Black. The team of PJ Black/Jack Evans/Fenix feels too much like our current Trios Champions. I think Jack Evans and PJ Black could be a great tag team, but I also want to see PJ Black get a chance to show what he can do in singles competition. PJ Black is so good, but so is Jack Evans. How can WWE have a Global Cruiserweight Tournament without Jack Evans in it??
The Trios team of PJ Black/Fenix/Jack Evans does manage to somehow score the win here, which I'm fine with because the DoD have already held the Trios Titles and it gives PJ Black and Jack Evans so more screen time, so there's that.
Son of Havoc, Ivelisse and Angelico talk to Dario Cueto who says that the tournament won't be for the # 1 Contendership but for the Trios Titles, but this teams gets to go straight to the finals and will be in a fourway elimination match or something next week. Dario Cueto calls them "Team Havoc" and I must agree with Ivelisse when she says it's really Team Ivelisse. Can we hashtag that??
Catrina yells at the DoD because not only did they lose, but they lost to Fenix.
The main event saw Matanza and Mil Muertes battle up on the roof of Dario Cueto's office until both men went crashing through it. Matt Striker did a good job of saying how the referees weren't quick to call a DQ because it was a Lucha Underground Championship match, but this had to end the match and it did. This was also a way for both men to come out looking strong but I wouldn't do it every week. Still, this was the match that Matanza needed to have to get over- at least for me- as champion.
In the end, that lady cop is being told that she's out of her district or whatever and someone higher than the mayor is interested in this case. This could go in a rather funny direction now. But I like how Bael had a picture and it said "deceased" because Matanza ate him, but then some of the other wrestlers who left Lucha Underground like Hernandez, Alberto Del Rio and Big Ryk were marked as "M.I.A." Really, do these police not have televisions? They can't watch WWE and see Alberto Del Rio? Although you could use the excuse that man is an imposter but that's another story entirely!
Next we watched Smack Down! which had my tag team match idea as the main event. The matches on this show were all right, but nothing really worth typing too much about. Ryback defeated Kalisto in a non-title match, which may or may not be setting up a title match between the two again and I don't really want to see Ryback as any sort of champion in WWE. Baron Corbin destroyed Dolph Ziggler to the point where Ziggler should demand a No DQ match at Payback. AJ Styles defeated The Miz but didn't become IC Champion. Natalya & Paige teamed for a tag match to defeat Naomi & Tamina, which makes me wonder why Cameron hasn't joined Team B.A.D. yet. R-Truth defeated Fandango with Goldust as the special guest referee. And in the main event, you guessed it, Sami Zayn couldn't even win in a tag team with Dean Ambrose. I like the team name of Sambrose but I really feel like they might not be teaming up together again.
This week felt like a show building up to something else with title holders losing non-title matches. I remember when Lucha Dragons were in the Tag Team Tournament, someone on commentary (on Raw) said that they were focused on the tag titles now even though Kalisto is the US Champion but now it appears as if they are back to being by themselves. I really think there is a storyline brooding on the horizon for Sin Cara and if WWE wants to push talent that isn't getting pushed and all of that, then next time a Money In The Bank match comes along I think Sin Cara should win it. To be fair, AJ Styles has a shot at Roman Reigns this Sunday, so if AJ Styles was to become WWE Champion there would be great money in seeing him defend that title against Sin Cara.
And how about Sami Zayn? I thought this could be his match to get a win back and I could just say how it doesn't really count because he was part of a tag team with Dean Ambrose and didn't really win it on his own... But he still couldn't even win it! If Sami Zayn loses to Kevin Owens at Payback (and Owens kind of needs the win because of WM32) then I'm going to officially refer to him only as Sami Horowitz.
This week's Main Event was probably one of the worst episodes there has ever been. Apollo Crews opened the show against Curtis Axel, who apparently has an "e" in his name and I've always thought of him as being like Axl Rose. Crews is just continuing to defeat everyone of the Social Outcasts which should be interesting now as well since Adam Rose is suspended. Could Crews move onto League of Nations next? Alicia Fox fought Summer Rae and I think one of the things which bothers me most about Summer Rae is her theme song. Then in the "main event" (and I use that term loosely) Kane and the Big Show teamed to face Braun Strowman and Erick Rowan. If you've been wondering where Kane (who came out under his mask) and BIg Show have been then, um, I suggest you stop watching WWE.
Now, typically, I'll check the ROH website at the beginning of the week (Monday, Tuesday) and then the end of the week (Thursday, Friday) to see when the new episode is posted. When I checked it this week- on a Friday- I couldn't wait to watch the new episode with Quentin because I found out that Delirious would be on it. Also, this should be enough of a case for Wrestling Super Store to make a Delirious action figure in their ROH line, right?
The best part about this week's ROH show though might just be that it was ROH vs. NJPW but it took place in Japan!
In the opening contest, Matt Sydal & Jushin Liger defeated the team of Dalton Castle & Ryusuke Taguchi. Sydal & Liger is the type of thing dream tag teams are made of and yet Dalton Castle is that type of character people in Japan probably look at and go, "They still have characters like that in the USA?" It was just so great. I loved everything about this match. If I could fantasy book Sydal & Liger as tag team champions in every promotion I would.
Another aspect of this show that I really liked (which WWE seems to miss the mark on when they go outside of the United States) is that in between matches they had segments with Dalton Castle and Moose exploring Japan. I feel like if I ever went to Japan I'd have to hire a documentary crew to videotape it all because there just wouldn't be enough pictures.
Our second match saw the barefoot Delirious defeat Gedo. The best line of the night- by whoever Steve Corino is calling himself under the mask this week- was when it was noted that Gedo was trying to talk to Delirious in English but Delirious doesn't speak English. Delirious is from that time when I really loved wrestling and then when he kind of went away and I stopped watching it the two weren't related but they didn't help each other either. I'd really love to see a Delirious return but it probably won't happen so I'm just going to be pleased to see this match. I feel like if it was one of those things where Delirious just randomly returned when ROH was in Philly or something it wouldn't feel as special. But for Delirious to come back in Japan, yeah, this is what dreams are made of, wrestling fans.
In the main event we finally got to see Tomohiro Ishii become the ROH TV Champion despite there being a few weeks back there when ROH was acting like Roderick Strong still had that title. This match was everything I thought it would be and more. It's always fun to see these somewhat unexpected title changes.
I'll close this week with the announcement that Zack Sabre Jr. and Jack Gallagher both qualified for the Global Cruiserweight Series at PROGRESS Wrestling. ZSJ was already announced at one point, so his win doesn't really come as a surprise, but Jack Gallagher is someone that really should be in WWE right now so this is just going to be such an awesome tournament to watch. As it turns out, it will have 32 participants and begin July 13th. Yes, I am literally counting the days.
So unless there is any more funny business, right now we have ZSJ, Jack Gallagher, Rich Swann, Tomasso Ciampa, Johnny Gargano, Akira Tozawa, Lince Dorado and Ho Ho Lun in the tournament. Now, that doesn't mean that someone already announced won't have to qualify like ZSJ did, but whatever. Oh, wait, but yeah. Revolution Pro will have Noam Dar vs. Josh Bodom as a qualifier and Noam Dar actually was announced for the tournament previously so you can all guess as to where that is going. EVOLVE, though, has Fred Yehi vs. TJ Perkins and Drew Gulak vs Tracy Williams as qualifiers. I'd like to see any of those four in the tournament as there isn't a bad wrestler among them, but if I had to choose, I'd go with TJ Perkins and Drew Gulak.
As of right now, we have a total of 8 participants announced but we can assume Noam Dar will be # 9 and then if Puma, er um, TJ Perkins and Drew Gulak qualify that'd bring us up to 11 out of 32. We're only about a third of the way through creating this tournament and it already looks like one of the best things to ever happen to professional wrestling. I am beyond excited to say the least.