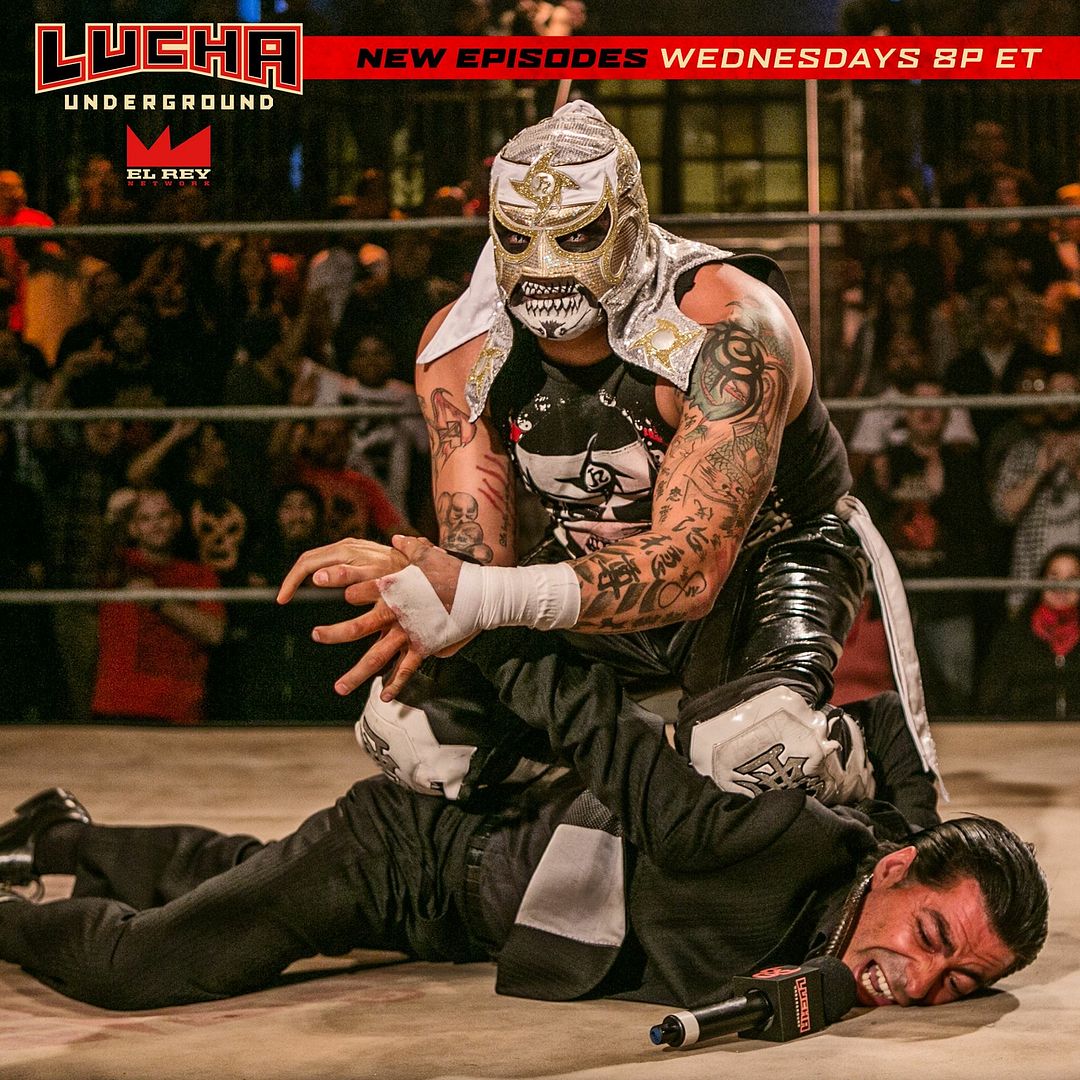 This is the week of Wrestlemania 32 and aside from writing about that event and NXT Take Over: Dallas we kicked this week off with WWE Monday Night Raw. The Undertaker started things off with Shane McMahon and I feel like this might have been one of those situations where it would have been better for these two not to have so much physical contact before their match together but since they really won't be able to pull off that table spot inside Hell in the Cell it does make sense for them to do it now.
Now, we saw next a match where Zack Ryder defeated Chris Jericho and two interesting things came of this. First off, Quentin (age 4) was copying AJ Styles and saying "Y2-Jackass" (though it sounded more like he was saying "jacket") but also, how was Zack Ryder the odd man out who got to face Chris Jericho and wasn't a part of that six man tag later in the night? Yes, the same six man tag match that got a chant of "This is Booty".
Kofi Kingston defeated Alberto Del Rio and I begin to wonder when we will see the reasons why Del Rio came back to WWE because he hasn't had the same intensity in his eyes that we saw in AAA and even Lucha Underground. I remember when he was John Cena's surprise opponent and it was somewhat of a surprise, but since then he's just seemingly back to where he started on the roster before he left and showed what he can really do outside of WWE. Where is that angry champion in WWE?
Dean Ambrose had some kind of small wagon he was using to collect weapons to use against Brock Lesnar. It's still better than the Boozer Cruiser.
The Hulu cut this week took out Big Show & Kane vs. Social Outcasts as well as Kalisto vs. Konnor (both of which I'm fine with) but it left in Charlotte vs. Becky Lynch and didn't give us Emma vs. Paige. Isn't the Emma vs. Paige match where Eva Marie came in to zero pop to go on Team Total Divas? Why wouldn't they show us that, other than the fact that the match will be on the pre-show?
Roman Reigns ended the show by beating up HHH and everyone in WWE to try and get to the WWE Title. It kind of seems strange for HHH to say that Roman Reigns will never be champion when he's already a former two-time champion. HHH made reference to the time he held it for five minutes and fifty seconds (Sheamus cashed in) but he ignored the time after that where he held it for a few weeks or so before the Royal Rumble. I also feel like one thing that isn't working in Roman Reigns' favor with the fans liking him is his being stupid. Bubba Dudley called him out backstage and of course you knew D-Von would be waiting too, right? I could understand the crazy Dean Ambrose going for it with the odds against him, but not Roman Reigns. Not to risk an injury before his chance to get his title back.
After Raw was Impact and I knew Jeff Hardy earned his title shot last week but I just keep thinking "I don't want to see EC3 lose the title to Jeff Hardy" only to realize that EC3 isn't the TNA World Champion but rather Drew Galloway is so I don't care nearly as much. So, Matt Hardy and his friends started things off on Impact only to be confronted by Mike Bennett and Maria. I'm kind of cool with the idea of Matt Hardy putting over Bennett. So Matt Hardy's wife and Maria got into an exchange of words and I do believe she referred to Maria as "fire crotch". Am I making this up? You'll never know!
EC3 ended up coming out and challenged all of Matt Hardy's stable. Since they don't have a name yet I'm going to call them "The Hardlys". So it was a 3 on 1 handicap match for whatever reason with Mike Bennett and Maria watching on from ringside. They really should have added Bennett to commentary as anything that keeps Josh Mathews and The Pope quiet is okay in my book. When EC3 had Rockstar Spud ready to tap out to the Cobra Clutch, Mike Bennett got involved and the bell rang for the DQ. It'd be awesome to see EC3 in WWE with Sgt. Slaughter for some reason.
Beer Money came out to make the save, but that's still a 4 on 3 advantage if you put Mike Bennett with The Hardlys. So they turned it into a six man tag match- Rockstar Spud gets the shaft- and it didn't get a "This is booty" chant. Beer Money helped EC3 to the win and, hey, maybe when Bobby Roode leaves TNA James Storm can form a tag team with EC3. Does anyone want to see that? Didn't think so.
It's kind of strange to wonder whether or not Jeff Hardy will defeat Drew Galloway for the TNA Title. On one hand, you want to think that the title won't change hands because this isn't a pay-per-view, but at the same time... TNA doesn't really have PPVs, so...
Gail Kim announced some kind of triple threat match for the Number One Contendership to the KO Title, which I guess means Billy Corgan no longer has any authority in TNA, huh? Hey, Grado, next time you get screwed out of your contract go to Gail Kim. She gets things done!
Eli Drake confronted BroMans because he used to be friends with one of them. Ugh. I never want to see BroMans again.
For the Number One Contendership to the KO TItle Madison Rayne faced off against Velvet Sky. I thought Gail Kim said it was a triple threat. Also, as per Maria- who gave up her title shot- Jade is the number one contender, so really, what is going on? So Madison Rayne wins and I guess she's the number one contender now? I don't even care at this point.
So then The Pope got in the ring and, yeah, sure, I guess, why not. Pope calls out Lashley and says they got into this business together. Except, you know, Lashley was never in the Spirit Squad or a manager for Sylvester Terkay. Still, this whole thing feels too much like Kevin Owens vs. Alex Riley in NXT. I'm just waiting for Dixie Carter to tell The Pope that if he wants a match with Lashley he has to trade his commentary card for a wrestling card. If nothing else, Pope should learn his lesson from Alex Riley. I like how Lashley basically laughs off Pope's challenge though. The Pope tried to put up a fight, but Lashley really got the better of him.
Jeremy Borash jumps on commentary and I'm just wondering how to get Josh Mathews in the ring now. As Eric Young and Bram came out to talk they were confronted by the BroMans who ended up facing them in a match and... The BroMans... Actually... Won. I'm not a fan of the BroMans at all, but if it leads to the eventual Eric Young vs. Bram match three people want to see then let's go for it.
As Grado was preparing for his celebration in the back, both he and his Indian friend were attacked by Al Snow because, you know, in 2016 that makes complete sense. I'm not sure who's idea it was to let Al Snow get physical but they should be fired right now.
Back in the ring, HurriHelms is with Trevor Lee. HurriHelms calls out Eddie Edwards who is on his own now since the injury of Davey Richards. Helms says he wants to team with Edwards to get the American Wolves tag team title rematch and I'm not even sure if that's legal. I mean, where's Dixie Carter? Does she not care that seemingly every wrestler makes matches- title matches no less- without her approval? At least Maria said she got the a-ok from Dixie Carter before making the triple threat with the Dollhouse.
Eddie Edwards has until next week to give Helms an answer and then The Pope says he wants a fight without refs and security next week against Lashley. Lashley didn't respond and no one said it was official but Josh Mathews still said next week was shaping up to be "can't miss". What if Dixie Carter says The Pope can't no-holds-barred fight Lashley?? Then what, Josh Mathews?
So Drew Galloway defeated Jeff Hardy- clean- in the main event. Matt Hardy came out and said he'd face Drew for the title next week because apparently that episode is called "Revenge" and everyone is booking themselves. Drew said they could go right now, but then EY and Bram came out and beat up Jeff Hardy while Drew fought with Matt Hardy. Jeff Hardy told EY it ends next week with six sides of steel. Jeff tried to get a "Hardy's Revenge" chant going but since it could also apply to Matt Hardy winning the title back it didn't really catch on and as with most of this show the ending was just flat.
Up next on the watchlist was Lucha Underground, Season 2 Episode 10 for those scoring at home. Dario Cueto started things off back in charge- which meant in house music because apparently Catrina doesn't book bands. Cueto said he will start a trios tournament next week and also decide a number one contender for his brother's title. Pentagon Jr. came out and nearly broke Cueto's arm before Cueto agreed to let him challenge for the title.
In the first match, Taya and Johnny Mundo took on The Crew (you know, the two who weren't eaten) and The Crew managed to win. This brought out storytime by The Moth and then Catrina and Dario Cueto talked backstage about their respective wrestlers wanting the title. Catrina says death is still coming for Cueto... You know, or the police. Joey Ryan shout out!!
Our second match was the new Trios Champions defending against the former champs. This was an elimination match and Ivelisse was out first. I wish she would have stayed as the lone survivor but then again if I had my way she'd be Lucha Underground Champion right now. A Disciple of Death went next to even things up and then Angelico was eliminated to make it 2 on 1 with only Son of Havoc left to save the titles. Son of Havoc made it one on one and when it looked like Catrina was going to interfere Ivelisse gave her a stiff kick to the head and the Baddest Bitches in the World retained their Trios Titles.
Dario Cueto is in his office talking to Rey Mysterio and Rey Rey says his mentor came into The Temple and never came out. He was eaten by Dario Cueto's brother, for those who don't recall. Wouldn't it be awesome if at the end of Season 2 Joey Ryan made his arrest and Season 3 was The Trial of Dario Cueto, with Rey Mysterio being put on the stand to testify? I don't know why, but this scene made me feel like Rey was a "key witness". And to play off the Hulk Hogan/Gawker trial would be even funnier.
In any case, Sexy Star (w/ The Mack) was up against Mariposa (w/ The Moth) and I've grown tired of seeing Star, even in AAA, so I'm looking forward more to Mariposa developing into her own. Do you think LU would ever make a Women's Championship, since the women can fight for the same title as the men? Mariposa pretty much squashed Star- as she should have- and then the duo took out The Mack as well. If LU has another season-ending pay-per-view type of show you can expect to see this mixed tag team match on it.
Whoa, Pentagon Jr. is fighting for the title tonight?? What??!?!!??
Dario Cueto's brother is called "Mantanza", but that reminds me too much of apple soda so I'll just call him Dario's brother. The main event was up next and it is for the Lucha Underground Championship. Please note this is the THIRD week in a row that the LU Championship has been defended. Cueto's brother retained and kind of made Pentagon Jr. look weak in the process. When Vampiro tried to stop further injury he took a boot to the face for his troubles. I read somewhere recently that WWE was interested in someone in Lucha Underground who had never been in WWE or TNA before and I'd love it if LU was sending off Pentagon Jr. so he could go to WWE. He'd just be such an awesome addition to their roster and he truly is one of the best at what he does.
Mantanza, who is a cross between a man-tan and George Costanza in name, has this weird look to him as well. I want to think of him along the same lines as Kane and Abyss, but he just walks like he has a full diaper. He reminds me more of someone simpler... Someone from a movie that is supposed to bring brute strength but no intelligence. In any case, if he is supposed to be a heel (and I think he is) I will be most happy to see him lose the title because he really could be one of the worst things to ever happen to Lucha Underground.
I'm trying not to really write a lot about new signings in WWE and TNA because I feel like I'll write enough about them when they make their television debut. But TNA did sign five new talents after the departure of Eric Young and Bobby Roode. They were real life couple Pepper Parks and Cherry Bomb, the Sylvester Lafort guy and Marcus Louis guy who were recently released from NXT and one other guy that didn't ring a bell with me. WWE also announced that they signed TMDK, which should be awesome because I remember seeing them on Wrestle Kingdom 9.
But WWE did announce the first seven entrants in their Global Cruiserweight Tournament. Rich Swann, Tommaso Ciampa and Johnny Gargano should all be known to fans of NXT by now, but add Zack Sabre Jr. (who has recently been competing in EVOLVE as well as other promotions from the United States though he is a UK based wrestler), Akira Tozawa (from Dragongate, so he should know Apollo Crews), Noam Dar (just read about his recent matches
here
) and Hoholun, who I was able to find the least information about aside from some YouTube videos.
This week NXT was pretty action-packed. My wife said there probably wouldn't be a lot going on since it was right before Take Over: Dallas but there were some decent matches. There were also these little promos in between matches from those involved in TO:D as well as hype videos for the matches. I particularly enjoyed the other women talking about Asuka and what it's going to take for Bayley to defeat her-- if Bayley can defeat her. Becky Lynch said she had to pick Bayley in that match because they are the Four Horsewomen but she never gave a solid reason or strategy. Also, I'm pretty sure they forgot to show the part where Charlotte says that when Asuka comes to the main roster she's going to retire. Daddy's name can't help you now, girl!!
In two different tag team matches, both American Alpha and The Revival scored victories which makes sense going into TO:D but what I found interesting was The Revival defeated the team of Steve Cutler & Tucker Knight, who I believe we've seen team together before. I like how NXT is kind of developing new tag teams without us even realizing it. You give Cutler & Knight some wins, a fancy name and they could be Tag Team Champions. Knight is a big guy and Cutler is former military so there you go.
Baron Corbin also had a squash match, though he won't walk through Austin Aries as easily and I guess it was just one of those last ditch efforts for us to try and believe Corbin might win. I was actually worried for a minute that Apollo Crews might not beat Alex Riley but not only would that make Crews look weak going into TO:D but there is that whole matter of Alex Riley having nothing to do and not winning a match since, um, coming out from behind the announce desk. (Okay, I think he won *one* match because he had to in order to get the shot at Kevin Owens, but since then I feel like it's been all losses)
And then just when you think the gimmick of Elias Samson couldn't possibly get any more terrible he comes out and sings to Apollo Crews. I'm not sure who else has seen that "Punisher" movie with Tom Jayne where the guy sings in the cafe or whatever, but this reminds me a lot of that. It's like Vince knew that The Punisher would be in Season Two of "Daredevil" on Netflix but instead watched the movie from, like, ten years ago. If Apollo Crews doesn't smash that guitar over the head of Elias Samson and send him back to get a new gimmick I will wonder about whether or not WWE is using their best talents forward.
Finally, since TO:D is coming up this has to be the last episode they taped for a while and as such this main event of Samoa Joe vs. Bull Dempsey must really be the last time we see Bull in NXT. I know I said that, like, three losses ago, but the fact that Bull Dempsey can't seem to get a win and is losing here to Samoa Joe in the main event and he's left off of the TO:D card, yeah, I can see why he'd want his release but he didn't really do anything to make me miss him. Go to Japan, Bull. Develop something more than what WWE taught you and then come back better than ever.
I read that only a few matches were taped for Smack Down! and we will hopefully get to watch that before Wrestlemania 32. Our whole schedule got thrown off though when I found out that NXT Take Over: Dallas doesn't start until 10pm EST! If it's only two hours (and it might be longer, I don't know) then it's going to go until at least midnight. Quentin will want to watch it with me but it's already going to be hard enough for him to stay up until 11pm for WM32, staying up this late two days before will just make things worse for his non-napping mood. So we're likely going to try and avoid all spoilers and just watch NXT TO:D first thing Saturday morning. Then maybe later on Saturday or early Sunday it will be Smack Down! and Main Event and then comes Wrestlemania 32!! I haven't decided if I'm going to write about any events in a special way this weekend after they happen or just tweet about them, but next week could be just as busy as this week. It's a good time to be a wrestling fan though and one day I'm going to experience all this chaos first hand.