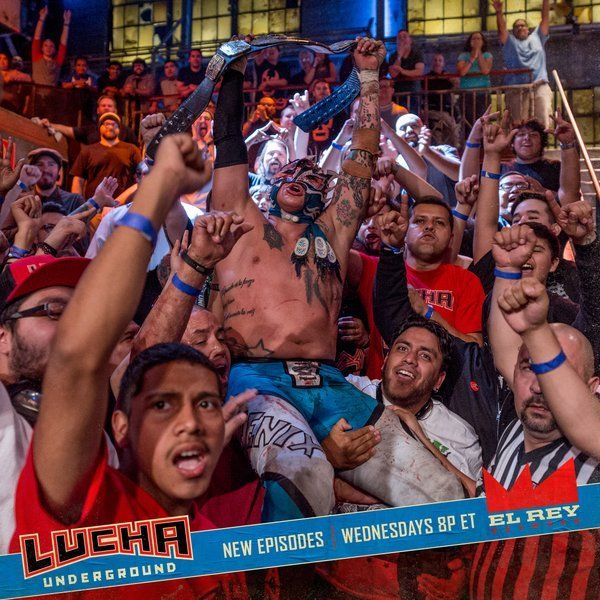 We'll start the week where we left off and that was with WWE Roadblock. What can I say? We stayed up late for it on a Saturday night instead of watching a movie or something else and we could have just put it on Sunday afternoon instead and not felt like we lost anything. I found out via Kevin Owens' Twitter that he'd be facing AJ Styles in a 30 minute Iron Man match for the IC Title on the same night but at a different event. So... Stardust vs. Sami Zayn and Chris Jericho vs. Jack Swagger were really that important to WWE then, huh?
A lot of the undercard was bad except for New Day. I always watch Charlotte matches hoping I'll see what others see in her "wrestling abilities" but it just never happens. Also, how do you advertise a Brock Lesnar vs. Bray Wyatt match, then change it to a handicap match with Luke Harper added in and then Lesnar doesn't even touch Bray Wyatt? When WWE had their live event from Japan it was a lot better than this. They should be ashamed after this trainwreck.
I actually thought for a minute or two that Dean Ambrose might win the WWE Title and throw the main event of Wrestlemania into chaos. They could have a fatal fourway and HHH could say he lost the title but he didn't lose the war because if Roman Reigns wants to be champion he has to beat his "brother" Dean Ambrose. But alas, we're going to stick with HHH vs. Roman Reigns in a match I fully expect Dallas to crap all over.
For various reasons we watched Impact Wrestling this week before Raw, which usually doesn't happen and, no, we didn't watch it "live" either. The show opened with a lot of recapp from the past few months (?) and that would be nice to see if you had stopped watching Impact lately and decided to just start watching again now for some reason. Will it be weird without Kurt Angle tonight? Probably not.
The first match was the return of Jeff Hardy vs. Eric Young. Josh Mathews noted it had been seven weeks since EY drove Jeff away and it doesn't really feel like that long though. As the match started and the two were brawling outside I heard music, which was odd, and it was Dixie Carter announcing that the winner of this match would be in the main event tonight. So... Jeff wins, gets added to the main event, screws over EC3 and eventually this can even lead to Dixie Carter turning against EC3 in a "everyone who was kind of friends with EC3 will now be aligned with Matt Hardy" then? So, to no surprise really, Jeff Hardy wins because he has returned and Eric Young is holding a rather worthless title.
Backstage, Eddie Edwards talks about the injury of Davey Richards and then gets beat down by The Decay. As I commented on the TNA Facebook page: The Decay needs to worry less about Eddie Edwards and take out Beer Money because this is no longer 2006 (Sorry, Bram) Mike Bennett and Maria also had a backstage segment and apparently a match is coming for them. Beer Money asks Eddie Edwards if he's okay... No, Eddie... Don't join them... They'll only drag you back into the past.
"Social media is big these days" - Real Things James Storm Says
The next match was Drew Galloway and Gail Kim taking on Mike Bennett and Maria. I get that Drew and Mike have their own thing going on, and so do Gail Kim and Maria, but the pairing of Drew Galloway and Gail Kim just seems so odd to me. Maria and Mike Bennett are wearing matching pink like Tyson Kidd and Natalya. Drew Galloway and Gail Kim don't seem like friends outside of the ring. It's the men fight men/women fight women rules, so not Lucha Underground style in this mixed tag team match. Maria pinned Gail Kim and, ugh, looks like Maria will be getting a Knockouts Title shot soon. You know when TNA says "knockouts" as a shot at the WWE having "divas" they're talking about women exactly like Maria, right??
Josh Mathews interviewed Lashley in the ring and, well, Lashley started by beating down Josh Mathews and when The Pope made the save he got a spear for his efforts. It was nice to see someone finally do to the announce team how we all feel about them.
Unfortunately, after a promo from The Decay Josh Mathews and The Pope refused to sell their injuries and were right back on commentary. EC3 talks to Jeff Hardy backstage and begins to unravel my conspiracy theory against EC3 so since the players are in on it now I'm betting it won't actually happen.
The Decay vs. Beer Money & Eddie Edwards was up next. Is anyone else as tired as I am of the "bruiser cruiser" or whatever the hell that thing is called? As it turns out, I believe The Pope is no longer on commentary and Jeremy Borash has stepped in for him. Not sure if that is better or not though. So The Decay defeated Beer Money & Eddie Edwards, and rightfully so, and not only did Josh Mathews brag about how much weight James Storm lost (40 pounds! He could be in the x division!) he said it didn't matter when Beer Money was double-teaming Rosemary, which seems like something a heel tag team would do to me. Oh well. Whatever gets The Decay moving forward.
Matt Hardy and his wife are backstage complaining to Dixie Carter about the triple threat. Matt says he's going to punch the ref in the face and walk out. Good strategy by the champ, but he played that card too soon. Dixie makes it no count out, no DQ.
Eli Drake, Grado and Billy Corgan bring out their nonsense next. Are we going to have Eli Drake and Jesse Godderz or whoever pals around with him face Grado and Billy Corgan eventually? Please tell me no. Billy Corgan decides to put a contract on a rope above the ring and if Grado can get it, he can sign it and get his job back but if he can't then Eli Drake can rip it up and no more Grado. Billy Corgan's great explaining moment in all of this nonsense: "We know you did something, we just don't know what". Something like that. This lead to Grado getting the contract and so yet another Feast or Fired and yet another person fired and it doesn't stick. This whole thing is kind of beginning to be pointless, right? Couldn't they just give out contracts and say the losers don't get title shots for a year or something?
Beer Money has issued an open challenge to any former tag team champions for next week's episode. I'm going to bet it's about time for the return of The Naturals. They held the titles once, right? I decided to look up former tag team champions and it would appear as if a lot of them are either a) on bad terms with TNA or b) in WWE right now. Could we have a makeshift team like Homicide and Pacman Jones? Would that count since R-Truth is in WWE and Hernandez shot himself in the foot with the whole Lucha Underground thing? I feel like Eric Young and Abyss held the titles once, but my best guess right now looking at Wikipedia is either BroMans (ugh), for some reason The Hardys or Brian Myers and Trevor Lee. Trevor Lee is the X Division Champion so maybe Hurri-Helms is forming a stable?
The main event was up next and as expected since it became no DQ, Eric Young and Bram came out to take down Jeff Hardy. Then Tyrus and Rockstar Spud came out to see EC3 which is what Lockdown was supposed to prevent but here we go again. Same old story, more overbooking. And then Mike Bennett also came out to take on EC3 which seems to be the next feud for him now since EC3 has defeated nearly everyone else, but hey, at least EC3 and Mike Bennett are two of the younger, fresher faces we should be seeing in TNA right now.
After Matt Hardy "won" the match and was celebrating, Drew Galloway came out, cashed in his Feast or Fired briefcase and became the new TNA World Champion. I feel like Matt Hardy had this build to him being a bad guy and he could have helped create a major good guy by someone defeating him for the title but... not this way. It didn't have to be EC3. Somehow, Mike Bennett could have become a fan favorite and done it. But this... I don't know. I'm not mad that Drew Galloway is the champion- I actually kind of like it- but I just wish it was built up better and they had a match that lasted longer than ten seconds to make it feel that much better. When I think back to Edge cashing in his MITB briefcase against John Cena it was because both Carlito and (maybe) Chris Masters should have won that Elimination Chamber and defeated John Cena, who was not a heel by the way. The reasons why people like Drew Galloway/Edge and dislike Matt Hardy/John Cena are polar opposites so this just didn't work for me since it also felt like a heel move and Drew celebrated after the match with the fans in the crowd.
On Raw we saw some of the same old/same old, though we did get a little bit of clarity on some issues and some new matches as well. The Hulu replay began with New Day, who defeated the League of Nations but ended up beat down after the match by them and now they appear to all be part of a Wrestlemania match for the tag team titles. It is certainly a nice slow face turn for New Day though and they are certainly one of the best parts of WWE right now.
Dean Ambrose and Brock Lesnar almost went at it but it was a necessary stop it would seem to branch from that "I didn't win at Roadblock" from Dean Ambrose to now having to face Brock Lesnar in just a regular old No Holds Barred match. This actually could be one of the better, more brutal Wrestlemania moments this year.
Dolph Ziggler came out to challenge The Authority and basically Stephanie said he could have any match at Wrestlemania that he wanted- except against HHH- but he just had to win his match tonight. So, HHH and the WWE Title are off the table, but he could still challenge Roman Reigns or Dean Ambrose or someone else already booked in a match? Geez, he could challenge The Undertaker by that awful reasoning. So Steph picked HHH himself to face Dolph Ziggler (don't worry the title wasn't on the line because that'd be stupid) and of course later on in the match Dolph Ziggler lost. This is a real conversation which took place in our household after this match.
My Wife: So what, Dolph Ziggler goes to TNA now?
Me: What is Zolph Diggler doing in the Impact Zone??
Quentin: Who's Zolph Diggler?
We got to see Sami Zayn and The Miz on the Hulu replay but looking at the WWE Raw recap via WWE.com here is what we missed because WWE felt it shouldn't be on Hulu:
- Ryback defeated Sin Cara (fair enough)
- a divas tag team match (sure, sure)
- The Usos defeated Bo Dallas & Adam Rose (okay, they could rematch on Main Event)
- Neville def. Chris Jericho by DQ (Wait... What??)
I don't know how the timing of this all played out but the segment between Dolph Ziggler and The Authority, Sami Zayn vs. The Miz and even The Undertaker/Shane McMahon nonsense is less appealing to me than Jericho vs. Neville. But WWE has their priorities set on us seeing that and not Jericho vs. Neville, so there you have it. What is wrong with WWE summed up in one simple snub. Ah well. At least we learned that The Undertaker is his own man and isn't working for anyone even though he is essentially doing what Vince tells him to do. Maybe when Shane wins at 'Mania he'll finally give Dolph Ziggler that ol' push he's been waiting for his whole career.
Have you ever gotten into an argument with someone online and won? You know how you know you won? Because they blocked you on Facebook. And that's what Undertaker did on Monday. He knew Shane had his number and couldn't argue being Vince's bitch, so he got physical with Shane. Plain and simple. I'm still not sure why Undertaker wouldn't just take Shane to a UFC event and then do the job at 'Mania or why The Undertaker even cares about the current state of WWE (Who is or isn't being pushed on the 360 days of the year he isn't around) because this does seem like a better job for HHH (HHH vs. Shane McMahon, Dean Ambrose vs. Roman Reigns for the title... It's not too much to ask for some better logic is it WWE??) But yes, we are on the road to Wrestlemania. Three weeks away and, well, the card looks all right I guess.
After Raw came NXT and what a difference a show makes, am I right? We have the card shaping up for Wrestlemania and it looks like I might be watching it the next Monday (fast-forwarding through some bits) and here NXT is, building up their Takeover: Dallas event two nights before with a stacked card. NXT opened up this week with Sami Zayn talking about something only to be told by William Regal that at TO:D he'd be facing Shinsuke Nakamura. Wow.
I can only feel like what I typed about recently regarding Baron Corbin being a stepping stone for new talents (Which will still hold true only this time for Austin Aries) holds true for Sami Zayn now as well. Okay, Sami Zayn is "up on the main roster" now, but since losing the NXT Title to Kevin Owens (in Owens' second match in NXT, his first against that hippie guy no longer in NXT), Zayn has lost matches to, um, Samoa Joe and injuries. So, yes, he is also putting over talents who came in after him. And if you think he's winning against Nakamura you're crazy.
So where does this leave Sami Zayn in the long run? He wants to be the first ever two time NXT Champion. But he lost to Samoa Joe, so apparently he can't quite hang with the newer class of NXT. Naturally, this means move him up to the main roster and have him lose to guys up there, but after TO:D what will he do? Obviously he'll be all about the main roster, but will he give a reason for why he's abandoning his quest to be two time champ or just kind of disappear?
The Hype Bros. defeated Angelo Dawkins and Kenneth Crawford and I wonder whatever happened to Sawyer Fulton. Okay, I'm pretty sure they might have broken up on an episode of NXT once, but I can only ever remember Angelo Dawkins and Sawyer Fulton together. They should still be a tag team, even though Kenneth Crawford does look like a solid dude.
Emma defeated Deonna Purrazzo because why not. Does anyone else hope that one day Emma ditches Dana Brooke and the two feud with each other? Yeah, me neither.
Tommaso Ciampa defeated Jesse Sorensen because I think Ciampa is under contract with NXT now and Jesse Sorensen is not. I think Jesse Sorensen could be big in WWE though. He's got a memorable gimmick at least. He broke his neck, TNA fired him, then TNA had "#AskDixie" on Twitter and it turned into a blockfest. Yes, even I am blocked on Twitter by Impact Wrestling for that particular hashtag.
Following a tag team match with Bayley and Asuka defeating Nia Jax and Eva Marie, it was announced that Bayley would defend the title against Asuka at TO:D and this is shaping up to be a great card. Also, if Asuka wins the title at TO:D- which she should- then I'm totally calling for Bayley to appear at Wrestlemania for the hugfest I predicted *before* the divas triple threat match fell so nicely into place. And does anyone else see Nia Jax turning on Eva Marie eventually? I'd love to see Nia Jax put the beating on Eva.
In the main event, it was decided that American Alpha would be the number one contenders to the tag team champions and thus face The Revival at TO:D. So those are two really solid title matches added to TO:D plus Sami Zayn vs. the debuting Shinsuke Nakamura. Yeah, Wrestlemania only wishes it could be half this great.
Season 2 Episode 8 of Lucha Underground is dedicated to the memory of Hayabusa. It begins with an awkward backstage segment between Catrina and Fenix where I guess she sort of implied she wants Fenix to lose tonight... I don't know. I do enjoy though how Mil Muertes brings death and Fenix rises up from the ashes of that death.
In the opening match, the Trios Championship was defended as Ivelisse, Angelico and Son of Havoc (who need a collective name) took on the Disciples of Death. It was announced last week via Ivelisse to her two partners that if her team couldn't win this match and the titles back then they would all leave The Temple forever or whatever. The ring announcer stated this before the start of the match and the commentators- Matt Striker and Vampiro- seemed genuinely shocked. I know they tape a lot of these episodes at once and all, but they need to get the little things like this together. The fact that Ivelisse, Angelico and Son of Havoc could have been banished from The Temple was heavily promoted all over social media leading up to this episode so why did Striker and Vampiro act so surprised? I bet if I looked hard enough on Twitter I'd find a tweet somewhere either Matt Striker or Vampiro liked or retweeted about the lose and go home stipulation, but whatever. They need to get it together-- not me.
Backstage segments are shown with Johnny Mundo talking to Prince Puma and Rey Mysterio talking to whoever he is mentoring. All four will be involved in Aztec Warfare next week and I do certainly hope they bring in some names we haven't seen in Lucha Underground yet still.
The second match was El Texano and Chavo Guerrero Jr. in a bullrope match. Both of these guys had feuds with Alberto Del Rio when he was in LU didn't they? It's still strange to me how popular Alberto Del Rio was when he returned to AAA, then went to ROH and Lucha Underground and now being back in WWE it just seems like he's floating by... Though if I could book WWE my way, I'd have Alberto Del Rio leading a stable with Primo, Epico and maybe even Hunico, so there's that. (Eventually, his peers would turn on him and be lead by a returning Carlito Colon because there is money in building an Alberto Del Rio/Carlito feud properly) Anyway, this is Texano's second bullrope match in LU and he did not win the first, as Matt Striker makes himself useful and tells me.
Hey. Everyone who watches professional wrestling. Just know this. As much as I dislike the commentary of Matt Striker:
Matt Striker > Josh Mathews
El Texano got the win over Chavo Jr. and apparently now the whole storyline has come full circle and Mexico has gotten its revenge on Chavo Guerrero Jr. Though, technically, Chavo Jr. did something to upset Blue Demon who then turned heel and, yeah, it gets a little confusing.
I just saw a commercial for "April Ghoul's Day", a day in which movies will be shown by El Rey on April 1st. Yeah, like people watching Lucha Underground won't be watching NXT Takeover: Dallas on April 1st.
Mil Muertes is shown beating up someone backstage with a Skeletor looking lucha mask. Does he have a name or is he a random jobber? I really do think Lucha Underground needs action figures, a video game, trading card set or all three to keep these characters in order and also just to throw in random characters as well.
Dario Cueto is shown with Angela Fong and says that "he is ready", referring to his brother, and says it is time to take back "my temple". A huge, blood-covered Jason Voorhees looking luchador is shown and, well, I don't want to be *that guy* but if he comes back to The Temple with Dario Cueto, he's probably going to get arrested.
We're onto the main event and I had to edit something I typed earlier because apparently Aztec Warfare is next week and not two weeks from now. Eh, it's eventually. I rarely know what's going on from week to week, I just watch it all and hope it makes sense at the end of the season.
In the main event, Fenix defeated Mil Muertes to capture the Lucha Underground Championship and all I can say is that you need to go out of your way to see this match. It is worth it. It is kind of odd though that of the three title matches this week, WWE was the only company not to have their title change hands. Plus, Drew Galloway became a new champion on Tuesday while Fenix did on Wednesday. Seems cool, right?
After the match, Catrina announced that next week Fenix would defend his title in Aztec Warfare (It was supposed to be to determine a Number One Contender) and Fenix would enter at number one with Mil Muertes entering at number twenty. I don't feel like Fenix could only hold the title for one week, but those are pretty stacked odds to overcome. I don't read spoilers anymore because it feels pointless, but this should be a lot of fun next week and I'm really excited for Aztec Warfare.
On ROH TV this week we saw a seven team gauntlet match- which took the entire show- and the one thing that I've never liked about such things is that it started with two teams and then the losing team was out and then a new team came in so it just seems like whoever starts the thing and does most of the work getting to the last team or so is just going to get knocked out by the last, fresh team. And this is sort of how it happened as well. Young Bucks took control for a few falls, then were attacked by The Addiction and during the last fall they lost to RPG Vice. I'd be more upset but I really like RPG Vice.
This match also seems to speak volumes about the tag team division in ROH right now. Caprice Coleman and Will Ferrara were a team in this, reDragon obviously is a solid ROH tag team, but then the guy they teamed J Diesel with for House of Truth got turned on and they're still apparently considering Brutal Bob Evans and Tim Hughes as being a tag team. For whatever reason, the Briscoes weren't part of this and ROH also has the newly reformed Motor City Machine Guns, so I guess their tag team division is okay.
Sometimes after I watch a show and don't remember all of the matches, I'll go back to the source and find something about it. In this case, I went to WWE.com to refresh my mind about what happened on Smack Down! and the first point they made was about The Big Dog being ready for Wrestlemania and even though I did remember Roman Reigns kicking off Smack Down!, the idea of Reigns as "The Big Dog" just still doesn't click for me.
For whatever reason, we saw matches between Dolph Ziggler and the Miz as well as Bubba Dudley and Goldust (which R-Truth had to make the save on) Dean Ambrose was talking about his hometown all night until he finally came out and hit all four members of Social Outcasts with a kendo stick and for whatever reason Kofi Kingston defeated Wade Barrett, which at least got us the chance to see New Day. I want to see Big E vs. Rusev. Someone book that now.
In the main event, Kevin Owens defeated AJ Styles with the distraction by Chris Jericho. It's kind of funny because this could just be used as a way to further the Jericho/Styles feud, but now I'm really hoping we get Kevin Owens defending the IC Title against AJ Styles, Chris Jericho, Dolph Ziggler, The Miz and what was supposed to be Neville before he got injured. But a sixpack challenge sounds good for Wrestlemania to me. But again, that's like saying The Golden Truth are going to be part of the Dudleys/Usos match because of what happened on Smack Down! earlier.
WWE really has something special with Kevin Owens vs. AJ Styles though- and this match explains why their 30 minute Iron Man match wasn't part of Roadblock- and in the future it could be really built upon. As much as Sami Zayn and Kevin Owens have a history together, you have to remember that when AJ Styles debuted in WWE it was during the Royal Rumble match and he was eliminated by Kevin Owens, so there's that. Let's hope WWE can build these two up big together.
We somehow watched WWE Superstars on accident and not Main Event yet, but we did watch the newest episode of ROH TV, which featured the first week of ROH vs. NJPW action-- which I was really excited to see, as always. BJ Whitmer was to challenge Tomohiro Ishii for the ROH TV Title but Veda Scott came out with Cedric Alexander and paid BJ Whitmer off, so the match became Ishii vs. Cedric and it's always just fun to see Ishii work. Now the question is just a matter of who will take that title from him because I'm not sure anyone can.
The Addiction cut a promo and the Motor City Machine Guns wanted to fight them but obviously that's being saved for a later date now. Still, it should be a good match when it finally does happen. These are four of the greatest wrestlers in the world we're talking about here and I'm kind of surprised none of them have shown up in WWE yet. (Is WWE still mad at Kazarian? They can't be, right?)
A tag team called Reno Scum was defeated by the Briscoes and, well, at least Reno Scum looked like an actual tag team and not some makeshift team of two jobbers thrown together to be a stepping stone to put the Briscoes back on the winning ways. Kevin Kelly noted it had been two years since the Briscoes had been in the tag team title picture and so I do wonder if we're headed in that direction with them, which I would be okay with even though the next title shot is going to RPG Vice.
In the main event the Young Bucks took on Michael Elgin and Hiroshi Tanahashi. The team of Elgin & Tanahashi won, which was a nice touch, but it is worth noting that this is now two weeks in a row we have seen the Young Bucks lose in the main event of ROH TV. I'm not saying that's going to stop people cheering for them but it is interesting how the wins/losses thing doesn't seem to matter as much for the Young Bucks and yet the Briscoes couldn't give up that upset to Reno Scum. Oh well. I'll spend the rest of my time before watching Raw wondering whether Young Bucks are an ROH tag team or a NJPW tag team.