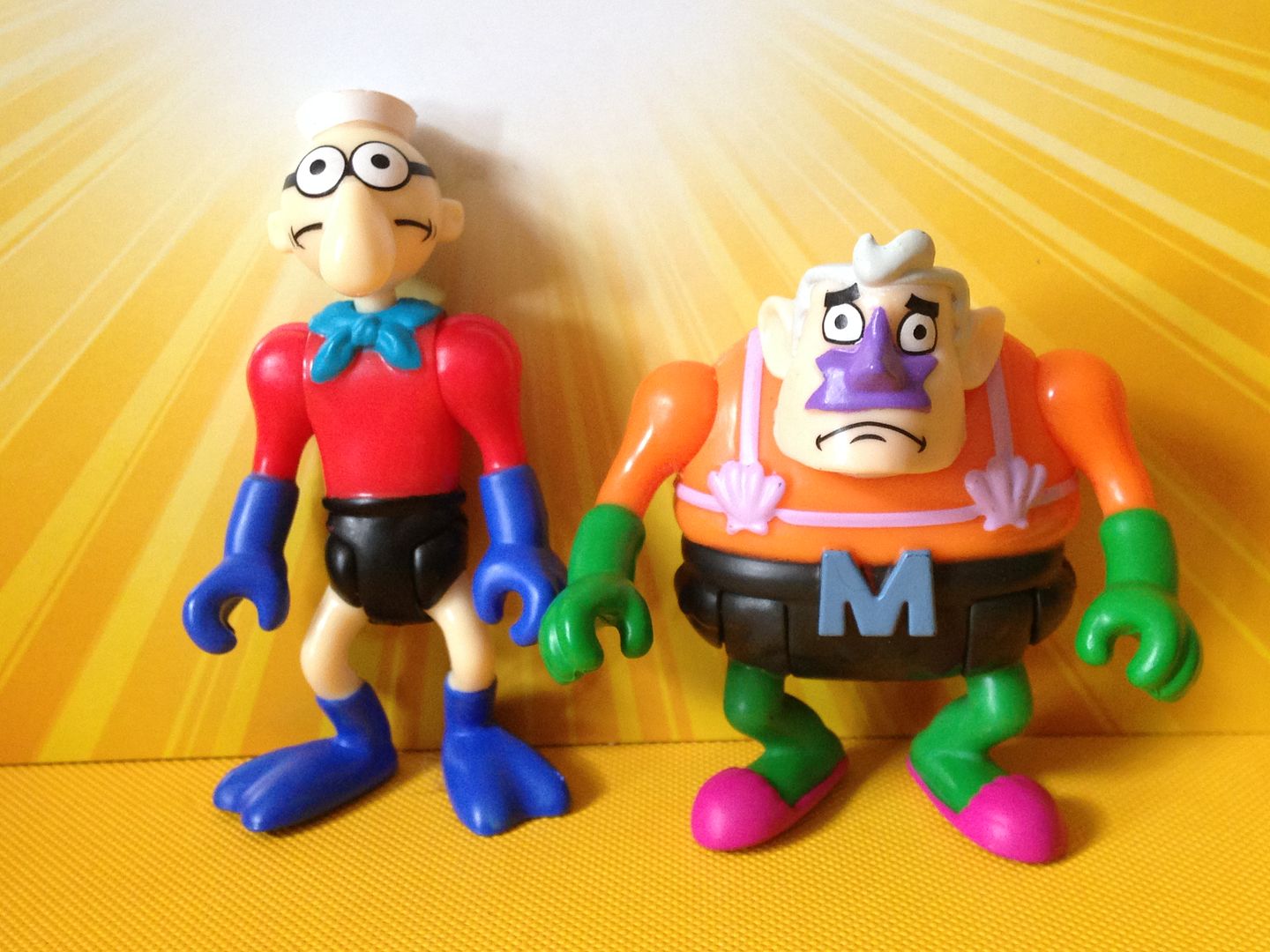 [
http://www.fisher-price.com/en_US/brands/imaginext/products/Imaginext-Nickelodeon-SpongeBob-SquarePants-Mermaidman-and-Barnacleboy
]
Aside from picking up the Spongebob toys from his "Sponge Out of Water" movie and then the Food Fight versions of Spongebob and Patrick, all of which I'm not sure whether or not I'm going to review, I feel like the essential Spongebob toys to have in Imaginext form and possibly any form are for Mermaid Man and Barnacle Boy. I remember watching Spongebob Squarepants when it first came out and before it turned into the huge phenom that it has become today. In some ways, having all of these superheroes- Batman, DC, TMNT, Power Rangers, Star Wars, etc.- it just only seems fitting to have Mermaid Man and Barnacle Boy beside them all. They have more of a human look to them than Spongebob and crew so they do have that going for them as well.
I've not paid attention to all of the Spongebob merchandise out there. At one point it just became far too much so there was no way that anyone could keep up with it all. So I'm not certain what toys exist other than these for Mermaid Man and Barnacle Boy but I do know two things other than the fact that these are what my son refers to as "Batman toys" and hence they come into our collection that way. First off, these are small enough and yet detailed enough that they would be ideal for fans of the show to put on their computer desk, for example, or just have on display otherwise without taking up too much space but still not losing any quality of looking like their cartoon counterparts. Along with this is the fact that these toys are in the lesser price range- typically $7.99 at Toys R Us, where they are exclusive to- and as such it gives you the best option in terms of quality, size and price if you're looking for a way to show your SBSP love without displaying any of the main characters.
We spent a decent amount of time finding this set in stores and passing it up before we actually bought it. The first time I saw it I was in awe. I knew I had to have it because it just captivated me. Of course when I asked Quentin if he wanted it because it was "Batman toys" he wanted nothing to do with it. Then the next time we were back at Toys R Us it was gone and I thought we had blown our shot of getting it since the regular Spongebob was being moved out in favor of the new movie. Alas, we saw them again at a different Toys R Us and while we had first intended to buy it we later ended up finding Police Chief Jim Gordon and police car so we opted to buy that instead at the time. With the Imaginext toys at Toys R Us this time on sale for Buy One Get One 50% off we had decided to finally buy this two pack and it was well worth it.
The one thing that Mermaid Man and Barnacle Boy represents to me (Other than being Bikini Bottom's version of the Adam West version of Batman) is that time when a cartoon goes into a different show. There exist episodes of Spongebob that don't really involve him and rather are episodes of Mermaid Man and Barnacle Boy. While some people might not like that, I always found it to be clever, like the creators of Spongebob pitched this idea and it didn't get picked up to be a show itself but yet they kind of snuck it into this show which did get picked up. And I can't think easily of another instance when a cartoon does this but I have always been a fan of cartoons who like cartoons, the most obvious example that comes straight to my mind being Powdered Toast Man.
For me, a lot of kids are going to want Spongebob himself or Patrick (or both) when it comes to the toys. These are the two characters we got from Kohl's on sale for the Food Fight series. And then for the Sponge Out of Water movie we got Spongebob, Patrick, Squidward, Mr. Krabs and Plankton all in their superhero forms because it seemed to fit better with the general theme to the rest of the Imaginext toys. But here are two characters which are almost obscure in the Spongebob history and these figures are only available at Toys R Us and so it feels like someone out there is getting away with something by having them forever remembered in plastic.