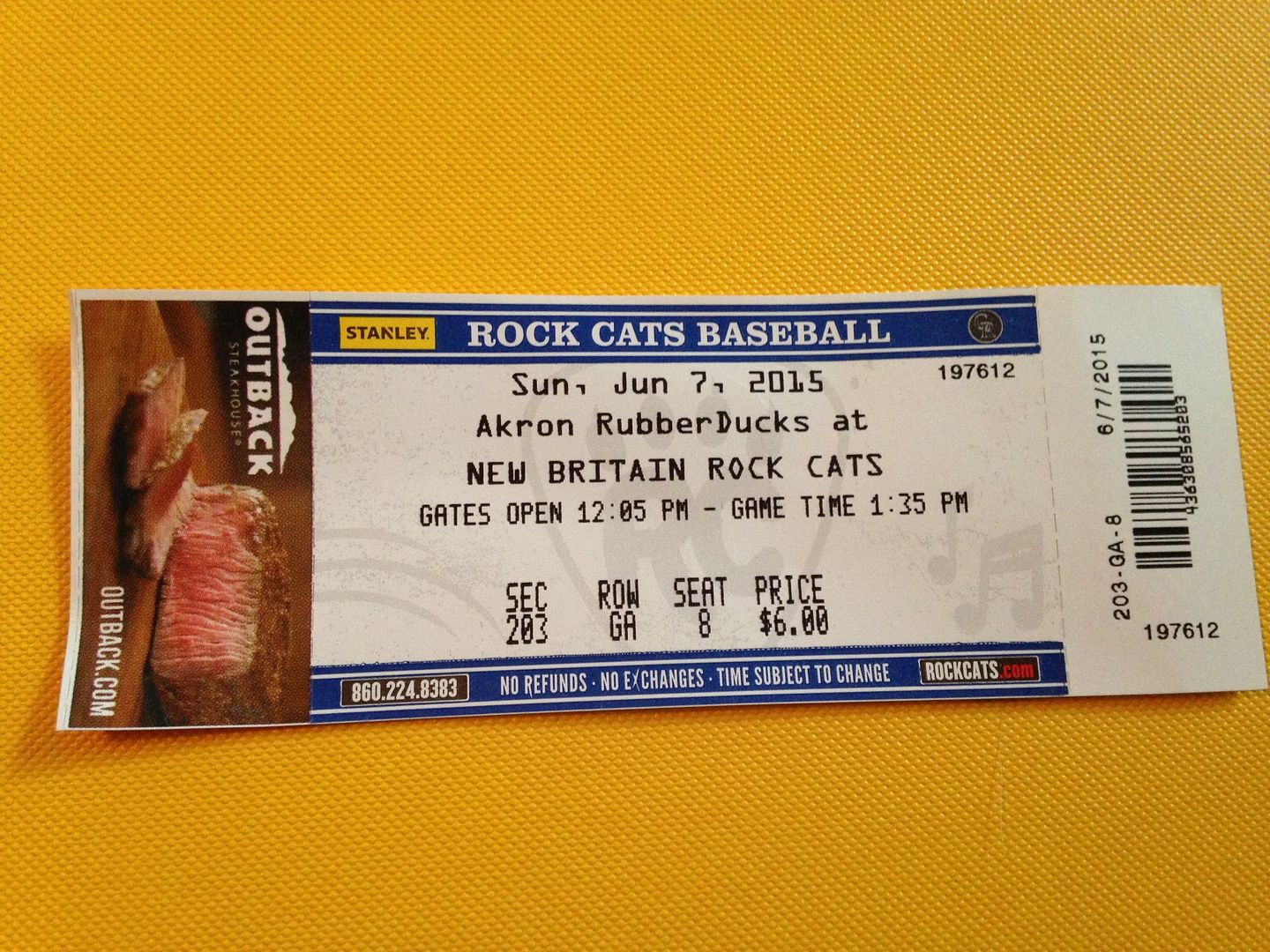 Box Score:
http://www.milb.com/gameday/index.jsp?gid=2015_06_07_akraax_nbraax_1&mode=gameday
There weren't any give-aways on Sunday in the way that there were on Saturday night, so it was a bit more relaxed getting to the ballpark and watching the game. CPTV Kids was on hand- which was something we had even seen promoted during the game on Friday night while we watched it, but then also just during "Wild Kratts" on Friday on PBS Kids. They had some pretty decent swag up for free- a Thomas pencil, a lip balm holder with lip balm, a small container of hand sanitizer, a Word Girl activity book and a few other things- but the biggest part of it all was seeing Arthur and our son getting his picture taken with him because, well, who doesn't love Arthur? (Probably people who can't read is my guess)
After watching the loss on Friday night on television and the win on Saturday live, this game became the rubber match of sorts which is funny when you think about the fact that the Rock Cats were playing the Rubberducks. The weather was almost perfect for baseball as there was a cool breeze that came through every so often but when it wasn't there the sun was actually beating down on me rather harshly. Yes, my arms did manage to get burned but I at least put sun tan lotion on the back of my neck this time.
At first I thought this game was going to be a pitcher's duel again because the Rubberducks pitcher seemed to be pretty good. After a HBP he got some K's in, but then he eventually began walking batters and the Rock Cats just started putting together hits as well. So for the first inning or two I thought that the Rock Cats might be in a bit of trouble based on the pitcher, but he seemed to almost fall apart somewhat quickly as well and that allowed the Rock Cats to go up early and simply stay up. It was simply another situation where the Rock Cats managed to put a lot of runs on the board and it was up to the Rubberducks to do the work after that but they just couldn't catch them.
I do find it interesting though that the Rock Cats were held to only one run on Friday night and that game ended with such a low score of 2-1 when they put so many runs up both Saturday and Sunday. A few of the Rock Cats noted players (Trevor Story and Tyler Massey) didn't even play on Sunday so it's kind of strange to me still they had such an off night on Friday. Still, the Rock Cats took the series and put up their second win to get them out of that losing slump and as far as this being my eighth Rock Cats game this season my record at games has increased to 6-2, so I'm just putting that out there.
This was the second time I got to see Shane Carle pitch and the last time I think he was a bit thrown off by the rain delay, so this time he really showed what he could do by holding the Rubberducks down and I'm just amazed at how good the Rock Cats pitchers are at this point. I know that on Friday they lost, but still, to be held at two runs is no easy task in itself and then on Saturday to see Ryan Carpenter just pitch one of the best games I've ever experienced... it's a fun time to be a fan of baseball and it's a fun time to be a fan of the Rock Cats.
It also never ceases to amaze me how many fans show up and fill the seats for each game. The love of baseball in Connecticut will apparently not dwindle in the face of this team moving next season. With the Rock Cats up, people began leaving early on but we stayed for the whole game because afterwards kids run the bases. Both times my son has run the bases this season I've made a video of it so I figure by the end of the season we'll put them all onto a DVD and give them out as presents for Christmas to family members.
After the game, since it was an afternoon game, we waited around for some of the players to get autographs. I never know why people are getting autographs, but I always assume people are going to just sell whatever is getting autographed on eBay or somewhere, especially if the player gets really big one day. For me though, it's more of a personal thing than a "this might have resale value one day". When I was a kid, I went to games in New Britain with my dad back when they were the New Britain Red Sox and I have a team set of cards for the Norwich Navigators, you know. And I might not recognize any of those players today, looking through the cards, and I have a baseball with a bunch of signatures on it that I can't identify, sure, but at least to me it says that this was time I spent with my dad and so to kind of be able to pass that down with the Rock Cats here and my son is something I feel is worth doing.