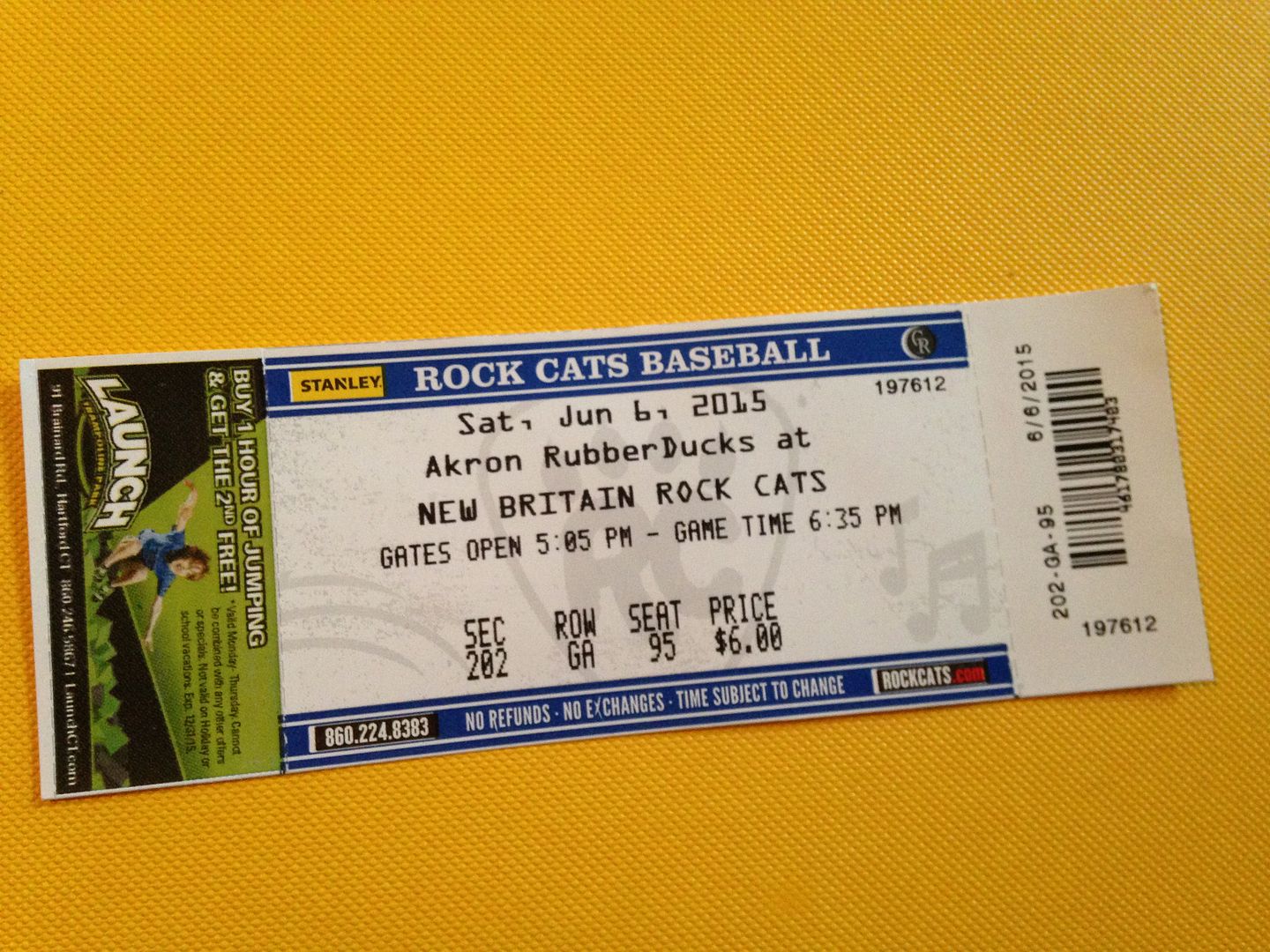 Box Score: http://www.milb.com/gameday/index.jsp?gid=2015_06_06_akraax_nbraax_1&mode=gameday
Saturday night was one of the first three give-away days that we had attended and while I don't really count the first one (Which was the pink ball give-away, because it was only for the ladies) the most recent before this was for a grey cap and we actually missed that because we got to the game late (To the extent that they were all already gone anyway) and so since we didn't have week day jobs constricting us this day I decided we needed to get there as early as possible but not too early. We ended up arriving at the ballpark around 4:30 pm with the gates set to open at 5:05 pm and much to my delight I was the first person in line. There was talk of getting there closer to 5, when the gates actually opened, but the closer we got to the 5:00 mark the more people joined the line and circled out into the parking lot. It was quite a scene and I was just happy to be first in line for it.
Funny Moment: Before anyone else was in line (and there was a rock band playing "Simple Man", so it wasn't completely quiet or anything) two older men came up to me in an attempt to get in and I saw their tickets and told them that the gates weren't open yet. I told them gates opened an hour and a half before first pitch, so in this case it'd be 5:05 tonight. One of them asked me about something but I wasn't sure what so I told him I didn't know what he was talking about but it sounded like he was with a group and as such trying to get in early. He said something to the effect of , "Well, don't you work here?" to which I replied, "I actually do not". The look on his face was priceless. He decided to ignore me and go inside the gates anyway, only to be told what I basically told him and sent outside to the back of the line. You're welcome, Rock Cats. I'll accept my payment in gift shop vouchers.
Being let in first gave us a lot of time to explore the ballpark and just hang out before the game started, which was a lot of fun. I'd been to Rock Cats games where we felt rushed to make it to our seats for the first pitch as well as games where we got there and the first pitch was being thrown as our tickets were being scanned. We went over the to picnic area and ate dinner. A young kid was over there catching foul balls from the players (the Akron Rubberducks were on the field, warming up, at the time) and when he caught one from the right fielder he offered it to our son which was a really nice and classy move by the kid. (My wife later went and told his parents about it and the mother's face lit up like "What did he do?" at first, expecting some sort of trouble. Don't worry, mom, he's a good kid)
We watched as they prepared the field and other festivities and before we knew it the game was ready to begin. The night before we had watched the first game of this series on CPTV Sports and it was a pitcher's game really where it ended at 2-1 with the Rock Cats losing. I knew that if the Rock Cats could get in any bit of offense they'd control and win the game and they pretty much did just that. The final score was 5-3 and the Rubberducks got some late runs in, but for the most part the Rock Cats just managed to put 5 on the board (in a 3 run and 2 run inning) and then hold the Rubberducks back, as they were unable to catch up from there.
I'm not sure who likes the Rubberducks more: their home town of Akron (they are the AA affiliate of the Cleveland Indians) or the teams they play while on the road. A lot of duck quacking sounds were made as well as when someone was struck out there was a scene from the classic NES game where the duck hunt duck was shot. Whoever runs such things in the Rock Cats end was simply on point during this game and the crowd loved it. The Rubberducks is a pretty hilarious name though, you have to admit no matter which side you're on.
Two things were learned in this game were about both the pitching and the hitting. For one thing, the Rock Cats seem to swing for the fences which results in a lot of batters simply flying out in deep center field. I'm not a fan of teams scoring runs or getting hits based upon another team's errors, but the Rock Cats do it and so do the Mets and probably a lot of other teams, but it's better-- at least for me-- to see someone get on base by actually hitting a ball up the middle than having someone simply dropping a routine play or throwing it past a baseman. If the Rock Cats focused more on their ground game, simply just hitting the ball up the middle, it could really help them move runners along the bases as most of them do seem to be under the game plan right now of hitting it out of the park.
Perhaps the best part of this game though was the pitching of Ryan Carpenter who just put on a showcase. He went over seven innings and struck out seven. When he came back out in the seventh I was surprised just because they usually take pitchers out after six innings just to give other people a chance to see what they can do. After walking the first batter it looked like Carpenter might be in trouble, but he wasted little time taking care of the next three batters and he had a better performance than a lot of the pitchers I've seen in the majors lately. The Rock Cats have already had a pitcher called up to the Rockies this season, so it wouldn't surprise me to see Ryan Carpenter up there before this season is over. (I also feel like both Trevor Story and Tom Murphy might be up before the year is over, the only thing holding Murphy back is that he's a catcher and that's kind of a tough spot to fill unless the existing catcher goes down with an injury or something)
We left after Ryan Carpenter came out and the Rubberducks mounted their comeback but it simply was not enough. The Rock Cats broke a losing streak that they were on (They've had franchise high winning and losing streaks already this season) and evened up the series 1-1 with the rubber match the next day which, yes, we already had our tickets for it. And this also makes us at 5-2 for Rock Cats game and that is a mighty impressive record if I don't say so myself. If we are thought to bring some sort of luck to the team by the end of the season, if we come out with a lot more wins than losses in the games we attend, and the Rock Cats wish to give us complimentary season tickets I would certainly be open to attending every home game next season if it will help the team win.