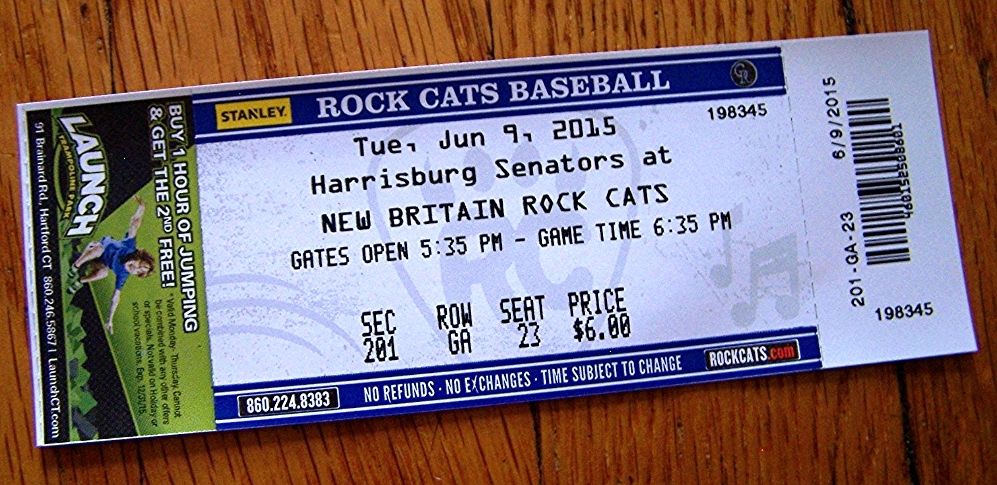 Box Score:
http://www.milb.com/gameday/index.jsp?gid=2015_06_09_haraax_nbraax_1&mode=gameday
At one of the recent Rock Cats games we attended, they spoke with Brett Marshall in the pregame show about how he used to be on the Yankees and now he is coming to the Rock Cats and trying to help out the pitching of the Colorado Rockies (The Rock Cats have some great pitchers) and it was after he had made his first start on the road but hadn't yet made his home debut. They talked about him, as a Yankee, pitching against the Red Sox. The whole thing kind of made me want to see him pitch, so when they scheduled him to start in this series I decided to give him a look. What am I, a scout? No, no I am not. I'm just interested in seeing some good baseball.
For a day that started out nice enough and then turned to rain by the late afternoon, I didn't even know if this game was going to happen. Austin Voth (who is a good pitcher from what I can tell) seemed to be scheduled to start for the Senators which would have been a nice pitching duel, but he apparently did not start and would make his start the following night, which I wonder if it had anything to do with the weather. When we left for the game- to go to New Britain- it was just finishing up raining and when we got to New Britain it was fairly dry, as if the traces of rain that were left were just about gone. There were some water droplets on the benches in general admission but otherwise it seemed dry.
And it was humid. Humid and sticky like it gets after the rain in the summertime. This went on until the sun went down though and then there was a nice, cool breeze and it was just a good night for baseball. The game itself saw the Senators on the board early- putting up one run and then three. Brett Marshall walked a few batters and then was fortunate enough to get a double play to end his last inning in the game. I'm not sure what was going on with him because he's pitched in the majors so I don't want to say it was nerves but it just seemed like he was off and wasn't throwing the way he should have been and knows that he is capable of pitching. When he can find that groove and settle though, he's going to be a dangerous arm.
In the more recent Rock Cats games they seemed to lose whenever they were down by any number of runs really. I thought that four might be too much for them to come back from, but Trevor Story and Tom Murphy hit back to back triples (Yes, triples) and that helped to put two runs on the board and bring the game up to 4-2, which seemed like the Rock Cats of the early season where they'd get down by a few runs and really not explode offensively until the sixth inning or so.
There was yet another situation where the tying run was set to score and instead of following the third run he was held up at third base. The next play- after a pitching change- saw a quick pop up to end the inning. I don't care if it's only the bottom of the eighth, but with two outs, a ball hit deep into the outfield and the fielders struggling to get it, you Charlie Hustle and you go home. I would have rather that inning ended on the runner being thrown at home than the way that it did and the third base coach needs to start taking these chances and let the runners run if it's going to tie the game.
Fortunately for the Rock Cats, things got heated in the bottom of the ninth. The Senators pitcher was struggling and with runners on first and second, two outs, Tom Murphy came to bat and a wild pitch moved the runners forward. That would be the mistake which cost the Senators the game. Murphy hit a hard, somewhat high line drive into right field and both runners scored. That might have been a double, though it was probably scored as walkoff single for Tom Murphy. I told my wife afterwards that if the runners were still on first and second only one of them would have been able to score and we might have been in extra innings. Though, my wife also wanted to leave in the eighth and if we did we would have been upset we missed that play.
People started clearing out during the sixth inning, as they tend to do, and then they left every inning after that- and I don't blame them because it tends to help the traffic shift so we don't all try and leave at once and cause us to wait in lines to exit and all that, but that was just one of those games that you needed to experience right up until the last second. I said Tom Murphy should be in the majors and the biggest thing standing in his way is the fact that he's a catcher, but I'm ready to start looking into the stats of the current Rockies catcher and comparing the two to see just who is really better. Though that, of course, is bittersweet because I also want to see Murphy stay with the Rock Cats selfishly so I can still see him play and this team can win.
As one final note, the team set of baseball cards is in and I couldn't help but notice that Rocky doesn't get a card this season. I'm not sure how it is decided who gets cards and who does not, but getting the set so the kids can get Rocky to sign his card seemed like an important thing to me for some reason so not seeing him in there was somewhat strange, but alas I still have cards to try and get the players to sign now so look out players, here comes my son and I!