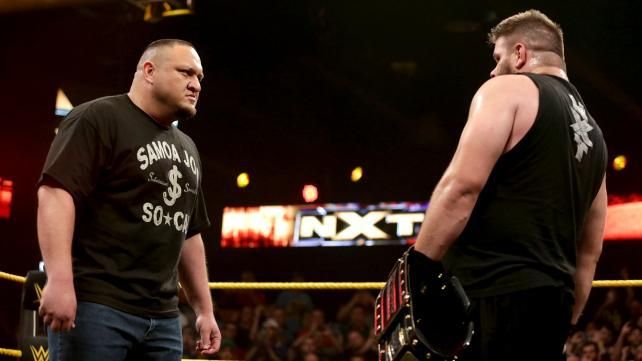 (photo courtesy of WWE.com)
Finn Balor vs. Tyler Breeze (Number One Contenders Match)
Originally, this match was to also feature Hideo Itami but an injury took him out of it. If you think that didn't play into the booking of the match then perhaps you need to watch it again. Finn Balor won a match against Itami at the last live special which was the end of a number one contenders tournament. Balor then went on to have a seemingly throw-away title match on a taped episode of NXT against Kevin Owens. It wasn't that far from the matches Owens had with Alex Riley. So maybe this time around Balor can have a title match that means a little bit more, but if you think that Itami wasn't supposed to win this then you don't know wrestling. I would have much rather seen Itami as the number one contender, perhaps pinning Breeze after Balor hit a big move on him, just sort of creating some more friction between Balor and Itami. Don't get me wrong, Finn Balor is going to be John Cena big if WWE lets him (Go to your local toy store and look at all of the John Cena action figures then think of them as being Finn Balor in the future) but I would have liked to see Itami in this match and win it because as much money is in the future of Finn Balor there is just as much in Hideo Itami. That big spot by Balor was a great way to kick off the night and I only wish that Tyler Breeze was something more than a stepping stone to the NXT Title at this point. Breeze could be a great secondary champion on the main roster (I'm thinking Intercontinental Champion) and eventually work his way up to main event status as well. Why he is not on the main roster yet is simply beyond me-- he's obviously done all he can in NXT since they don't want to put the title on him, but he has that heel heat of a Rick Rude or Shawn Michaels that shows why he should be main eventing right now.
Charlotte & Bayley vs. Dana Brooke & Emma
This was a decent enough match that left the crowd happy with the finish. I've never been much of a fan of Charlotte and I think it's because she's always tried to be the babyface where as her legacy should have her as a heel. Put her in as the "Do you know who my father is?" type of heel and she's money. Though I can't blame WWE for wanting her to be a face before she goes to the main roster (This might be her last run in NXT right here) because as we all know heels who go to the main roster tend to fall flat (Sorry, Ascension) so it is in the best interests of WWE to have her debut on the main roster be met with a huge pop. Also, am I the only one who thinks a huge heel turn for Bayley could one day be the biggest moment of her career? Imagine crossing out the "I'm a Hugger" text on her shirt and refusing to give anyone a hug? Having her act like she's going to give someone a hug only to not and then attack them would be money, mark my words. The saddest part here though is that my focus remains on one team- Charlotte, who I have a love/hate relationship with and Bayley, my favorite woman in NXT. What about the other team? Meh, I don't care about Dana Brooke yet and have yet to really be impressed by her. And Emma is only showing that maybe she should have gone away with Santino.
Rhyno vs. Baron Corbin
This was a match of two big men who hit hard and are, well, unstoppable. That is until Rhyno left ECW some odd decades ago. And Baron Corbin lost his momentum in the number one contenders tournament only to win a pointless feud with Bull Dempsey, who now is seemingly nowhere to be found (Oh, right, he loses to Solomon Crowe). I don't know why this couldn't have just been on a regular episode of NXT as nothing about it screamed "big match" to me or really made it seem worthy of being on a live special, which let's face it is like pay-per-view for NXT. Rhyno took the loss here, pretty much killing off a lot of his momentum and making it seem less likely he'll get that title shot he wanted against Kevin Owens, and Baron Corbin just goes back to the drawing board once again, as he hits the proverbial reset button for the... Is this the third or fourth time now? Maybe Rhyno can go find Alex Riley and those two can beat each other up until someone cares about either of them. And of course by someone I mean me.
Blake & Murphy* vs. Enzo Amore & Big Cass (w/ Carmella) (NXT Tag Team Championship Match)
I'm not going to use this space to tell you why Enzo Amore and Big Cass should be on the main roster already because based upon the upcoming Elimination Chamber card the main roster already has more tag teams than they know what to do with. What I will say though is that the dynamic of Enzo and Cass works so well-- Enzo that little guy with a big mouth who has the big guy behind him to back it up and then you throw Carmella into the mix and they might be the hottest trio going in all of professional wrestling today. So why can't they get the tag team titles? I don't know. I like that the finish of this match though at least leaves it open for the feud to continue rather than it being a definitive loss for the challengers. On one hand, I also feel like Blake & Murphy losing the titles this quickly could have hurt them as well, but if they did actually lose the titles here I wouldn't have complained about it or worried about the futures of Blake & Murphy because I simply do not care about them. Good tag teams have some sort of gimmick working for them and more importantly they have a team name. Now I know this contradicts all that I say about Enzo & Cass because they don't have a team name either, but if you have to be known as "Blake & Murphy" then you're likely going to end up like "Ryder & Hawkins". Couldn't they at least be "Tekno Team 2001" or something? Still, names aside, I just don't see whatever anyone else sees in the current tag team champions and since the Lucha Dragons are on the main roster now I feel as if the tag titles only went to B&M (That doesn't look good) because they needed them to be on someone and this gave them that shock value. Maybe the Lucha Dragons should have just dropped them to the Vaudevillains? And where are the Vaudevillains anyway? If Blake & Murphy lose the tag titles (and they should sooner than later), do they remain a team or go off to singles competition? Questions like that are why I don't buy into them as a tag team and they feel about as makeshift as any makeshift tag team I've ever seen so really, the story here is just going forward with the champs now having Alexa Bliss on their side and probably some six person matches. If the end result is Carmella pinning Alexa Bliss to get the tag titles then count me in.
Sasha Banks* vs. Becky Lynch (NXT Women's Championship Match)
I'll keep this one short and simple. I'm not a fan of Becky Lynch, though she still has more talent than most of the women on the main roster, and while this match was better than anything on the main roster in recent memory I still am not a fan of hers. Meanwhile, Sasha Banks is building herself up to be most dominant as a champion and I like it. Sasha really is better than anyone on the current WWE roster who is trying to play the role of the heel and I'd love to see her up there fighting the Bellas instead of that Funkadactyl and Tamina. Still, this leaves the question open as to what is next for Becky Lynch as she is in the same shoes as Alex Riley now... only without giving up the commentator position, so I guess Lynch can always work her way back up the ladder where as A-Ry just looks stupid. I'm more interested, really, in who is next in line to face Sasha Banks and it would seem as if some kind of number one contenders match or tournament is in order.
Kevin Owens* vs. Sami Zayn (NXT Championship Match)
While at times Kevin Owens looked like he might be in trouble, at the end of this match it broke down exactly like their last match and, well, as Kevin Owens said it would. Owens told Zayn he was going to hurt him again and this time he wasn't going to come back. I think people like Sami Zayn because he's this happy-go-lucky underdog type of guy but those are the same reasons why I don't like him-- at least as a character in NXT. Why does he always have to be fighting the uphill battle? Did everyone forget about his matches with Cesaro? The guy can go in the ring, so why can't we just watch him the same way we would Daniel Bryan or Seth Rollins and forget about this need to get himself over as one of the people? My feelings of Sami Zayn aside, he took a beating. Kevin Owens put him down and refused to let him get back up. This is the second time this has happened to Zayn and so the future does look interesting for him because he has to make some real decisions about what will happen next. I'd actually kind of like to see him go up to the main roster, gain some sort of steam and maybe even win a secondary title before his past comes back to haunt him in the man he could not beat in NXT: Kevin Owens. And of course Kevin Owens has no shortage on competition as Finn Balor is once again the number one contender, but let's think about those closing moments in the match, which I suppose ended on a referee's decision much like the first Owens-Zayn encounter. When William Regal came out, I was just on the edge of my seat, glued to the television because I didn't know what was going to happen. It seemed like Regal was threatening to strip him of the title or fire him if he didn't stop and then Owens goes and headbutts Regal... You can bet there will be consequences for that. So then it turns almost into a matter of "If I'm going down, I'm taking you with me" and Owens is ready to smash Zayn with a chair, put the final blow into what could become the end of Sami Zayn's career. And then the music hits. And out walks Samoa Joe. I thought it was a dream at first. This was just that kind of amazing and I would most certainly subscribe to the WWE Network again if they were putting on shows like this with their main roster (In comparison, by the end of this past week's episode of RAW both my son and I had lost interest) If Kevin Owens should ever lose this streak he's on of damn near killing everyone, I hope it is to the right person. But if he never loses it, then it's probably just as well. Bring on Samoa Joe. (And I cannot tell you how much I look forward to Samoa Joe being a part of NXT) Bring on the world. If WWE can somehow keep this thing alive and strong until Wrestlemania next year, then there could be HUGE amounts of money (and my interest not lost) in Kevin Owens vs. Brock Lesnar. Start thinking about it.