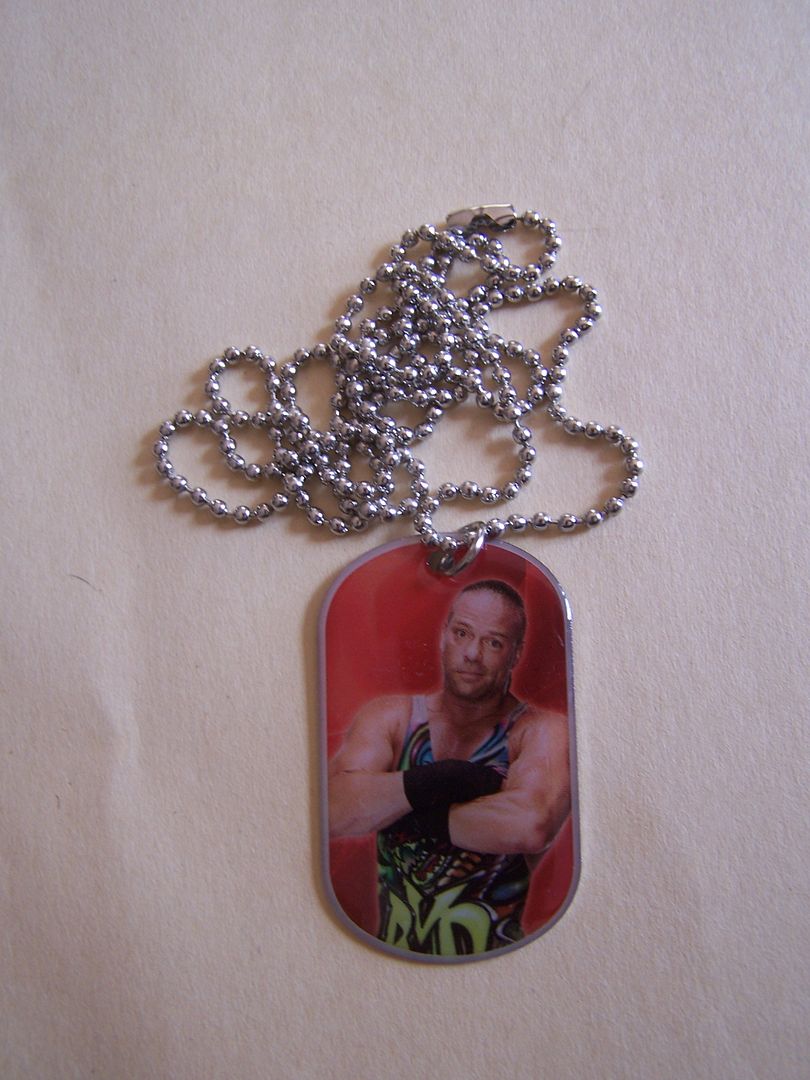 Recently, at the request of my three year old, I have purchased dog tags for Adventure Time, Teenage Mutant Ninja Turtles and Big Hero 6. Those have all had their similar qualities, as the Big Hero 6 and TMNT ones came with stickers, but there are some glowing exceptions with these WWE dog tags. For one thing, there was no checklist type of sheet in here which surprised me. There are thirty of these WWE dog tags in total and as such a checklist would have been nice but why would they want to do what everyone else is doing I guess.
The first dog tag I purchased here for WWE from Topps is of Rob Van Dam. Rob Van Dam isn't even in WWE right now but I think he's on good terms with them and, well, it's not like he's in TNA or anything either. With each dog tag also comes the corresponding trading card which means of course that this RVD dog tag comes with the RVD trading card. I think I kind of lucked out here by getting Rob Van Dam first because it helps me to decide that I'm probably not going to get anymore. Having that checklist is where it would be nice to say, "Oh yeah, that one looks nice. I've gotta get that!" so maybe Topps/WWE is talking themselves out of some sales.
What it boils down to my friends is that each of these dog tag + trading card combos will run you $2.99 at Target. It is their suggested retail price so I doubt you will find them cheaper at mass retail unless they go on clearance. Being that there are thirty differen dog tags, you stand to pay $90 plus applicable taxes trying to collect them all and that's just if you don't get any doubles. That math right there is what made me think that perhaps this was not the product I wanted to collect after all.
It is worth noting that on his dog tag and trading card (the picture is the same) Rob Van Dam is wearing the same attire that his (so far) only WWE Elite action figure made by Mattel features and that is a nice touch, I think, as RVD has seemingly so many different singlets that they could have chosen. So while another one of these blind bags could produce Bray Wyatt or (I'm assuming) Sin Cara, we also run the risk of getting Big Show and that is not a risk I am willing to take. Perhaps that is why there is no checklist after all- because the good options are so heavily outweighed by the bad ones.