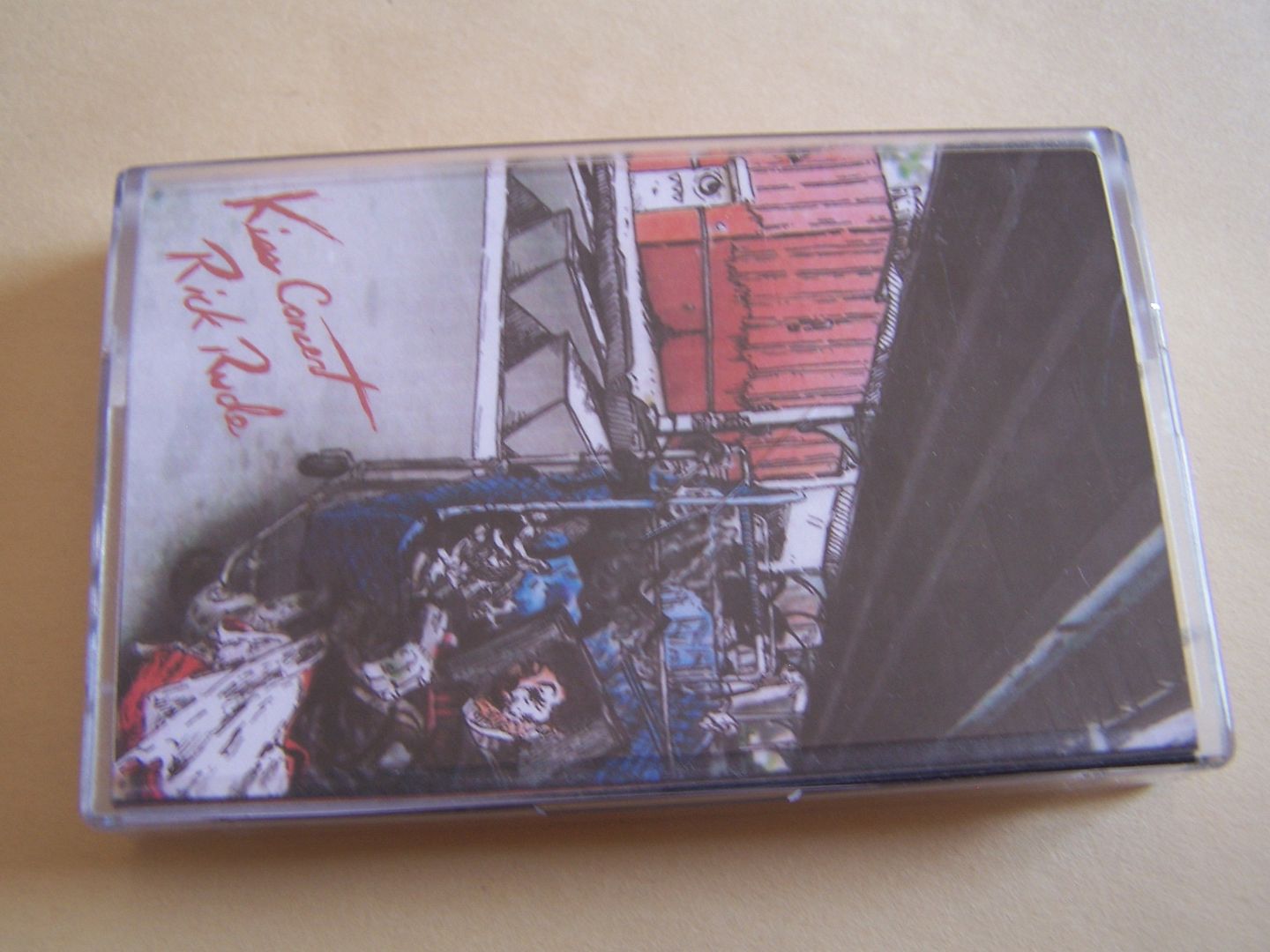 [$5 //
https://rickrude1.bandcamp.com/album/rick-rude-kiss-concert-split
]
One of the biggest factors to listening to this split cassette by RICK RUDE and KISS CONCERT is being aware that this is not a simple case of one band on Side A and the other on Side B, but rather the songs are woven together, as if they don't take turns exactly because sometimes there will be two in a row, but it still isn't set up like your typical split and I feel like I've only had this happen to me once before and it was actually a three way split if I recall correctly.
To think about the songs in this way does mean you have to pay extra attention to which track you're listening to exactly so you can know the artist based upon the j-card and all, but it doesn't really take more than a listen or two through to figure out the difference between these two artists (and their similarities) One thing this cassette does seem to enjoy at the start and through to the end even are voice mail messages.
I always find it funny because back in the day when there were answering machines, I could just imagine how seemingly easy it was to hook up an answering machine cassette to a blank one but now you have to turn the voice mail into an audio file somehow and while there is a way to do it (because I've done it) the new technology just doesn't feel as simple as the old.
The music on here, no matter who is playing, goes from acoustic rock ala Sublime on that acoustic album they released after Bradley died to folk punk. Then there are electric songs that have the thrash of Nirvana's "Stay Away", the big distorted beats of Weezer and the complexity of Primus. As track six is titled "Kiss Concert is Rick Rude" it does seem difficult at first to determine who is who without reading along, but you will eventually get there.
So this split cassette does make me excited to hear music by both of these artists otherwise and that is one of the things it is supposed to do. While Rick Rude was a professional wrestler and this music doesn't really sound like anything from his era, the idea of KISS CONCERT makes me think of the band KISS, obviously, but also just going to a KISS concert ala the movie "Detroit Rock City" which has a most excellent soundtrack and this split cassette is rocking right up there with the likes of that.