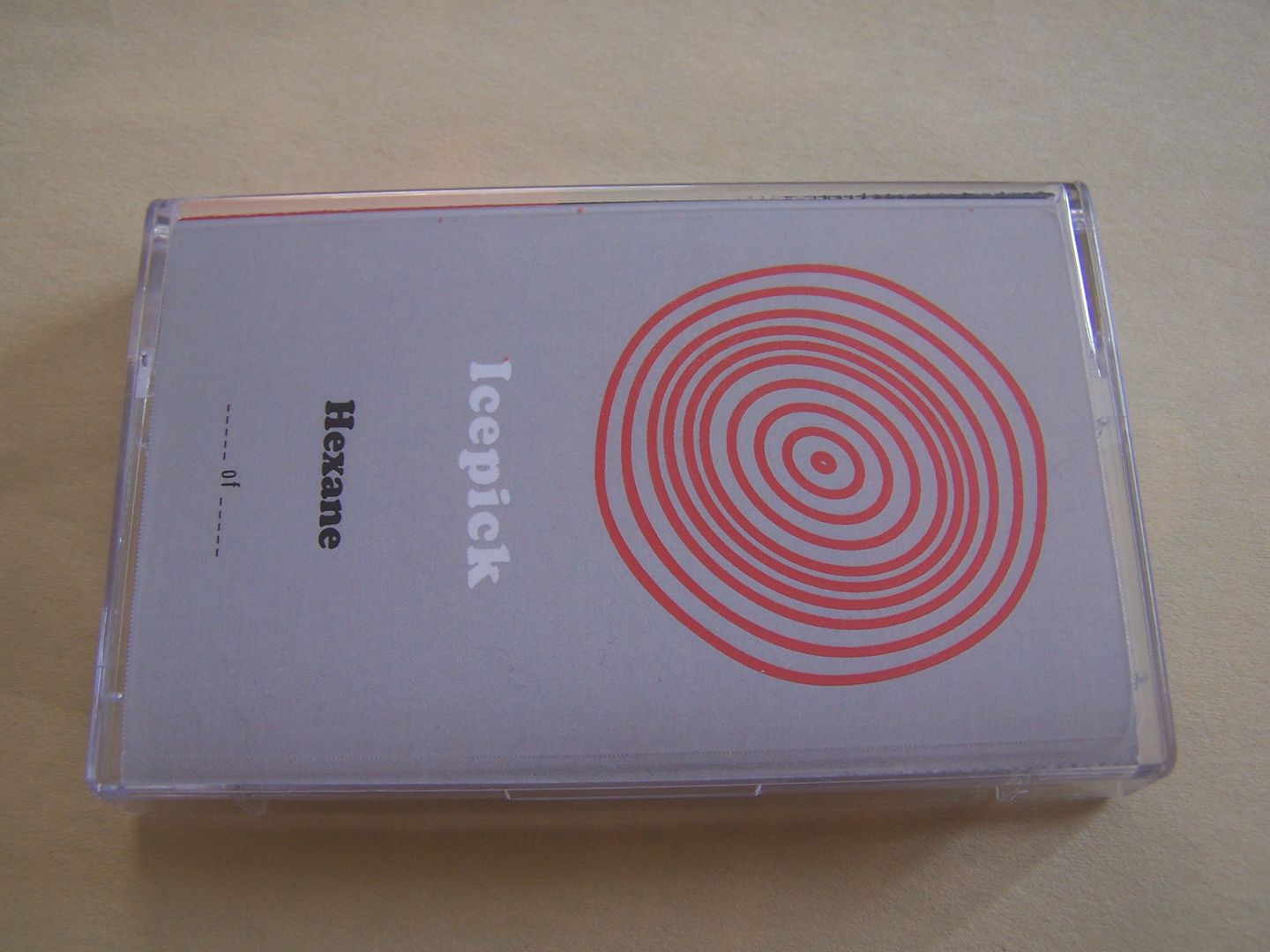 [$7 // Second Edition (First Edition of 100 Sold Out) // Edition of 150 //
http://monofonuspress.com/store/icepick-2
]
This is my introduction to not only Icepick but also Monofonus Press and I feel now after I've linked them all up that this was the right place to start because this originally pressed in an edition of 100 and sold out and now this is the second edition of it. That kind of gives away from me going into this that Icepick will be good but just how good is what we're here to listen to and find out.
"Hexane" begins rather quietly. There is some sort of squealing that might be a flute but I'm not sure. It's definitely giving off that Stephanie Lak vibe, which still needs a genre other than me writing "LAK" in my notebook every time but for right now that works for me. Through cymbal crashes come trumpet blares. The trumpet comes into a more consistent playing though and this sort of takes over the entire side, as this becomes heavily trumpet based. It turns into an improv jazz feel before the drums return and Side A ends on a guitar ringing sound.
On the flip side we start with that trumpet again only this time it brings a certain amount of chaos with it. Cymbals are hit on the rims in that slight dinging way. Sticks sound as if they are being banged out now before there is what appears to these ears to be an upright bass line. It takes an interesting turn here though as a sad, country feel comes to it, such as you might find in an old black and white movie or perhaps even cartoon. (Think of Quick Draw McGraw or when Huckleberry Hound was in the old west type of idea) When the trumpet does come back at the end here it sounds a little bit more like a bugle, throwing my whole sense of analysis into question.
I've always been a fan of these pieces of music that may or may not be live improv but just go out there and show what can be done with instruments and what hasn't been done before. Think of how Bach would have felt about rock n roll if he was still alive to experience it, you know, he'd say something like "That's not how you're supposed to play these strings!" but it worked in the same way that this does.
Though I might not be able to particularly keep track of all of my favorite artists playing this crazy improv jazz type of music that I should really just start tagging as "LAK" in my own posts, the fact is that I love it all (Well, what I've heard of it so far) and feel like it is a genre on cassette that I can't get enough of because it's as if some of those old classical cassettes had been manipulated somehow only, you know, the process is rather different from that.