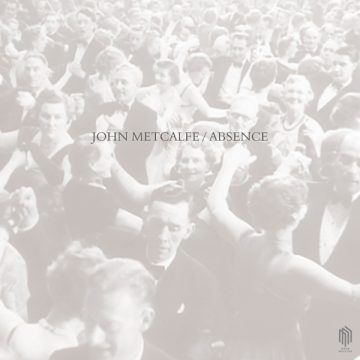 http://www.john-metcalfe.co.uk/
//
https://neue-meister-music.com/en/releases/absence/
//
Right away, you should know that though this artist is John Metcalfe it is more of a group effort (as far as I'm concerned, not to take anything away from anyone) as you can hear the vocals of Rosie Doonan not just on the first song but nearly every song thereafter. Along with those powerful vocals, you will find synths or various flavors, strings (usually like a violin, on the lighter, not like a cello on the darker side) and oh the pianos.
The singing is angelic, but also like organ chamber music to start. "Above The Waves Of Crystal Water" starts with a lot of nice pianos and it has a more driving rock way about it. It reminds me of something between Enya and The Cranberries, but also a little new wave, a little bit dreampop. The second song takes us into such a different place than the first- it is faster paced- but it is still so good.
Sadder strings and piano to start 3, which is fittingly called "Solitude". This song is uplifting but sad at the same time somehow. "Feel The Land" has multiple vocalists and it has much more computer type synth tones within it. The overall sound tends to be on that cusp of synth pop but isn't and it makes for something not easy for me to describe but really easy for me to listen to and enjoy. "Feel The Land" just grows into a very layered song, as it expands into drums.
The keys and voice on "Boats And Crosses" feel more serious, but almost like something out of a musical as well. Lyrics like "I'm stuck inside of you / I don't know what to do" come out and then it then shifts on "There's a storm brewing in my mind" with the drums to something darker. It all comes crashing down by the end of the song, only to be lifted back up again by drums on the next song. This reminds me of Evanescence in ways, only without that whole nu metal part.
Strings come in as they sing about "Nothing... you add up to nothing". Synth organs to start "Hymn", fittingly and this song doesn't have vocals in terms of words but there is singing, a piano type loop and it just feels like everything it says that it is. "Twelve Days Later" has this hypnotic key part like Coldplay before it slows down and can put you into a trance. "When They Weep" shouldn't be this dreamy (because of its name), but it just kicks in to one of the best songs I've ever heard with an air of noir about it. The last song is a lot of electronics sounding synth.
What I've learned from listening to "Absence" is that there are a lot of musical genres out there which can be crossed if done properly. I recall my time in San Antonio: I once heard a group of Mariachis playing a song I only recognized because of the melody. It's that bending of music that has this fall somewhere between dreampop and synthwave and that whole scene, but also it just has this classical core to it which can make it seem more sophisticated.