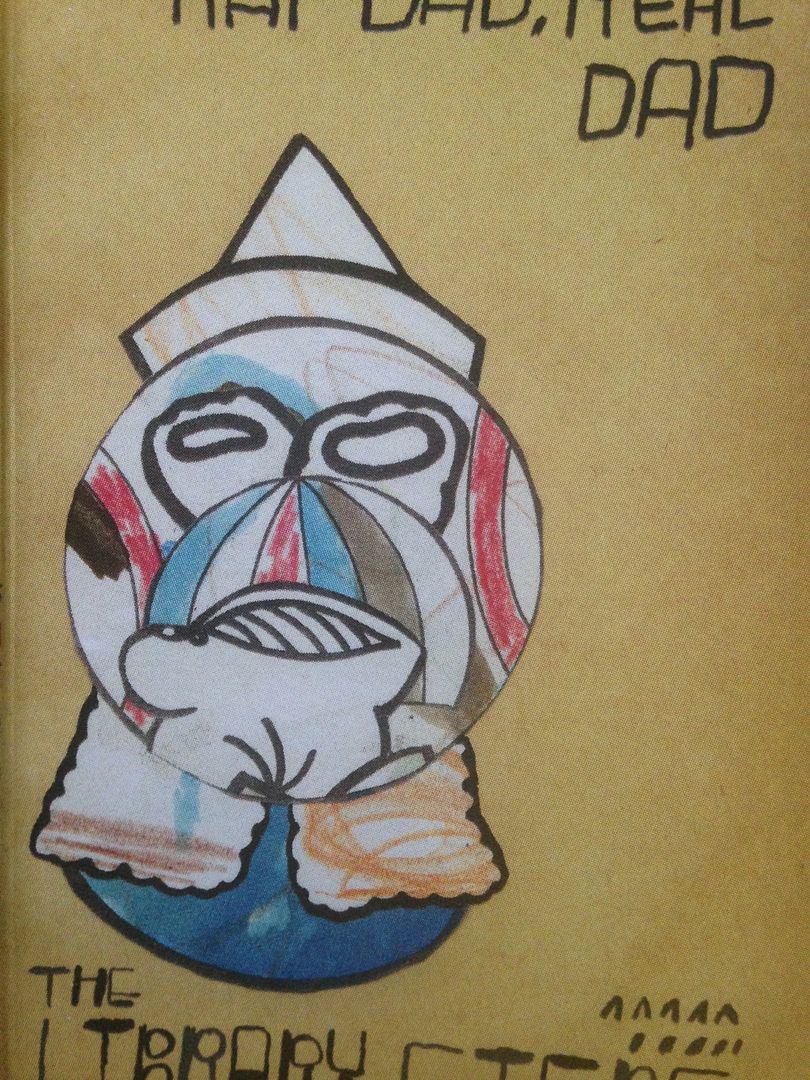 $15 //
Edition of 50 //
https://handsolorecords.bandcamp.com/album/rap-dad-real-dad
(
Please Note: This is available as an edition of 50 as "Silver Sailor". There is also a "Gold Bear" version which is an edition of 50. People will thank me for this note in 100 years
)
I truly believe that in your youth a lot of your musical influences will be found. I'm not saying that you can't be exposed to new music as you get older. Some people believe that you hit a certain age and reject new music but I think I'm old enough to be an example of that not being true. Whenever I hear more than one person rapping on a song though (a rap group) my mind always goes to A Tribe Called Quest and I think that's just because Tribe affected me at such a young age. The Library Steps are technically a duo, but there are a lot of features on here and so it feels more like a group.
If I had to compare The Library Steps with a duo I would have to say DJ Jazzy Jeff and the Fresh Prince because this has more of that older, driving around in the sun with your windows down feel to it than whatever the so-called rap music on the radio is doing. Influences of De La Soul, Darko/HHS and even a little bit of Outkast round out this sound which, again, has more of a classic than modern hip hop feel to it which is great because that's closer to true hip hop.
The singing on here also gives this an R&B vibe so it's really unlike anything I've heard before. With all of the different pieces forming together to create this puzzle it's no surprise. Sometimes there are voices or instruments on tracks that aren't on others. So there really is no finite way to say "Oh, it sounds like this" as this is more liquid than solid. They also name drop R.E.M. on the hook for "S. Morganstern", which proclaims that life is pain, which I do not disagree with.
"Lush Karma" seems to quote Mister Rogers while "Well Wishers" references Moe from "The Simpsons", so I mean, if you want to know what type of pop culture this cassette can touch on there are your boundaries. It's also interesting to me that this cassette has a song called "Time4real2" which is only on the cassette and if you try and follow along with this cassette on Bandcamp (as I sometimes do, to quote lyrics and say "Hey, what was that song where he said that thing") it might not be so easy.
There once was a rapper on the radio who became a big deal because of how many albums he sold with no features. This cassette has a ton of features and I'd rather listen to "Rap Dad, Real Dad" over that whack emcee any day. People need to stop thinking of rap music as a gimmick and start getting back to the root of it all, the music which makes it so great. The Library Steps are on that path. I also want to shout out that they made me aware of a rapper named Ghettosocks and I will be forever grateful for that. As the song "G.I.R.L. Guide Cookies" says: "And if you're feeling what we're saying, say hey".
Further resources:
https://www.discogs.com/The-Library-Steps-Rap-Dad-Real-Dad/release/11937141