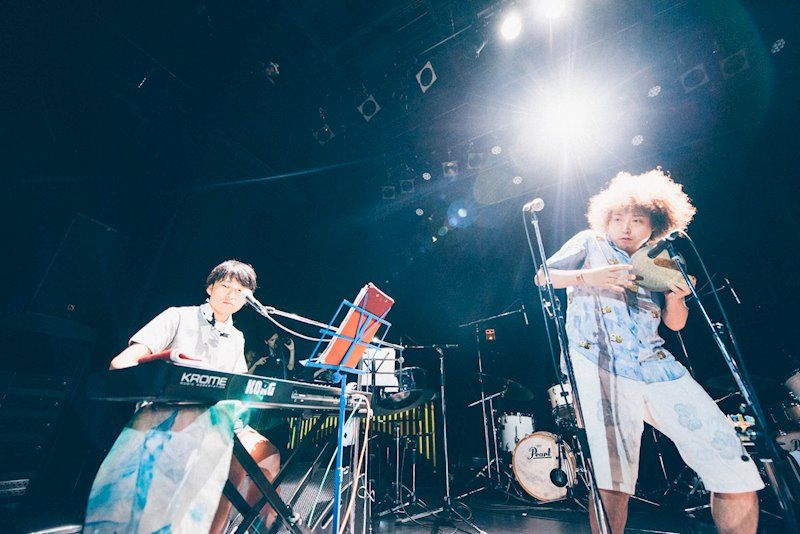 1) What is the culture of music like being in Japan versus the United States?
Shuta : It's impossible to compare the differences in the culture. Japanese people listen to a lot of foreign music, but I think that the music created by us is completely unique.
U-zhaan: In Japan, as long as you're not performing professionally, you tend not to be able to call yourself a musician, which I think is influenced mainly by a difference in the scope of the field compared to America.
2) How does it feel to finally have a "2 Tone" released worldwide?
S : We had a lot of requests from foreigners, and, with regards to the music, I wanted lots of people, not just those in Japan, to be able to hear it.
U : Shuta Hasunuma is doing a solo exhibition, so it felt like, well, since that's happening, we might as well. The worldwide release was much more Shuta's idea than it was mine.
3) What was it like working with the guest artists on "2 Tone"
S&U :
Devendra Banhart
gave us the melody and wrote the lyrics in Japanese for us beforehand, so when he came to Japan, we went to the studio together and had him record the song.
Arto Lindsay
put the guitar track and vocals onto the file we sent him and then sent it back to us.
Ryuichi Sakamoto
had a composition that he'd made with Shuta originally, so Shuta inserted a tabla track and finished the piece.
4) Do you find being a duo easier than being a part of a group of more people?
S: I'm putting together an ensemble of 16 performers (Shuta Hasunuma Full Philharmonic Orchestra), but the origins of my music were different. While doing live performances and the like with U-zhaan, it's become natural for me to make music as part of this duo.
U: Originally, I began my career doing traditional Indian music, so it's easiest for me to be part of a duo. Even outside of the collaboration I've done with Shuta, I typically do live performances and projects as part of a duo.
5) If there was one artist you could tour with who would it be and why?
S&U: We've never done a tour even in Japan. We want to do a tour together.
6) If you could choose any artist- living or dead- to collaborate on a song with such as you have on "2 Tone", who would you choose?
7) Who are some of your musical influences?
U: Ustad Zakir Hussain, Squarepusher, Rei Harakami
8) Do you feel that music has a value in a physical form (cassette, record, compact disc) more so than digital?
S: It's the same with books, but I think that one part of listening to music is having the music in the room as an object and being able to see album covers in places that catch your eye daily basis.
U: From the perspective of the person making the music, it's fun to think of the packaging design as part of the whole final product. I believe that even our current piece features wonderful artwork by Rikako Nagashima.
9) Final thoughts, questions, shout-outs, etc... ??
S&U: We hope you enjoy "2 Tone"! Thanks very much.