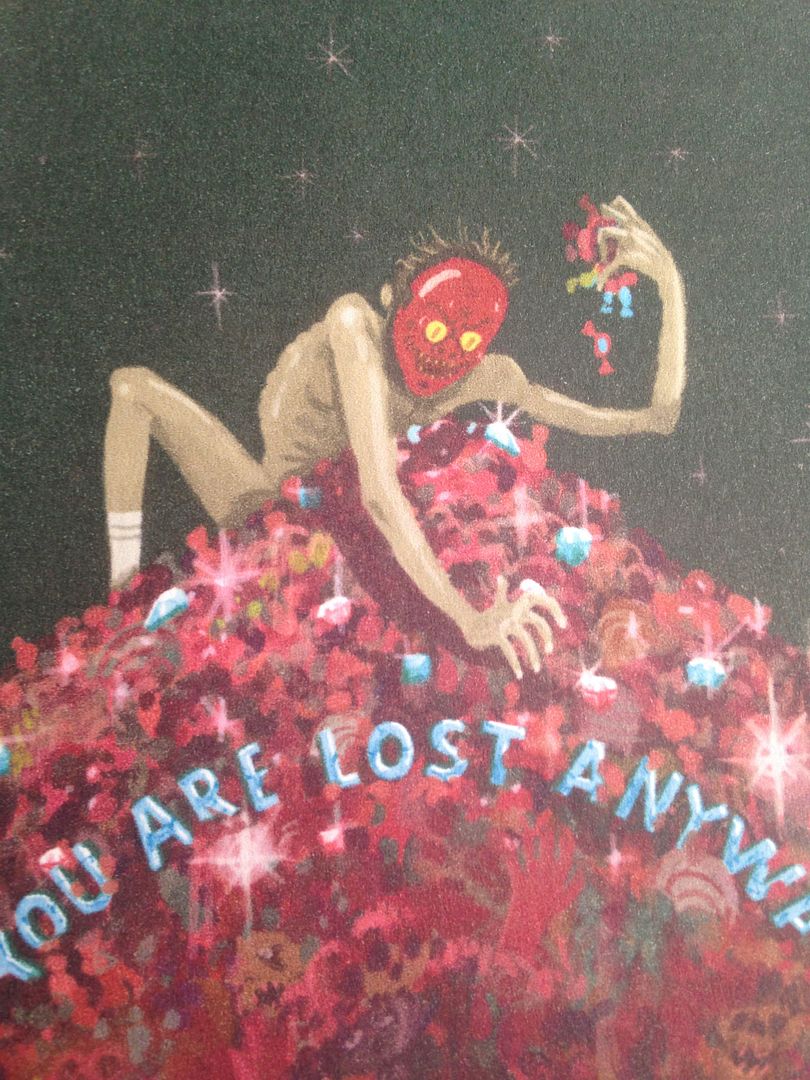 $5 //
Edition of 100 //
https://alreadydeadtapes.bandcamp.com/album/ad269-excessive-visage-you-are-lost-anyway
//
A while back I used to work at Big Y and while I could write an entire book about that experience, they used to play oldies songs on Tuesday because that was also when they offered their senior citizen discount. While there were quite a few disturbing songs (and some I enjoyed) there was this one song which particularly stuck out with me for how dark it felt. You have to understand, I would often times close down produce by myself at night and Big Y was never a busy store (Customers constantly asked if we were going out of business) So the song kind of haunted me while I worked there.
Then I started listening to Excessive Visage and immediately thought their music sounded like this haunted oldies song from my days at Big Y. Only I couldn't remember enough about the song to find it easily. I knew a woman sang and spoke during it but otherwise I was somewhat stuck on details. This took me down a quest to find it which, interestingly enough, had me listening to more music than I have ever listened to before that was released in the 1960s by women (A lot of wrong songs but they felt so right) For some reason when I was browsing through a list of Top 100 hits it dawned on me that the song was by someone who had one of these top hits but it wasn't their top hit.
At first I had it in my mind that it was that "Hey Mickey" singer but obviously not that song and long story short, I ended up finding the artist and song. It's called "I Can Never Go Home Anymore" and is by The Shangri-Las. It's quite the contrast to their better known song "Leader of the Pack" and, well, when you're going through and trying to find rotten fruit in a seemingly otherwise deserted store it can hit you in a way that can likely give you nightmares. Of course I only through all of this trouble as well because I feel like Excessive Visage really reminded me of that song and I wanted to make that point with an actual name and song title, but it worked out so much better for me because I ended up listening to all of these other artists and songs I might have never otherwise heard. (Shout out to Lesley Gore)
Excessive Visage could perhaps best be described as weirdo rock ala the Flaming Lips but only because they seem to branch out across so many different genres of rock at the same time. The music is deep and is to be digested slowly-- it is something you will fall in love with right away, yet you might not fully realize until after several times of listening through. There are psychedelic qualities as well but since my first thoughts on this were it being something from the 1960's that should kind of go without saying since we all know what happened next.
But just as much as this can feel haunted it can take a more upbeat turn and come out in a rock way which reminds me of Modest Mouse or Franz Ferdinand. As I said, there are a lot of layers to this and some of them you might just find at the start while others you will piece together more after subsequent listens. It can also breakdown into this freestyle jazz jam which is mostly guitars (I don't feel like I hear horns) and that is a part after my own heart. In a lot of ways the story of Excessive Visage seems to be one of range as they can seemingly do it all.