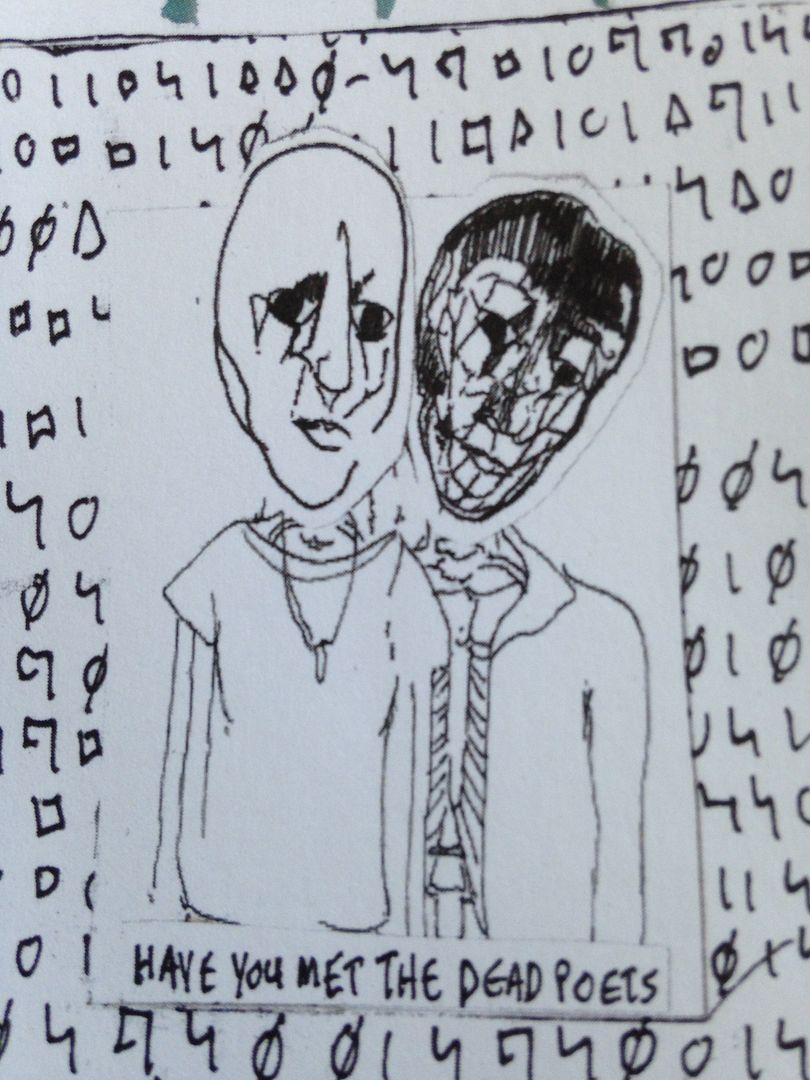 "
Have You Met the Dead Poets
" is the third cassette from Alosi Den and every time I hear them really feels like the first time again. Their unique blend of rock and weirdness always seems to catch me off guard, even when I put on a cassette I previously reviewed by them. I have notes- and I can take all sorts of notes for Alosi Den- but they don't seem to matter. When no one else is really doing what Alosi Den is doing, how does one go about describing that sound?
On one hand, I would definitely put this into that broader category of weirdo/outsider rock music. There are mostly traditional instruments at use here- guitars and the such- so it should be under some version of rock. At the same time, the rhythm is different, not quite math rock but something else. And the songs themselves don't always follow that verse/chorus/verse pattern that traditional rock songs tend to do.
Somewhere between The Flaming Lips, The Benjamins and something else I can't quite put my finger on, Alosi Den crafts the songs you might normally find to be "weird" but then seems to deliver them through a fever dream. The music is so closely related to the feelings of the songs themselves it is incredible.
The first song, for example, is called "Runnin In Circles" and the guitars seem to mimic a circle somehow. During "How's Your Day" the vocals get panicked somehow and the guitar plays along in a frenzy. Is Violent Femmes that added element I wasn't sure of? But then you hear the instrumental songs they add in and you're back to this dreamy/psych world that has you losing all sorts of bearings.
Like most writers (and maybe artists in general) I am a fan of The Beats. I've always wondered what happened to The Beats: why is there no modern movement today to mirror them? And just in general, where have all the poets gone? So I found this publishing company called Button Poetry. I looked at some of their writers but I don't know. I feel like they have a decent grasp on poetry but not anything groundbreaking like The Beats.
If I don't decide to ever publish my weirdo poetry, I think I'm going to have to give up on my search for a modern version of The Beats. It would only make sense that if such a thing was to exist, it wouldn't be in the form of poetry but something else. It could very well be in this music. Boston does have a good music scene, perhaps what I am searching for is happening there. Regardless, if you want to hear something which sounds like all your favorite bands and nothing like them at the same time, keep listening to Alosi Den.
$5 //
Edition of 50 //