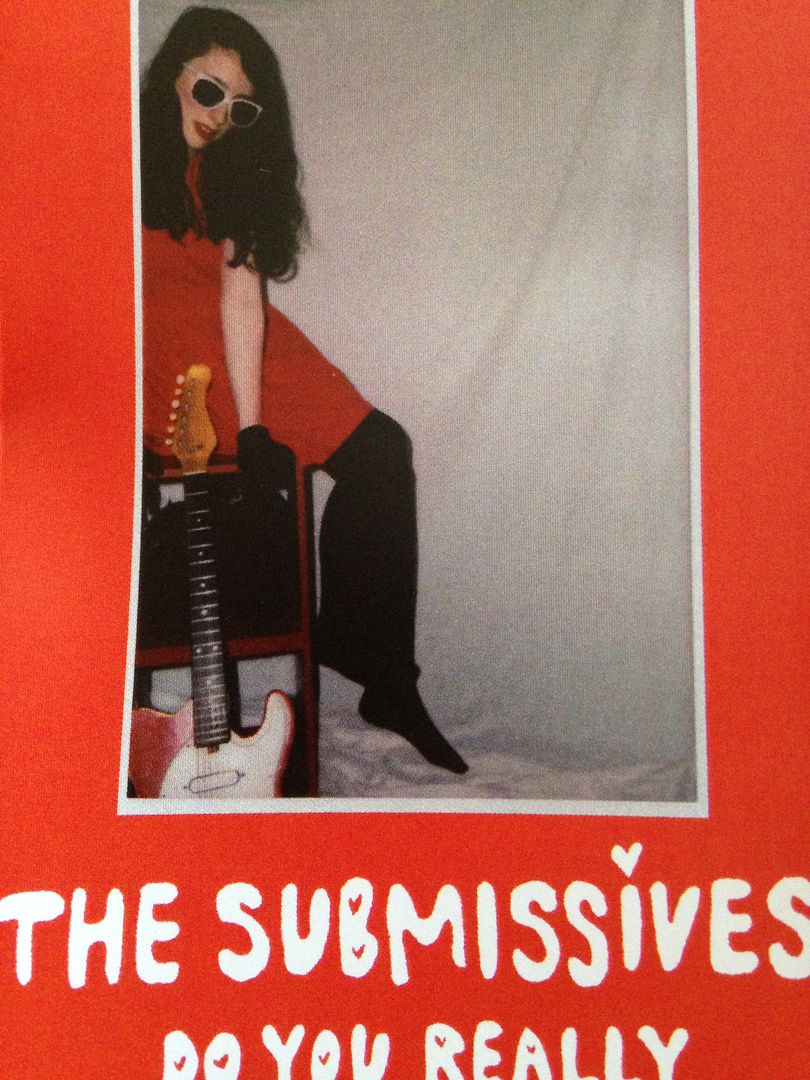 [$8 CAD // Edition of 200 //
https://fixturerecords.bandcamp.com/album/do-you-really-love-me
]
After recently listening to Fatty Cakes and the Puff Pastries my ideas of women in music were somewhat confirmed in the way that I believe not only should women in music be treated differently (as in if you're a woman in a band the sound guy shouldn't think you're the "merch girl"), but women on the whole need to be treated differently than they are right now. I remember reading this quote some odd years ago from an artist I won't name again where she said that there shouldn't be such a thing as "female vocals", but I believe that "female vocals" should be as much of a thing as the difference between "guitar" and "bass guitar".
The thing is, and perhaps Fatty Cakes and the Puff Pastries brought me to this edge and The Submissives simply pushed me over it but music is very gender based. People will constantly see men in music as men and women in music as women. You cannot do anything about that, even if you're trying to hide your identity and making purely instrumental songs. And the thing about it is that The Submissives sort of fall off of that cliff with me as they seem to dropkick all of those outdated ideas of women in music. It's not so much the "We don't want the term 'female vocals' to be used because we're equals" as it is that Joan Jett style of rebellion which signifies "We're women and we're better than men so fuck you".
Everything about this cassette bleeds female and if you have a problem with that it is not that the music itself or my referring to it as such is sexist but rather that you might need to look deep inside yourself and find out where your ignorance ends. It's hard to think of this as being anything other than The Submissives wearing their gender on their sleeve but rather than being, I don't know, upset about not being equal how about going out and proving that you can make better music than most men? (Because that's what The Submissives do here and that's what I wish that artists I referenced earlier would do instead of conforming to stereotypes)
Dreamy sort of surf rock n roll at times brings about this sense of Nirvana and Kimya Dawson, which kind of makes me want Kimya Dawson to record a lo-fi Nirvana covers album but if it doesn't happen I'm okay with it. It's just got that similar sound to some artists you probably already know and a small handful of them I like but feel they sound too similar, yet there is something about The Submissives which stands out from that crowd. It might be the lo-fi quality, as a lot of other bands just have this... Too clean of a sound and I feel like they go into a fancy studio and really polish their songs (even if that is not the case) while The Submissives are just more raw.
In life and in music we need to stop thinking of everything as being equal. Women and men are not equal. Women can give birth, men cannot. That's a fact. So why pretend like their music has to be equal? Sometimes a woman is going to make a worse song than a man and vice versa. Really, music just needs to be based upon whether or not it is good- and that's also of personal preference- than of those involved in it and what gender they identify with. Plus, anyone who rhymes "Betty" with "spaghetti" and has lines like "People call me crazy / But women are crazy" is all right in my book. It's like something out of a rap album, but yet, it is a woman admitting women are crazy.
I fell immediately in love with this cassette and I think the name "The Submissives" is based more upon what society dictates women should be, especially in music, and less of what this music specifically is actually about. Really, this music is not laying down for anyone and if you have problems with women then you should get that checked out before trying to listen to this rock n roll masterpiece.