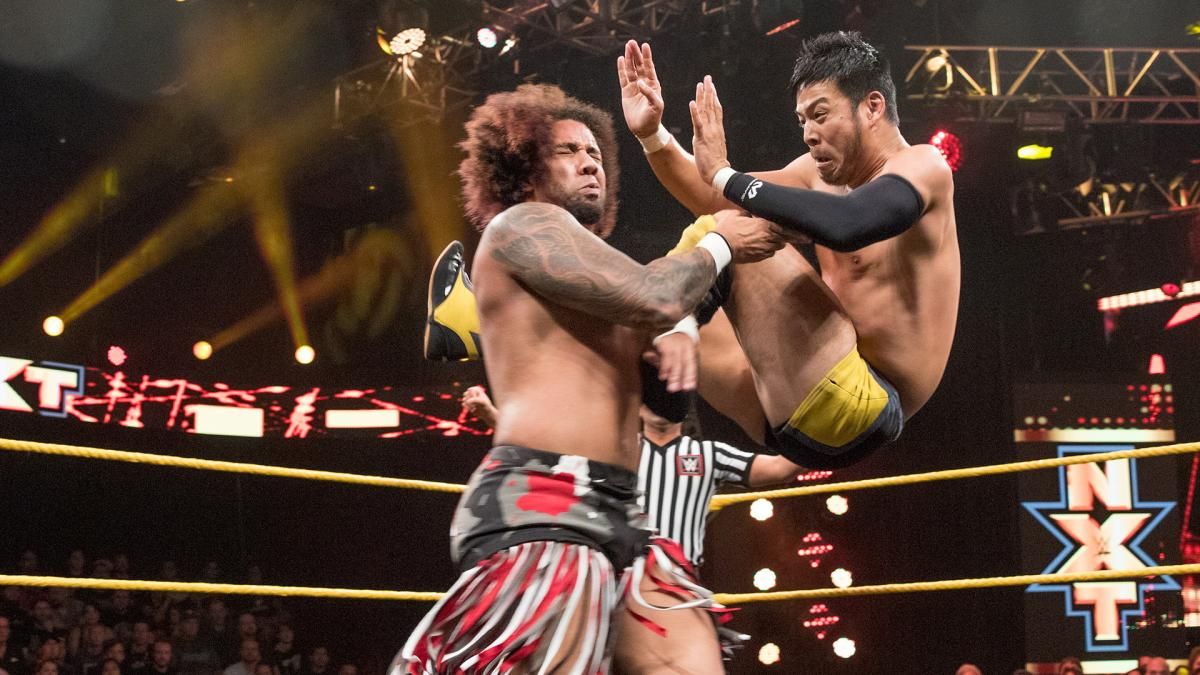 We began our week with ROH TV, which was to feature Kyle O'Reilly vs. Jay Lethal for the ROH World Championship for the entire hour or so. Well, Bullet Club came out and attacked Kyle O'Reilly, putting his arm into a chair and crushing it, so the match seemed like it wasn't going to happen and then we saw some jobber matches instead like Brutal Bob, Cheeseburger, ANX and oh yeah, even Moose was there. They said these matches were on standby in case the title match didn't take the whole hour they were giving it and then they decided that Kyle O'Reilly was going against doctors orders and was going to compete. So imagine this: you have this match that's so big you're going to hype that it will take the entire hour. Then, twenty minutes or so left in the show, and you decide to throw it on there because, hey, now it certainly won't take the whole hour. Let's just say Jay Lethal retained and Nigel said that Adam Cole will never get another ROH Title shot which means he's going to have to come back under a mask or win the Bound for Glory Series or something.
Raw opened with Sasha Banks, which brought out Charlotte, which brought out Enzo Amore and Chris Jericho and we got a mixed tag match. Dana Brooke got involved and so did Big Cass, so while Sasha and Charlotte are already set to fight again do you think this could lead to Enzo & Cass vs. Chris Jericho and a mystery partner at Summerslam?
Braun Strowman defeated a jobber and The Shining Stars defeated The Golden Truth, but neither match made it into the Hulu replay.
Finn Balor was being interviewed in the ring when Seth Rollins came out and they had a little face to face talk, which was interesting enough but still full of talk and not enough action. For some reason this match reminds me too much of Roman Reigns vs. AJ Styles before Gallows & Anderson showed up and with Rollins just doing a much better job than Reigns ever did.
Speaking of Roman Reigns, Mark Henry was defeated by United States Champion Rusev and when Rusev started making fun of the Olympics after the match Roman Reigns came out to make the save. I'm seriously thinking more and more each time I hear Rusev speak that Kurt Angle will eventually come down that ramp, but then I think of the medical clearance and realize WWE is likely just messing with my emotions.
Nia Jax defeated a jobber after Titus O'Neil defeated Darren Young for some reason, but neither match made the Hulu cut.
New Day made this big deal about how only two of them could be out there for their match with Gallows and Anderson. Then they somehow managed to defeat Gallows and Anderson before being attacked and left looking injured. Yup, Gallows & Anderson are winning the tag team titles at Summerslam. Bank on it.
Cesaro defeated Sheamus in a match which was not quite as terrible as it might seem on paper. Really, these two guys just felt like they beat the holy hell out of each other and when you have two guys who can go like this and you put them together it always makes for such a great match. This was match of the night for me.
I read about four different stories prior to Raw saying that Jinder Mahal would make his WWE return and then it was confirmed and all of that. To show what amount of faith WWE has in this return, just know that Jinder Mahal defeating Heath Slater to earn a Raw contract was cut from the Hulu 90 minute replay. Yup. The return of Jinder Mahal wasn't even televised... on Hulu. I've thought quite a bit about why they would bring back Jinder Mahal and not someone who, you know, fans would remember and actually care about. But now I get it. He's coming back as a jobber, so unless you watch Main Event or Superstars you likely won't see him losing anyway.
Seth Rollins defeated Sami Zayn in an odd match because you kind of knew Rollins couldn't lose here and then the show ended with an in ring promo by Paul Heyman, an RKO to Brock Lesnar by Randy Orton and, yeah, WWE didn't think about how to promote this Summerslam match before the brand split so they're just going to appear on whatever show they want.
Of all the things for Smack Down! to open with it decided to show a clip from Raw with Randy Orton giving Brock Lesnar the RKO. Look, I get that Orton and Lesnar are on different shows and need to promote their match at Summerslam, but is it strange to anyone else that Smack Down! seemingly picked up where Raw left off and yet they're supposed to be, um, split?
Dean Ambrose was in the ring and he brought out Dolph Ziggler. Ambrose basically said that when Ziggler loses on Sunday it won't be because of any conspiracy or backstage politics but just because Ziggler isn't good enough. I actually wasn't sure of this match going into it, but now I kind of like it. It feels like Dolph Ziggler has to win this as it might be his last chance for a title and if he loses it's losing on Superstars for the rest of his career. It's also a nice way to perhaps see Dolph Ziggler out if his contract is up soon and he doesn't re-sign because Ambrose basically told him this match is in his own hands and he has no excuses. Also, shout out to Ziggler for name-dropping the Spirit Squad. Spirit Squad vs. The Shield handicap match at Wrestlemania next year seems inevitable now. (Please don't book that)
The first official match of the night saw Apollo Crews defeat Kalisto and Baron Corbin to earn an IC Title shot against The Miz at Summerslam. Please let Apollo Crews win the IC Title and usher in the new era. Also, I would have enjoyed seeing Kalisto win this (And the IC Title at that) or even Baron Corbin simply because it meant taking Corbin away from his feud with Ziggler. I'm not sure why, but over on Raw if there is an Enzo & Cass vs. Chris Jericho and a mystery partner match I feel like Baron Corbin being on the wrong brand is a missed opportunity to team him with Y2J.
In what was supposed to be the second match of the evening, Eva Marie came out to this long, boring entrance only to claim she was injured climbing the turnbuckles and couldn't wrestle. This was pathetic and even Becky Lynch deserves better than this. Still no reasoning though as to why Eva Marie is all about the red and yet on the blue brand, but I guess not seeing her wrestle was better than her actually wrestling so there's that.
American Alpha defeated the Vaudevillains in their main roster debut. Now, American Alpha left NXT and their hunt for the NXT Tag Team Titles to come to Smack Down! where there aren't any sort of titles. Does that make sense to anyone??
AJ Styles and John Cena agreed to a match at Summerslam in yet another boring segment on Talk Down!. Seriously, we're five pieces in and have had only two actual matches. Not a good ratio, Smack Down!. Not a good ratio at all.
But, oh look, it's sort of a match as Randy Orton defeated Fandango and was then given the F5 by Brock Lesnar. Lesnar hasn't had a match in quite some time, so how will he be able to compare with Randy Orton who now has wins over The Miz and Fandango since his return? Watch out, Heath Slater, you're likely next to get the RKO!!
Speaking of which, Heath Slater took a gore from Rhyno after being told by Daniel Bryan that he'd have a match next week against Rhyno and if Slater wins it he gets a Smack Down! contract. So, Heath Slater lost his shot at a Raw contract to Jinder Mahal, so what if he loses this match to Rhyno? Then where does he go?? (Spoilers: Apollo Crews helps Heath Slater win and they form a tag team called "AC Slater". Get it?? Hahaha, too bad Crews is in the IC match now)
Natalya and Carmella battled for a bit next in what I wouldn't actually consider to be a match. In the main event though Dolph Ziggler defeated Bray Wyatt to retain his Number One contendership. There was this funny backstage moment where Daniel Bryan and Mick Foley tried to talk Ziggler out of putting this spot on the line against Bray Wyatt and Ziggler was like, "I see how it is. You don't believe in me either!!" and stormed off like a little kid. If Ziggler is really embracing his Shawn Michaels comparisons I think it's about time after Summerslam for him to lose his smile. Or, on Saturday night before Summerslam he will likely get jumped by ten guys in a bar and be unable to compete in his match on Sunday. Either way, I like that Dean Ambrose has a challenger like Dolph Ziggler because on one hand you know that Ambrose needs to face someone he can defeat since he hasn't been champion that long, and as such if Apollo Crews was getting this shot or AJ Styles it'd be tougher for them to suffer a loss here. But Ziggler can take the loss like he always does and keep going. Though WWE is doing a good job of painting this as Ziggler's last chance-- to win or go home.
Still, we had a total of four matches on Smack Down! this week, which is a two hour show and sometimes we get that many matches on NXT which is half the time. I think if Smack Down! really wants to make itself better than Raw what they should do next week is open with an actual match instead of all the chit-chat.
This week NXT opened with the return of Hideo Itami and I've been waiting a long time for this one. The funny thing- to me- is that Hideo Itami returned against Sean Maluta, who has been eliminated from the CWC but that could indicate that WWE has an interest in signing him as the third Uso. Regardless of why WWE used Sean Maluta in this match it was just great to see Hideo Itami back in NXT and things just got a little bit better. Now, about that Elite Itami figure I know Mattel was probably working on...
Mojo Rawley was fighting a jobber when both of them were attacked by Samoa Joe. I don't know when this episode of NXT was taped in regards to the brand split and draft but the commentators really did not do a good job at all of explaining why Mojo Rawley was having this match in NXT. They said he got drafted to Smack Down!, but doesn't that mean he should be on Smack Down! and not in NXT any more? I mean, if they even just said that this was happening because Mojo Rawley wanted one last match in NXT to say goodbye to the fans there or something it would have been all right with me. But it just goes to show me that they really had no clue what was going to happen in the brand split beforehand. But, at least Samoa Joe just beat them both up.
In a non-title match Asuka defeated Aliyah and I wish I could say Aliyah was coming along but she's not. Her in ring skills are lacking at best, so it was good to have her in there so she could get hit hard by Asuka, but then everything about her lack of character just also falls flat. She kind of skipped to the ring, which reminded me of AJ Lee, and then she did a bunch of generic gestures which made me think I was being offered a create an entrance option in one of the old Playstation 2 games. Aliyah actually tapped out to Asuka and it was funny because she first tapped the arm then eventually she even began sort of tapping Asuka on the head because she didn't know what she was doing. After watching Breaking Ground, I don't know how much time and money has been vested into Aliyah but it's probably time for WWE to send her on her way.
Next up Bobby Roode came out to cut a promo and said that NXT is the best place for wrestling in the world today while his buddy James Storm cried over in TNA. The thing about Bobby Roode coming to NXT is that he's really the first TNA guy in NXT to me, since Eric Young just seemed to have a one-off match for whatever reason. Austin Aries, Samoa Joe and even AJ Styles weren't really "TNA guys" to me, so this should be interesting to say the least. I've always had mixed feelings about the in ring style of Bobby Roode and his promos and all of that, so I'm not yet sure how to feel about him joining the NXT roster. Though, to paraphrase Mojo Rawley, I ain't hyped.
In the main event of the evening, The Revival defeated TM-61 in a non-title match. It's interesting because it feels as if the team of Gargano/Ciampa will be next in line for a title shot, but then what's the point of giving TM-61 this loss here? What I'm saying is... if TM-61 is in NXT to prove they're the best tag team in the world and getting those titles does that, and then they just lost a non-title match what makes me believe they would ever win a title match? Furthermore, with the tag team scene in NXT right now, who could they get some wins over to feel like contenders again? Certainly not the Authors of Pain. I suppose the best option at this point would be for Gargano/Ciampa to win the tag titles and then for TM-61 to pick some victories up over The Revival while they are no longer tag champs and then maybe it'd be Gargano/Ciampa vs. TM-61. It could work, but it comes with a lot of variables that have to fall into just the right place.
After the talking on Impact- which I will no longer acknowledge- we went into Eli Drake vs. James Storm, a match in which James Storm became the new King of the Mountain Champion. So, Bobby Roode made his debut on NXT this week by cutting an in ring promo while James Storm was given a meaningless title. Sounds about right.
Lashley came out and challenged James Storm for some reason so next week all of the singles titles in TNA will be on the line in one match. I mean, TNA's roster does feel like it's getting thinner so are they going to merge all the titles into one now?
Gail Kim defeated Sienna and Allie in a handicap match because why not. TNA really needs to move on past Gail Kim already because it feels like I'm typing the same shit every week.
In the match of the night (no competition) The Hardyz defeated Chuck Taylor and JT Dunn. I assume Chuck Taylor being EVOLVE Tag Team Champions with Drew Galloway helped him get this spot. Anyway, Brother Nero was in most of the match while Matt Hardy "attacked" a fan at ringside and had blood on his mouth which reminded me of Gangrel for some reason. This whole thing was so comedic. Matt ended up hitting the Twist of Fate on Brother Nero then pinning JT Dunn to end the match because Brother Nero almost had it won himself. If this leads to a tag team title reign it might get interesting.
Shera and Grado defeated The Tribunal, not that it matters because you could give the win or loss to either of these teams at this point and I still wouldn't care about them. The thing I remember most about this match was The Pope and Josh Mathews arguing over who was pronouncing "Grado" correctly.
The main event saw EC3 defeat Mike Bennett to win the Bound For Glory tournament/series thing which felt really short this year for some reason. This means EC3 will get a title shot against Lashley after he takes the King of the Mountain Championship from James Storm. Drew Galloway is in a pretty bitter feud with EC3 right now, so my guess is that EC3 loses his match against Lashley due to Drew Galloway, Mike Bennett and probably even Moose getting involved.
The newest episode of ROH TV opened with Jay Lethal and the match being booked for tonight with Lethal and the Briscoes vs. Adam Cole and the Young Bucks. Steve Corino talked with Kevin Sullivan about what year it is. Then, we finally headed to the ring for our first match.
P-Dog and his Get-A-Long Gang (?) called out Moose, who beat them all up and won his match while also being on the TNA roster. Prince Nana came out after the match to talk with Moose and he brought Dijak with him. Prince Nana issues the challenge and the match is on for Moose vs. Dijak. This isn't fair-- Moose just worked a hard match against... Ahahahahahaha, no, I can't type it with a straight face.
So Dijak defeats Moose, obviously, because even though this was taped everyone knew Moose was on his way out and so now we have to try and establish Dijak as a new monster big guy, which he so clearly is not. Hey, ROH, try and bring some guys over from the UK if you want to try and have some solid big guys because Dijak just isn't cutting it. Dijak attacked Stokely Hathaway after the match. Or was it Prince Nana? Does it even matter at this point? Kevin Kelly sold shock better than I can muster up any sort of indifference to this whole thing.
In the main event, Mark Briscoe got taken out by a table and so the Bullet Club not only got the win but managed to shave the head of Jay Lethal after the match, which really I don't know why is such a big deal unless he had much more hair like the, um, Bullet Club members in this match. If ECW was still around and pushing the envelope, do you think someone would shave the pubic hair of Dick Justice while Joel Gertner screamed "OH MY GOD!! THEY'RE MANSCAPING HIM!!" No? Nobody? Oh well. A hair vs. hair match is one thing but this was just a rather boring match with a worse finish. If this was an episode of ROH TV we missed I wouldn't have cared.
That's it for this week as we go into another week of the regular and get closer to Summerslam- which I realize I have no baseball games scheduled for that weekend so it should be a lot of fun. Let's hope Smack Down! and Raw can be good this week though since I feel like they're falling into this stale state already like when Smack Down! was taped. How many weeks has it been since Smack Down! went live? Three? Geez they need to do something better and fast.