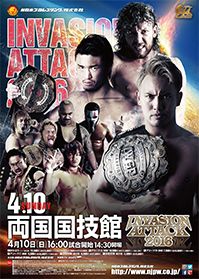 The reason behind my watching this is simple: I found out at the ROH Global Wars 2016 PPV that Naito is the IWGP Champion and this is the event where it happens. I want to see that match, so here I go watching this. There are also some pleasant surprises along the way here, both in the card and just in who is involved, and as such I would suggest checking this one out even before I say anything else about it. Kevin Kelly and Not Steve Corino have the call.
Match One: BULLET CLUB (Bad Luck Fale & Yujiro Takahashi) vs. Juice Robinson & Ryusuke Taguchi
Juice Robinson is the former CJ Parker in NXT. Bad Luck Fale hits the Bad Luck Fall (Razor's Edge) on Juice Robinson for the win. Nice to see Juice Robinson paying his dues in Japan, but the only thing I really took away from this match- from him- is that he dropped an f-bomb, which was obviously a no-no in his previous place of employment. Sometimes these former WWE stars and what not make names for themselves in Japan. Not yet for Juice Robinson though. On a side note, if WWE brought him back as Juice Robinson one day I doubt anyone would remember him being CJ Parker and/or care.
Match Two: CHAOS (Kazushi Sakuraba, Toru Yano & YOSHI-HASHI) vs. Jushin "Thunder" Liger, Satoshi Kojima & Yuji Nagata
This match is made up of the side with Jushin Liger on it and the other side. I feel like I don't know a lot about these guys outside of Liger, but then they do have that familiar feel to them as well so it might just be that I've seen them in NJPW before but they just never stuck with me like other characters have. If you said, "Oh yeah, that guy had the brawl at WK9 for the NEVER Championship" it'd make sense I suppose. This was a hard hitting and yet high flying to some extent as well match. I do believe the win came when Kojima pinned YOSHI-HASHI. A decent match, but at this point filler and just a way for me to see Liger.
Match Three: CHAOS (Hirooki Goto & Tomohiro Ishii) vs. Los Ingobernables de Japon (BUSHI & EVIL)
This is our last non-title match on this show and then the next six matches are all with titles on the line, as I followed along this card with Cage Match dot net. So, BUSHI and EVIL are apparently the henchmen of Naito (Thanks, Not Steve Corino!) and I recognize both Ishii and Goto from not only NJPW matches but recent ROH matches as well. Also worth noting, this was before Global Wars so Ishii is the current ROH TV Champion during this match even though, of course, the title is not on the line. The team of CHAOS won and this was a pretty hard-hitting match that even went outside of the ring. Wow, we are getting busy right away with this show but I expected nothing less from NJPW.
Match Four: Matt Sydal & Ricochet (c) vs. Roppongi Vice (Beretta & Rocky Romero) (IWGP Junior Heavyweight Tag Team Title Match)
I haven't seen Sydal & Ricochet since they won these titles, but I do enjoy that they won them from the Young Bucks who I could never stand and took them from reDragon. Of the four men in this match, two used to be in WWE and they are not on the same team. Isn't that weird? I have action figures for both, of course. And then we have Richochet-a former Lucha Underground Champion and current Lucha Underground Trios Champion with Rey Mysterio and his protege. Coincidentally, Rocky Romero's former partner Ricky Reyes is in Lucha Underground right now as well. Still, I've seen the team with Sydal & ACH but this just seems like a better fit for Sydal. Well, Matt Sydal was part of the eight man tag match at the ROH Global Wars PPV (with Motor City Machine Guns and KUSHIDA) so I don't know why I got it into my mind that Matt Sydal & Ricochet were still holding these titles at that show- thus winning this match- but wow did it add an element of surprise for me when RPG Vice actually got the pin and win. I was thinking it must be reversed somehow or something is wrong with the finish, but nope. I was mistaken in the idea that Sydal & Ricochet were still champs at the last ROH PPV because they didn't appear together, as I thought they did. No, wait. I just looked it up and I was right all along. Matt Sydal was mentioned as being champs with Ricochet because they are the current title holders which means they are going to win them back from RPG Vice. This was still a nice surprise though and a great match, as you'd imagine from these four competitors.
Match Five: KUSHIDA (c) vs. Will Ospreay (IWGP Junior Heavyweight Title Match)
I've only seen Will Ospreay once before in TNA so I was pleasantly surprised to find him on this card- making his NJPW debut- and against KUSHIDA no less. Ospreay wears tights in memory of Kris Travis in a classy move. I think both of these guys should really be in the WWE Cruiserweight Classic. There are 11 out of 32 names announced so far and I could probably give you more than 21 people I'd like to see in it, but if we can't get certain people because of contracts like TNA and ROH then let's at least go for some of these guys. I'm not saying we need 20 British wrestlers in the tournament, but Marty Scurll and Will Ospreay not being in it seems like one of those "What if" questions we would have been able to answer. Someone like Davey RIchards- as I've said before- won't be in the CWC, but if someone is available but is not utilized... I'm just saying, WWE. This was a great match, one of those you just need to see to believe, and KUSHIDA retained but there were no losers. After the match, Jushin Liger came out and challenged KUSHIDA to a match. Well, time to find out where/when that happens and watch that next since this is from early April and I'm watching it in mid-May. (It's on the event called "Dontaku". Adding it to my watchlist now)
Match Six: BULLET CLUB (Kenny Omega, Matt Jackson & Nick Jackson) (c) vs. Hiroshi Tanahashi, Michael Elgin & Yoshitatsu (NEVER Openweight Six Man Tag Team Title Match)
There was a rather lengthy intermission of sorts before this match. Before the match, after the break, it was recapped how Yoshitatsu broke his neck and this is his first match back. They said that Yoshitatsu couldn't get revenge on AJ Styles but he can get revenge on Bullet Club. Yoshitatsu looks like his later WWE days with the red sort of bangs in his hair. While making their way into the ring, one of the Young Bucks name drops New Day, who they had a Twitter feud with for a bit, and I'd still like to see that match one day. At one point during the match, Elgin suplexed both Young Bucks. He'd pay for it later when he was put on a cart of some kind with a garbage can on his head and superkicked by one of the Young Bucks. This match had a lot of action outside of the ring and I'm surprised so much of it was allowed. There were some big spots, which is why people call the Young Bucks "spot monkeys", and it was just weird seeing Tanahashi in this match since he isn't, you know, challenging Okada for the title. Corino noted that with AJ Styles gone, Kenny Omega is now the fourth leader of The Bullet Club. So where does that leave Adam Cole? The Young Buck who looks like Matt Hardy likes to talk to the crowd. Though there were a few near falls here, the team of Yoshitatsu, Tanahashi and Elgin won the titles and it seems strange that The Bullet Club is losing gold under the reign of Kenny Omega, but whatever. After the match, Michael Elgin looks to want to challenge Kenny Omega for the IC Title while Bad Luck Fale also came out and beat up Tanahashi. Fair enough.
Match Seven: Katsuyori Shibata (c) vs. Hiroyoshi Tenzan (NEVER Openweight Title Match)
If you've ever wanted to see two of the biggest and baddest in the world beat the holy hell out of each other, look no further. I grew up in the era when wrestling was all about being the biggest (i.e. 1980's) but that didn't mean that big guys had talent or even looked like they were hitting hard. The first time I ever really thought, "Holy crap! Those guys are really hurting each other!" was the first time I saw Masato Tanaka vs. Mike Awesome in ECW. You see, back then we didn't have the same access to professional wrestling not just from out of country but in general. We were still in the days of VHS. Admittedly, one of the reasons why I feel like I try and watch so much wrestling now is simply because I can. This could be that Tanaka-Awesome match that introduces a new group of viewers to the hard-hitting style of professional wrestling. At one point, Shibata looked like he might not tap out but rather pass out and then Shibata actually came back and won, defending his title successfully. Tenzan didn't lose a lot in this match and after the match Shibata kicked Nagata, which is setting up their match for "Dontaku", which I will already be watching after this to see KUSHIDA-Liger.
Match Eight: Great Bash Heel (Togi Makabe & Tomoaki Honma) (c) vs. Guerrillas Of Destiny (Tama Tonga & Tanga Loa) (IWGP Tag Team Title Match)
It always confuses me that NJPW has "Jr." tag titles, as I always think of Young Bucks, reDragon, RPG Vice and now Sydal & Ricochet as the IWGP Tag Champs, but these are the tag titles for the bigger guys. Makabe and Honma are two big dudes and Guerrillas Of Destiny are the songs of Haku (aka Meng in WCW). It's funny because I always thought of Tama Tonga as the son of Haku, it's just how I was introduced to him in NJPW. Then I learned that Camacho (in WWE) was also the son of Haku. So when he was released by WWE I always wondered why he didn't go to Japan with his brother. He went to TNA instead and worked as Micah (which brought us Eli Drake-- thanks for nothing) but now he is in New Japan with his brother as Tanga Loa. Not Steve Corino mentions how Shinsuke Nakamura is no longer in NJPW but neither are Gallows & Anderson so it's giving new talent a chance to step up. And it's true. I don't know where talent goes that could be considered above WWE, but I do enjoy that NJPW never seems to have a lack of talent. When someone leaves NJPW it doesn't seem to *hurt* NJPW so much as create an opportunity for someone else. Looking at the Guerrillas Of Destiny, it makes me think that this could be how Camacho gets back into WWE if he should want to go back one day. Tama Tonga was rumored to be going to WWE with the recent group of NJPW wrestlers but he opted to stay and do more with New Japan which I think was smart, watching this match. I always wonder though what happened to the Killer Elite Squad in NJPW and why Chris Hero & Colt Cabana don't get more time in NJPW ("Big In USA") Guerrillas Of Destiny win this match and become the new IWGP Tag Team Champions. Let the push begin and rightfully so. This was a great tag team match and if this doesn't impress you then perhaps nothing about tag team matches will.
Match Nine: Kazuchika Okada (c) vs. Tetsuya Naito (IWGP Heavyweight Title Match)
This is it. I know full well going into this match that Naito is going to win and capture the gold, but I'm watching it anyway. I remember Naito from Wrestle Kingdom and he had such a unique entrance and look, I wondered if he was going to wrestle in his suit. The commentators played up how Naito tried to do things the right way and be liked by the crowd, but it didn't work so now he is doing things his way and it is causing a lot of controversy and trouble within Japan. I was drawn to this character because he is not a bad guy-- he is a good guy doing what he believes is right. It is strange that there is English commentary but we can't get these video packages translated.
The main event was just as great as I thought it would be. Naito had everyone interfere on his behalf (Well, at least his two henchmen) until a third masked man came in and revealed himself to be Sanada. Now, Sanada spent some time being misused in TNA but spends most of his time in Big Japan, so when Kevin Kelly wondered what he was doing there because he didn't even work for that company it was rather cool. Sanada appears to be joining Naito's faction, but also just seeing him in NJPW and wondering what his business with Okada is stands as one of the more intriguing questions in wrestling right now. After seemingly thanking the fans "in his own way" and leaving the ring, Naito threw the title belt back into the ring and left. There's this thing going around in EVOLVE right now where whoever has the title belt kind of feels like they're the champion and at the same time treating the belt like that- in Japan- is a huge sign of disrespect. This was just one of those little things which really made this match for me because even though I knew how it was going to end, when it ended that way- right before signing off the air- I was hooked. I knew I had to see more and I knew that this reign of Naito was to be something special. Show me where and I will sign, I am fully on board with this being bad is cool storyline and it just works so much better for me than, say, The Bullet Club. I am ready, Naito. Show me what you've got. Show the world.