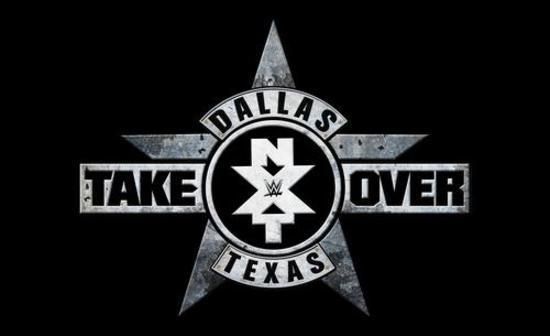 The interesting part about this card is that there are three title matches- which could go either way and I'd be happy- and two debuts which seem to be written in stone where, you know, the debuting talent is not going to lose. This makes it rather easy to predict Austin Aries and Shinsuke Nakamura as winners but since I like both sides of all three title matches those winners are much more difficult to predict.
Also, after I wrote all of this and watched the last episode of NXT before TO:D I was informed that Apollo Crews vs. Elias Samson has been added to the card. You know I'm taking Apollo Crews all day because I want to see Elias Samson repackaged. Even being a drifter from Florida would make more sense than Pittsburgh.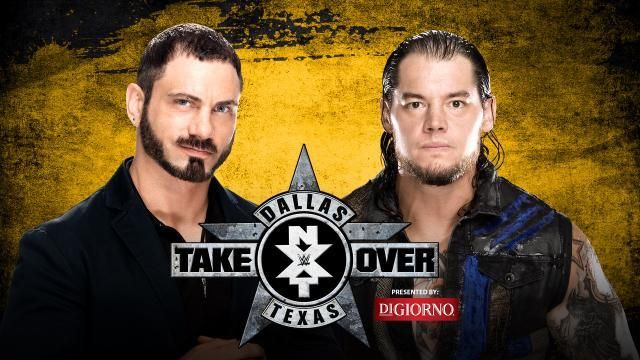 Match One: Austin Aries vs. Baron Corbin
When Baron Corbin was taken out of the title picture by tapping out to both Sami Zayn and Samoa Joe at the same time, he got mad. He decided his way to get even- he called it "eye for an eye"- was to take out the newest member of the NXT roster, Austin Aries. Little did Corbin know that Austin Aries could be the WWE Champion and Baron Corbin, um, needs to work on his in ring work and mic skills and just everything really. (Though he is still better than Braun Stroman) This leads us to Baron Corbin taking the spot of a Bull Dempsey or someone similar and going the way of Sami Zayn in that he has become a virtual jobber in NXT. Corbin has lost feuds to both Apollo Crews and Samoa Joe and something with his character hasn't quite clicked ever since his winning streak ended and he had that match with Bull Dempsey some time ago. I could very easily see Corbin coming up to the main roster as an enforcer type, especially if there is a brand split after Wrestlemania, but for right now he seems to be just be a means of putting over the newer talent in NXT. You have to wonder when he will realize that and begin to pursue outside interests because I think some time spent in Japan would do wonders for Baron Corbin not just as a wrestler but as a person. If this was anyone other than Baron Corbin I'd say they're going to go the way of Chris Hero and feud with William Regal but no one wants to see Regal in the ring against Corbin. More interestingly though might be where Austin Aries goes from here. Does he shoot straight up to a title shot? Does he go and feud with Apollo Crews or someone else in that sense before getting his title shot? Does he get that main roster call up sooner than later if there is a brand split? Only time will tell, but one thing is for sure: Austin Aries is on his way up in NXT while this time it doesn't even appear as if Baron Corbin will stay stagnant but will rather be moving down the ladder.
Winner: Austin Aries
Match Two: Sami Zayn vs. Shinsuke Nakamura
Third verse, same as the first. Okay, maybe it's the second verse, but ever since Kevin Owens came to NXT Sami Zayn has been on a huge losing streak. He lost the title, got injured and went away for a bit, then came back and found himself on the losing end of a feud with Samoa Joe. So, of course, WWE did what any company would do with an employee who is a huge failure: promote them. Sami Zayn is pretty much on the main roster now, complete with a spot at Wrestlemania, and so it's pretty easy to think of this as being his final send off. If Zayn can lose to Samoa Joe and *not* earn a title shot against Finn Balor and that gets him a main roster spot then clearly losing to the debuting Shinsuke Nakamura won't hurt his career any. Well, up until Sami Zayn loses in the ladder match and then finds himself being on the main roster in a spot less than that of Zack Ryder and Damien Sandow, but you know, positive thoughts and all that. Nakamura is going up the roster of NXT the right way though- winning matches- and so when he does come to the main roster he will have much more credibility than that loveable underdog goof Sami Zayn, who I can no longer take seriously. The only real question out of this- since Sami Zayn has a Wrestlemania match and seems to be done with NXT after this last match here- is what happened to that whole idea of Sami Zayn becoming the first ever two time NXT Champion? He's just going to abandon that, huh? Makes sense. Shinsuke Nakamura will find himself in a similar position as Austin Aries after this and that will be doing whatever he wants but doing so while having his stock rise while the stock of his opponent will only fall. It's almost scary how similar this match is to the first one only without the main roster spot certainty for BC.
Winner: Shinsuke Nakamura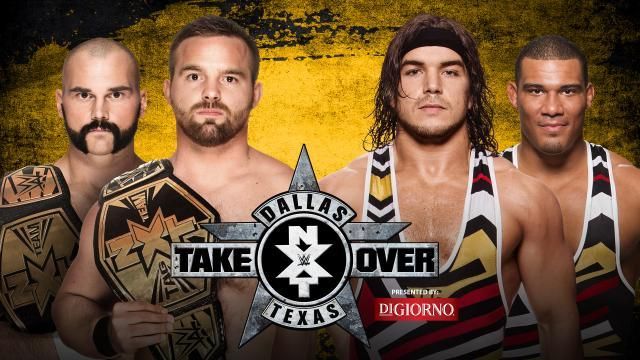 Match Three: The Revival* vs. American Alpha [NXT Tag Team Championship]
The hardest part about predicting this match is that neither team needs the titles to go to the main roster, as I fully expect Enzo & Big Cass to be on the main roster after Wrestlemania 32 and they didn't win the tag titles against The Revival recently. So either The Revival could drop them to go up to the main roster and the American Alpha would be the standard set in the NXT tag team division or American Alpha could go up to the main roster simply because they're awesome (and there could be two sets of tag team titles after Wrestlemania) and then The Revival could retain the titles and continue to grow and build. But since we saw The Revival recently on Roadblock- which was kind of like the main roster- I'd expect to see them on the main roster first and I think they might do so by having them drop the tag belts here. American Alpha as tag team champions would simply be awesome, especially with the amount of talent coming into NXT right now, and if Karl Anderson and Doc Gallows really come to NXT before the main roster than a triple threat with American Alpha vs. Anderson & Gallows vs. TMDK would simply be the best thing for the tag team division right now. While it's nothing against American Alpha and it's not that I don't want to see them on the main roster, I just want to see them as champions dominating NXT for a little bit first. The Revival can easily go up to the main roster and even be tag team champions on Smack Down! because of their gimmick being exactly where it needs to be right now.
Winners: American Alpha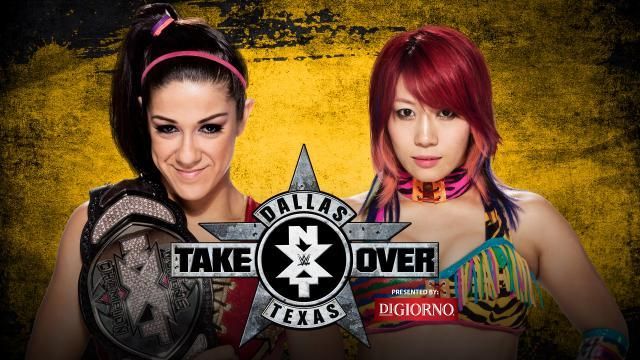 Match Four: Bayley* vs. Asuka [NXT Women's Championship]
For me, the difference between this match and when Bayley last defended the title against Nia Jax is that not only was Nia Jax not ready to run with the title but it was the first real title defense by Bayley (Who has since defended it on the weekly shows successfully) and so because of the time Asuka has spent in NXT, the development of her character (she is main roster ready, but perhaps the main roster isn't ready for her yet) and mostly just how long Bayley has held the title I think it could be time for Bayley to lose it. I like Bayley, I mean, who doesn't, but I like Asuka so much more and feel she is the most talented female on the entire WWE roster (and she even has more talent than most of the men) and so she deserves this. Bayley is really one of the last of the older divas in NXT right now too, so pushing her up to the main roster and having Asuka as champion would usher in a new era where Asuka would defend the title against Dana Brooke (if she ever heels), Nia Jax and whoever else is brave enough to come to NXT and face her for it. I realize that my whole theory of Bayley joining the main roster at Wrestlemania (see: my Wrestlemania 32 predictions) does not depend on her losing the title because Sasha Banks came up as champion and if Asuka doesn't win it here she could get another shot or Bayley could simply lose it to someone else, but I just think there isn't a way for Bayley to win this. I wasn't sure how Bayley would be able to defeat Nia Jax but I did feel like it was too soon for Jax to win and Bayley to lose, but this time I don't feel like it's too soon for either Asuka to win or Bayley to lose. Since last time it came down to something like "I feel like Bayley will win, I'm just not sure how" and this time it's "Asuka should win and I have no idea how Bayley will win" I'm going to just go ahead and say that Asuka will win. Simple as that.
Winner: Asuka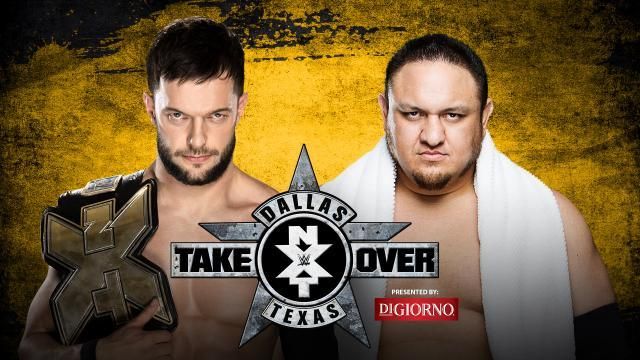 Match Five: Finn Balor* vs. Samoa Joe [NXT Championship]
This is perhaps the hardest match on the card to predict simply because Samoa Joe has had his chance before and so I feel like this time would be his time to win it. It seems easy enough for Samoa Joe to win the title here and then Finn Balor goes up to the main roster, but many sources say that WWE wants to keep the title on Balor so he can be the Face of NXT for some time to come still. Samoa Joe went through a lot of nonsense with Sami Zayn to build to this, so to have him lose after all of that seems rather pointless, but then again, Sami Zayn lost the title shot and he was rewarded by going to the main roster so who knows how WWE thinks. Samoa Joe could lose this match and move up to the main roster while Finn Balor remains in NXT as their champion. But my biggest problem with predicting this match is when you look at these two wrestlers, I just love them both and want to see them both as champion or on the main roster. If Apollo Crews, Austin Aries and Shinsuke Nakamura are in line for a title shot I wouldn't choose one over the other between Balor and Joe as to who I'd want them to face for the title. So the keep with the idea of storytelling and drama- because it's sports entertainment in WWE- I'm going to go with the longshot idea here and give you a scenario involving ~ dundundun ~ drama. Does anyone else remember Hideo Itami? They played his injury out as him being attacked in a parking lot before he was supposed to be involved in a triple threat match to determine a number one contender with Tyler Breeze and Finn Balor. Kevin Owens was walking by Itami at the time and a "fan video" made it look as if he had something to do with the attack but that would be too obvious. So rather than Samoa Joe vs. Finn Balor this match is going to be more of "The Return of Hideo Itami". WWE might not want to do this because of the complexity of the story, but here is my idea. When Samoa Joe looks like he is about to do something to cheat to win, Hideo Itami makes a surprise return and stops Joe. This allows Finn Balor to keep the NXT Title and Samoa Joe to remain pissed off. Then, even if it isn't tonight, Hideo Itami will turn on Finn Balor. Now, Itami could simply come out during this match and cost Balor the title but I think the idea of the slow turn is better especially because it won't really be a turn at all. Itami will just explain his actions- whether he costs Balor the title or attacks him another time after the match- by stating that he saw his attacker and it was Finn Balor. Why would he be silent all this time? Well, he couldn't exactly get his revenge until now. Then we go into The Summer of Balor vs. Itami. Itami could even reveal one week he knows who attacks him, while staying friendly with Balor, and then the next week proclaim "It was YOU FINN!!" Itami would look like the bad guy for attacking Balor but it'd really just be the best type of story in all of professional wrestling: one bent on revenge. Should they even feel so inclined, Karl Anderson and Doc Gallows could come into NXT and form the Balor Club with Finn Balor, thus having Samoa Joe as a reluctant friend of Hideo Itami and they could find anyone to be their third man, really. It'd be easy enough to add an Austin Aries or Apollo Crews to their side. Even if Itami isn't ring ready yet it's not like he's going to be in a match right away and so I think this is the best way for this story to continue to unfold. I'll just say that perhaps Itami should cost Balor the title, then continue to come out and attack him for a number of weeks- with everyone thinking Itami has turned heel- until Hideo finally reveals it was all about the revenge. Itami would be this wild assassin, part Brian Pillman part Owen Hart when he returned that one time with short hair, and Finn Balor would be the perfect choice of someone to do what they had to do to win the title, walking that line between good guy and bad guy. Honestly, I feel like Finn Balor could get away with a lot before the NXT crowd turns on him (see: Kevin Owens) and so this would be rather exciting times in NXT.