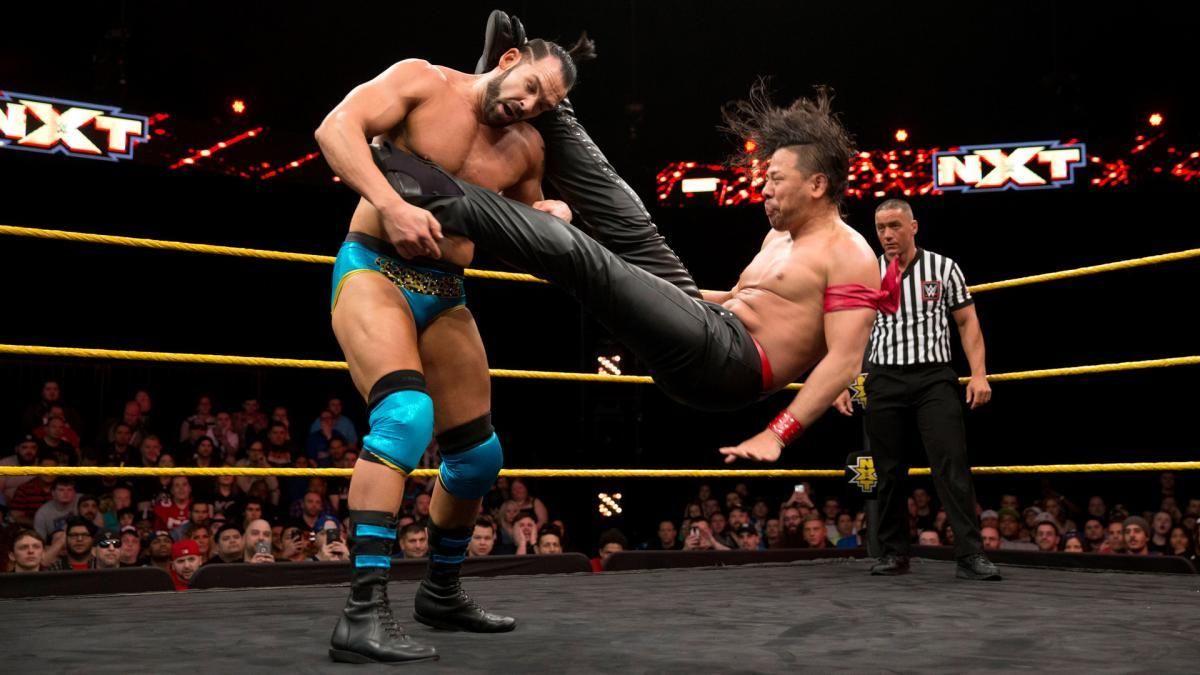 This week we started with a new episode of ROH TV mainly because it kicked off with a tag team title match between War Machine and RPG Vice. Look, I get it. War Machine are two, big hard-hitting guys who remind you of The Warlord if he was in a tag team with himself and had a lot of tattoos. But at the end of the day, their gimmick is just kind of eh for me. They don't really do it for me. Maybe if I was a kid and still under the McMahon influence of "bigger is better", but how can you tell me that they're a better tag team than RPG Vice? This match was good, but only because RPG Vice was in it and Rocky Romero was wearing a mask during their entrance. War Machine just doesn't do it for me and they need to lose the titles.
Following that it was a match between ACH and Kenny Omega. I have no idea how Kenny Omega is not in either WWE or TNA still, making them a lot of money, but I feel like I will always say that whenever his name comes up. This was a great match and one of the reasons why I like ROH vs. NJPW so much. But, I don't need to tell you about it because you can just watch Kenny Omega matches yourself every day anyway, right? If you don't-- that is, if you haven't seen all of his matches-- you totally should go out of your way to do so right now.
In the main event of this week's ROH TV we saw Dalton Castle take on Silas Young in a Fight Without Honor. I really liked this match because it reminded me a lot of an old school brawl where certain weapons would be used and considered pretty hardcore before guys were setting themselves on fire and nearly dying during matches. It just felt like an old school Dusty Rhodes-Ric Flair brawl or something along those lines. And Dalton Castle did end up winning it in the end because I do expect him to be ROH Champion before the year is over.
Next up we watched Raw and it was well worth it. Due to overwhelming public outcry on social media Shane McMahon was running the show again. I really enjoyed the Kayfabe News article about how due to overwhelming public outcry on social media Roman Reigns would also be stripped of the WWE Title. So, Shane came out first to kick things off and tell us what to expect from the show. This brought out Kevin Owens because Shane mentioned Sami Zayn. I'm not sure why but I feel like this might be setting up to an eventual Kevin Owens-Shane McMahon match and I'm okay with that.
In the first match of the night Cesaro defeated Kevin Owens to earn a title shot against The Miz for the IC Title. Somehow, Zack Ryder is quickly forgotten. Still, I mentioned the idea of The Miz vs. Cesaro last week and it does still work for me, especially if it can lead to some gold for Cesaro in a meaningful manner. I understand that the idea could simply be that the title had to come off of Ryder so that The Miz- as a heel- could lose the title to Cesaro- as a face- at Payback, but then why couldn't have Kevin Owens just lost it to Cesaro, like he lost tonight? I guess the odds were not in Kevin Owens favor at Wrestlemania 32 based upon how many people were in the match.
Up next week had a first round match in the Tag Team Title tournament, as presented by Booty-O's and introduced by New Day. It's kind of funny because I thought there would be a tag team title tournament to crown new champions after Wrestlemania 32 when there could be a brand split but yet, here we are without a brand split but still a tournament. Your guess of who wins is as good as mine. The Dudleys defeated Lucha Dragons in this match though because during the commercial break Kalisto got thrown to the outside and appeared to be injured. This made it a two-on-one match, which Michael Cole noted as we saw a replay and he called Kalisto "Sin Cara". #Botchamania It is likely though that Enzo & Cass and The Dudleys are both going to lose their way out of this tournament to feud with each other though, so Dudleys still aren't my pick to win it. I also feel a bit like WWE needs to break up the Lucha Dragons- even if they split on good terms- since we know they likely won't hold tag team gold while Kalisto is the US Champion.
In the next match Natalya defeated Charlotte by DQ so she won the match but not the Women's Championship. Basically, Nattie had Charlotte in the sharpshooter, tapping out when Ric Flair pulled the ref out of the ring causing the DQ and not the loss by tapout. Even Charlotte thought she had lost the title until Lillian Garcia announced otherwise. If Shane McMahon really wants to make a difference, he can address this situation on Raw next week. Let's just try not to do something which involves Ric Flair hanging from above the ring in a cage.
In a match I barely paid attention to The Usos defeated Heath Slater & Curtis Axel. I don't think anyone expected the Social Outcasts to win and having a somewhat veteran team now like The Usos in this just seems to add credibility to it. This seemed as much a lock in the tournament as The Dudleys winning. After the match though, The Usos were attacked by Doc Gallows (who Michael Cole called "Luke Gallows"-- just be glad he didn't call him Festus) and Karl Anderson. The Bullet Club tag team played their role well as it had that Hall and Nash vibe to it. The crowd didn't seem to know what to do at first, but then a small "Bullet Club" chant started. I especially liked how Karl Anderson said something like "Nice place you got here" as they were being ushered out.
AJ Styles defeated Sami Zayn in a match where if Sami Zayn won he'd be in the WWE Title match at Payback with AJ Styles and Roman Reigns. It's funny because Shane McMahon kicked Kevin Owens out of the building earlier in the night so there are no excuses for Sami Zayn this time. He lost clean and on his own. I mean, I understand it takes two people to have a match and one has to win while the other loses, but how many more times can you go, "Oh, did you see that match? It was so rad" while having Sami Zayn be the loser? Nakamura-Zayn was a clear Match of the Year candidate while this match was better than any match on Raw really should be, but the fact that Sami Zayn lost them both and hasn't really won a "big one" since coming back from injury/losing the NXT Title really speaks volumes about his character.
Chris Jericho came out for the Highlight Reel but had his party crashed by Dean Ambrose, so it does appear as if we are moving forward with this match for Payback, which I like. So why is the Payback card currently shaping up to look better than Wrestlemania 32?
The Hulu replay- which is condensed down to an hour and a half- did not show us the Apollow Crews vs. Adam Rose match (which we watched later on via the WWE YouTube channel), but according to the Raw results on WWE.com that was the only thing left off the 90 minute cut. Okay, there is a video on the YouTube channel where Becky Lynch calls out Emma and Cesaro talks to The Miz and Maryse, but when you have one sort of short match cut out from your three hour show and it takes you down to 90 minutes-- literally cuts your show in half-- you might want to think about how much filler (recrap) you have in there to begin with. I'm just saying, I'm in love with the 90 minute cut this week.
In the main event, Roman Reigns and Bray Wyatt defeated the team of Sheamus and Alberto Del Rio. It looks like we're going into a Wyatt Family vs. League Of Nations match at Payback as well, and I'm not bothered by that either because it simply means that the Wyatts could win this one and start to build back some of their missing momentum while the LON could finally split to the point where Alberto Del Rio is allowed to do something more than this. Oh, but to be fair, Apollo Crews seems to be taking down the Social Outcasts one by one, so how about he face the LON one by one before they officially disband as well, okay?
Overall though this week Raw was a solid show. Usually there's something I'd rather not see or the Hulu cut takes it out for me but there were no complaints on this show and I just can't remember the last time I felt that way. I don't even really fele that sore over Charlotte keeping the title because it just plays into her heel persona and works. Now let's get Baron Corbin into a meaningful feud and we'll be on our way.
After Raw we watched NXT and it was actually a really solid show this week for being that weird time between Wrestlemania weekend and an actual set of tapings. I feel like these matches were taped on the Saturday and maybe even Sunday after TO:D, so it is quite strange. But I still enjoyed them just the same.
NXT opened with Austin Aries defeating Angelo Dawkins. I feel like the debut of Austin Aries at NXT TO:D was a bit overshadowed by the debut of Shinsuke Nakamura, but if it plays into the storylines one day and leads us to an eventual Aries-Nakamura match then I am fine with it. But as more than one person has pointed out on the internet before now, how about we limit ourselves to one debut per Take Over from now on? Aries looked good as always and the character development of Angelo Dawkins is also good. He's got this D-Lo Brown thing going, but not. You give him some wins over heels and he could catch on with the crowd.
In the second match Alexa Bliss defeated Tessa Blanchard. Look, I know Tessa Blanchard exists and I knew she was a wrestler before this match, but HOLY SHIT Tessa Blanchard is in NXT. Why is Tessa Blanchard in NXT? Think of how Charlotte, Sasha Banks, Becky Lynch and Bayley call themselves the Four Horsewomen. You mean to tell me that Tessa Blanchard could be signed by WWE and go up to the main roster with Charlotte and we could make an actual Four Horsewomen stable? I do believe that adding the sister of Bo Dallas and Bray Wyatt could count for the Windham factor, so does anyone know is Arn Anderson has a daughter who wrestles??
Also, I feel the need to point out- and I'm not going to lie- that Alexa Bliss actually did look good in this match. She had some moves and could actually be better in the ring than I initially thought, so good on her for putting on a quality match.
Normally I'd complain about Johnny Gargano & Tommaso Ciampa getting the win over The Vaudevillains. I mean, for one thing it's all right because The Vaudevillains are on the main roster so this gives the team of Gargano & Ciampa something to look forward to, even though they still have that whole "Are they or aren't they signed?" feel to them. And even though they were literally promoting The Vaudevillains vs. Golden Truth for Smack Down! in that Tag Team Title Tournament, I'll just remember how AJ Styles lost at WM32 and is now facing Roman Reigns for the WWE Title. Just remember that. I have no idea who will win the Tag Team Title Tournament but The Vaudevillains vs. New Day could be quite good.
Real things Tom Phillips said in the tag match: "Why do you think they look like that?" Ugh. Just go away Michael Cole Jr.
Baron Corbin squashed Tucker Knight, who should stick to his tag team I suppose. Could this have been Baron Corbin's last NXT match??
Now Bayley vs. Liv Morgan was an interesting match as no one really seemed to talk about what was next for Bayley. It came down to two topics, both of which I enjoyed. First off, it was stated that Asuka winning the title at TO:D was like The Undertaker losing at Wrestlemania to Brock Lesnar and I think that's a bad comparison for anything in general, but I think that might be more easily applied to, um, Bayley having won. I had no idea how Bayley was going to win that match and as such she did not. That being said, Tom Phillips and Corey Graves were discussing who could challenge Asuka for the title with some hope of winning and Graves said he had his picks but wouldn't disclose that information right now. But that is the real question here: who can defeat Asuka? Clearly not Dana Brooke or anyone else in NXT right now.
The other part of this match that I really liked was Corey Graves discussing Liv Morgan. I don't always remember who these new women in NXT are, though I know there are a lot of new women from Australia, but as soon as Liv Morgan comes out my wife and I both go "Oh, she's the one from New Jersey". She just has that Jersey Shore trash look to her. And I absolutely LOVE the commentary by Corey Graves because he might be the only person who hates NJ as much as I do. Though, I think as a collective, nobody likes NJ, right? Corey Graves said at one point if you wanted to dress like Liv Morgan you could go to the airport in Newark and it had me cracking up. Is it wrong that I just want to see Liv Morgan to hear how much Corey Graves hates New Jersey? I guess that could be her gimmick.
In the main event, Shinsuke Nakamura defeated Tye Dillinger, as if there was ever any chance for Tye, and this was actually a good match as Dillinger stood his own for a bit. I love how Nakamura played to the crowd as Tye counted his "TEN! TEN! TEN!" deal and the crowd chanted "He's eleven!" at Nakamura. Geez, Nakamura could come to Raw this Monday and become WWE Champion he's that good and that over as far as I'm concerned. And to think I remember a time when people said that only a small portion of the wrestling community (the "IWC") knew who someone like AJ Styles or Samoa Joe was so if they debuted in WWE the majority of the fans wouldn't care because they wouldn't know who they were. Just look at the love for Shinsuke Nakamura. If this guy is the future of WWE then I like where the future is headed.
Of course since Matt Hardy lost his rematch with Drew Galloway for the title we should, you know, open the show with him. The Pope is back on commentary and I'm going to switch to subtitles now. I kind of wish that TNA still had an action figure deal so Matt Hardy's wife could get a figure and her accessory could be the baby. Matt says that his brother Jeff is tarnishing the "Hardy" name. You know, if TNA was really at the end of days like WCW was when they went away then this feud would somehow include Tom Hardy (The guy from the new "Mad Max") in it and I might be okay with that. Jeff Hardy comes out and I don't know how we're going to get back to a tag team between these two this way. So... All that just to set up a Matt vs. Jeff match. Next time, how about just a graphic, okay?
Beer Money is out next and if I never see the Boozer Cruiser again I will be most happy. The Bro Mans comes out- speaking of things I never want to see again- and then The Decay comes out as well. Just when it goes from two teams to three, out comes EY and Bram and now we have a fourway tag match. As the action is going on in the ring, James Storm is outside driving around the Boozer Cruiser like an idiot. Somehow, Beer Money wins and I'm bored.
Matt and Jeff have a backstage confrontation. They set up a tag match and if Matt and Tyrus win it's an I Quit match next week and if Jeff and a mystery partner win it's Full Metal Mayhem.
Maria gets in the ring, calls out Jade because she wants the KO Title and then a bunch of other women come out before Billy Corgan tells them it's Jade vs. Madison Rayne tonight. Billy Corgan then says that next week all the ladies can fight each other to decide on a leader. Makes sense. Why wouldn't the champion just be the leader? If everyone is fighting for the title next week why wouldn't that match just be tonight? The insanity is running wild in the Impact Asylum, folks!!
Trevor Lee and HurriHelms issued an open challenge and since Eddie Edwards had been taken out a little bit earlier, DJ Z came out and somehow managed to defeat Trevor Lee only to get beat down by Helms after the match. So... Helms/Lee vs. Edwards/DJ Z now? Ugh. I feel the way about the X Division right now the way that I feel about the KO Division. Trevor Lee is great, TNA just needs to get him some competition.
EC3 vs. Mike Bennett was next. Bennett brought in a chair but missed hitting EC3 with it. While the ref was ditching the chair, he missed Bennett tapping so EC3 got frustrated and hit Bennett with the chair for the DQ loss. And the feud continues! Maria on a pole match! MARIA ON A POLE MATCH!!
So, Al Snow beat up the Indian guy who hangs out with Grado and then called Grado a "fat turd". At least Impact has that going for them this week.
Jade defends the KO Title against Madison Rayne and there were two interesting developments in this match. First, it was said that the match next week will be a ladder match and the KO who wins it will have the booking power in the KO Division. Umm... Isn't that how WCW ended? Also, Josh Mathews asked The Pope who Jade reminded him of and right away Pope said Gail Kim because they're both Asian women who wrestle. Josh hesitated a bit but said Ronda Rousey. And then- I shit you not- The Pope said she was like a cross between Rousey and Gail Kim. Do you realize how close we came to The Pope saying Jade is an Asian Ronda Rousey? Racism, thy name is The Pope.
Announced for next week is Trevor Lee defending the X Division Title against DJ Z and Eddie Edwards in a triple threat match Josh Mathews called "can't miss". Yes, really. Onto the main event! Matt Hardy hit Jeff Hardy with a hammer behind the ref's back- showing you how the cheating should be best done, Mike Bennett and EC3- and next week it will be an I Quit match.
Lashley also came out and attacked Drew Galloway, so it looks like Lashley will be getting a title shot. I mentioned this on Facebook already but if someone like, I don't know, Mike Bennett really wanted a title shot why wouldn't he then take out Josh Mathews?? It'd at least get that dweeb off of commentary for a while I hope.
So next week we have a ladder match to control the KO Division when really they need better women in their division, Jeff vs. Matt in the battle of who cares least and a triple threat for the X Division Title because they don't have enough talent left to do the Ultimate X Match any more. Plus, lack of PPVs, etc, etc. How does TNA still stick around? I try and try so hard to like it, but every time it seems like it's taking a step forward it takes two steps back. Ugh. Onto next week and the week after that until it finally dies.
Lucha Underground opens this week with Dario Cueto putting together the trio of Johnny Mundo, Taya and Cage. When Cage says his thing about not being a man and being a machine, Cueto finishes it for him and proves he is also sick of the overfed beast.
The first match was Argenis vs. Killshot and as much as Matt Striker played up the return of Argenis, he still lost to Killshot. It was a good match though. I'm impressed with Killshot, even if Matt Striker and Josh Mathews would be the commentary team from Hell.
I might not always discuss every backstage/office/locker room segment in Lucha Underground, but they have a way of enhancing the show like no other company has quite been able to do yet.
Who the fuck is home from 10 am to 2 pm week days and watching "Airwolf" and "Knight Rider" on El Rey??
Following a sit down in the office, we have a match for a medallion with Daga making his debut against Texano.
Daga and Texano actually had a really good match I'm just not sure why Daga had to lose. If Lucha Underground wanted to build their company around a single star- a Hulk Hogan or John Cena if you will- then I'd recommend that star being Daga. But what do I know? I'm not booking this thing. Texano also won a medallion in this match which brings him one step closer to a title shot. Wouldn't it be nice to see Daga on his way to the title already? He is the only unmasked man in Lucha Underground that I will currently endorse to be champion. (And yes, I said "man" because I'm still cool with Ivelisse being champion)
In the main event, the trios team of Rey Mysterio/Dragon Azteca Jr/Prince Puma defeated Johnny Mundo/Taya/Cage. As I said last week with the team of The Mack and his enemies these teams don't work for me now. If the enemies can somehow put their differences aside and get along enough to win, then what? Then they become like the current Trios Champions. So the story has been done. Let's move onto new things. Rey Mysterio, his protege and the first Lucha Underground Champion seems like a good Trios team though. Even if they don't win it all, they could provide us with some great matches.
This week we also learned of the death of Balls Mahoney. It's sad, really. You want to see these guys in their 60's and 70's, sitting around, talking about the hell they used to put each other through for the fans. And yet he was only 44. And Axl Rotten went not that long ago. I feel like it was somewhat poetic for Balls to go so close to Axl, like a June Carter and Johnny Cash deal, but it doesn't make it any easier. I met Balls Mahoney after an ECW show once and he sold me his t-shirt which had him and Axl on it as the "chair swinging freaks". I remember he told me that he had the shirts made himself (Well, he and Axl did I assume) and if they sold enough of them on their own then ECW would license them for them. I thought that was cool, both being able to give him that money for the shirt, knowing I'm contributing to something and my say matters, but then also that the money was going to him when now you can buy a shirt from WWE for $25 and feel like the talent gets maybe, I don't know, a dollar at most. Balls Mahoney signed the shirt for me and also took a picture with me. Oddly enough, it was before cell phones and digital cameras so I had to wait until the film got developed to see the photo. But he did all that for the price of a t-shirt. And now it's "$25 for the shirt, $20 for an autograph, $20 for a photo". You know, I look at these autograph opportunities these days and think good for the wrestlers, they deserve it, but at the same time it's a lot of "Back in my day, such things weren't as expensive" and this just kind of goes to prove that. From hitting hard against the Japanese wrestlers (who hit hard) to being a former amateur wrestler banned in some-odd states for being too violent... I've been reading a lot of comments about Balls Mahoney since his death and I've been reading a lot of "I remember him in ECW with Mike Knox and Kevin Thorn", those sorts of ideas. But I remember him as so much more-- before ECW even met WWE. And, yeah, this one hurts a bit more than some of the others lately, but wow, 2016 has taken some of the best people and it's not even halfway over.
We always seem to end our week on Smack Down!, but it is on last so it makes sense. Following a Miz TV segment, The Miz took us into a match with Zack Ryder against Baron Corbin since Ryder wouldn't be getting an IC Title shot again tonight. Wouldn't Cesaro, who won a match on Raw for a title shot get upset if The Miz defended against Ryder? Where was he during all of this? Baron Corbin, of course, won the match and Ryder is going to go back to NXT to team with Mojo Rawley while Baron Corbin climbs the midcard on the main roster.
In what has to be the weird booking decision of the night, Emma defeated Paige because apparently Paige took a dump in Stephanie McMahon's gym bag or on Stephanie McMahon or... I don't know what. But why can't Paige catch a break?
There were two tag team title tournament matches on Smack Down! and both of them saw the former NXT tag teams just called up to the main roster win. Enzo & Cass defeated The Ascension and advance to face The Dudleys next (which probably should have been the finals) and The Vaudevillains defeated the team of Goldango (Goldust and Fandango) and advance to face The Usos. I'm kind of hoping that Doc Gallows & Karl Anderson cost The Usos their next match, putting The Vaudevillains against either Enzo & Cass or The Dudleys. But either way, I am kind of pulling for The Vaudevillains to win the tournament because I'd love to see them interact with New Day.
In between these two tag matches, AJ Styles defeated Alberto Del Rio. I love how WWE is pulling in the best wrestlers from various promotions and countries- as it does feel like they have the best of the best talent- but this match should have been booked better than just being thrown in on a random Smack Down! with little build. We have a former IWGP Champion in AJ Styles representing Japan vs. a former AAA Champion in Alberto Del Rio representing Mexico. This should have at least been on a PPV but if they do decide to go with it as such then they'll probably just pretend like this never happened.
Smack Down!'s main event saw Sami Zayn defeat Chris Jericho by DQ and so it is still not that big win Zayn needs since losing the NXT Championship to Kevin Owens some time ago. Kevin Owens is the only reason why Zayn won and Dean Ambrose also got involved because he's feuding with Jericho. We didn't get the Zayn/Ambrose vs. Owens/Jericho match I expected, but that's all right. I'm just wondering why Sami Zayn vs. AJ Styles took a backseat to a rather bland tag team match on Raw and yet Sami Zayn vs. Chris Jericho gets to main event on Smack Down! with a DQ finish no less (At least Styles-Zayn ended cleanly) But I guess I won't be able to understand these WWE booking reasons and should just be happy to see the matches.
On Main Event, Heath Slater started things off by losing to Kalisto, which then lead to Bo Dallas losing to Apollo Crews. The one good part from all of this though is that it gave us the new Bo Dallas term "sugarface", which he thinks is an insult but so clearly is not. In the main event of, um, Main Event, Kevin Owens defeated Dolph Ziggler with the popup powerbomb because Kevin Owens is on his way back up the ladder while Ziggles seems to be forever stuck on the bottom. In a funny bit though, after the match, Kevin Owens stole Rich Brennen's phone and smashed it into the steel ring steps. I don't know why, but this was kind of hilarious and I really miss how the wrestlers used to mess with the commentators.
Well, that's it for this week. We'll have to see how we can manage the next sixty days without Adam Rose and Konnor, following their suspensions for violating the wellness policy, but I think we will somehow manage.