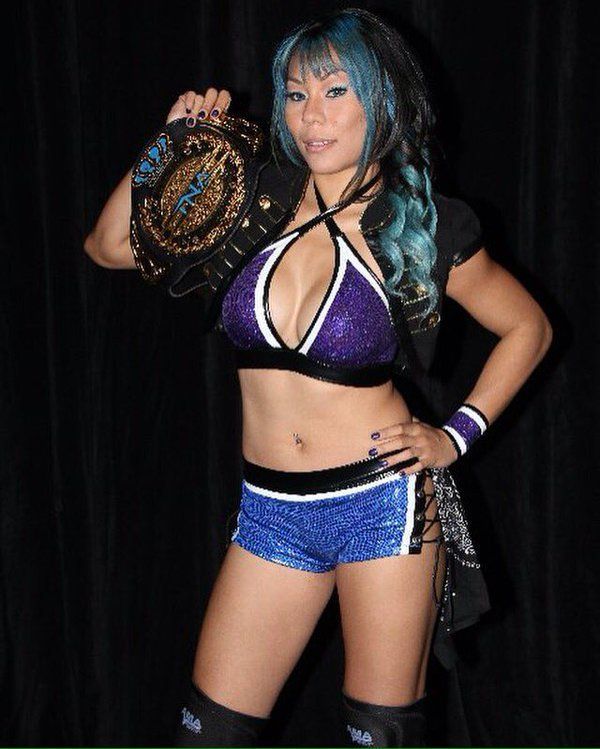 Before NXT Take Over: Dallas and even Wrestlemania 32, we watched the newest episode of ROH TV which was the second installment of ROH vs. New Japan. It began with a four corners match and I wondered why Roderick Strong wasn't defending his TV Title in an open challenge against anybody until I remembered he had lost it. I somehow confused Adam Page with Adam Cole in this match, but Adam *Page* hit a great move off of the ring apron to an opponent on the outside and now I won't hopefully confuse the two again. Moose and Matt Sydal were also in this match, which Roderick Strong won and, oh, how the mighty Moose have fallen. Could this mean another title shot for Roderick Strong though??
Adam Cole cuts a promo- which is how I knew he wasn't in the first match- and he eventually is interrupted by Matt Taven who says it's time to rebuild The Kingdom without him. Makes sense since Mike Bennett and Maria are in TNA as well. Matt Taven needs some new friends. I'm still not sold on Adam Cole though. His catchphrase reminds me too much of Chris Jericho and he's yet to impress me in the ring.
In the second match of the show, Cheeseburger (no idea where this gimmick came from still) had his opponent jumped by the All Night Express who said a lot before beating up 'Burger, who was saved by both War Machine and the Briscoes. It would seem as if we were building to a triple threat tag team match but RPG Vice is next in line for a title shot. Either way, there are still a lot of other talented tag teams on the ROH roster and it seems like ROH is the place to be for tag team wrestling. I'm just not sure how Kenny King is back in ROH since he allegedly left on bad terms.
In the main event Jay Lethal defeated Hirooki Goto to retain the ROH Title and after the match Donovan Dijak (Who I believe is a Top Prospect Tournament loser) came out with Prince Nana and it looks like another easy win for Jay Lethal. Really, who is going to stop Jay Lethal? Is there a wrestler out there who can? I still like the idea of the championship meaning something though as those who hold it tend to do so for quite some time. Maybe Jay Briscoe winning it back is the way to go. Who knows, but this was a decent show and I always like when ROH and NJPW crossover.
After ROH TV came WWE weekend with NXT Take Over: Dallas and Wrestlemania 32. A lot of my thoughts about these two shows will bleed over into the week as I comment on the new television which will spawn from them but I need to say this. NXT TO:D and WM32 seemed to be polar opposites in the way that nothing really struck me as bad at NXT TO:D and WM32 was just about every mistake possible. (Though I did like Baron Corbin winning the Andre the Giant Memorial Battle Royal, I just wish he would have been given a proper, surprise entrance and not just ushered out there with everyone else except DDP and Shaq) The Hall of Fame was also pretty funny, if not long-winded, and so it was a weekend which started up so high and ended up sinking down so low. Oh well. We'll feel the aftermath of it this week I am sure.
For some reason, Raw opened with Vince McMahon talking about his win at Wrestlemania- which was kind of not how I expected any of this post-Wrestlemania stuff to go- only to bring out Shane McMahon. Vince says he won't be outdone by Shane and we have it set where Shane will be running things on Raw for the night. I don't know if maybe I'm just too logical to be a wrestling fan or something, but if Vince McMahon is going to give into his, um, pride to let Shane McMahon run Raw for a night and all Shane really wants is control of Monday Night Raw, then why didn't Vince just give Shane control for a night from the start-- you know, before jumping right into Hell in the Cell with 'Taker? Ah well, what's done is done and we can't go back and undo the past now, can we? No matter how stupid it might be.
In the first match of the night, WWE Tag Team Champions New Day defended the titles successfully against League of Nations (Sheamus and Barrett) and after the match the League of Nations kicked out their "weakest link" Wade Barrett, who also just so happened to announce he'd be leaving WWE when his contract is up in a few months, but you know, I'm sure the two things aren't related.
Sasha Banks defeated Summer Rae next in a match which didn't air on the Hulu replay, but whatever. Women's revolution, amiright??
Apollo Crews made his main roster debut in a win over Tyler Breeze. I'm happy to see Crews on the main roster. Some within the internet are saying he needs to develop his personality, but he's a big guy who can do cruiserweight moves. Just let him go out there and show what he can do in the ring and I'm sure the rest will fall into place. I also enjoyed how the commentators made note of Crews and Breeze having history in NXT.
In a somewhat odd segment, Roman Reigns came out and issued somewhat of an open challenge. Chris Jericho said that following his win over AJ Styles at Wrestlemania he was most deserving, which of course brought out AJ Styles himself. Kevin Owens came out next, which is interesting how they keep positioning these two together- Owens and Styles- without giving us a PPV level match from the two of them yet. And since Kevin Owens came out, of course Sami Zayn had to follow. And there it was: a fatal fourway set up for later in the night with only one person in it who actually won at Wrestlemania. Whatever.
Baron Corbin made his Raw debut after winning the Andre the Giant Memorial Battle Royal the night before at Wrestlemania 32 and this also got cut from the Hulu replay. Luckily matches such as this end up as clips on the official WWE YouTube channel.
Now, if you watched Wrestlemania 32 and are like me then you feel two different things coming out of the IC Ladder match. First off, I never wanted/expected Zack Ryder to win it. But at the same time, I'm also just happy it wasn't Sami Zayn winning the title. So this next segment struck me as strange, as Ryder seemingly came out to brag about his win, get cut down by The Miz and then proceed to put the title on the line against The Miz right then and there. First rule of being a champion: don't let the other guy call the shots. The fact that Kevin Owens would have never fallen into this trap so easily is one of the things which I liked about him being champion so much. And then Zack Ryder's dad got involved at ringside by slapping The Miz, which had Maryse jumping the guardrail and slapping Old Man Ryder. I found it uncomfortably funny how the female security guard followed Maryse, not sure what to do. I imagine her saying "Excuse me, m'am. I need you to go back to your seat please. Please, I can't get fired. I really need this job. Oh, you just slapped that guy, now I need to grab you and pull you back". Shout out to everyone on commentary forgetting about Maryse until The Miz told them to let her come into the ring with him.
So Zack Ryder- who everyone says wasn't even supposed to be in this match but Neville got injured so he was- won the IC Title and had his big moment at Wrestlemania 32 just to have it cut out from under him about twenty four hours later. So... Why? Why not just give The Miz the title to begin with? Or did WWE realize giving Ryder the title was a mistake? Either way, The Miz is champion now and I'm thinking a feud with Apollo Crews would be good right about now.
Everything going on with the women- no longer "divas"- in WWE is actually quite pleasing to me. Charlotte has her acceptance speech of sorts as Lita sticks around and helps her embrace her new championship. The fans sing for Bayley, which gets a smile from Charlotte. And then Charlotte does what she needs to do most as a professional wrestler: she says she wouldn't have accomplished any of this without the help of her father. And all of the other women, who actually did help her reach the level she is at now, walk out of the ring. Except Natalya. Nattie sticks around for a match. But in any case, the first time I saw Charlotte I went back and watched her face Natalya at a Take Over event and have seen all of her matches in NXT and then on the main roster since. I was just never impressed by her in ring skills and always thought she needed to be heel, which she is now. The fact that Charlotte uses her dad to win now is a slight way of saying she owes this all to her father, but let's face it: there are at least a dozen women more talented than Charlotte who are currently not in WWE simply because they don't have the family connections. I think names like Bray Wyatt and Bo Dallas have done a good job of being outside of their father's shadow-- even Natalya seems to be more than just "Bret Hart is my uncle". But Charlotte has yet to outgrow that for me and it might just take time but this is a step in the right direction.
So in an interesting turn of events, The Dudley Boyz had a match against The Usos- which was a tables match, and again, we can't do anything about the past and all that but wouldn't have a tables match been better suited for Wrestlemania? It's like someone created the Wrestlemania 32 card and said "It might not be great, but think of all the fallout it can bring!" The Dudleyz defeated The Usos in this tables match and wouldn't let them announce it as such until both of the brothers went through tables and that kind of adds insult to the injuries of The Usos. Then we cut backstage where Sami Zayn is talking about his upcoming # 1 Contender's match and he says something about how he needs to win (He hasn't really won a match since losing the NXT Title to Kevin Owens, for those keeping track at home- that is to say, a match which matters) While Zayn is cutting his promo he gets jumped by Kevin Owens. I was kind of hoping for this to be Samoa Joe's call up and for Joe to put Zayn through a table and teach him a lesson, but Kevin Owens served his purpose. I like how the referees always yell at the heels to stop but the heels never listen. While all of this is happening backstage, The Dudley Boyz STILL haven't left the ring. So as The Dudleyz are trying to leave and we cut back to them, out comes Enzo Amore and Big Cass and the crowd just loved it. Enzo & Cass did what they do best and this was just such a great Raw debut for the duo. I'm glad to see them up and hopefully Carmella will be soon to join them.
In the main event of Raw we saw the number one contender decided and since Sami Zayn was taken out by Kevin Owens we had a surprise entrant who was returning from injury... Cesaro! But as announced, he was made a special surprise per Shane McMahon, so Shane knew that Cesaro was ready to come back from injury, right, but what if Sami Zayn hadn't been taken out of the match? Then would Cesaro just not have returned until someone else got taken out of a match? But I won't think about it too much because this was a great match where I could have seen anyone winning it really and I'm happy that AJ Styles did. The idea of AJ Styles vs. Roman Reigns and Enzo & Cass vs. The Dudleyz already appeals to me as far as what used to be called pay-per-views goes, so WWE does seem to be slowly getting on the right track. Though I'm not sure what it says about them when this single match from Raw was better than just about anything else on Wrestlemania 32.
This week Impact Wrestling was a story of four matches, though there was also a segment with the tag teams and EC3 got beat up by Mike Bennett. But what these four matches mean going forward for TNA is what is most important here perhaps. For one thing, Jeff Hardy ending his feud with Eric Young on the winning end makes sense since Jeff will be sticking around for the time being and Eric Young is on his way out. I don't know how they can book to it, but dammit, I want to see them put The Hardys back together because I think it'd be best for the tag team division right now. (To be fair, WWE has The Dudleys and ROH have The Addiction, so TNA needs a veteran team like that and, no, Beer Money doesn't count)
Now the thing about Lashley vs. The Pope is that it's a match I really don't want to see. But, it did take The Pope off commentary and it is somehow less annoying to sit through Jeremy Borash. Let's hope that The Pope losing this match doesn't send him running back to commentary and instead it leaves him on the injured list for a while so we don't have to hear his annoying voice. Was I the only one listing off reasons why Lashley was attacking The Pope every time he hit him? Like, "That's for always talking to your action figure!" and "That's for never getting anyone's name right and not listening when Josh Mathews corrects you!" and "That's for thinking you could do commentary in the first place!" No? Okay.
In perhaps the best move of the night- for TNA and wrestling as a whole- Jade (aka Mia Yim) became the new KO Champion. You know, there was a time when the best thing going in TNA was their womens division and a lot has changed since then. Gail Kim held the title for what felt like the hundredth time and it just didn't seem to matter whether she won or lost. There just haven't been feuds I've cared about since Awesome Kong came back and took on HavoK. Since then, it's been a lot of downhill. I hope that maybe TNA is listening to someone out there and bringing in more talented women because right now they just don't seem to have enough (Shout out to Cherry Bomb being on her way in!) and then Jade can sort of usher in this new era of what was once great and make it great again. I hope. TNA could give the title to Maria in three weeks for all I know though.
Drew Galloway retained the TNA Title over Matt Hardy in the main event and, again, I hope this means that Matt can go back with Jeff somehow. Think about it like this, and if TNA still had pay-per-views this could make a good card, I think:
* The Hardys vs. The Decay (because they're both sick and twisted)
* EC3 vs. Mike Bennett (even though that's apparently happening next week)
* Jade vs. Cherry Bomb (and other women who can actually wrestle and aren't boring)
* Drew Galloway vs. Lashley (all they have is beef)
I think this could make a nice future for TNA and these are the types of talents they should be focusing on right now. Then whoever wins in the EC3-Bennett match could go into the title picture next. Bobby Roode and Eric Young leaving could be best for them, especially if they can find some way to get rid of James Storm again as well.
Lucha Underground was next on the watchlist and it wasn't nearly as good as the other recent episodes. Dario Cueto had a talking to with Vampiro, who teased not taking his meds, while the police also had a secret meeting and Joey Ryan said he had signed them up for the Trios Tournament because, you know, when you win the Trios Tournament you get to arrest Dario Cueto and his brother for murder.
Ivelisse took on Kobra Moon in the first and best match of the show. Ivelisse got the win in a hard fought match and I really think that LU was wrong to not put the title on Ivelisse that time she fought Mil Muertes for it.
This took us into a video package about Killshot, who vows to use his guns in LU (not really, but I think he should feud or join forces with King Cuerno) and then Famous B gave his card to Mascarita Sagrada in a segment I wish we hadn't seen. Hey, looks like Famous B wants to start the J.O.B. Squad.
In a Trios Tournament match, Joey Ryan & The Crew defeated the team of Marty The Moth/Mariposa/The Mack. You kind of had to know here that the police would be getting the win, but what was the logic in pairing The Mack with someone he has been feuding with? There was a backstage segment beforehand where The Mack told Sexy Star of the match and how he wanted her in his corner, but no one ever wondered why they were paired together. Just because the Trios Champions weren't all friends when first paired together doesn't mean that idea of "tough love" works for everybody.
Mantanza defeated Fenix in the main event, mainly because the title can't change hands again so quickly, and I kind of feel like whoever is in charge of Lucha Underground feels like maybe putting the title on Mantanza was a bad idea. It's not that he's a bad wrestler or even a bad character- in another universe he could be a legit monster. But when you create this illusion in the shadows and then reveal it to be this... I don't know, if he just came in normally, sure, he could be fine and comparisons to Abyss wouldn't be the worst thing to happen to him. But now he just makes me think of The Shockmaster whenever I see him and that is one career we did not need to find out "What if" about.
After Lucha Underground we watched Smack Down! because we haven't made it to WWE Main Event yet and on top of that, we would usually watch NXT before Smack Down! but I'm pretty sure that the only match on NXT this week was Apollo Crews vs. Elias Samson, so whether or not we decide to watch this episode of NXT I won't really have a lot to write about it, so we just moved forward to Smack Down! with Main Event and NXT on the "maybe" list.
On Smack Down! the Vaudevillains made their main roster debut- which should help to mix things up in the tag team division a bit- Natalya defeated Summer Rae, as it seems like we might be going into another Charlotte-Natalya feud and Zack Ryder lost his rematch against The Miz, who had Maryse with him. I suppose this means that Ryder either goes back to NXT with Mojo Rawley or just single matches on Main Event and Superstars. Again, I don't understand why they put the IC Title on Zack Ryder at WM32 but I'm just glad it wasn't Sami Zayn.
Apollo Crews defeated Curtis Axel in a rather interesting match while Tyler Breeze lost to Dean Ambrose. Does anyone else think that something big could happen with Tyler Breeze still? Imagine if he had come up from NXT and gone undefeated or close to it. It wouldn't be that much different than what Kevin Owens is doing. But when there are big matches, Tyler Breeze still somehow finds himself in them. So I think one day he will win the IC Title and we'll face his reign of terror for a long time to come. Remember, it's about the legacy not just one year of your career.
In the main event, the good guys beat the bad guys but before the match Dean Ambrose was making his way to the back while Chris Jericho was coming out for his tag team match, as Kevin Owens and Jericho lost to Cesaro and AJ Styles with help from Sami Zayn on the distraction. If Dean Ambrose vs. Jericho is a match WWE wants to do at their next PPV, I'm down with it. Remember when Dean Ambrose and Roman Reigns took on The Wyatt Family and Jericho was their mystery partner, but then he walked out of the match and nothing ever really came of it?
So for the next PPV we could potentially see:
Roman Reigns vs. AJ Styles
Charlotte vs. Natalya
Dean Ambrose vs. Chris Jericho
Kevin Owens vs. Sami Zayn
It's looking good so far. Let's just give The Miz a new opponent for the IC Title. Not Ryder again, and not Apollo Crews just yet, but someone. Maybe Cesaro?
I've spent time watching WCCW on The WWE Network and while doing that I found the playlists they have, one of which was for Daniel Bryan. I watched this match where he was under a mask and faced the tag team of Lance Cade and Brian Kendrick (I don't remember his tag partner's name) but just as an observation no one probably cares about: it'd be nice if I could "play all" on these matches and segments instead of having to click on one every time. The match selection option is nice, but a "play all" would also be nice.
Since I checked and haven't mentioned it yet (aside from Twitter) the eighth entrant in the Global Cruiserweight Tournament is Lince Dorado and this tournament is shaping up to be something great. I'm just not sure if there will be 16 names in it or 32 at the start. I hope it's 32 because this tournament should last for as long as it can. Plus the more people the winner defeats the more prestigious the title will feel.