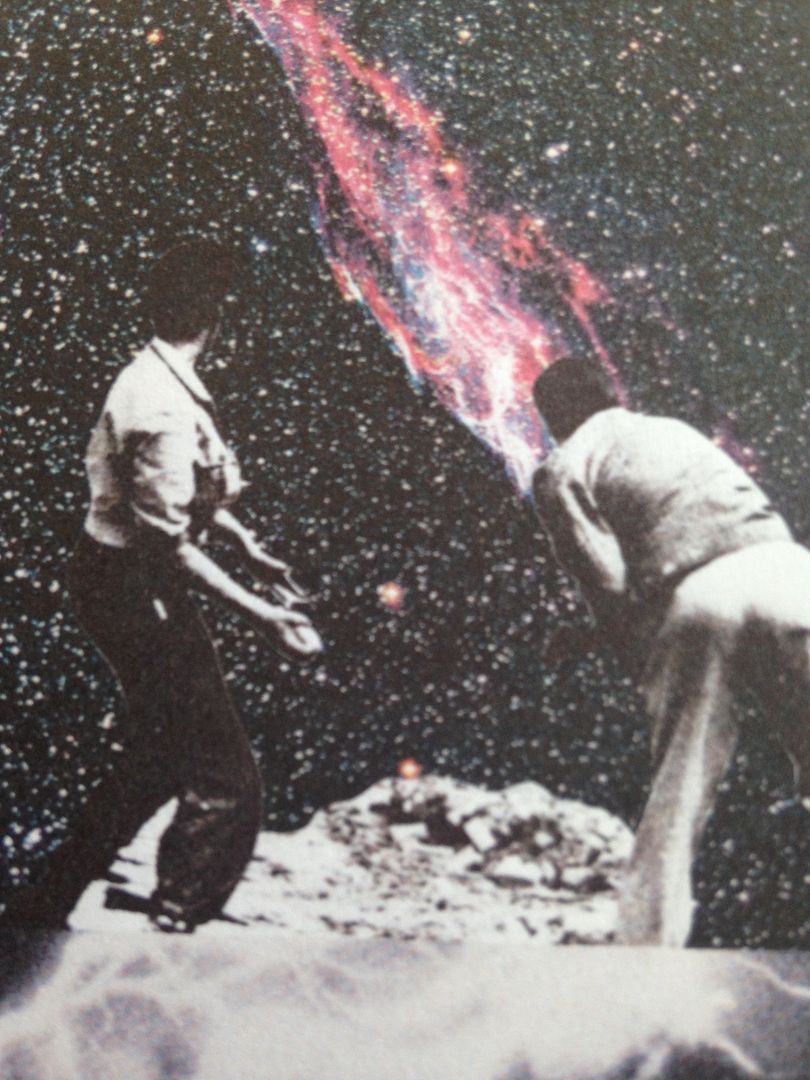 [$5 // Edition of 100 //
https://alreadydeadtapes.bandcamp.com/album/ad195-deadbeat-big-forever
]
There exist artists out there already with names that end in "beat", like Volbeat, and then there was this punk rock band back when I was a teenager called The Deadbeat Dads but it is strange there hasn't been a band come to my attention who has simply been called Deadbeat. Although, there is a Hulu original series called Deadbeat, premiering its third season on 4/20/16, and so I do think of that and how I might potentially watch it one day.
"Big Forever" begins with sonar blips and this back and forth beeping as if we're playing a pinball game. This leads us into a spoken word bit about how people who were born on October 8th act and I'm not sure if it's a horoscope (One of those "If today is your birthday" deals), a diagnosis or simply an audio clip from a movie or television series. Electronics take us into this flash of singing which resembles The Turtles and then dreamy sonic trill comes out.
This all leads to a more traditional song, with vocals and fun chords in a psych pop type of way. It's kind of upbeat, but mostly in the way that it makes me feel like we're floating on clouds. I can't quite find a comparison for it but in the broad sense the music could be a mix of Fran Ferdinand and Weezer while the vocals have that whisper quality of Silversun Pickups, though I realize while typing those three names that particular combination could be misleading.
Trippy electronics bring forth a spoken word part where it sounds like Joan Jett singing over something a modern Pink Floyd might create. As the words "stop performing" repeat, the music eventually does come to a stop and then the person simply says "okay". It's interesting because the music heard doesn't usually come with vocals but there isn't really singing and so it works, even though I'd be open to hearing what I think of as being traditionally instrumental music with vocals now. An atmospheric bliss takes Side A to its end.
And since I don't really pay attention to song titles or anything like that, I came to find out by listening to it over and over again that Side B is a repeat of Side A, but hey, it saves me some time spent rewinding so I can listen to it again and again. The second to last song listed in the j-card is called "Stop Performing", so that should have tipped me off, but I like to go into these things not knowing what's going to happen next.
It would be kind of easy to just put Deadbeat into a mixed genre like "electronic experimental rock" or whatever, but that doesn't even begin to do this sound justice. There is that art aspect that makes me think back to when I first heard Be Your Own Pet, though this really doesn't even sound like them either but it's along the same ideas of going against the norm. I think whatever people write about this cassette won't be able to live up to the sound both in the way that the genre can be undefinable and then when you do hear the music it will blow away all of your expectations.