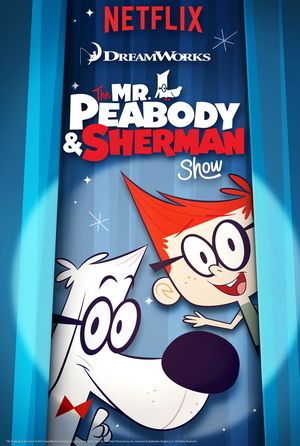 At some point in time, Netflix decided to start creating all of these animated shows based on Dreamworks movies but I didn't have time to watch them. I decided we'd start with "The Mr. Peabody & Sherman Show" show though because not only did Quentin like the recent Dreamworks movie they did, I also enjoyed it a lot more than I thought I would. Plus, it's a cartoon. It's hard to go wrong with a cartoon.
In some ways this is like the original Peabody and Sherman and in some ways it is not. In this series, Mr. Peabody and Sherman host their own show in their apartment (They have a live audience and downstairs neighbor lady) while occasionally switching to scenes from them time-hopping in the Wayback Machine. There are also those terrible puns in every episode that you might remember the original Mr. Peabody making.
Oh, and as opposed to the original series, this one also has musical guests. I thought that was something they made up, but no, there are real musicians (like Ra Ra Riot and Prince Paul) animated and put into the show, which I have to admit is pretty cool. The animation style on the whole is definitely a plus for this series as well, as it is not CGI like the recent movie and not as scratchy as the original but yet somewhere in between.
When I first decided to watch this show, I told Quentin I was going to put it on and he said he didn't want to watch it and I told him that was okay because he could do something else. As the first episode started and Quentin was dragging out a large puzzle, he ended up abandoning the puzzle and watching episodes that night until he fell asleep. In the course of about three days we had watched the entire first season and Quentin wanted more. I actually wanted more too. So we watched the blackhole episode again because Quentin seems to especially like that one.
As Netflix informed me, Season Two would be available on Friday, March 18th, when we had just finished Season One on the previous Monday, so we went into episodes of "Turbo F.A.S.T." and "Dawn of The Croods" but we really wanted more of this series. It's like "Peg + Cat", only about history instead of math, and then there is this other quality that makes it so much fun and modern. I was quite surprised by how much I like this series but I really do love it and so does Quentin.