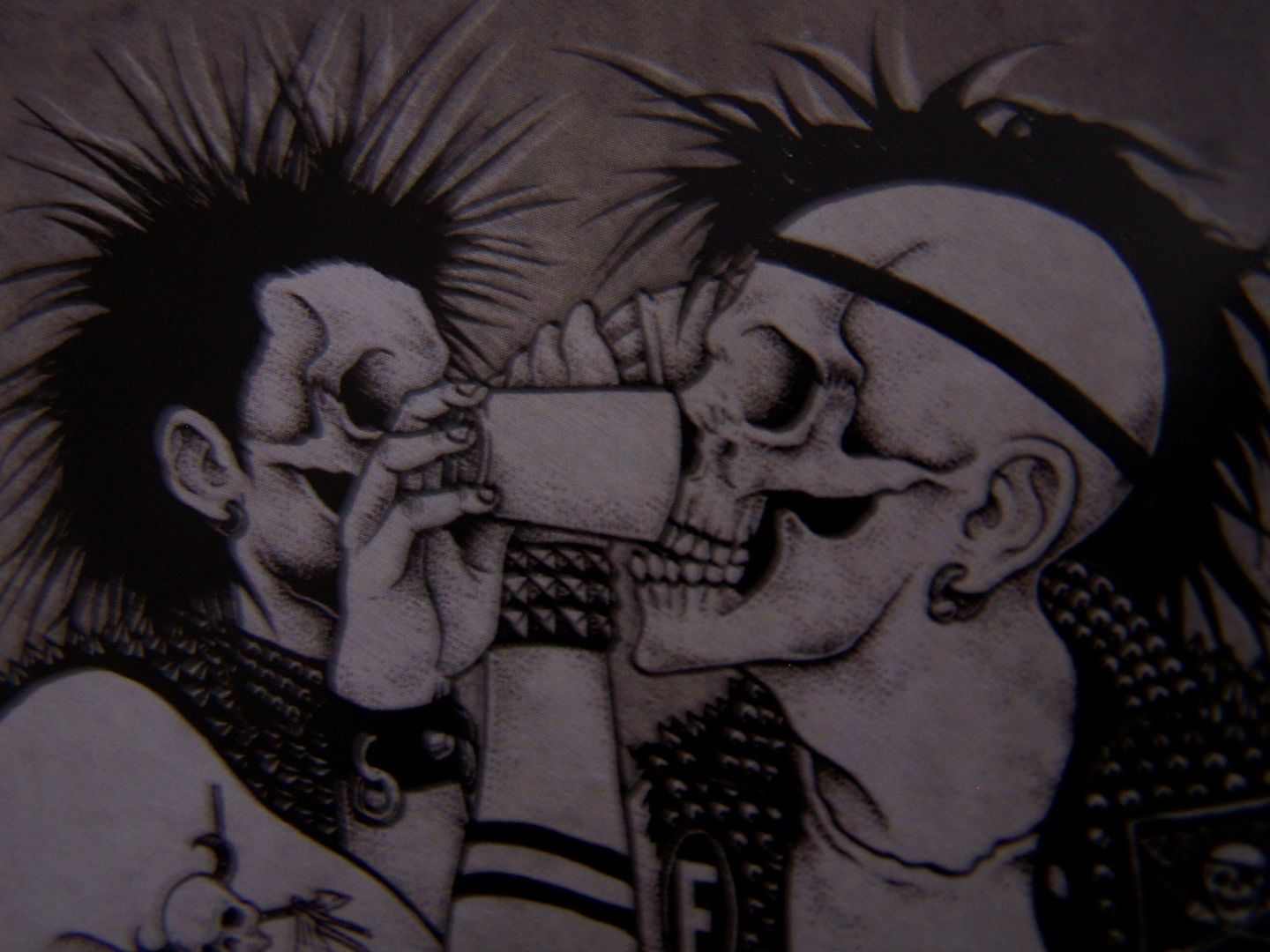 [£4 //
https://diewrecked.bandcamp.com/album/solidaritas-internasional-split-7-w-krass-kepala
]
"Solidaritas Internasional" is a split cassette from the bands Die Wrecked and Krass Kepala. While it is available as a 7" as well, for the same price no less, I do prefer the cassette because, well, have you been to this site before? I'm always pleased when artists aren't afraid to put their music on both cassette and vinyl (and I mean the same release, not different releases) because it shows that both crowds can be catered to in this day and age and, well, everything is digital so that base is always covered and if you're really so concerned about the compact disc then buy the digital download and burn your own. Though, I suppose, in theory I could buy the digital download and transfer it to cassette myself but that would take too much work and it's probably better/easier just to give the artists the money which they are asking for.
Krass Kepala is on Side A and they are heavy. I hear bits of Sick Of It All, Ignite and just the overall sound of hardcore punk. As the songs go on though, they become closer to the punk side of things than hardcore and, yes, this is when you learn that there is a difference between hardcore punk and punk hardcore. It has this sound that is familiar like an old Fat Wreck Chords band or an old Epitaph band, from maybe one of the first three Punk-O-Rama compilations. They could also be compared with the Descendents. And there is no holding back on the sweet, sweet guitar solos.
On Side B we have Die Wrecked, which is quite a way to go (and also sounds like "direct" when spoken out loud), and they have a sound that reminds me of U.S. Bombs, one of my favorite skater bands. Unlike Krass Kepala before them, Die Wrecked has more of a punk sound than any hardcore being in it, but don't let that fool you into thinking that this isn't somehow hard still. It's got that "Oi!" feeling without actually saying it outright. I have fond memories of seeing Bouncing Souls and H2O on tour together and Die Wrecked just feels like the type of band that could fit onto that bill like a glove.
So as different as these two bands might be- in the sense that one has hardcore elements which the other simply does not- they do have enough similarities to play a show together. Additionally, if you find yourself enjoying the music of one you will also find yourself enjoying the music of the other. It might be that I grew up with cassettes and on punk (and then hardcore) music, but I've always associated punk rock with cassettes and not records. Even when we transitioned over to CDs, I remember having mixtapes made of various punk songs. I'll leave the vinyl to those guys, but for me, this is about as perfect as a split punk cassette can get for me.