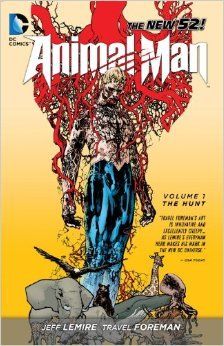 I will be among the first to admit that I haven't kept up with the whole DC Universe thing with The New 52 and all that, but I have had this on again-off again relationship with comic books which has now come back to the surface because of my son. My three year old is very much into the superheroes of DC (Batman, Robin, Superman, Blue Beetle, Cyborg and others of course) so I know it's only a matter of time (years) before he's into comic books. I want to be able to know what he's reading too though, as I do enjoy comic books enough but have just felt like I didn't have the time to read them. This now gives me the motivation to make the time.
"Animal Man Vol. 1: The Hunt" was just something I randomly grabbed off the shelf at the library, along with a number of other titles that looked like ones I had never read before. It was only when I got home and began to read it that I realized it was written by Jeff Lemire, whom I did enjoy for his work on both "Sweet Tooth" and "The Nobody". [Side Note: I used to write comic book reviews for a certain website that may or may not still be active. I do have them all saved myself though, so one day reviews of things such as "Sweet Tooth" will come back to the light of day if they're not still out there]
As one of the lesser known characters in the DC Universe, Animal Man is someone who I am not familiar with right away but the cover art on this looked so good that I couldn't resist. The story inside is about a man and his family with his daughter being the key to stopping a world of red (pure evil, I guess) coming into this world and destroying everything within it. It's hard for me to explain what is going on without telling you the entire story that you really need to read for yourself, but hey, that's why I love Jeff Lemire so much.
One of the biggest factors of this story though is not just the writing but the images you see and so the artwork is nearly as important as the words which go along with it. Often times with comic books I tend to find that the writing is what needs to be on point and then as long as the art doesn't look like it was done by me (sloppy, lazy, amateur) I can make the stories work. In this particular adventure though, it is of the utmost importance that the art work is up to par with the words and storytelling going on because as this is a *graphic* novel the images need to be presented as such.
Really, this is one of the first times since I first read "Watchmen" where I've felt like the art was as important as the words and for that this is truly something special. I have read silent comic books and that art has been important as well, but it's always kind of felt like one or the other to me and never really both unless it has been those extra special and rare times. This, "Animal Man Vol. 1", is one of those times.