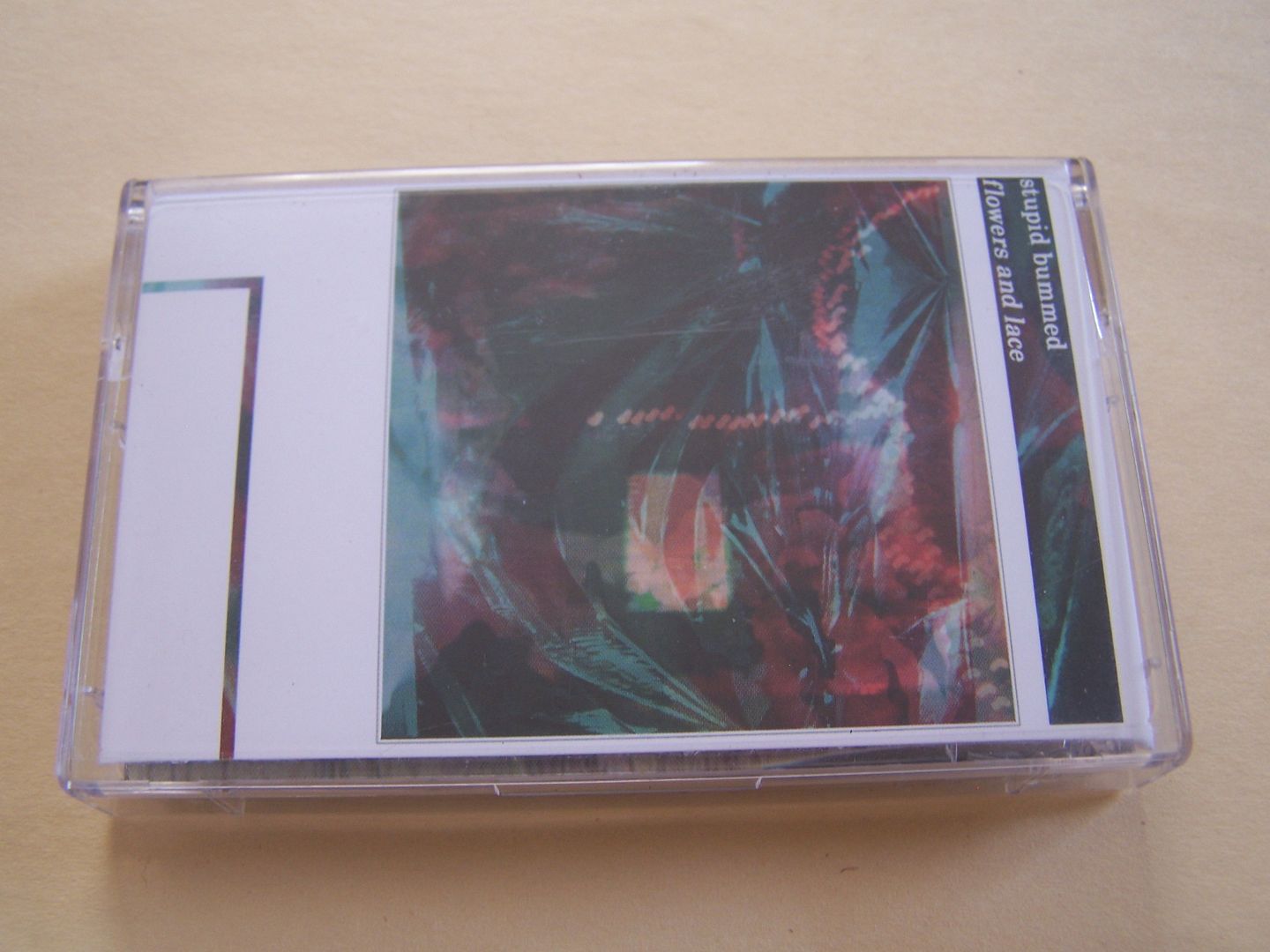 [$6 or part of 2014 Winter Batch Package Deal // Edition of 50 //
http://www.bridgetownrecords.info/
//
https://stupidbummed.bandcamp.com/album/flowers-and-lace
]
Before reviewing "Flowers and Lace" I went back and read my review for "Get Used To It", which was on Juniper Tree Songs so big props to Stupid Bummed right away for having releases on both of these fine labels, arguably two of my favorites and earliest ones I listened to and reviewed cassettes on when I realized people were still releasing cassettes some years ago. (Side Note: Stupid Bummed should have a future cassette on <> to complete the trifecta)
A lot of what I remember from "Get Used To It" per my review is that it had that pop rock, upbeat quality but otherwise set a depressive sort of mood. I liked that about it a lot because I always wanted to create a project that sounded like Hellogoodbye but had the lyrics of Trent Reznor, for example. What I've found on "Flowers and Lace" is slightly different, as Stupid Bummed seems to have grown as an artist.
There is that bedroom pop rock bliss quality in play here and it has me stumped for a while as to what to compare this with exactly. With drum machines, there are clear moments of when it goes back to the 1980's and even early 1990's, which is always nice to hear on cassette because that is when they were the biggest and as such I think of music from that time as being "cassette music".
It is also dreamy with elements of The Breakfast Club mixed with Can't Hardly Wait and a little bit of Pretty in Pink. Now, two of those three soundtracks wouldn't be too different but throwing some Can't Hardly Wait in there just adds to my interest. Also, my three year old really seems to like it as he fell down dancing at one point but got right back up and informed me he was dancing because he liked the songs.
Slower, with synth whirrs is how Side B begins and there is an audio clip with what could be considered some Phil Collins factors to the music but then as we get into something a little bit darker that could be The Smiths or The Cure influenced I begin to hear Weezer in the vocals and have the almost perfect idea of what this sounds like.
Back in the late 1990's and early 2000's there existed a band called The Hippos. Not really a ska band but still put in that genre for whatever reason, they did have a horn section and a lot of what Stupid Bummed reminds me of is that idea of what The Hippos were doing only without the horns. On their most essential album "Heads Are Gonna Roll" they covered that "Always Something There to Remind Me" song and put a sort of modern twist on it because, well, they always had that '80's pop feel besides.
So mainly I feel like "Flowers and Lace" has that feel of a song (or songs) that could be from the 1980's and by some other forgotten band, but at the same time they have that modern twist where you kind of can tell that they're not actually recorded that long ago. It's a modern cassette that will fit in perfectly with your classic collection. What more could you ask for, really?